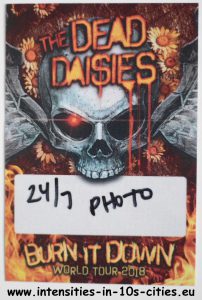 Ah! ça c'est quelque chose, ces bons vieux spots incandescents rouges et jaunes, et bleus, verts…! A force de ne plus voir que ces projecteurs LED de par toutes les scènes que nous fréquentons, on en oublierait vite la chaleur – au propre comme au figuré – l'inertie et la rémanence de ces bons vieux spots. Rien de tel pour donner du ronflant, de l'ampleur et du volume – à l'instar de vieux microsillons au rendu si chaud et si rond comparativement à cette musique numérique compressée.
Si le spot incandescent est donc au LED ce que le microsillon est au format numérique compressé, le ronflant, l'ampleur et le volume de ce light show "à l'ancienne" est également à l'image de la bande son: The DEAD DAISIES compose du classic (hard) rock vintage mais teinté d'une sonorité post-moderne et d'une r'n'r touch tout ce qu'il y a de plus actuelle. On adoooooore, et nous ne sommes pas les seuls car on se bouscule au portillon de The DEAD DAISIES.
Co-fondé en 2013 par John Corabi (ex-Mötley Crüe, Ratt), on trouve aujourd'hui à ses côtés Marco Mendoza (ex-Ted Nugent, Thin Lizzy, Whitesnake), Deen Castronovo (ex-Journey, Bad English) et Doug Aldrich (ex-Whitesnake, Dio). Mais d'autres pointures ont également rejoint en court de route ce projet-band pour faire un bout de chemin ensemble, en provenance notamment de Guns N' Roses, INXS, The Rolling Stones, The Cult, Nine Inch Nails, The Scream, Bad Moon Rising,… (excusez du peu !).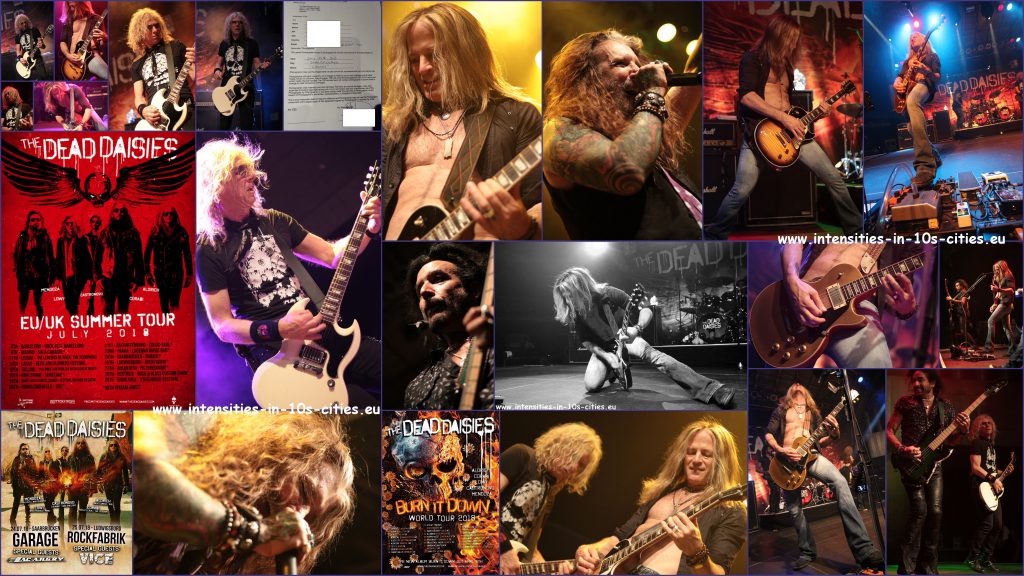 Avec toutes ces références offertes à nos ouïes gustatives, M'sieurs-Dames, comment ne pas tomber sous le charme de la patte ou plutôt de la griffe DEAD DAISIES on vous l' demande ?! Pour notre part, on ne comprend toujours pas non plus pourquoi The DEAD DAISIES ne porte pas encore le titre de supergroup que s'arrogent pourtant sans complexe d'autres formations au pedigree nettement moins prestigieux.
Malgré leurs références, The DEAD DAISIES ne se la pètent pourtant pas, continuant inlassablement à alterner méga-salles et clubs plus intimistes comme l'est ici le Garage à Saarbrücken. La complicité non feinte ni artificielle entre les 5 gusses fait autant plaisir à voir qu'à entendre. Sans chichi et avec une salle au répondant similaire, des groupes pareils, des concerts de cette trempe et une ambiance comme celle-ci, c'est triste de ne plus en rencontrer tous les jours ma p'tite dame.
Ceci dit, et pour la troisième fois en quatre concerts ce mois-ci, encore un agreement à signer, un ! Le droit à l'image n'a jamais aussi bien porté son nom, à moins qu'il ne s'agisse plutôt de non-droit. Bah! si c'est le prix à payer pour shooter frontstage ces grands garçons depuis le pit, why not ?! Ah oui, les inusables AC ANGRY officiaient derechef en première partie: nos Poulidor des planches en photos sur notre Facebook et sur notre Instagram.