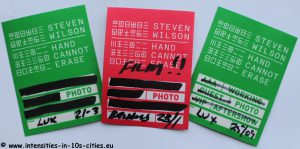 L'excellence porte un nom: WILSON… D'aucuns nous estimeront prétentieux et nous taxeront d'une effroyable subjectivité (certes, certes) si nous affirmons que nous ne sommes que le 23 janvier 2016 mais que probablement vient-on d'assister à LA prestation de l'année. Steven WILSON a derechef positionné la barre haut, très haut et son standard n'est décidément pas du même ordre de grandeur que celui du commun des musicos. Open your state of mind. Pause.
Qu'on apprécie ou non le personnage, que son oeuvre nous parle ou pas, force est de reconnaître que ce stakhanoviste est un véritable extra-terrestre, un génie conceptuel doublé d'un performer hors pair. WILSON, c'est un insatiable créateur au cerveau gargantuesque, un boulimique de la scène dont seul l'appétit à créer, à écrire, à composer et à jouer semble rassasier. Producteur aussi prolifique que multi-instrumentiste prolixe, il est de ces personnalités exceptionnelles et hors normes dont la planète rock ne compte plus guère de spécimens…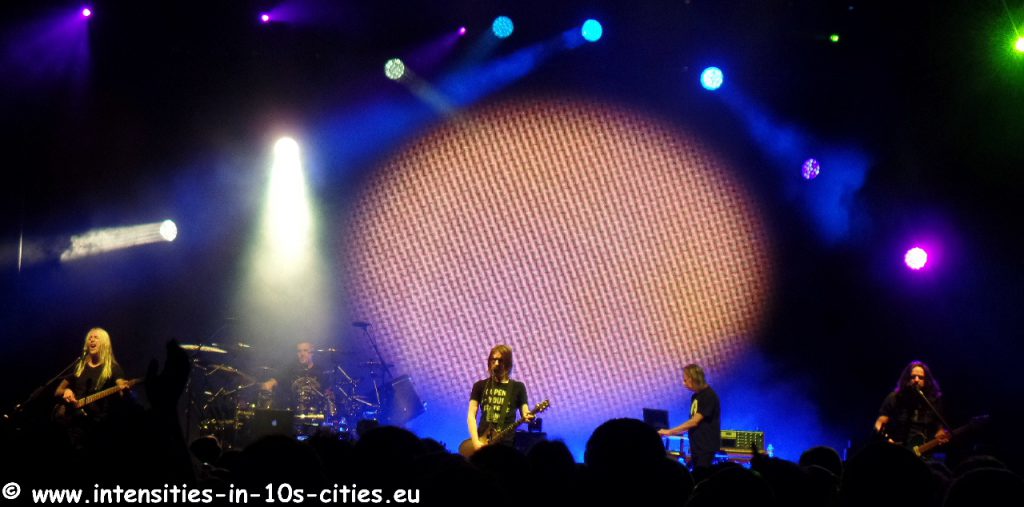 Extra-ordinaire ou extra-terrestre, son génie et son talent se traduisent dans des oeuvres d'une rare profondeur et d'une consistance aussi intime que dense et riche. Wilson, c'est un géniteur d'albums cinématiques qui stimulent l'imagination de ceux qui les savourent, et qui réussit à transposer en live la profusion et la texture de ses créations sans altérer la confidentielle intimité de l'immense richesse intérieure qu'elles dégagent.
Steven WILSON, c'est à la fois la perle et l'huitre, du caviar enrobé d'une feuille d'or, la Mecque du nirvana.
"An evening with Steven Wilson" est articulé autour d'une première partie désormais prévisible mais non moins remarquable constituée de l'intégralité de Hand. Cannot. Erase. Reproduire en live cet album représente un véritable tour de force, sauf pour l'équilibriste au doigté magique que nous avons sous les yeux. Un break de 15 minutes s'avère ensuite salutaire, manière de soulager la pression artérielle des 2.000 organismes présents soumis à rude épreuve émotionnelle. Un second set de même durée (70 minutes) nous offre un premier jet de son dernier né: des compositions antérieurement enfantées mais tout juste sorties cette semaine seulement. Cet album "intérimaire" comme il le qualifie lui-même n'est exclusivement composé que de matériel enregistré à l'occasion de ses deux précédents CD. Depuis, il avait précieusement conservé ces pépites de côté, poire pour la soif en attendant d'accoucher de son prochain véritable album à venir, comme il se plait à dire…
La seconde moitié de son set est bien sûr également pimenté d'un zeste de PORCUPINE TREE et d'une touche de STORM CORROSION pour mettre davantage encore le feu à une Ancienne Belgique logiquement sold out, constituée d'un public connaisseur et respectueux – presque religieux par moment. Une véritable communion s'installe entre l'artiste et son public, une rare et parfaite symbiose avec une audience qui semble témoigner tant d'attentions à l'égard de WILSON que celui-ci en devient ce soir affable comme jamais nous ne l'avions vu auparavant.
On le surprend même à reléguer de son propre aveu les publics allemand et anglais à, comme qui dirait, du menu fretin alors même qu'il termine une dizaine de dates en Allemagne et que son Angleterre natale l'attend pour une série de sold out avant ceux de nouveau outre-Atlantique. Surprenant gnome: quand Wilson parle, ce n'est jamais anodin…
Entouré d'un line-up de pointures renouvelé à 50%, manque néanmoins la féminine Ninet Tayeb dont l'absence s'explique par l'interdiction de prester ce samedi soir pour cause de shabba. Si on ne badine pas avec la religion, la bande-son de sa voix ne sera qu'une partielle compensation. Autre absence ou plutôt disparition saluée par Wilson: son hommage à Bowie s'appelle Lazarus, bien évidemment son Lazarus à lui, son "Lazarus" à PORCUPINE TREE qui s'intègre dans un second set aussi magistral et grandiloquent que la première partie de soirée. Une sonorisation tout simplement exceptionnelle est au service d'un show qui se renouvelle tout en demeurant articulé autour d'une colonne vertébrale qui reste la trame et le canevas d'une tournée Hand. Cannot. Erase débutée il y a pourtant plus d'un an.
Avec un Steven WILSON trois fois à notre agenda l'année passée, il sera difficile de faire plus et mieux en 2016. L'addiction est pourtant proche et tentante, nourrie d'une jouissance constamment renouvelée par la découverte permanente d'un homme riche, d'une personnalité multiple, d'un personnage aux ressources si insoupçonnables qu'il parvient encore à nous surprendre, à nous émouvoir, à nous faire vibrer comme si chaque soir était la première fois. "Steven WILSON, créateur d'ambiances depuis 1967", pourrait mentionner sa carte de visite. Et des concerts de cette densité pour moins de 30€ la place, c'est aussi ça la marque de fabrique Wilson.

Quant à nous, ce fut un véritable honneur d'être finalement accrédité-photo à J-2 par le tour management alors que seulement quatre organes de presse nationaux étaient initialement adoubés en exclusivité par Live Nation à la manoeuvre. Thanx, Mister Wilson: open your state of mind…