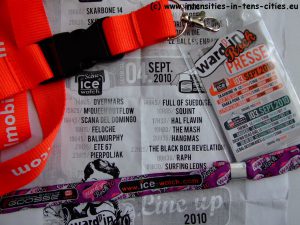 Le Ward'in Rock est à Werchter ce qu'un bal de village (avec ses dérapages) est à une rave-party (avec ses excès) : c'est tout ce qui fait son charme, mais il faut être du Plateau (ardennais) pour comprendre et apprécier… L'édition 2010 a viré sa cuti electro-pop gentillette en retournant à ses racines résolument rock'n'roll – du moins en ce qui concerne l'affiche du vendredi. Et cette première journée se termine au milieu de la nuit en un véritable feu d'artifice(s) – c'est peu dire – orchestré par LE BAL DES ENRAGES. A propos de bal, c'est plutôt la méga-kermesse ; et à propos d'enragés, il vaudrait mieux parler de fous-furieux déjantés. Le collectif du BAL DES ENRAGES, créé pour un temps seulement l'année passé, réunit les musiciens des meilleurs groupes de la scène punk-alternative française (des aliénés sévissant dans Lofofora, Punish Yourself, Tagada Jones, Parabellum, La Phaze,…) et termine sa saison à Wardin en atomisant le site par une prestation qui relève de Bouglione mixé d'Alice Cooper, mâtiné d'un brin de Wampas et d'un zeste de Mononc Serge.
Le collectif éphémère du BAL DES ENRAGES nous assène un final total et hallucinant tant le spectacle – pardon : le show – est jouissif sur scène… voire plus déjanté encore en coulisses pour les rares témoins de ces moments surréalistes et décalés. C'est qu'en se relayant à une bonne quinzaine pour partager alternativement la scène, il y en a toujours autant backstage que sur les planches, ne sachant d'ailleurs parfois pas où commence la scène et où se terminent les coulisses, les uns continuant à jouer et délirer backstage alors que les autres sont sous les feux de la rampe. La frontière est bien ténue entre le monde des projecteurs et celui de l'ombre, entre la réalité et la fiction…! LE BAL DES ENRAGES, ça se vit car ça ne peut se raconter. De la provoc, du sexe et du délire, du sado-maso et des disqueuses, du trash et du feu, des sex-toys et du cuir, du second degré et de l'humour, des excès et de l'alcool. LE BAL DES ENRAGES, si c'est Barnum sur la scène et Sin City backstage, c'est en servant néanmoins une set-list explosive faisant des trous dans la tête jusqu'au poix chiche. La surprise du chef, sans équivoque possible !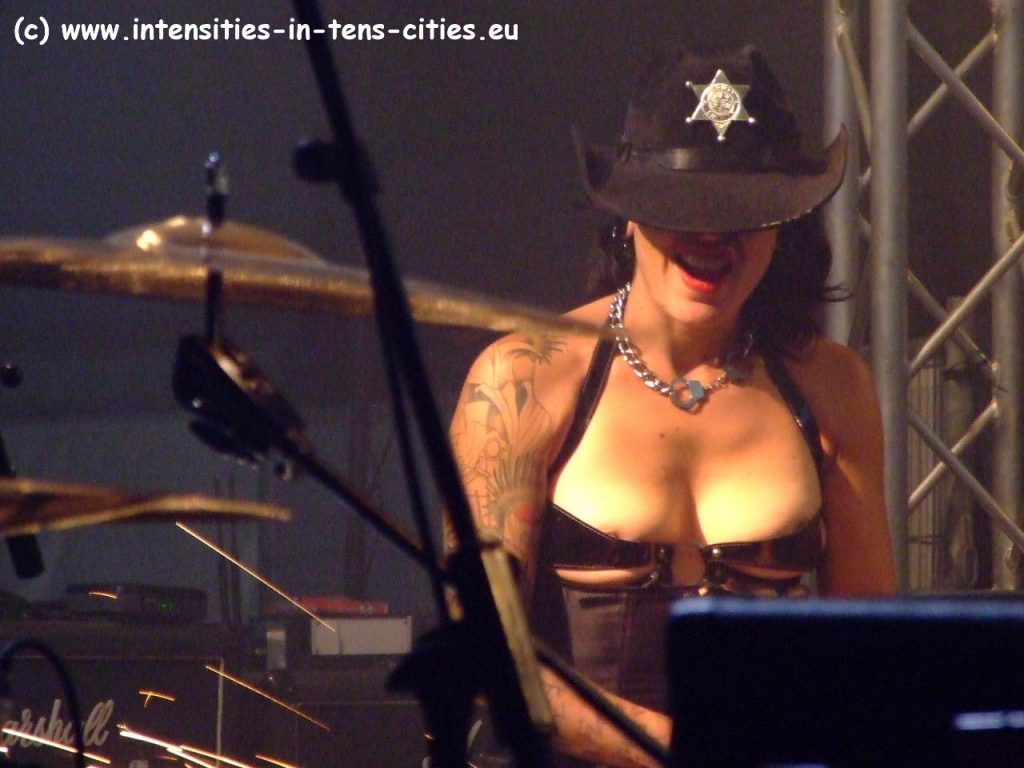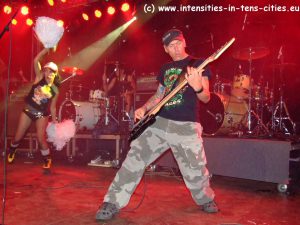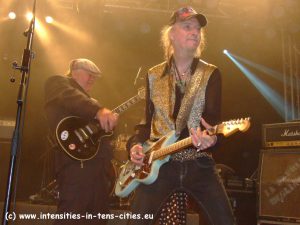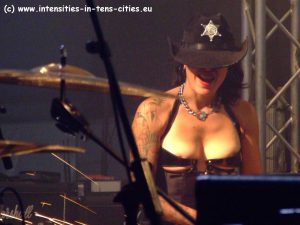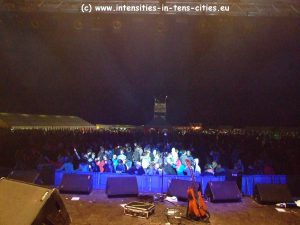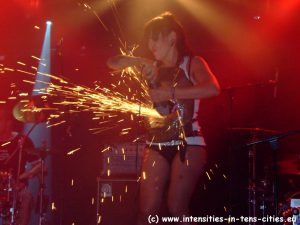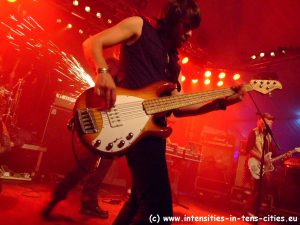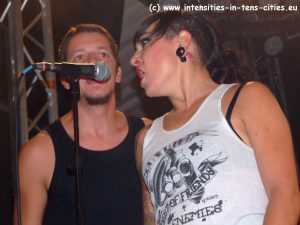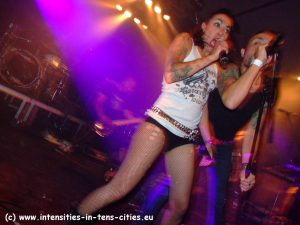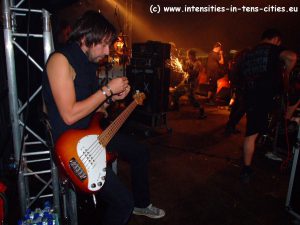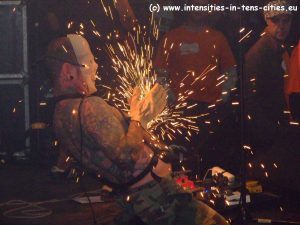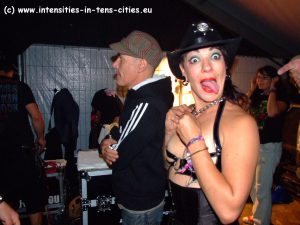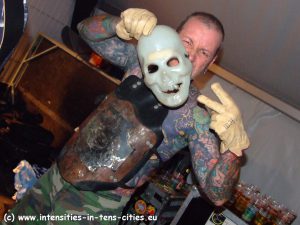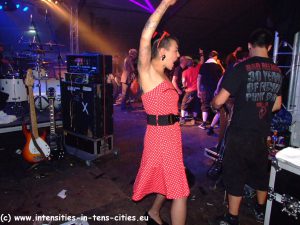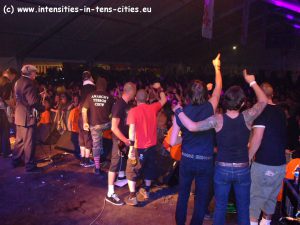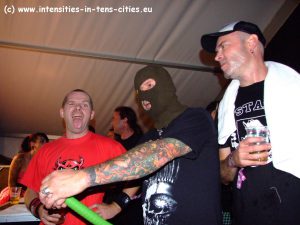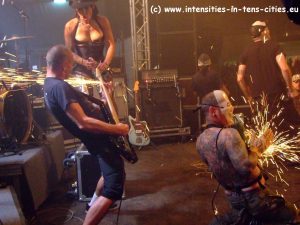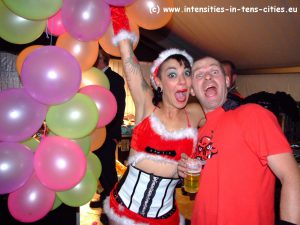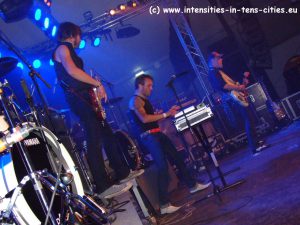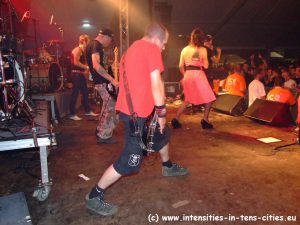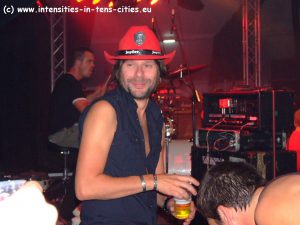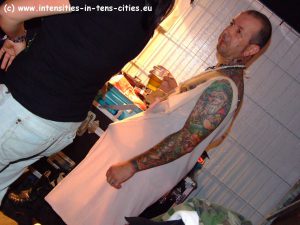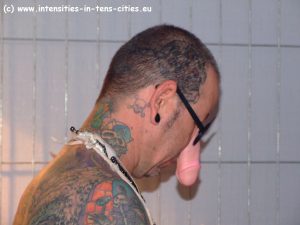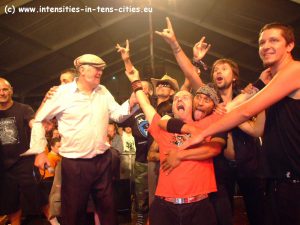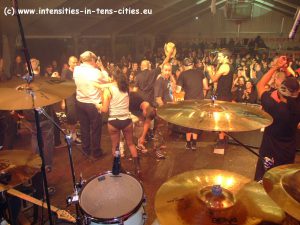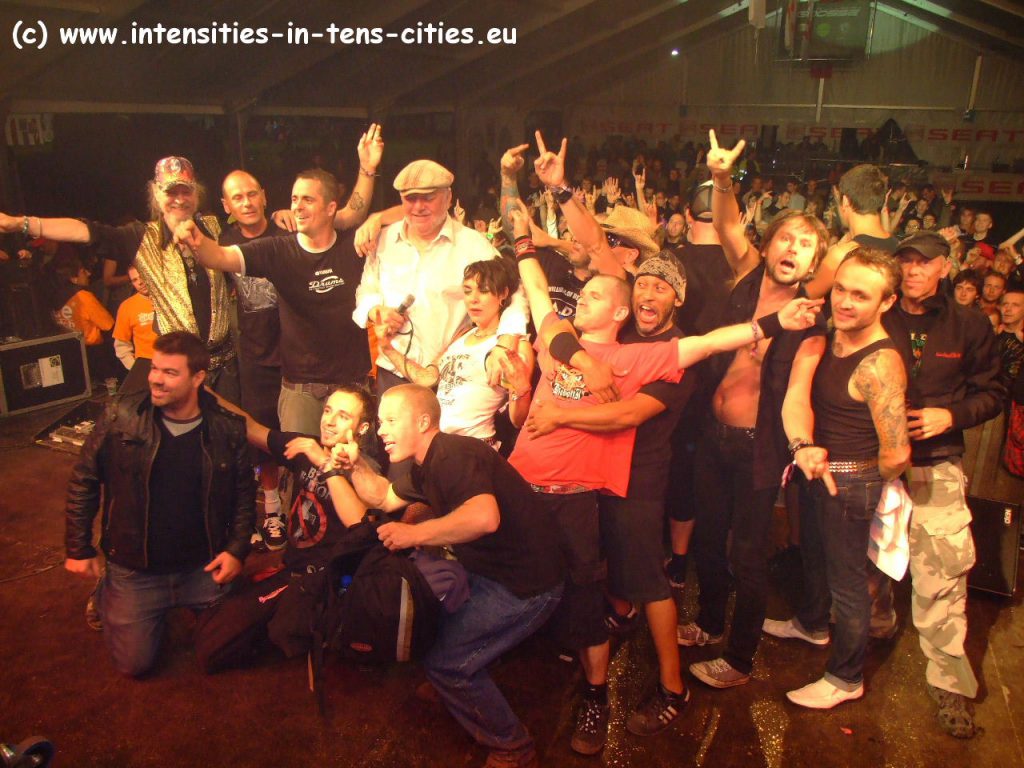 La tête d'affiche de la journée, LE PEUPLE DE L'HERBE, est presque le cheveu dans la soupe, ou plutôt le brin d'herbe dans la goulasch – comprendra qui pourra – malgré une prestation de haute tenue qui aurait récolté tous les (mes !) honneurs sans la présence des Enragés.
S'offre précédemment sur la grande scène SHAKA PONK: l'autre (bonne) surprise de la soirée pour ma part, avec un set aussi puissant que visuel, aussi rock'n'roll que peaufiné. Un alliage de riffs et d'électro derrière des mélodies bien solides de rock fusion avec un zeste de funk, un soupçon de métal et un tsunami de gros son sous couvert d'une mise en scène laissant la place belle à un leader des plus charismatiques secondé par une black aussi efficace que… spectaculaire. Un tout grand moment pour ceux qui, comme moi, découvraient ces Francais. Précédemment, SKIP THE USE délivre une espèce de punk rock avec des relents d'un peu de tout, en terminant leur set en beauté par un jam déjanté et surexcité du meilleur goût avec SHAKA PUNK précisément.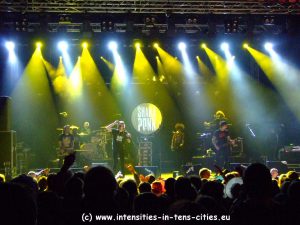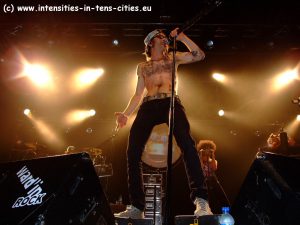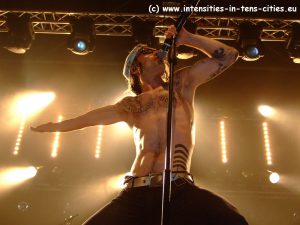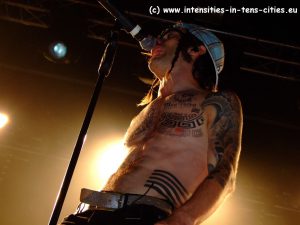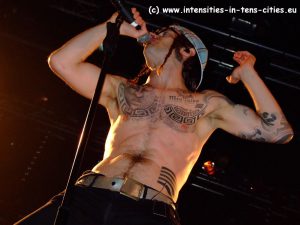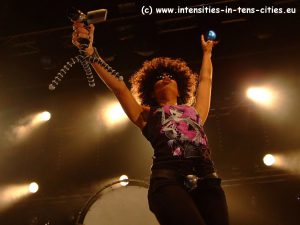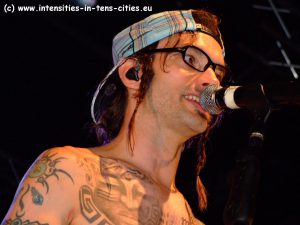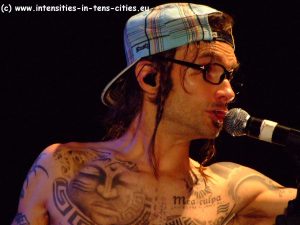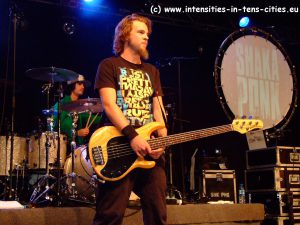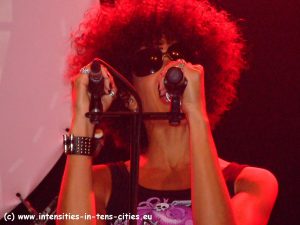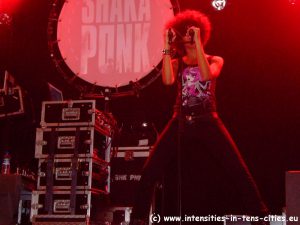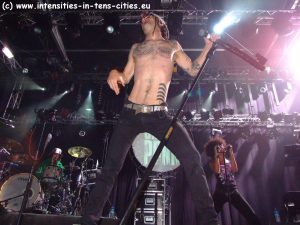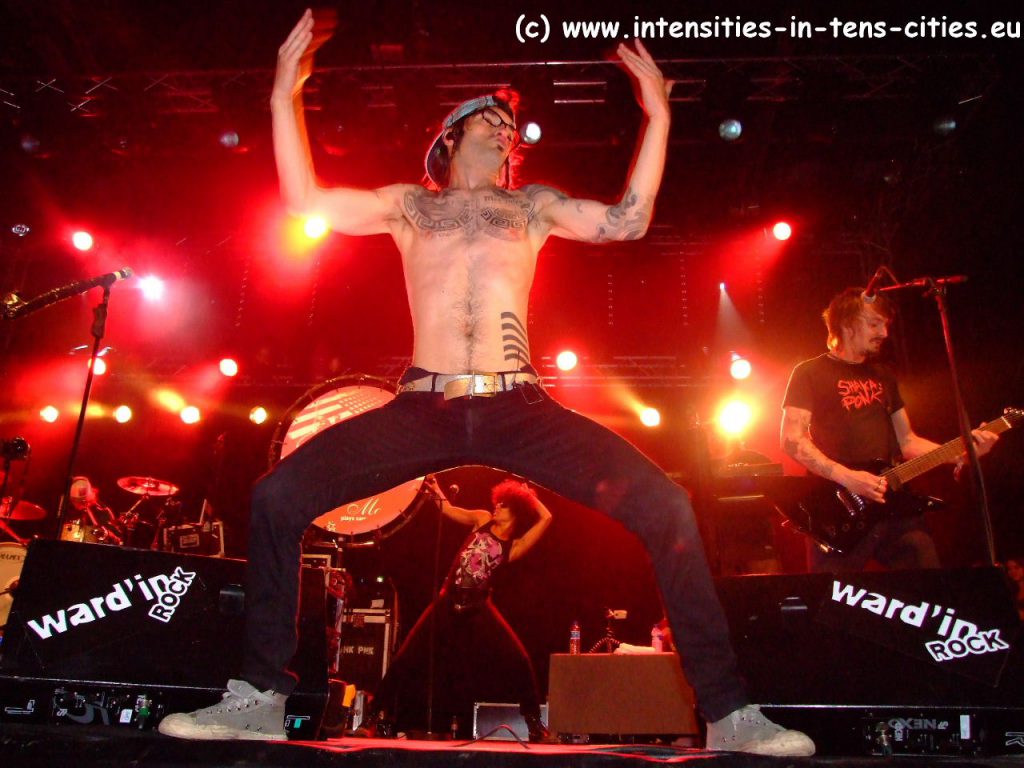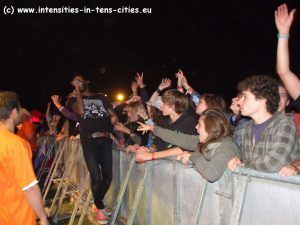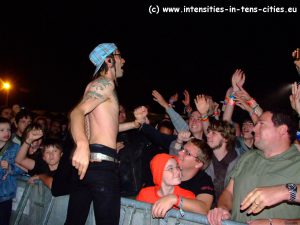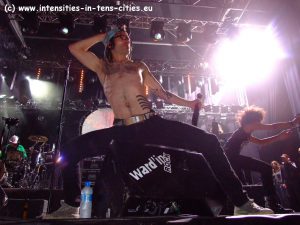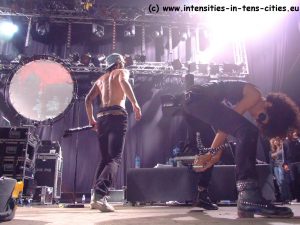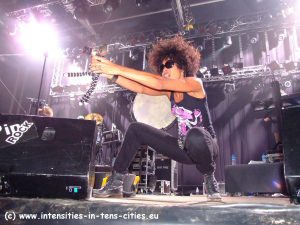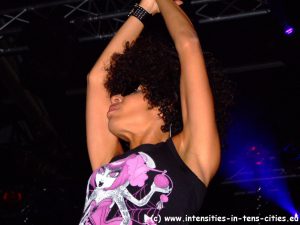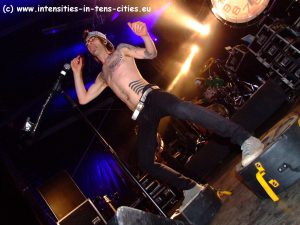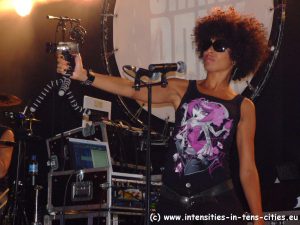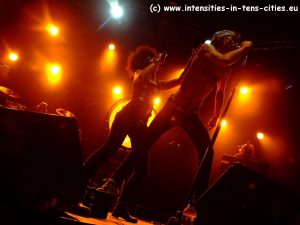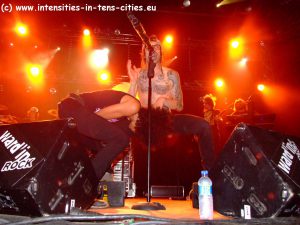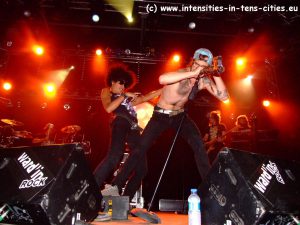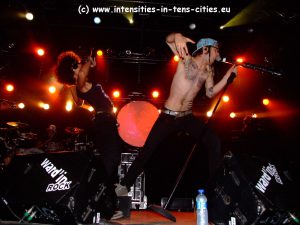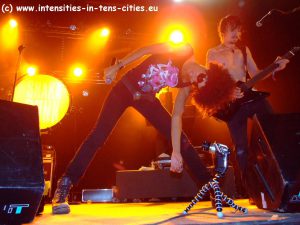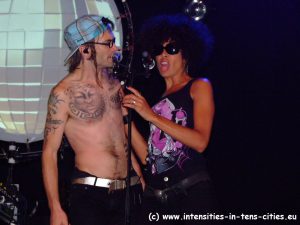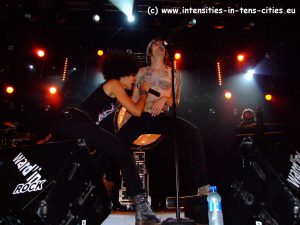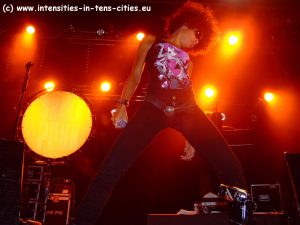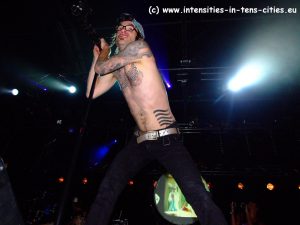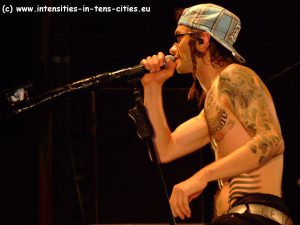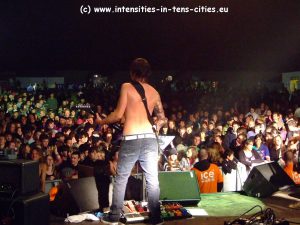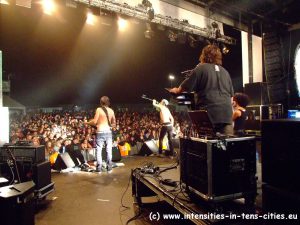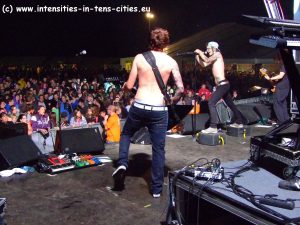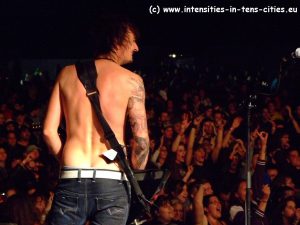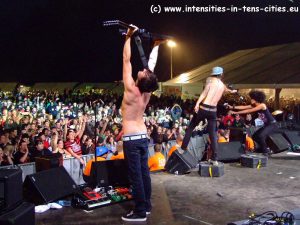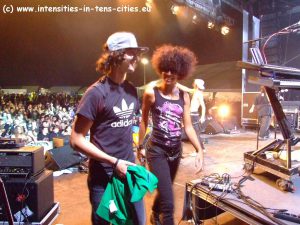 Le punk hardcore de DAGGERS survolte l'autre scène suivi de DRIVING DEAD GIRLS: un garage-rock bien senti qui se termine par du lancer de guitare dans le public et du jump-dévérinage de batterie: chaud-boulette pour annoncer l'arrivée de DO OR DIE qui m'impressionne moins qu'en avril dernier – sans doute la cause à un son assez pourave ou à l'effet de surprise qui n'est plus.
La journée du samedi ne peut atteindre les sommets de la veille, et c'est dommage. By-pass sur les prestations de OVERMARS et de FULL OF SUEDOISES notamment, avant de refaire avec eux le monde backstage en soirée en alternant les sets de PIERPOLJAK, RAPH, FELOCHE, ETE 67, BALIMURPHY et autres SURFING LEONS.
Vient l'heure où monte sur scène BLACK BOX REVELATION. Le duo détonnant se partageant batterie et guitare est à la hauteur des attentes et insufflent à cette seconde journée la débauche de décibels et d'attitude qui manquait presque jusque là. Si le terme de power-trio sied à merveille à certains, l'appellation atomic duo colle-t-elle parfaitement à BBR…!
Et ce n'est pas là dénigrer The MASH qui les précèdent, annonçant les Hongrois de HANGMAS avec leur british-wave totalement eighties assaisonnée de bons riffs bien solides qui donne un tout très, très potable. Après les avoir ratés au Sziget à Budapest il y a 3 semaines, je suis aujourd'hui témoin de l'accueil que la Belgique réserve à ces Hongrois avec la même ferveur qui a surpris tous les groupes Belges qui ont marqué le Sziget de leur empreinte. Putain, putain, c'est vachement bien, nous sommes quand même tous des Européens…