L'affiche donne le ton – et il n'est pas spécifiquement question des gabiers du même nom, même si un moussaillon est de la partie ce soir. Soirée tribute, d'ailleurs, avec une intensities-in-two-cities : après le G4 à Bertrix, se sera tout à l'heure Abbey Road à Bastogne (It's a long way to the top if you wanna rock'n'roll – air connu). Tout est donc dit et écrit, et correctement mentionné sur l'affiche du G4 ce soir, pour le quatrième gig d'un band qui ne s'était pas initialement constitué pour durer, que du contraire. Mais l'éphémère est devenu rémanent pour notre plus grand plaisir, et le flingue à un coup est devenu une sulfateuse qui assure. Le "Projet G4" est donc tout naturellement devenu simplement… G4
Aaaaaah ! comme dans le bon vieux temps, l'organisateur monte sur les planches pour annoncer le groupe avant que les lumières ne s'éteignent : on croirait réentendre un microsillon vintage double live quelconque… Pour ajouter une touche de surréalisme, l'annonceur ne manque pas non plus de préciser qu'exceptionnellement ce soir le bar restera ouvert durant le spectacle (sic) – au cas où on oublierait qu'on est dans un centre culturel et qu'on fait là une coupable entorse aux ancestrales et rigides habitudes des lieux – et qu'il est recommandé d'éteindre son gsm (re-sic). Cette dernière précision fera cependant l'objet d'un rapide démenti de la part du band qui précise quand même d'entrée de jeu, par la voix de son M. Loyal (Denis Richard – vocals), que de toutes façons on ne les entendra pas sonner, qu'il vaut mieux les laisser sur vibreur et qu'après tout on n'en a rien à f…. On est donc bien dans un centre culturel – et cette petite touche un rien cocasse n'est pas pour déplaire à un parterre particulièrement peu conventionnel également pour un tel endroit.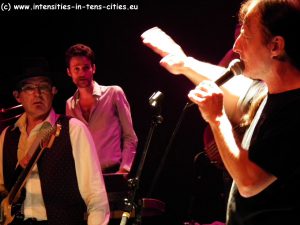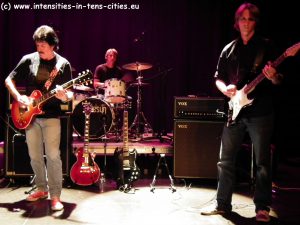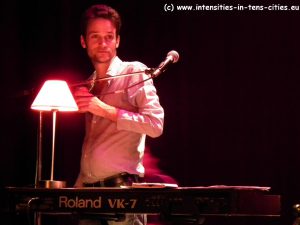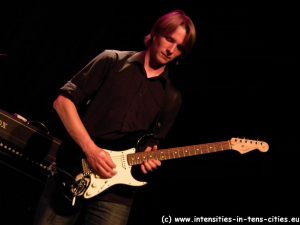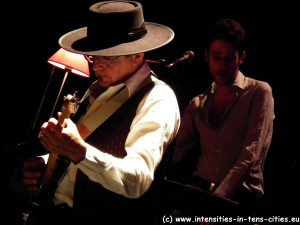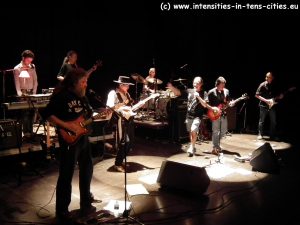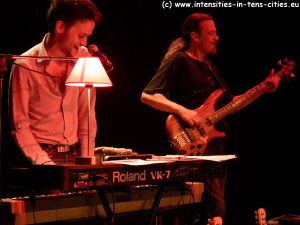 A l'instar de ces présentateurs/animateurs radio (dont je tairai pudiquement le nom) qui irritent royalement leurs auditeurs en annonçant sur les ondes Les Pink Floyd, Les AC-DC, Les Police, Les Supertramp, Les Nirvana, etc. (Le(s)) G4 remonte donc sur les planches pour un quatrième gig en un an, passant de la sorte du statut de tueur occasionnel one-shot à celui nettement plus envié de respectable serial-killer de la scène luxembourgeoise. Vivement d'ailleurs le prochain forfait dans un mois, manière de prendre une nouvelle balle en pleine tête, non pas entre les deux yeux ou plutôt si, mais entre les deux tympans plus précisément. Les quatre lead-guitars copulent deux par deux, Manu "Roi Lion" Moreau et Bernard "The Boss" Castelloes sur le flanc gauche, Albert "Le Maître" Pemmers et Julien "Magical Fingers" Mary sur l'aile droite, tandis que keyboard et bass-man font de même sur le podium où Ben "en Gaume" Langlois croise le fer (ou plutôt le pétard) avec Didier "A poil, Bidon !" Tonneau, laissant tout seul comme un grand, installé derrière son artillerie, Geoffroid "Boum Boum" Mary.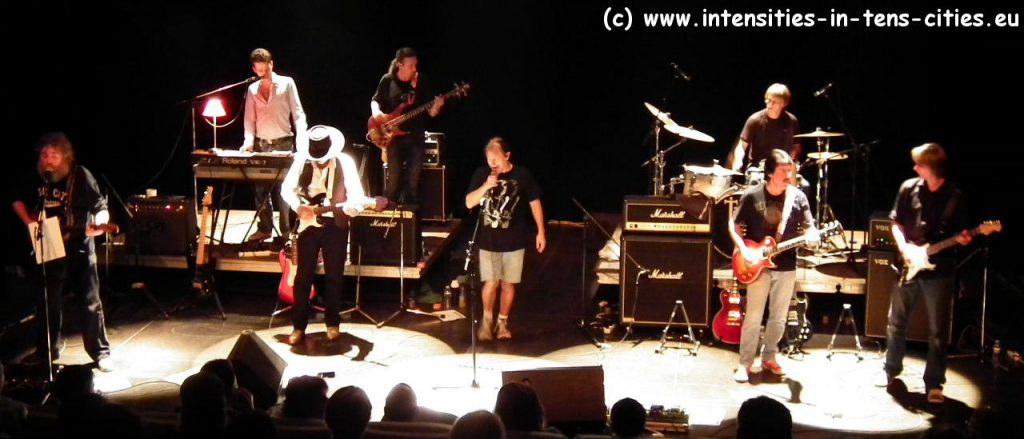 L'équipage est au complet, les huit corsaires du vaisseau Classic Rock peuvent prendre le large après avoir longuement affûté leurs munitions ces dernières semaines pour relever le défi d'un nouvel épique combat contre la facilité et le confort. Car quatre lead-guitars à synchroniser, c'est pas du pâté (gaumais), et huit flibustiers à caser, c'est pas full-confort non plus. Mais (Le(s)) G4 a été pensé (un peu) et conçu (beaucoup) pour partir à l'assaut de classic rocks non pas particulièrement pour les revisiter mais plutôt pour les réincarner. Le fun en plus, conjugué à la puissance de 4 grattes et à la bonne humeur de 8 potes désormais complices pour le meilleur et sans le pire.
L'intemporel a de nouveau frappé fort ce soir. Non pas dans le dos mais en plein coeur. Et à coups de watts, maudits rockeurs !