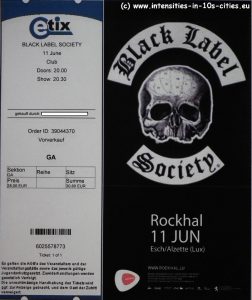 80 minutes de concert, sans même rappel (!), ce n'est pas banal – et c'est heureux. Franchement chiche, le Jeffrey Phillip Wielandt (alias Zakk WYLDE), voire même carrément radin. Ce n'est pourtant pas faute de nous en mettre plein les mirettes et plein les oreilles : pas moins de 20 amplis Marshall aux lampes scintillantes tapissent la scène de part et d'autres des drums, posés sur autant d'enceinte estampillées (feu) Sir Marshall, sans compter les 4 modules disposés devant le podium de la batterie ! Y a pas à dire mais point de vue tableau, ça en jette un max dans le club de la Rockhal. Pareil ravissement ne m'avait pas été offert depuis longtemps. Et pour compléter le tableau, trois impressionnants barbus et chevelus déboulent sur scène à 21h37, dont le moindre n'est pas le Zakk himself. Qu'il est loin le temps où ce freluquet d'à peine 20 ans officiait discrètement dans l'ombre d'Ozzy Osbourne lorsque je découvris son jeu de guitare déjà cataclysmique un beau soir de 1989 à Forest National ! Le petit Zakari Wyland est depuis devenu l'impressionnant Zakk WYLDE, et la métamorphose est tout bonnement effrayante tant en regard de son jeu, de son style que de son look à la carrure de bûcheron canadien. Rehaussé de sa coiffe indienne à la Nuge durant les deux premiers morceaux, son faciès n'en est que plus impressionnant encore, avec sa chevelure aussi longue que sa barbe rasta tombant jusqu'au nombril.

Passant de la guitare au synthé (!), sa voix est énorme, sauvage et agressive pour parfois devenir mélancolique. Zachary est un musicien, compositeur, interprète, multi-instrumentaliste et improvisateur de talent. Néanmoins, le long solo qu'il nous assène (dont il nous assomme, plutôt), aussi soporifique que superflu – voire même franchement nul et inutile – est à la charnière d'un trop court set dont l'intensité et la densité de la seconde moitié sont un cran en-dessous d'une première demi-heure explosive. BLS reste le Zakk Wylde Band tant ses trois comparses ne sont que de simples faire-valoir, avec toutefois une mention particulière pour le bassiste dont le jeu est cependant écrasé par le rouleau compresseur des deux guitares et de la batterie. 80 minutes après le baisser du rideau (à l'effigie du BLS bien évidemment), le tsunami prend fin. Soulagement pour les tympans fragiles, mais déception pour le portefeuille : la minute d'over-décibel devient décidément de plus en plus onéreuse avec certains groupes, faudrait revoir ça les gars…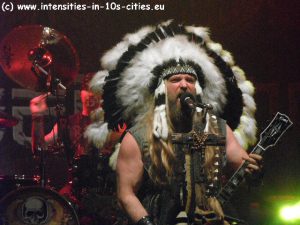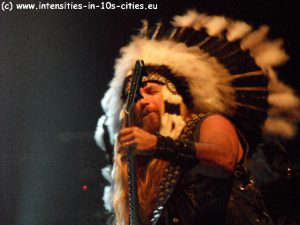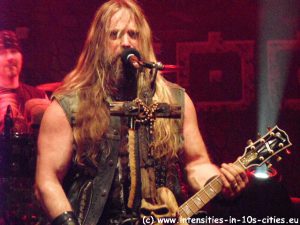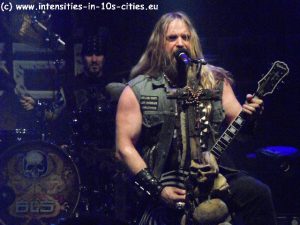 AC ANGRY assurait préalablement la première partie, en envoyant la sauce en hors d'oeuvre qui convenait parfaitement au plat consistant et de résistance qui s'en suivait. Carré et brut de brut. Les barbus (et/ou chevelus) en nombre ce soir dans la Rockhal ne s'y sont pas trompés – et les dégarnis et les rasés de près non plus d'ailleurs.

(Autres reviews de Black Label Society @ Intensities in Tens Cities – All the World is a Stage, Chap.1 :
The Vintage Years 1978-2011).