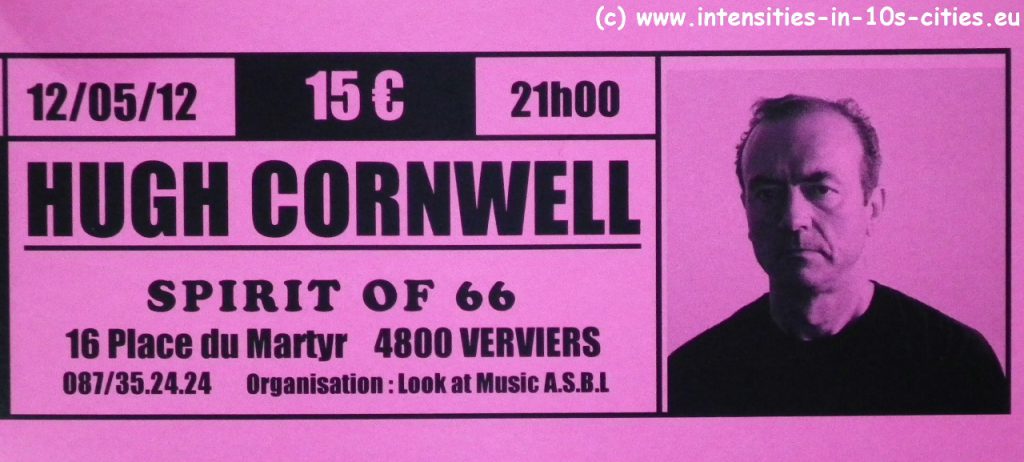 Hein, quoi ?! The STRANGLERS à Verviers ?! Ben… oui… ce sont comme qui dirait eux sur scène ce soir au Spirit. En tous cas, en fermant les yeux ! Hugh CORNWELL, la voix, la guitare, le compositeur et le co-leader des Etrangleurs emmène son nouveau trio visiter le meilleur du meilleur des STRANGLERS, époque fin des seventies début des eighties (avant que le combo ne vire sa cuti pour ne plus délivrer qu'une pop anglaise insipide, inodore et incolore – qui annoncera le départ d'Hugh CORNWELL). Au menu ce soir, l'épique époque 1977-1982, celle durant laquelle les méchants garçons des STRANGLERS tenaient le haut du pavé de la scène punk-alternative anglaise, ces Men in Black au style si particulier qui a fait leur renommée – et la terreur des mères de bonne famille. Caroline ("sur la basse, de Brighton") qui partage la scène ce soir avec Hugh et le batteur était-elle déjà même née ?!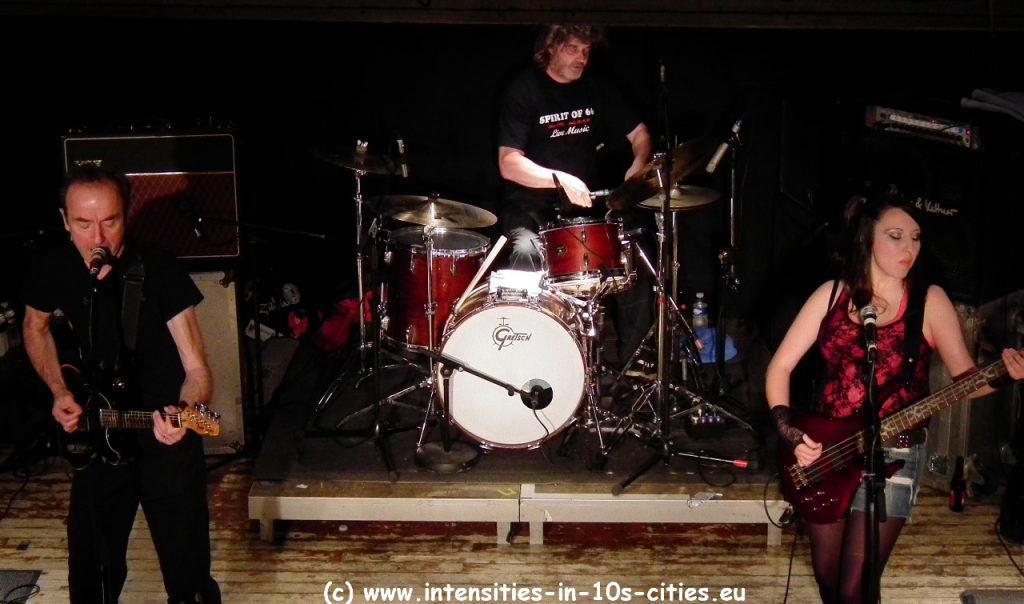 Certes, manquent probablement ce soir la basse, ô combien méchante mais délicieusement agressive, de Jean-Jacques BURNEL et le clavier si caractéristique du son Stranglers pour offrir tout le rendu des Etrangleurs, mais ne boudons pas notre plaisir. Hugh CORNWELL, le Men in Black qu'il est resté toujours de noir vêtu, n'en a pas pour le moins conservé ses combat-shoes aux pieds – du temps de sa splendeur de bad boy qui assénait de vilains coups de pieds aux vieilles da-dames en rue.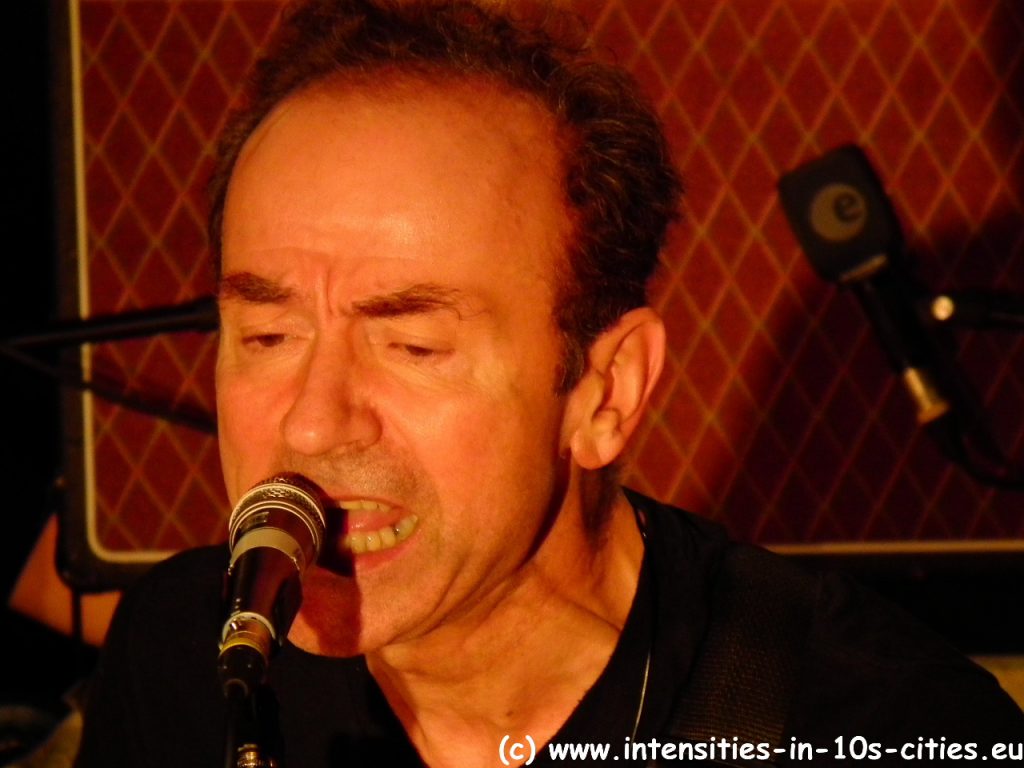 Notre homme a vieilli comme il a vécu, à l'instar d'un public nostalgique de vieux alternatifs peut-être, devenus sans doute de conventionnels pères et mères de (bonne ?) famille. Car c'est bien le répertoire des STRANGLERS qu'il vient retrouver ce soir, ce public : CORNWELL ne s'y trompe pas, lui qui nous délivre à la manière d'une bonne lasagne 3 ou 4 couches de STRANGLERS pour 1 épaisseur seulement de sa production personnelle solo. Et d'en profiter pour rappeler au bon peuple présent – clairsemé comme sa coiffure – que son dernier album est par ailleurs entièrement téléchargeable sur ne net, pour gratos pas un balle que dalle. Ca le fait, ça, et il n'en est pas peu fier !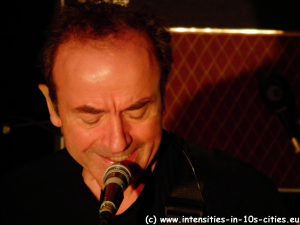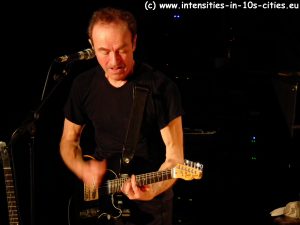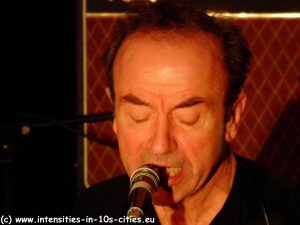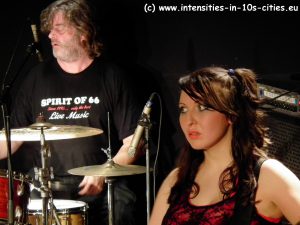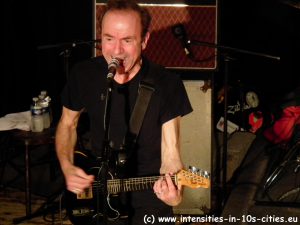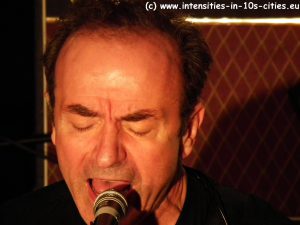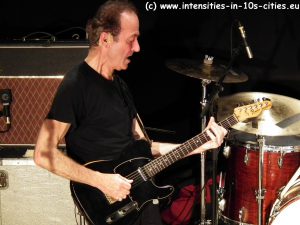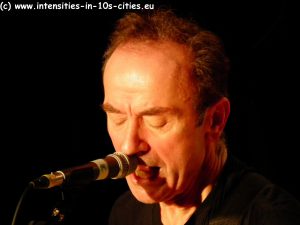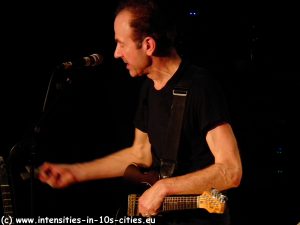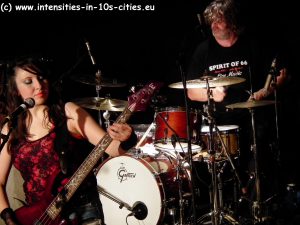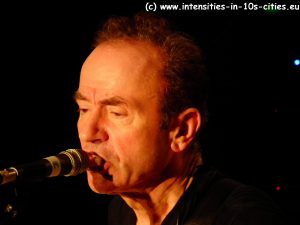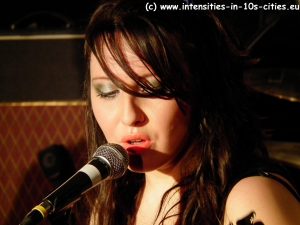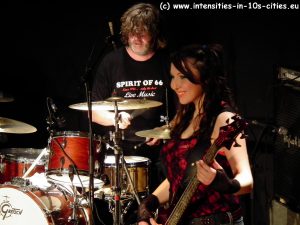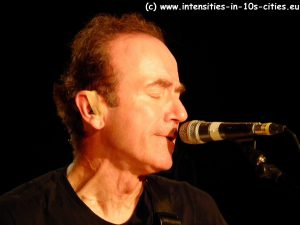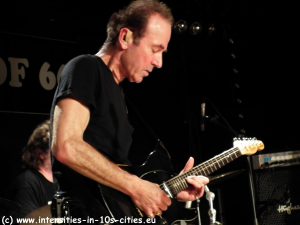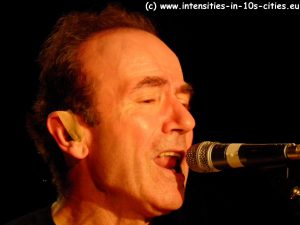 Les incontournables "Golden Brown", "No More Heroes" et autres "Always the Sun" clôtureront en douceur ce voyage dans le temps au cours d'un set vintage bien emballé, bien propret, voire un peu trop sage peut-être. Il faut que jeunesse se passe, certes, et d'en déduire que celle des occupants des lieux – artiste et public – est déjà bien consommée. Alors que la dernière note flotte encore dans le Spirit quelque part entre les planches et le bar, CORNWELL est déjà descendu de scène pour fendre la foule et filer au fond de la salle se muer en marchand de tapis : seul aux commandes de son étal, il vend disques et t-shirts, encaissant et rendant la monnaie entre deux autographes et trois poignées de main. Ou les vicissitudes de la vie d'une (ex ?) rock-star. No More Heroes. Anymore, en effet… Et "Hanging Around" sur YouTube, c'est ici.
Autres reviews des Stranglers au Chap.1 d'Intensities in Tens Cities – All the world is a stage "The Vintage Years 1978-2011""