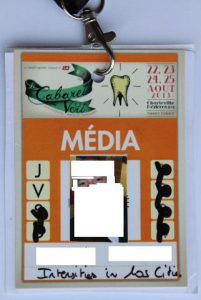 Le punk-rock/harcore US est à la fête en ce 2ème des 4 jours de CABARET VERT, avec comme cerise sur le gâteau, en plat de résistance et en bouquet final The OFFSPRING. Mais le soufflé retombe quasi aussi sec. Non pas que leur production bien énergique et remuante souffre d'une quelconque baisse de régime ou ait mal vieilli, mais avec leur dégaine de livreurs de pizzas, ils ont vraiment tout sauf la rock'n'roll attitude. A croire qu'on est allé rechercher d'anciens serveurs de chez McDo pour les affubler d'une étiquette soi-disant punk-rock et leur demander de jouer les mauvais durs et les faux méchants dans une bien piètre pièce de théâtre au casting pourri. Même l'Abbé Pierre ferait mieux du Lady Gaga qu'OFFSPRING du… Offspring, c'est dire.

Malgré un light show, une sono, un lay-out et une set-list de Dieu le Père – tout n'est pas à jeter – rien de spontané, rien de suant, rien de dégoulinant, rien de vrai, rien de sincère dans cette prestation. Rien de rien dans cette pantomime: alors qu'on les attend sales et méchants, l'écume aux lèvres, l'oeil hagard et la pupille dilatée – telle leur musique – on est au contraire face à une clique de piètres intermittents du spectacle, dans l'acception la plus creuse et au degré zéro du terme. La déception d'un OFFSPRING froid et aseptisé est à la dimensions de nos attentes. Te souviens-tu pourtant, mon Fils, de ce terrible album Smash qui a tourné en boucle des semaines durant (des mois même, devrions-nous dire) alors que tu baignais encore dans ton liquide amniotique, tes parents s'inquiétant même de savoir si cette exposition intensive à ce véritable bijou de fin 1994-début 1995 allait avoir sur toi une influence manifeste sur tes goûts musicaux futurs? The OFFSPRING, "la progéniture": c'était un signe…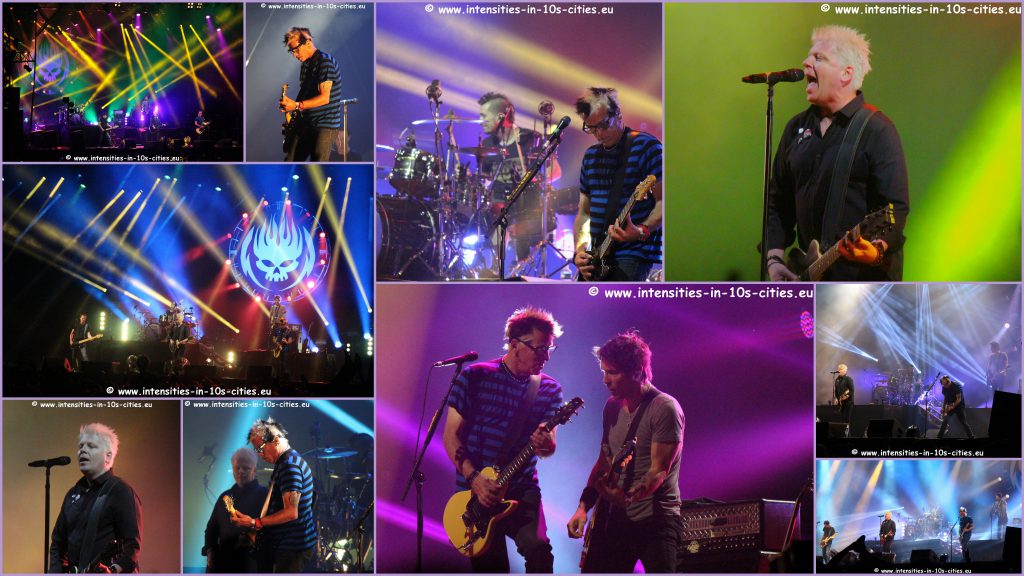 Palme d'Or à SKIP the USE qui réussit en début de soirée à mettre le feu au Stade Bayard. Des dizaines de milliers de bras en l'air sont autant de roseaux lumineux en pleine érection, pointant les cieux à la cadence d'une rythmique aux relents résolument et méchamment punks pour l'occasion: SKIP the USE a manifestement décidé de se mettre au diapason de l'affiche de ce vendredi en optant pour une set-list renouant avec plaisir – et succès – avec la période destroy du band. Un splendide, puissant et nirvanesque "Teen Spirit" suffit à boutter le feu aux poudres, le reste n'étant plus que formalité pour entretenir un foyer puissamment nourri. Bravo: s'adapter ainsi au contexte et à l'audience n'est pas à la portée du premier venu, et vous en avez déjà brillamment fait montre au Ward'in Rock l'année dernière (voir ) et même en 2010 déjà (voir Chap.1 "The Vintage Years 1978-2011" @ ). Chapeau bas, les Gars, votre prestation a manifestement marqué cette 9ème édition du Cabaret Vert!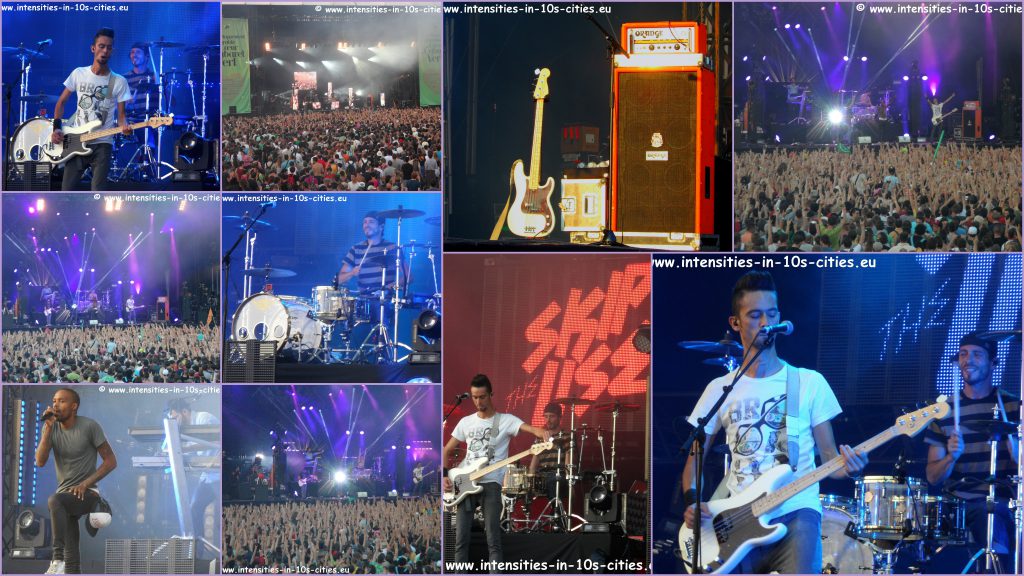 Deux autres formations punk-rock/harcore US de dimension explosent également l'affiche du vendredi: s'il fallait établir un quelconque classement tout aussi subjectif qu'inutile et déplacé, notre légère préférence irait aux Californiens de The BRONX – The beat that kills (sic). Sans frime ni artifice, sans chichi sans manière, ils nous délivrent sans fard un set puissant et parfait sans avoir l'air d'y toucher. Ils montent sur scène comme ils sont dans la vie – et c'est tout là qui fait la différence avec The OFFSPRING notamment.
La scène c'est leur trip. Ils y montent et s'y montrent tels qu'ils sont – portant probablement les fringues défraîchis de l'avant-veille qu'ils avaient déjà sans doute usés dans le bus ou l'avion qui les a amenés en Champagne-Ardennes. Bonne humeur, humour, chaleur, simplicité et sympathie relève l'efficacité et la déflagration de cette prestation à la Ramones. The BRONX mérite la grande scène du stade, mais ils fontt mieux encore en ravageant celle dite des Illuminations – qui n'a jamais aussi bien porté son nom lorsque, submergée de la poussière soulevée par les mosh à répétition, elle offre à l'objectif les plus beaux clichés qui soient…
De la côte Est à la côte Ouest des Etats-Unis, il n'y a que quelques centaines de mètres au Cabaret Vert ! Entre Los Angeles et New-York, entre The BRONX et SICK of it ALL, c'est chou-vert et vert-chou. Les vétérans du punk-hardcore américain font ce qu'il est attendu d'eux. Jumps et bonds, sauts violents et rageuses battues, leur jeu de scène est à l'image de leur musique: foudroyante et sans compromis(sion).
Un set sans surprise, mais qui n'en est pas moins une manifeste réussite toute en puissance et sans finesse aucune – mais qui leur en demande? – ponctuée de mosh pits, circles et autres joyeusetés infantiles du type death wall qui réservent toujours leur petit effet. A fortiori à ceux qui ne sont pas là pour ça. Les quelques mots de français dont SICK of it ALL ponctuent leur show contribuent en définitive à faire de celui-ci un moment aussi chaleureux que chaud-boulette.
Ce 9ème Cabaret Vert devient une valeur sûre de la Grande Région en étant son plus grand festival – et l'éphémère troisième ville du département avec 75.000 festivaliers! Organisation et timing sans faille, accueil média des plus professionnels, éclectisme parfait dans la programmation de tous les arts qui y sont représentés (BD, associatif, cinéma, arts de rue, etc.). A prévoir pour la 10ème édition: des écrans géants – même en salles, ils sont devenus quasi omniprésents; que dire alors en open air. Et à propos d'arts de rue, notre palme revient sans équivoque à la Fanfare ROCKBOX, ovni du rock déambulant gueulophone en tête et revisitant de manière ex-tra-or-di-naire les mythes du (hard) rock des seventies et eighties. Antisocial tu perds ton sang-froid !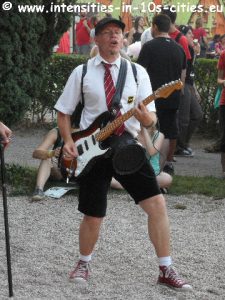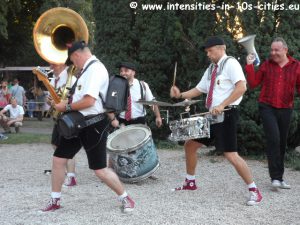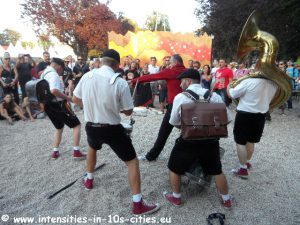 (Une précédente édition du Festival Cabaret Vert est consultable au Chap.1 "The Vintage Years 1978-2011" @ )