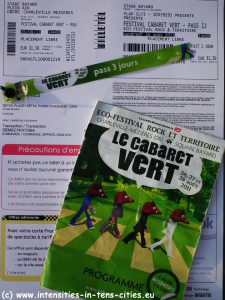 Disons-le d'emblée de jeu et même d'entrée tout court : le set d'IGGY POP & The STOOGES dans les Ardennes Françaises ne me transcende pas outre mesure ce soir. Me déçoit même un peu, avoue-je. Une set-list assez mièvre – du moins au regard des pépites qui constituent son patrimoine (bientôt reconnu par l'UNESCO) – un light show peu éloquent et ne mettant guère en valeur le monstre présent sur scène en contre-jour permanent ; septante minutes seulement de show ni plus ni moins, respectant cependant à la minute près (!) le timing-horaire précis du festival.

En conclusion, un Iguane moyennement fidèle à lui-même. Et qui nous gratifie d'une provocante grimace au moment de quitter les feux de la rampe, comme pour me narguer davantage encore, tirant la langue à un public qui semble pourtant majoritairement ravi et conquis. Iggy pas vraiment fidèle à lui-même d'un côté, mais parfaitement Iguane de l'autre.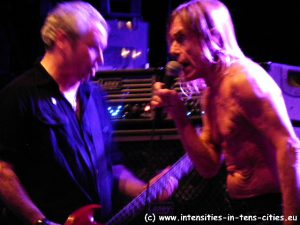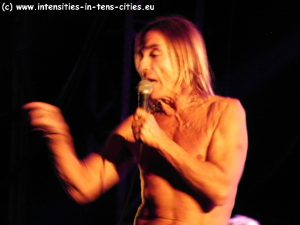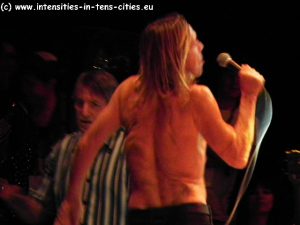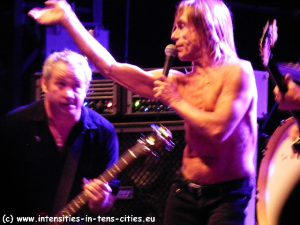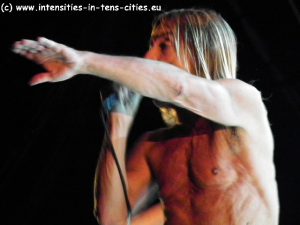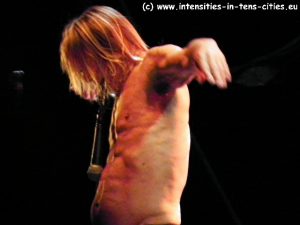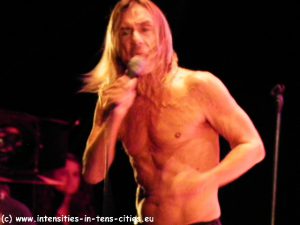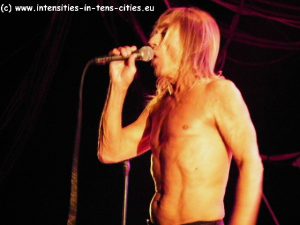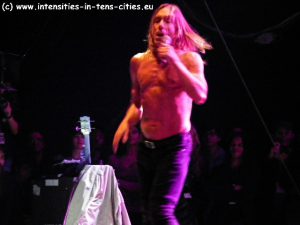 Le show de ce soir est de loin le moins explosif, le moins transcendant de mes précédentes expériences Iggy Popiennes. Sans doute l'impression est-elle différente pour celles & ceux qui découvrent ce soir pour la toute première fois la Bête. Boitillant et claudiquant, Iggy quitte la scène après s'être pourtant tortillé et déhanché une bonne heure durant. S'est-il déboîté une hanche (vraie ou fausse) durant son set ? A moins que cette douleur ne soit déjà présente d'emblée de jeu (ou d'entrée tout court), ce qui pourrait – partiellement – expliquer cette prestation toute moyenne. Sacré Iggy, va : tu n'as plus mon âge, et moi pas encore le tien : n'oublie donc pas de me le rappeler le moment venu que toi au moins tu es arrivé à passer le cap des 60 berges…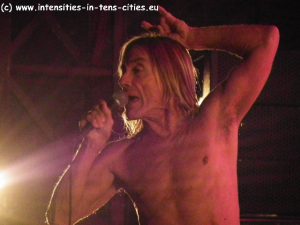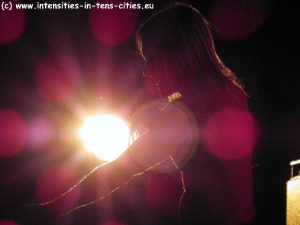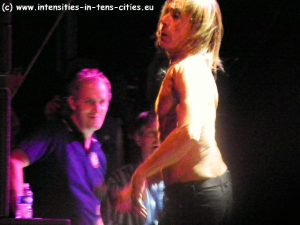 L'éco & territoire Festival Cabaret Vert, ce sont 50.000 personnes en trois jours à l'entrée, et 49.999 à la sortie : c'est pas le Pukkelpop, mais la série noire et meurtrière des festivals d'août 2011 semble continuer. Si la seconde grosse pointure de ce vendredi est pour moi HATEBREED – ou plutôt la première, dans l'ordre de passage voulu par la programmation – l'effet dévastateur attendu est bien, très bien présent. Une sono monstrueusement forte mais pure comme il n'est Dieu pas possible (… et de loin supérieure à celle d'Iggy…), quelques mosh par-ci par-là pour égayer le gentil peuple qui a fait le déplacement sur la plaine Bayard, et un set destructif et destructeur à la hauteur de ces sales gamins new-yorkais qu'ils sont.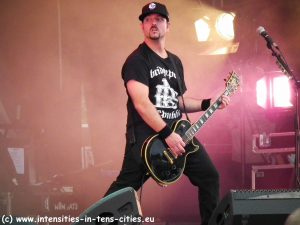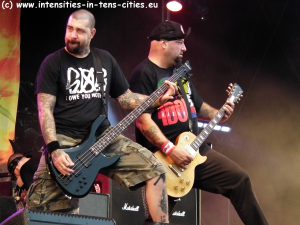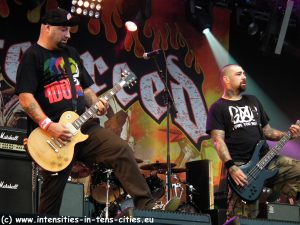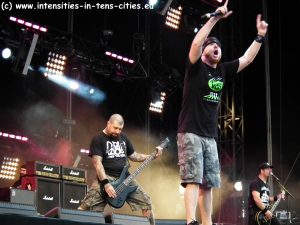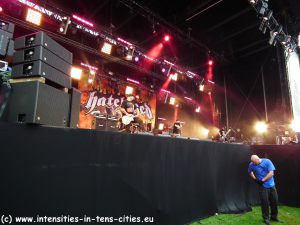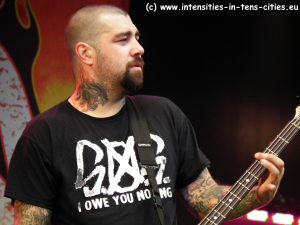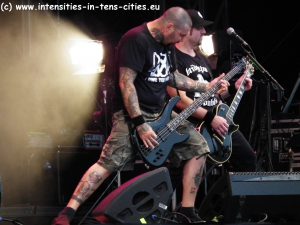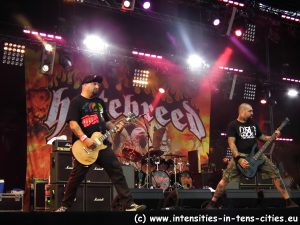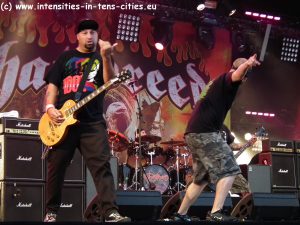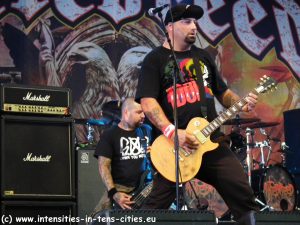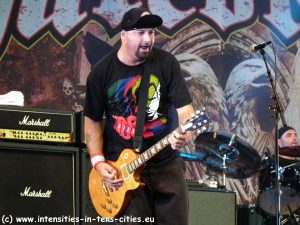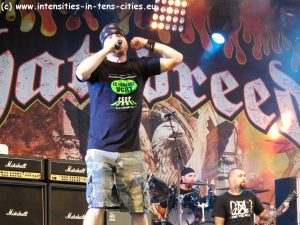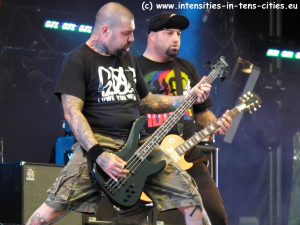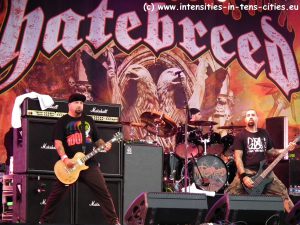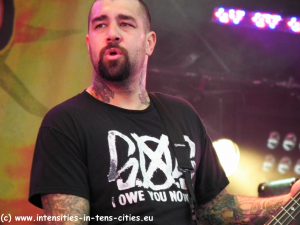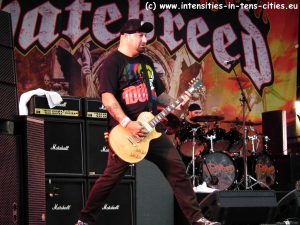 HATEBREED, c'est 100% maximum volume pour 100% maximum power. Pas de fioriture, pas de compromis ni de compromissions pour un max de destruction. Pas de garniture ni de cerise sur le gâteau. Pas de gâteau non plus : seulement un pain. Mais un pain de dynamite et de TNT hardcore.
Mais le Festival Cabaret Vert, ce n'est pas qu'Iggy et Hatebreed cette année qui trônent pourtant en tête de l'affiche. Ce sont également ce vendredi quelques autres rockers (?!) qui occupent les deux scènes en ce triste après-midi automnal d'août. Notamment This Is Not Hollywood, du rock français en anglais tout ce qu'il y a de plus rock français en anglais, et The WOMBATS : un trio mainstream en direct de Liverpool qui tente de faire tantôt son méchant Oasis, tantôt son gentil Greenday. De la pop accrocheuse aux accents de dancefloor pour jeunes adolescentes pré-pubères. Les autralopithèques – pardon: australo-américains – de The DEATH SET nous pondent quant à eux un cocasse mixte entre les Beastie Boys et Cheaptrick dans un joyeuse cacophonie / euphorie. Passons rapidement sur The DO qui ne nous offrent qu'une bonne chose : l'occasion d'aller casser la croûte en attendant Iggy que nous fait péniblement patienter ATARI TEENAGE RIOT : l'adolescence creuse dans toute son horreur électro et (soit disant) punk. Bassland.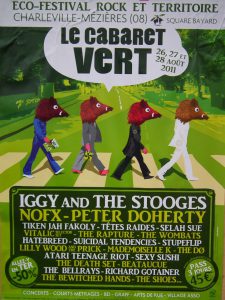 Bref, une programmation bien trop éclectique pour combler le rocker moyen qui sommeil en chacun de nous. HATEBREED a allumé un feu en fin d'après-midi que, somme toute, bien peu ont été en mesure d'entretenir par la suite. Merci, les New-Yorkais pour cette salutaire claque ! Sûr que Suicidal Tendencies et The Bellrays prendront la relève demain (malheureusement sans moi…). Et merci aux organisateurs de ce Cabaret Vert Eco Festival Rock & Territoire pour cette initiative se rapprochant à cet égard en bien des aspects du Sziget Festival – à l'échelle 1/100 bien entendu. Reste que le caractère par trop hétéroclite de cette programmation – son point fort – risque bien d'être un jour son véritable point faible : on meurt toujours par où on a péché…