1300 bénévoles (on en a refusés !) pour 4 jours d'Eco-Festival Rock & Territoire: la 10ème édition (sold out) du Cabaret Vert ne fait plus dans la dentelle ! Pluridisciplinaire par excellence, orienté éco-territoire et traduisant une certaine "philosophie", le Sanglier des Ardennes du Rock s'apparente de plus en plus à un mini-Sziget (si, si !). A la différence près qu'il offre notamment bien plus de Trappistes et autres bières spéciales belges. Devenu matamoresque avec plus de 23.000 festivaliers quotidiens, il n'en a cependant pas perdu son âme ni son esprit durable et/ou rebelle (biffez la mention inutile) tout en conservant convivialité et simplicité comme maîtres-mots.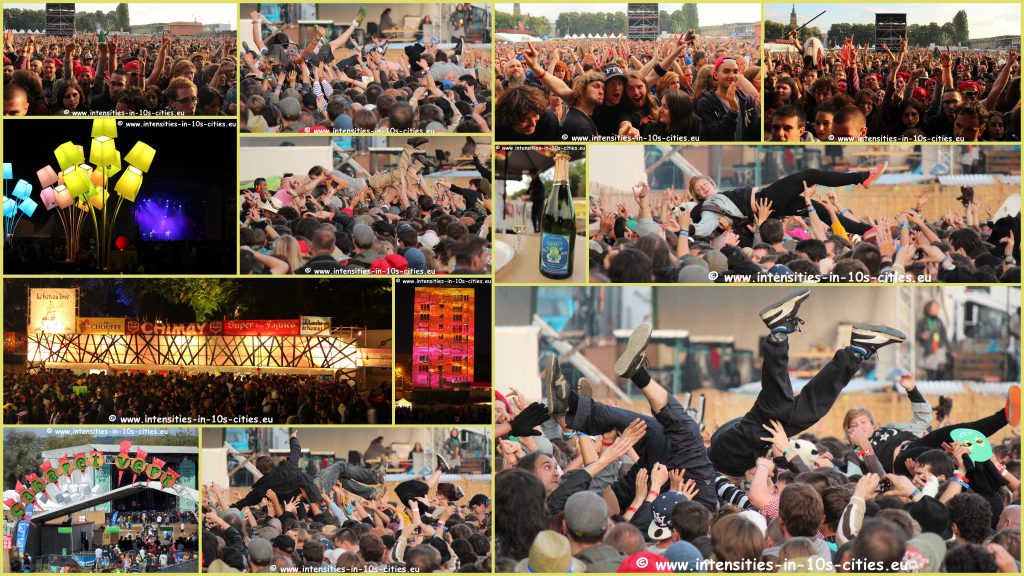 Un staff pro des plus accueillants et disponibles, une logistique parfaite et partout – partout – ces bénévoles et ces prestataires qui vous accueillent avec le sourire et un bonjour, avec des "mercis" par-ci et des "s'il te plait" par-là. Mêmes les vigiles, habituellement aussi peu amènes qu'ils sont balèses, contribuent à cette chaleur ambiante toute ardennaise. Ces Ardennais-là, amateurs de bonnes bières et de bonne musique, sûr qu'ils mériteraient leur rattachement à nous autres, Ardennais du Royaume, le jour où ils en auront assez de la République. Nan, on plaisante allez.


Zoom sur quelques pointures du samedi 23 août 2014…
L'après-midi commence en beauté sur la grande scène avec FINDLAY et leur garage-rock anglais s'inspirant de ce que Detroit, Motor City, a fait de mieux. Si le set commence en douceur, presque sirupeux, c'est pour mieux – crescendo – exploser : cette chienne de mon chien nous aboie un "I wanna be your dog" des plus orgasmiques en guise de final, avant de se jeter dans le public pour joindre le geste et le corps à la (bonne) parole. FINDLAY est originaire de Manchester: c'est certain que la sortie d'autoroute signalée "Manchester" pour rejoindre la Cabaret Vert (c'est véridique!) était un signe annonciateur…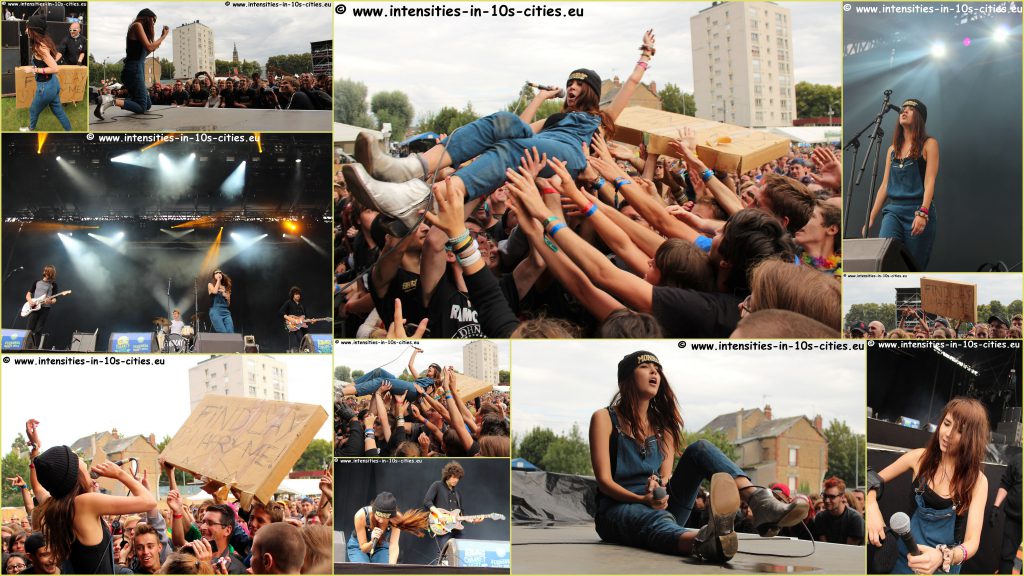 Prenant la relève, TRIGGERFINGER assène le coup de massue de cette fin d'après-midi. Les Anversois atomisent la plaine avec un show tout simplement é-pous-tou-flant, laissant le public comblé et sur les genoux. Après avoir écumé nombre de festivals européens, le power-trio plus stoner-rock que jamais clôture sa série estivale en remplaçant (Dieu merci !) au pied-levé les Suédois de Volbeat qui déclarent forfait l'avant-veille.
Et, for sure, c'est tout bénéfice: un show d'une énergie incroyable, une set-list mortelle, une symbiose fusionnelle parfaite, une démonstration de force sans pareille en se postant au plus près de l'avant-scène pour mieux vous assassiner: le crime est parfait. TRIGGERFINGER est une véritable tuerie, une arme de destruction massive…
Habitués des grands festivals, les Australiens d'AIRBOURNE sont le fruit des amours cachées d'AC et de DC qui ont dû copuler un jour backstage. De cette levrette bestiale à la va-vite sur un mur de Marshall chauffés au rouge, il résulte de cet infâme enfantement un décor à l'identique, et l'énergie et la bonne humeur qui font que le hard rock, c'est eux! Ce sont eux. Avec une capsule de VB (célèbre bière australienne) en guise de volume à sa guitare, reste néanmoins à vérifier que ce sont également bien des cannettes de VB que Joel O'Keeffe explose sur son crâne à tour de concerts avant de les balancer dans l'audience.
Son traditionnel tour dans le public, guitare en bandouillère, se poursuit cette fois jusqu'au podium des PMR (excusez la distance !) tout en continuant ses riffs tandis que la rythmique assure de plus belle sur scène – ou comment rendre un des plus beaux hommages qui soit à ces personnes dont l'ouïe est désormais aussi réduite que leur mobilité. Rien de neuf néanmoins sous les astres : le hard-rock, c'est AIRBOURNE. Et vice-versa; back to the roots. A l'issue d'un show de 40′ seulement, suivi quand même de 20′ de rappel pour atteindre les 60′ de prestation et ainsi remplir leur contrat, notre interrogation du mois dernier à la Rockhal demeure: AIRBOURNE est-il trop intense que pour s'inscrire dans la durée, ou jouissons-nous ici de la touche puissante mais éphémère qui caractérise l'Excès dans toute sa splendeur…?
Après le collectif FAUVE ≠ (qui serait presque le cheveu dans la soupe du samedi sur la scène principale ?), place au « Meilleur Spectacle Musical » consacré par les Victoires de la musique 2013. SHAKA PONK est de retour avec un nouvel album et un nouveau show plus que jamais colossal qu'ils ne tarissent pas de nous vanter lors de la conférence de presse et, préalablement, sur les ondes de Radio Bleue. Ils apprécient les lieux et le concept du Cabaret Vert, autant que leurs potes de Skip The Use l'année dernière ici-même, et avec qui ils faisaient encore la fête tout récemment, nous narrent-ils….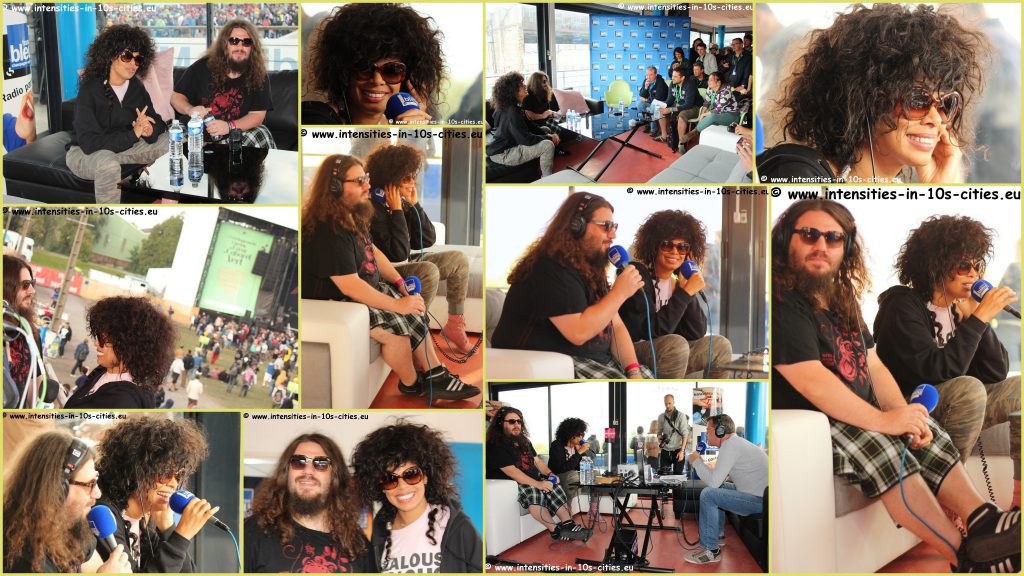 Et c'est bien on stage que l'électro rock aux effluves funky/punk du groupe prend tout son sens : débauche sonore et orgie visuelle, sueur et énergie se confondent dans un joyeux bordel festif finement travaillé. Un show à la hauteur de la bande son réglé comme du papier à musique, une mise en scène des plus suggestives et puissante, c'est ça la trash Monkey Family qui prend son pied.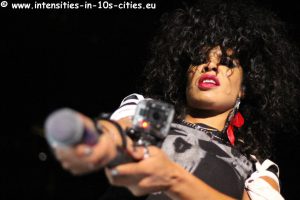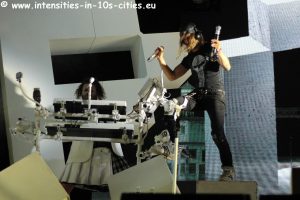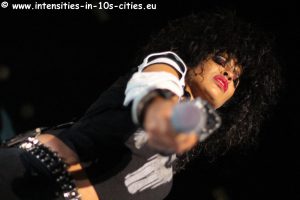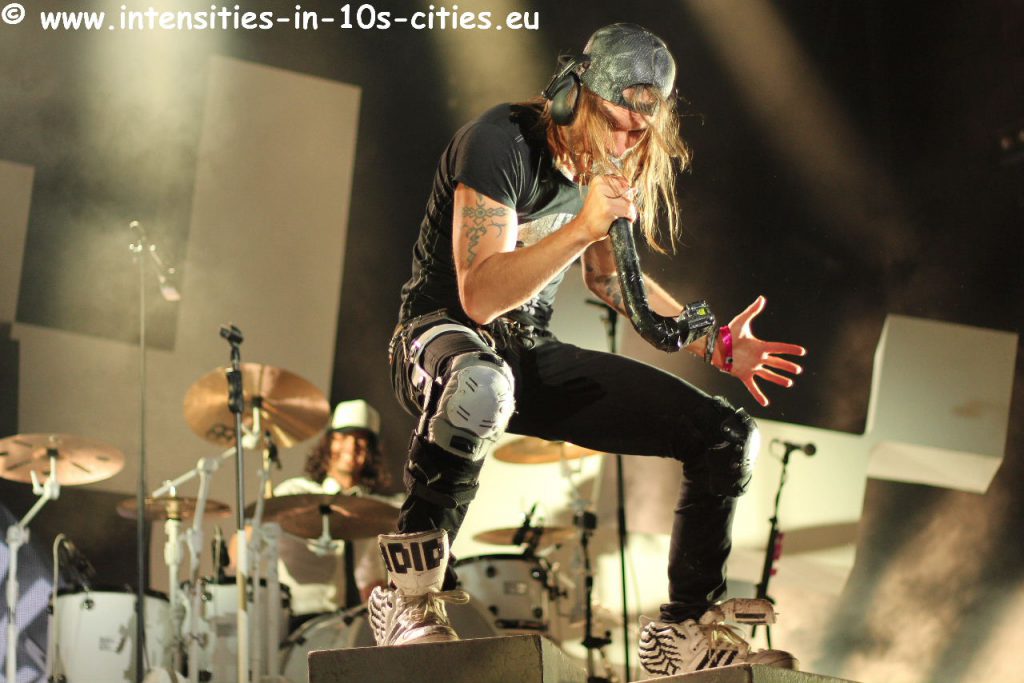 Comme une cocotte-minute prête à exploser dont on relâche la pression à doses savamment calculées, question de faire durer le plaisir à la manière d'un orgasme perversement contenu. Ce tableau est néanmoins gâché par un bémol, et de taille pour nous : la censure de quelques uns de nos clichés devant être préalablement soumis au management du groupe avant publication ici-même. Une première en ce qui nous concerne, une triste et disons-le scandaleuse et lamentable première qui ternit le vernis de SHAKA PONK – aux antipodes sans doute de l'effet escompté.
Parano? Schizo? Mégalo? No Pasaran ! Enfin, quand il y aura prescription, revenez nous visiter : nous déverrouillerons quelques uns de ces censored pictures…: