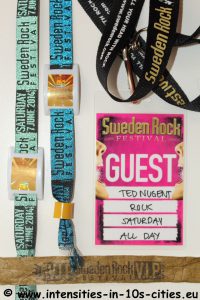 Samedi 7 juin 2014 : jour 3 de 3. A l'instar des précédentes journées, le sold out affiche au compteur 35.000 festivaliers qui rôtissent sous un soleil de plomb. Les cinq scènes de cette plaine côtière font le plein, et l'ombre prodiguée par les quelques arbres et chapiteaux s'arrache à prix d'or. Les bars ne sont pas en rupture de stock, que du contraire: rarement nous a-t-il été donné de contempler tant de corps (féminins plus particulièrement…) ivres de bières, d'alcools et de soleil. A moins que ce ne soit cette quatrième et dernière journée de festival agrémentée d'autres substances illicites qui sonne définitivement le glas des corps les plus frêles et des constitutions les moins bien préparées?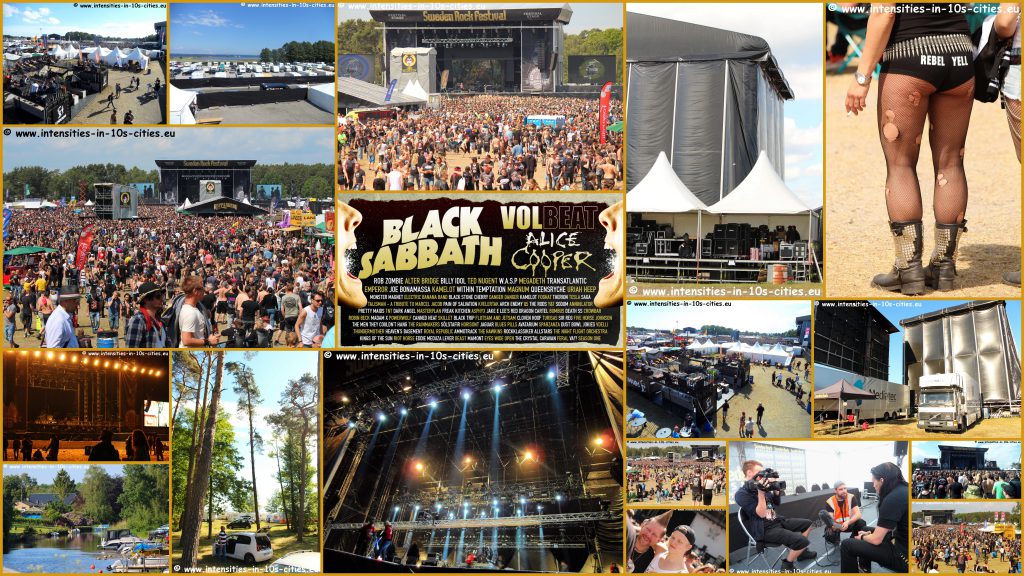 Longue journée que cette dernière que nous commençons de magistrale façon avec MONSTER MAGNET à l'heure de l'apéro des douze coups de midi – soit neuf heures trente après le premier chant des oiseaux. Dave Wyndorf et sa bande méritent bien mieux que ces 75 minutes de bonheur total devant un public dont une partie cuve encore de cette nuit, mais ne faisons pas la fine bouche. L'intégrale (ou quasi) de leur dernier "Last Patrol" est passée en revue, agrémentée de quelques autres perles qui ont depuis longtemps assis la réputation de notre stoner préféré. Wyndorf offre toujours son dos au public pendant une partie du show, nous réservant comme à son habitude les reverbs et autres effets psychés dont sa table magique regorge à foison pour notre plus grand bonheur. Du reste, manier des membres supérieurs ce que l'homme a conçu pour l'usage des membres inférieurs ne demeure pas à la portée du premier stoner de bas-étage venu. Le public ne s'y trompe pas et, déjà compact, arrive en masse et par hordes entières à cette heure pourtant presque matinale pour le festivalier lambda. Excellents: vous demeurez excellents les gars, et on ne s'en lasse pas.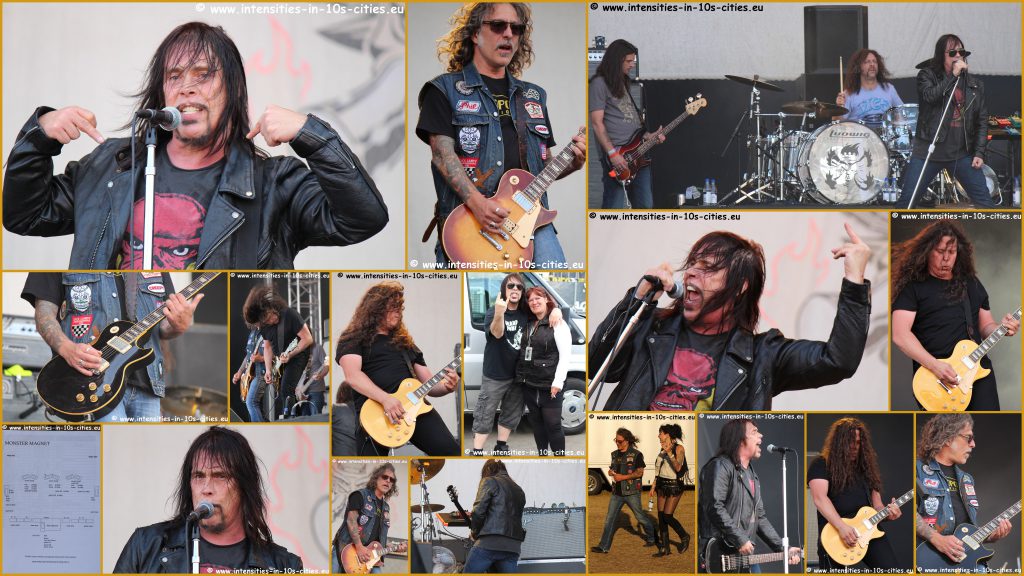 Excellentissime prestation également de FOGHAT en milieu d'après-midi. Avec un Charlie Huhn qui s'impose aux vocals et à la lead-guitar qu'il partage depuis quelques années (comme à la glorieuse époque où il officiait avec Nugent), les revenants de FOGHAT n'ont en fait jamais disparu. Disons plutôt qu'ils ont quelque peu boudé le Vieux Continent: raison de plus pour savourer leur présence ici en Suède avec encore deux membres originels qui nous offrent un show sans fausse note aucune – la bonne humeur et la franche & virile camaraderie en prime.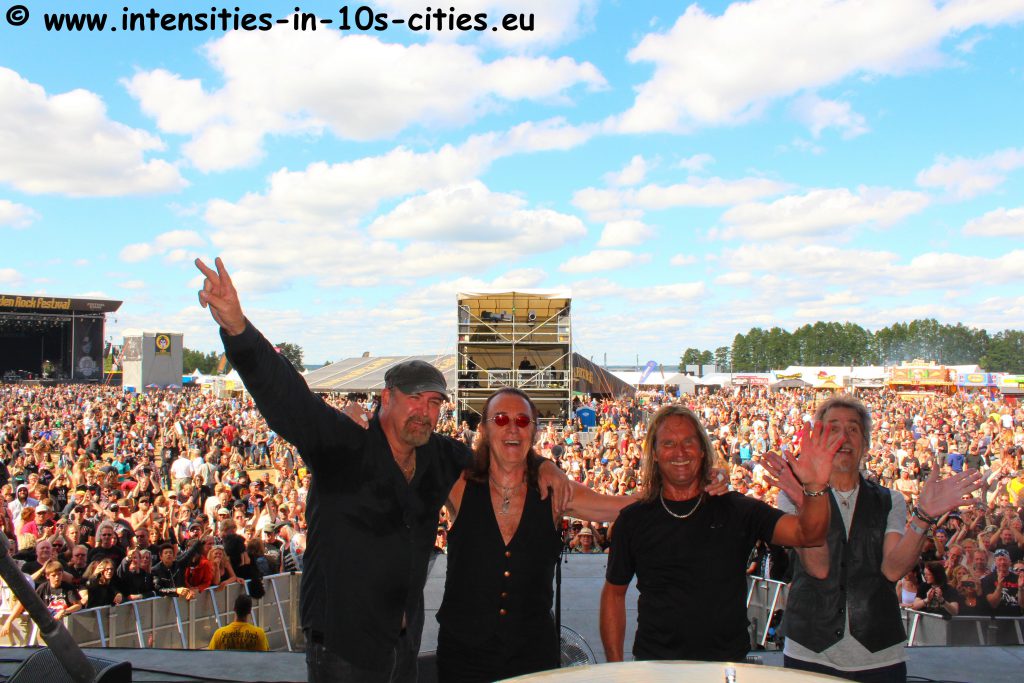 Pour la délectation, un extrait du cahier des charges de FOGHAT trainant backstage à l'attention des techniciens opérant stage left: "Audio system be capable of a strong punchy rock and roll sound through out the venue. Foghat is a rock band! It's LOUD! Please NO latest and greatest hot new thing digital consoles that no one else has heard about!! Live gigs are not the place to learn a new digital console!!!!!" (sic). Savoureux, isn't it?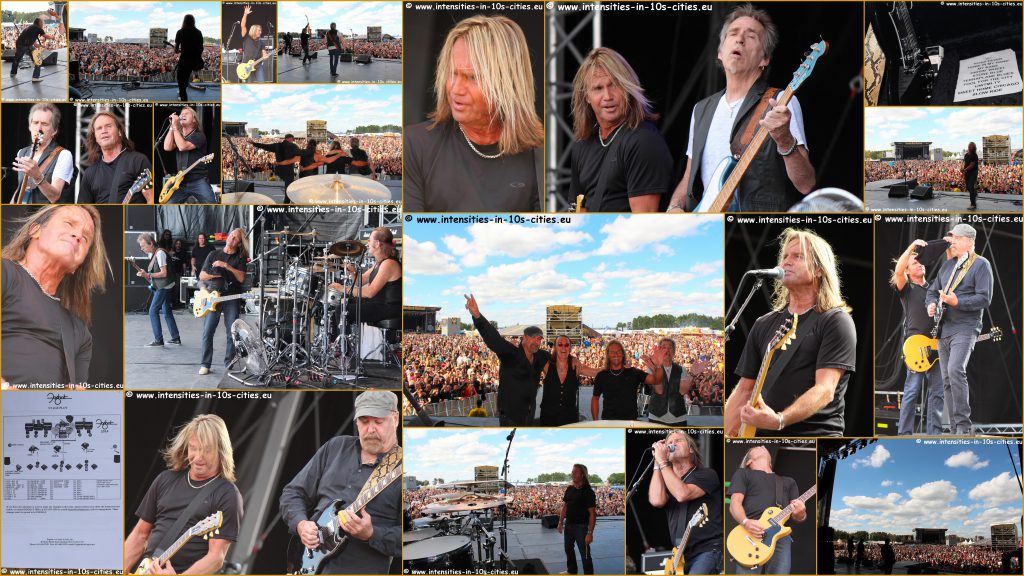 Passons rapidement sur MADAM X et DANGER DANGER qui n'ont rien inventé ni rien apporté à l'histoire du rock, mais qui contentent amplement ceux qui feraient pourtant mieux de s'en souvenir. SODOM et Y&T ne nous focalisent pas plus que WITHIN TEMPTATION ou que SAGA, si ce n'est faire s'écouler le temps en attendant le set des savoureux blueseux graisseux de FIVE HORSE JOHNSON :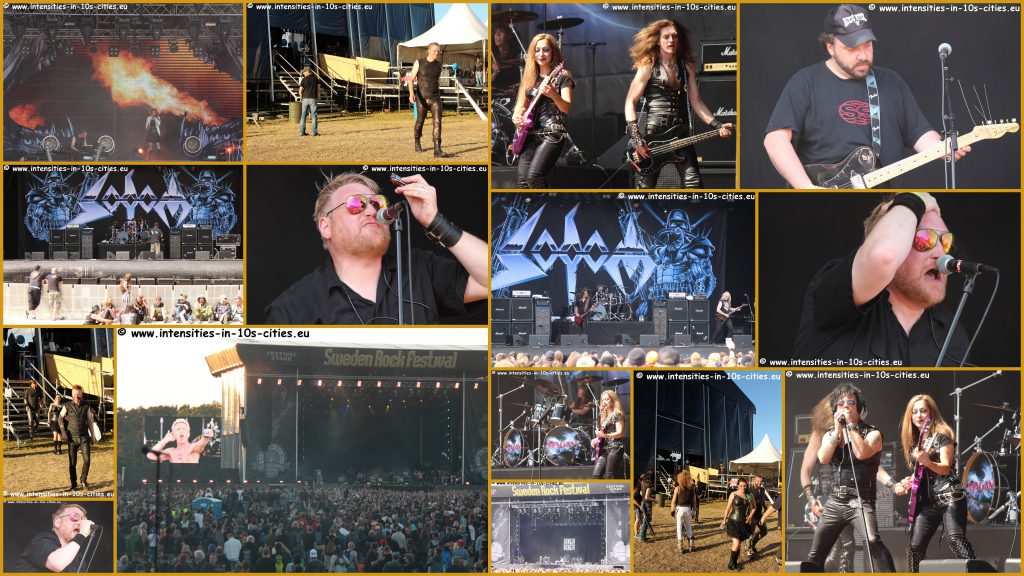 20h40: la prestation de Billy IDOL vient de se terminer sur la Festival Stage. C'est au milieu des roadies officiant sur la Rock Stage, à l'autre extrémité de la plaine, que nous venons d'assister au show du sémillant New-Yorkais, lui préférant le spectacle plus captivant de l'installation du matos pour le concert de NUGENT qui s'en suit. Seul concert européen du Nuge cette année, celui-ci clôturera dans quelques minutes l'édition 2014 du Sweden Rock Festival avant de laisser la place en toute fin de soirée aux locaux de VOLBEAT pour l'after-party. C'est donc de (très) loin que nous assistons par écrans géants interposés à l'impressionnant déploiement d'énergie de Billy IDOL tout au long d'un show d'une bien belle densité. Mais cela n'est encore rien à côté de l'éblouissant état de conservation du quinqua au légendaire torse-nu: si recette-miracle il y a, nous sommes preneurs et plutôt deux fois qu'une!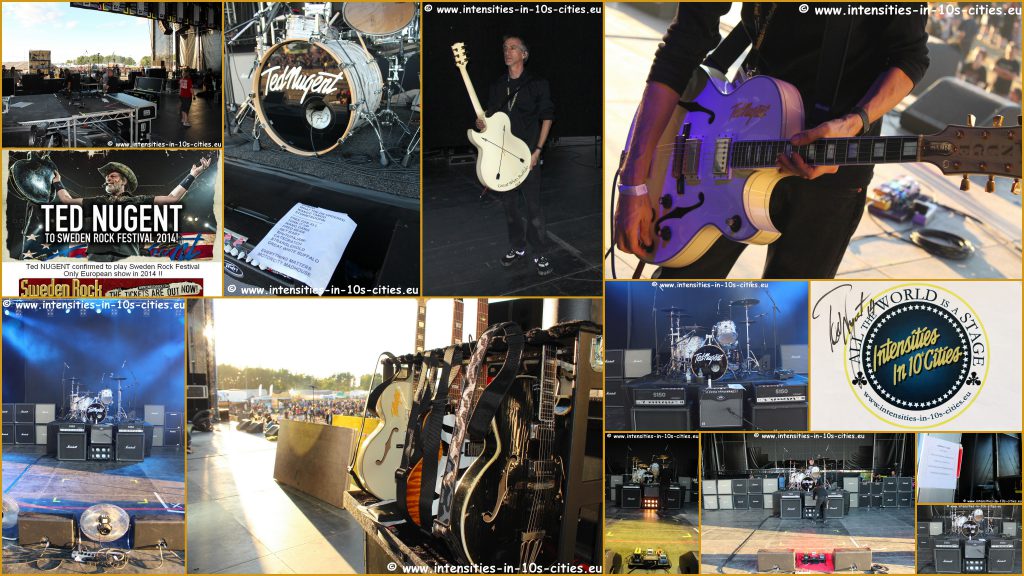 « If there is only one (backstage), it will be you ! » nous avait annoncé un mail il y a quelques jours seulement. Et de fait: 20h45 ne demeurent plus à leur poste, de part et d'autre de la grande scène, que les 5 techniciens dédicacés au bon déroulement du show de Ted NUGENT qui débute maintenant dans quelques minutes. Si ce n'est objecti(f)vement pas l'emplacement optimal pour tirer les meilleurs clichés qui soient, ne boudons pas le plaisir du privilège qui nous est réservé: ce soir plus encore que d'habitude, c'est www.intensity-in-the-city ! Greg, Mick et Dereck reviennent les premiers backstage, non sans avoir préalablement déjà supervisé d'un oeil distrait l'installation de leur matos et observé la configuration des lieux. Et apprécié tout comme nous, semble-t-il, le show de Billy Idol. Les suivant de peu, délaissant sa canne dans la voiturette qui l'amène au pied de l'arrière-scène, c'est avec difficultés que le NUGE s'attaque à son tour aux escaliers menant au backstage.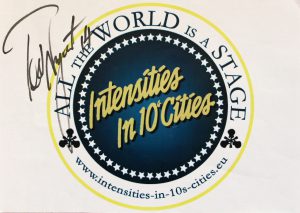 Arrivé tardivement sur le site fin d'après-midi, Uncle Ted pâtit effectivement des séquelles de sa double opération aux genoux (prothèses), et connaît une convalescence qui s'éternise anormalement. Une jambe raide et douloureuse en est le stigmate le plus visible à son arrivée. Enfourchant sa Byrdland blanche estampillée GWB (Great White Buffalo) que lui prépare et lui bichonne son technicien depuis maintenant ½ heure, il la dégoupille aussitôt pour en faire sortir immédiatement depuis l'arrière du rideau quelques puissants mugissements. Ceux-ci couvrent la traditionnelle bande-son des Rolling Stones annonçant le début maintenant imminent du concert, et indiquent au public que la Bête est aux abois derrière le grand rideau noir. Au petit signe de contentement qu'il nous adresse, il semble des plus satisfaits de l'effet attendu. Mais c'est néanmoins en claudiquant que le NUGE passe ensuite cahin-caha devant nous pour débouler sur scène sous le ciel encore rougeoyant d'un soleil couchant.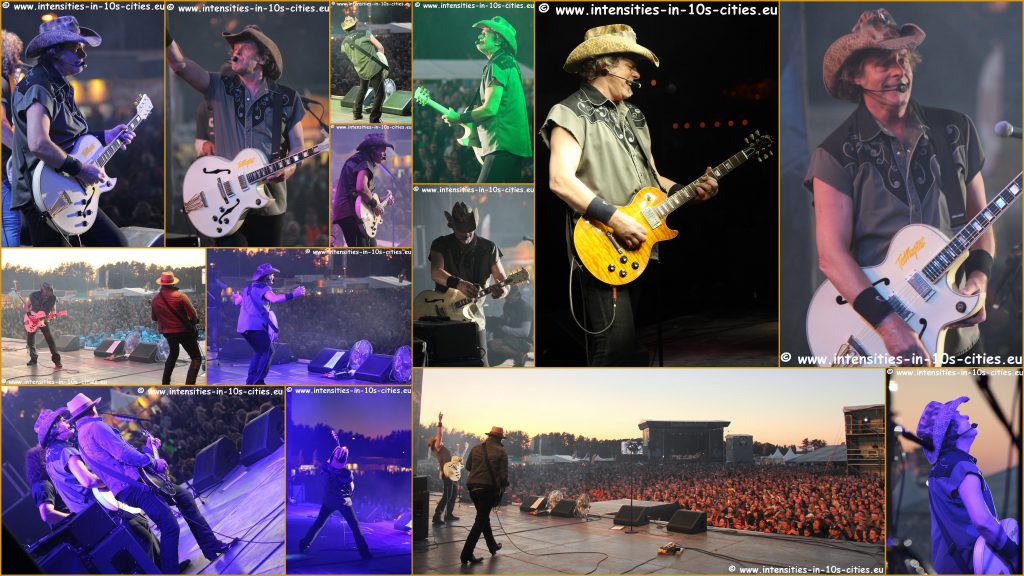 Apocalypse now: hurlements cathartiques de la Bête redevenue Animal qui éructe en retournant à l'état sauvage, brandissant sa Byrdland comme un prédateur sa proie. A l'issue probablement de douloureux efforts, Theodocious Atrocious Nugent retrouve sur scène une mobilité presque naturelle même si quelques yeux avertis remarqueront néanmoins une foulée nettement moins franche. D'autres mettront peut-être sur le compte de Samson le jeu plus statique qu'à l'accoutumée d'un NUGENT désormais orphelin de sa légendaire longue crinière vieille de plus de cinq décennies. Ce look de jeune (?) communiant serait-il le prix à payer pour cette récente et radicale coupe capillaire pour le moins décoiffante?! Ce n'est cependant pas un nouveau NUGENT que nous avons sur scène ni un autre Gonzo, mais bien le Motor City Madman plus vintage que nature et de retour sur le sol de ses ancêtres. Et on a beau s'attendre à recevoir une claque à la première note qu'il tire de sa Byrdland, c'est carrément un tsunami qui s'ébroue avant de se transformer en cataclysme. Ou vice-versa peut-être, tout va si vite et si fort (If it's too loud, you're too old – facile à dire quand on est à moitié sourd…).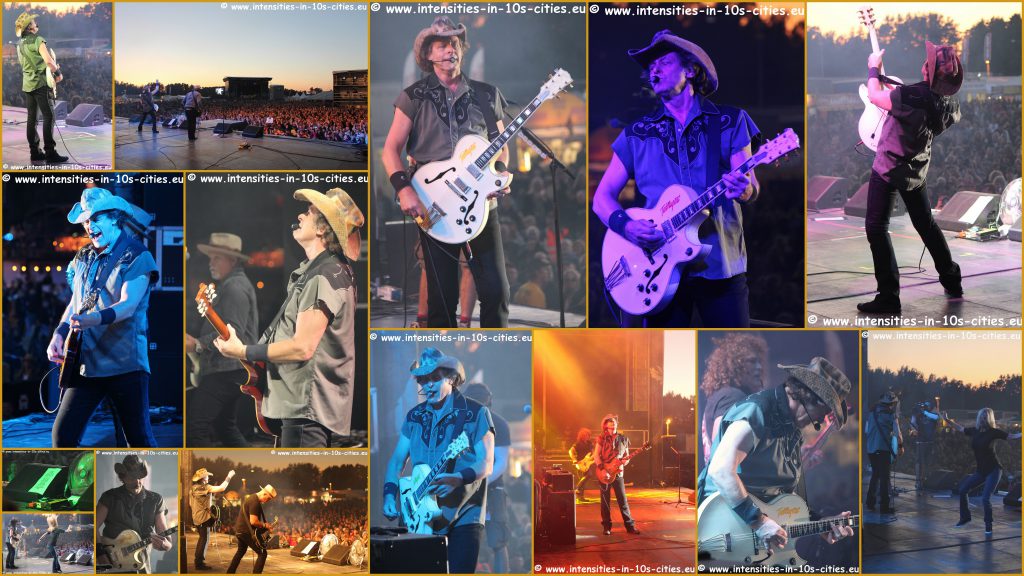 Spécialisé dans la grandiloquence à tendance barjot quand même, la carrière disparate de NUGENT manque de souffle depuis nombre d'années si l'on s'en tient à sa seule discographie. Raison pour laquelle c'est bien sur scène que demeurent toute sa démesure, tous ses excès et toute son outrance verbale et musicale de chaque instant. L'inventivité, la spontanéité et l'explosivité peu communes de NUGENT n'ont jamais fait et ne feront jamais dans la sobriété, et c'est bien pour ça que la légende perdure encore et toujours de plus belle sur scène, au-delà donc d'une production studio (et une set-list) plutôt passéiste. La dentelle a toujours été trop mainstream pour lui: rien de tel que le papier de verre, a fortiori s'il a déjà fait ses preuves…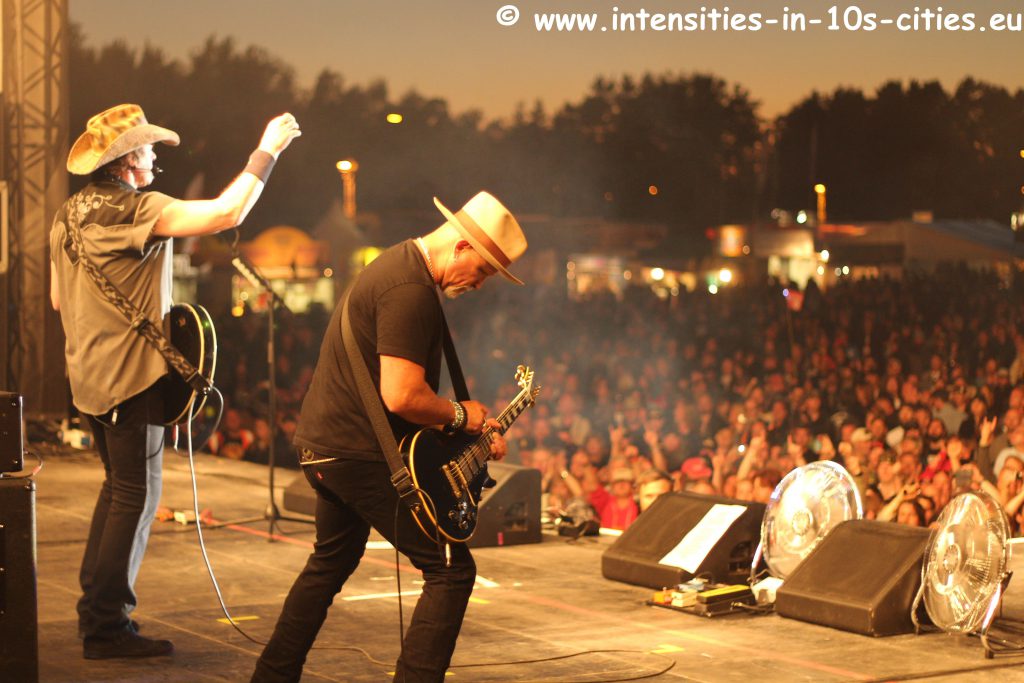 Cet aller-retour du NUGE entre les States et la Suède consiste en son seul concert européen de l'année. C'est également le premier sur le Vieux Continent depuis notre dernière rencontre dans les salons de l'O2 à Londres alors qu'il bouclait sa courte tournée 2008. La saveur de la tuerie one-shot (au propre comme au figuré) depuis notre poste d'observation n'en est dès lors ce soir que plus jouissive encore. Alternant deux Byrdland embarquées dans ses valises avec deux Les Paul, la démonstration de force du NUGE se termine par le même hurlement éructé par la Bête une heure et demi plus tôt. C'est ainsi que son traditionnel Great White Buffalo clôture ces 90 minutes de débauche sonore qu'avait inaugurées un décapant Gonzo en intro, excusez du peu.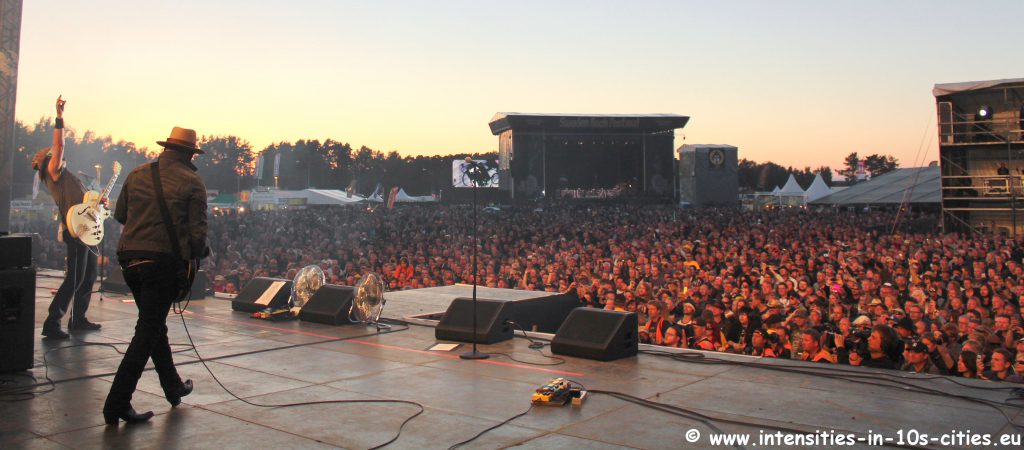 Entre ces deux masterpieces, le rouleau compresseur s'apparente à un best of the best. La formule quatuor qui (re)prévaut depuis quelques années maintenant sur scène donne toute la consistance et fournit tout le volume aux incontournables classiques dont certains sont encore plus vrais que nature avec un brillant Dereck St-Holmes aux lead vocals originelles. Seule nouveauté de la set-list et donc seule véritable surprise du chef, le morceau éponyme de son prochain CD « Shut Up & Jam » (tout un programme). On aurait espéré être davantage décontenancé par une set-list plus audacieuse qui aurait fait la part belle aux nouveautés, mais Uncle Ted a préféré jouer la carte des classiques – partition qu'il maîtrise effectivement de main de fer. Mais vu les circonstances, sa seule présence sur scène est déjà en soi la surprise du master-chef. Le set se clôture sans les habituels artefacts auxquels le NUGE nous a pourtant habitués depuis bien, bien longtemps: nous n'aurons pas l'occasion de lui en demander la raison, la devinant aisément malgré le fait qu'il ait fait bien mieux que sauver les apparences.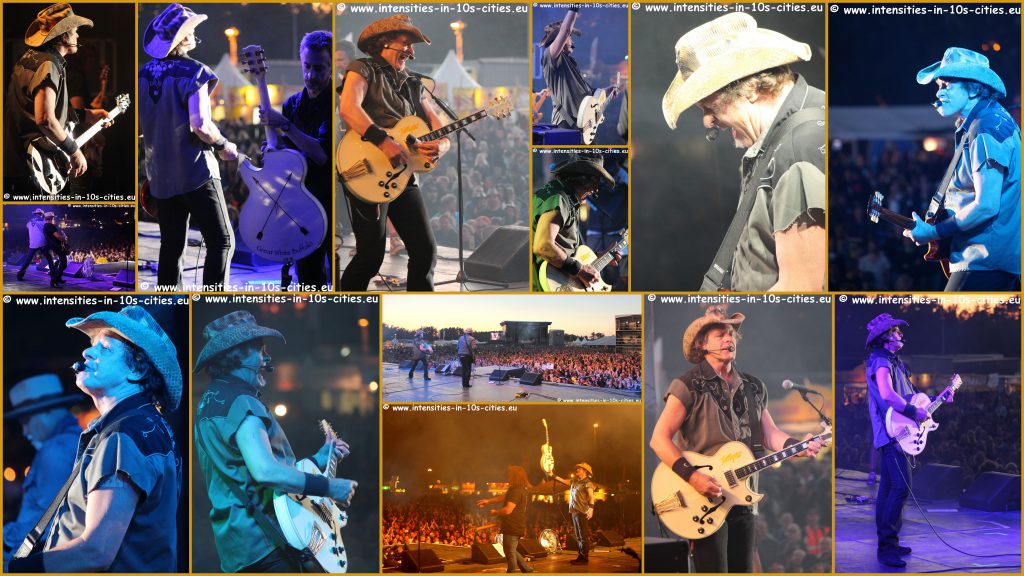 De fait, sitôt la dernière longue note hurlée par la black Byrdland mourant sans fin dans l'immensité de la plaine qui résonne encore de son cri, c'est en claudiquant de plus belle que Ted NUGENT rejoint la pénombre derrière le grand rideau noir. Il redescend péniblement les escaliers de l'arrière-scène, revêtu de son peignoir bleu estampillé d'un "The Nuge" en lettres d'or dans le dos. Prenant place dans la voiturette qui l'attend au pied du backstage, il disparaît définitivement dans la nuit. L'escapade à Rome prévue en famille à son agenda du lendemain fait ainsi place à un retour « sanitaire » immédiat aux States en prévision de sa toute proche tournée nord-américaine. Ite misa est : l'intimité scénique que nous a valu le Access All Area dont le Nuge nous a gratifié nous permet d'être néanmoins rassuré – pour autant qu'il l'eut fallu: la Bête redevient bel et bien Animal dès le rideau du backstage franchi. La magie demeure, ou plutôt la métamorphose perdure, à l'identique depuis cinquante ans. Là demeure finalement – pour nous – l'essentiel, au-delà de toutes les polémiques que suscite, entretient et nourrit savamment le personnage.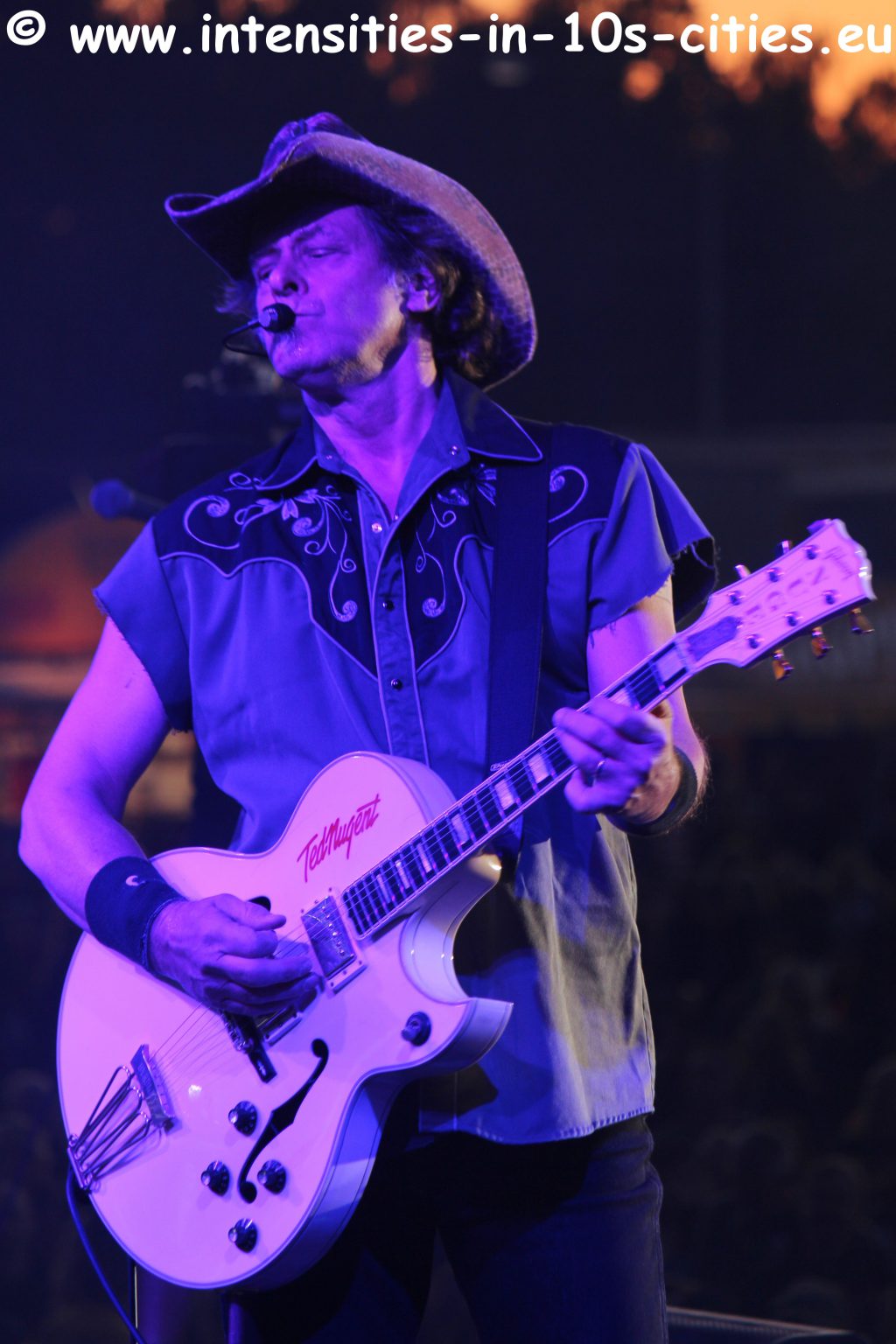 NUGENT nous a crédité d'un show sans surprise, ni bonne ni mauvaise. Sa verve habituelle était au rendez-vous, ses cris et la magie de ses Byrdland également. Qu'on adule son jeu et/ou qu'on exècre le personnage, NUGENT reste un prédateur sans concurrence sur scène en demeurant un redoutable showman et un tireur d'élite sans nul pareil. L'Histoire se poursuit et le mythe, tenace comme un furoncle, perdure pour le plus grand bonheur de certains – ou à l'image de la misère qui s'abat sur le monde pour d'autres. Mais tous admettront objectivement que le mur de 25 Marshall et autres Peavey disposés sur scène a laissé méchamment parler la poudre. Pour notre part, nous venions pour cela, et principalement à cette fin. Gonzo aussi, le hasard faisant bien les choses. Mission accomplie – back home everybody.