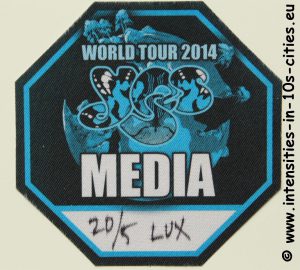 Ah ! ces seventies: entre grandeur et décadence, entre prog et punk, entre kitch et rococo, entre patchouli et herbe… Tantôt long comme une belle route sinueuse, tantôt pompant comme un pompeux Te Deum, YES – grandiloquent – réussit le périlleux exercice d'enchaîner un triptyque risqué de près de 3 heures (20' d'intermission comprises): Close to the Edge en entrée, Going for the One en plat de résistance et The Yes Album comme dessert. Le pousse-café est à l'arôme Roundabout en guise de rappel.
Les sensations sont en quelque sorte comme celles au moment de mourir (parait-il): on voit redéfiler tout le film de sa vie. C'est le cas ce soir pour une bonne partie de ceux qui replongent ainsi dans leur insouciante jeunesse. Steve Howe et Chris Squire n'ont rien perdu de leur superbe, de leur doigté et de leur maestria. Alan White non plus: remarquable. Mais quelle désolation – certes toute relative – de les contempler comme éteints, comme fatigués dirait-on. Brûlent-ils encore pour leur musique, ou cette tournée mondiale n'a-t-elle pour seul objectif que de renflouer leur bas de laine ? Se produire live leur procure-t-il encore une once de plaisir ou ne jouent-ils les automates que par nécessité ? Ou par habitude peut-être après tant d'années, sans flamme ni jouissance communicatives. Excellents et redoutables players qu'ils sont demeurés, ils ne sont manifestement pas ce soir remarquables performers, et toute la nuance est là du moins pour nous. Ce constat n'enlève rien à la qualité (quasi) irréprochable de leur prestation et du rendu parfait de ces trois chefs-d'oeuvres des plus complexes, avec mention spéciale au digne successeur de Ian Anderson à l'organe pourtant irremplaçable. Aux antipodes de Geoff Downes qui passe la plupart de son temps dos au public – et ce n'est pas plus mal vu sa dégaine de vieille chochotte sur le retour à la Kottak…
Des sièges disposés dans une grosse moitié de la Rockhal déjà trop vaste vu l'assistance, et une partie de ceux-ci restés en outre inoccupés, YES ne parvient qu'à emplir moyennement le cubage et le volume des lieux. Il faudra attendre Starship Trooper et plus encore le rappel pour que le public finisse (timidement) par se lever, que Squire décroche un fugace sourire (si, si, nous l'avons vu !) et que l'Hibernatus Howe se démomifie tout partiellement. A se demander sur le moment quelle est finalement la plus-value d'un concert où ni le visuel ni l'entertainment ne contribuent à magnifier la bande-son. Celle-ci, parfaite et presqu'irréprochable, demeure cependant faiblarde par moments – mais faute en grande partie à la configuration des lieux sans doute, pas aux Anglais de service.
Reléguer en outre les (six) photographes accrédités tout au fond de la salle, sur la galerie technique qui flirte à 20 mètres du sol avec les hauteurs du plafond mais surtout à une centaine de mètres de la scène, et tout est dit : avec tant de prétention dans le chef du management, on est décidément loin du r'n'r spirit et de la r'n'r attitude. Dommage. YES n'accepte de photos convenables qu'au moyen de téléobjectifs à 15.000,- € ? Ce sera alors sans nous – question de principe avant même de moyens : comme si shooter depuis le frontstage était empiéter sur la zone de confort du band. Messieurs, sauf votre respect, si la compagnie vous dérange à ce point, pensez à changer de job à la fin de cette tournée, non?! Ou calfeutrez-vous en studio, là où votre excellence s'exprime avec tant de brio. A certains égards (et à certains égards uniquement), tout fout l'camp moi j' vous l' dis, même si les nostalgiques s'en retourneront ce soir en érection, les inconditionnels de YES satisfaits, et ceux découvrant pour la première fois le band sur scène également. Entre le chaud, le froid et le tiède, notre mitigeur hésite en toute objectivité quant à la température du bain : on va appeler le plombier. Et se refaire défiler le triptyque de notre vie en l'attendant…
PS : un merci tout particulier à Eric Bussienne qui nous a (ac)crédité : Steve Howe est manifestement plus enclin à lui accorder un interview d'excellente facture qu'à se laisser tirer le portrait. Dont acte.