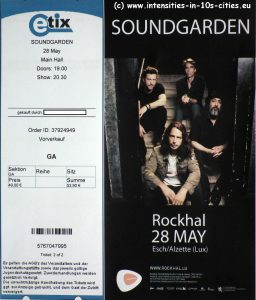 Werchter, son champ de patates – que d'aucuns appellent pourtant pompeusement "la plaine du festival". Werchter, le Jurassic Park flamoutche qui, dès le racket organisé du parking, vous met au diapason pour le reste des festivités : tout est à l'avenant afin de faire rentrer un max de liards au mépris du moindre respect pour les bestiaux qui s'agglutinent sur les quelques mètres carrés alloués (à louer?). SOUNDGARDEN a annulé de longue date déjà son concert initialement prévu ce soir au Luxembourg pour être présent ici, en lieu et la place de la Rockhal. Geste à l'égard des fans : les détenteurs de billets pour le concert luxembourgeois sont invités à ce Werchter Boutique que le groupe a rejoint à l'invitation de METALLICA en tête d'affiche. Sans quoi jamais, ô grand jamais, ma présence ici n'aurait été à l'agenda, peu importe que ce fût pour faire tourner la machine à fric de ce champ de lisier ou pour assister à un show de METALLICA. A ma charge et en toute subjectivité, je confesse avoir toujours publiquement affirmé haut et fort ne jamais me rendre à un concert de METALLICA quand bien même la place me serait offerte ! J'aurais dû préciser : a fortiori à Werchter. Ou plutôt, vu les circonstances ne jouant pas en faveur de ma probité, j'aurais dû me taire. Mais soit : back to SOUNDGARDEN.

Chris Cornell conserve manifestement une des voix les plus chaudes et les plus rondes du r'n'r circus. Il personnifie sur scène à lui seul 80% de l'aura et du magnétisme explosif de SOUNDGARDEN. Après 15 ans d'absence, le Son du Jardin (ou le Jardin du Son ?) reste fidèle à lui-même. Mais qu'en aurait-il été au Luxembourg, dans l'étuve confinée de la Rockhal où le band aurait en outre joué certainement deux fois plus longtemps et dans des conditions autrement plus respectables du spectateur lambda – celui qui, a Werchter, ne s'est pas acquitté des euros supplémentaires extorqués (rackettés) pour pénétrer dans les derniers 50 mètres du frontstage. Matt Cameron, impressionnant de puissance aux drums, l'est tout autant aux backing vocals – et le fait est suffisamment peu courant que pour être souligné.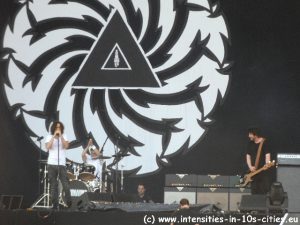 D'autant plus que la rythmique parfois hypnotique de SOUNDGARDEN syncope le tempo des 52.000 têtes de bétail rassemblées sous la canicule werchtérienne, qui réservent au band les honneurs amplement mérités. A fortiori à l'issue de Black Hole Sun, qui ne clôture pourtant pas un set en définitive bien emballé, quoique sans fioriture ni cachet particulier faut-il le regretter, mais digne tout simplement d'une honorable prestation open air. Personnellement, SOUNDGARDEN me laisse toutefois un goût de trop peu dû à une prestation qui manque de quelque relief et dans laquelle je n'ai pas retrouvé ce petit-quelque-chose-qui-fait-que. Soit un goût de trop peu (de SOUNDGARDEN) et un arrière-gout de beaucoup trop (de Werchter).
MASTODON avait (é)chauffé les corps et les esprits en fin d'après-midi alors que le soleil tapait encore fort comme les décibels, précédé de CHANNEL ZERO, de GOJIRA et de GHOST qui ouvrait les festivités. Mais le soleil a disparu lorsque vient le moment de laisser la clameur accueillir METALLICA… et d'imiter rapidement quant à moi le soleil. Trois quarts d'heure de show (sur les 2h15 prévues) suffisent malheureusement à me conforter dans l'opinion que j'ai toujours nourri (mais que je venais mettre à l'épreuve de la réalité pour le reconsidérer) au sujet de ces valeureux métalleux : ils n'ont jamais rien inventé ni apporté au style et cette démonstration, certes de force et de puissance mais gavée de clichés et de stéréotypes, n'en est que plus stérile et creuse. Laissons les bestiaux aux tourteaux (et vice-versa), en espérant éviter quelque racket supplémentaire au moment de récupérer le véhicule chèrement garé. 52.000 bestiaux exultent au loin dans la nuit tombée, la pyrotechnie parachèvera ce grand barnum et le show se clôturera en apothéose c'est certain. Definitively. Panem et circenses : la formule fonctionne depuis deux mille ans avec ce bon vulgus, pas de raison de la changer pour une populace qui s'en contente…
(Chris Cornell et Audioslave font l'objet d'une précédente review au chap. 1 de www.intensities-in-tens-cities.eu "All The World is a Stage – The Vintage Years 1978-2011".