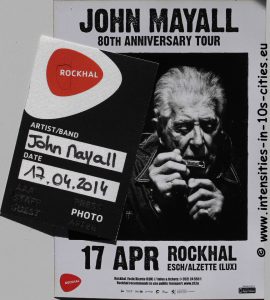 Serait-ce le Rémy Bricka du blues english, notre John MAYALL ?! Ce serait manifestement là faire injure – non : insulte – au multi-instrumentiste qui fête ses 80 ans (!) sur scène ce soir au Luxembourg. Passant du clavier à l'harmonica, des vocals à la Fender, MAYALL impressionne du haut de ses huit décennies. Combien peuvent se targuer de son pedigree et de son parcours – et surtout de sa longévité et de son état de conservation en 2014 ?! Combien de ses semblables a-t-il enterré au propre comme au figuré, (ab)usant sans doute pour sa part moins de substances illicites probablement. Combien de comparses a-t-il également propulsé au firmament de la gloire, demeurant quant à lui dans une plus modeste pénombre pour le commun des mortels ? De Eric Clapton à Jeff Beck, de Walter Trout à Jack Bruce, de Peter Green à Mick Taylor, de Coco Montoya à Buddy Whittington : tous ont connu la gloire et le succès après être passés entre les mains du sorcier MAYALL.
Nous pénétrons dans la Rockhal sans prêter plus attention à un modeste stand installé dans le hall d'entrée durant la prestation de la 1ère partie (dispensable) de Kid Colling. Tenu par un senior des plus anonymes, il nous faudra faire demi-tour pour réaliser qu'il ne s'agit pas moins du sieur MAYALL himself ! Installé à côté d'un écriteau, il promotionne son dernier CD en jouant le vendeur ambulant : à 80 berges et avant même de grimper sur les planches, ça impose d'autant plus le respect. Total respect, même.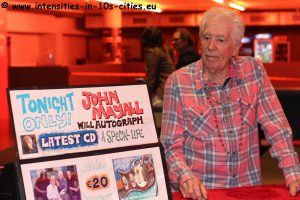 Nous l'observerons ensuite avec un regard amusé remballer sa camelote alors que le 1er set se termine. Il fend son public par l'entrée principale de la salle pour rejoindre ensuite le backstage. Une vingtaine de minutes plus tard – 20 minutes d'intermission teintées de Rush estampillé seventies (!) – l'octogénaire à l'allure débonnaire se retrouve face à son public pour l'emmener dans une set list couvrant pas moins d'un demi-siècle. Quelques belles passes d'arme avec ses trois comparses plus tard, le patriarche honore une dernière fois son public mature (mûr ?) par un groovant Room to Move. Total respect again, Mr. MAYALL : c'est ce qu'on dû vous dire et répéter à l'oreille vos fidèles admirateurs alors que vous rejoigniez derechef votre stand dans le hall d'entrée, accompagné cette fois de vos trois comparses des Bluesbrakers pour une nouvelle séance de vente/dédicace. Adepte du circuit court – la vente directe du producteur au consommateur, sans intermédiaire – vous avez réussi à marier circuit court et court-circuit: high voltage blues'n'roll, on adore ! Longue vie à vous, Sir MAYALL, God Bless The King.