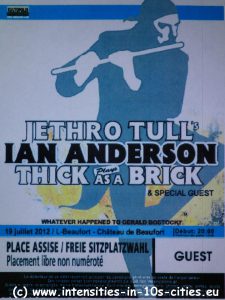 Pour ceux qui n'en sont pas des inconditionnels, ce n'est pas Ian ANDERSON sur scène ce soir au pied du Château de Beaufort mais bien JETHRO TULL… Le leader et compositeur du band était accompagné de quelques comparses pour nous délivrer l'intégrale de "Thick as a Brick" à l'occasion du 40ème anniversaire déjà de cette légendaire galette. Qu'il nous a même assaisonnée du "Thick as a Brick 2", Monsieur est trop bon. Si ce ne sont les déplorables conditions pour le quidam n'ayant pas craché le pactole pour se retrouver, assis, au pied de la scène, le cadre est néanmoins de toute beauté et particulièrement bluffant – comme pour compenser. C'est un véritable son & lumières médiéval qui s'offre à la vue de ceux relégués hors les douves, le pont-levis relevé et la herse descendue.

Ian ANDERSON nous fait naviguer à travers quatre décennies de JETHRO TULL et nous la joue, évidemment, à la mode Flûte à Six Schtroumpfs. Le Ian a la gnaque, et la voix de l'enchanteur ne trahit pas le nombre des années – quoi qu'en pensent certains. Les inévitables "Aqualung" et "Locomotive Breath" clôturent, comme téléphoné, cette heure trois-quarts d'open-air à la sauce lulu : tailleurs, talons aiguilles, flutes de pétillants et autres marques de fabrique made in Grand-Duché. Reste à déplorer que le bougre n'a autorisé que trois photographes seulement pour officier. A défaut d'en être, cette modeste vidéo compense l'absence de clichés frontstage : un voyage de toute beauté dans le temps, presque…
Too young to die, too old to r'n'r : thanx, Sir Anderson : votre organe et le petit bout de métal que vous portez si bien à la bouche ont presque réussi à nous faire oublier une pénible et lourde première partie. MAGNA CARTA: du folk tout ce qu'il y a de plus creux et de plus stérile, abyssalement vide, magistralement inodore et remarquablement incolore. Chapeau à ce trio de momies lyophilisées, car il faut réellement faire preuve d'une réelle maestria et d'un brio exceptionnel pour réussir à atteindre une tel sommet dans la vacuité la plus totale. Sans parler de leur humour corrosif digne du plus nullissime Roland Magdane, et de leur jeu de scène sauce poulpe et lombric assis sur leurs trois tabourets. Du plancton. Pourtant, sans encore le savoir ce soir, le pire est à venir : ces joyeux lurons empaillés et à la pèche momifiée ouvrent à nouveau demain soir, même endroit même heure, pour un Ritchie BLACKMORE qui nous apprendra lors de son concert être des nôtres ici, en ce soir de JETHRO TULL. Mais où se cache-t-il donc, le coquin petit troubadour…?!
(Autre review de Jethro Tull au Chapitre 1 de Intensities in tens Cities @ All the Wordl is a Stage –
The Vintage Years 1978-2011.