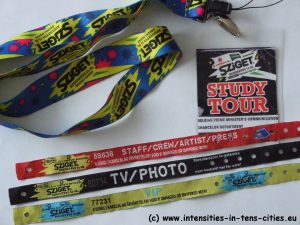 Find & spread the good words, tell the world SZIGET is NOT a festival like all the others !". Ainsi ne parlait pas Zarathoustra mais bien les deux organisateurs au panel d'une douzaine de journalistes européens choisis parmi tous ceux présents et qu'ils invitent pour l'occasion backstage. Manière également de recueillir en toute décontraction nos impressions, conseils et feedback autour d'une bonne table. Et pas n'importe laquelle, dans le sein des seins du festival: le cossu restaurant climatisé spécialement installé et aménagé pour y accueillir les têtes d'affiche, en contre-bas à l'arrière de la main stage, sous les ordres de la toque étoilée diligentée du seul chef quotté Michelin en Hongrie…
Le ton est donné, le SZIGET Festival de Budapest n'est définitivement PAS un festival comme les autres. Il ne se raconte pas non plus: il ne peut que se vivre, dans la paix et l'harmonie. Comme le font les près de 400.000 personnes (382.000 exactement cette année) qui arpentent le site du (quasi) plus grand festival d'Europe 6 jours durant, Prenant possession de toute une île située sur le Danube entre Buda et Pest. le SZIGET n'est pas rien qu'un festival: c'est une ville éphémère avec magasins, hôpital de campagne et autres infrastructures de premières nécessités pour 400.000 personnes. Une ville totalement articulée et intégralement organisée autour de 13 (!) scènes animées par 400 artistes et groupes venus du monde entier. Scène reggae, scène jazz, scène pop mais aussi rock, métal, électro, funk, blues, slam, hip-hop… il y en a pour tous les goûts. En ce compris de vastes aires dédiées au théâtre, aux spectacles de rue, à la peinture, aux jeux en tous genres, à la danse, au cirque mais aussi à la world music et où divers groupes d'opinion sont présents par le biais de multiples spectacles ou activités proposées aux festivaliers. Coup d'oeil à cet Impressionnant mais partiel programme ?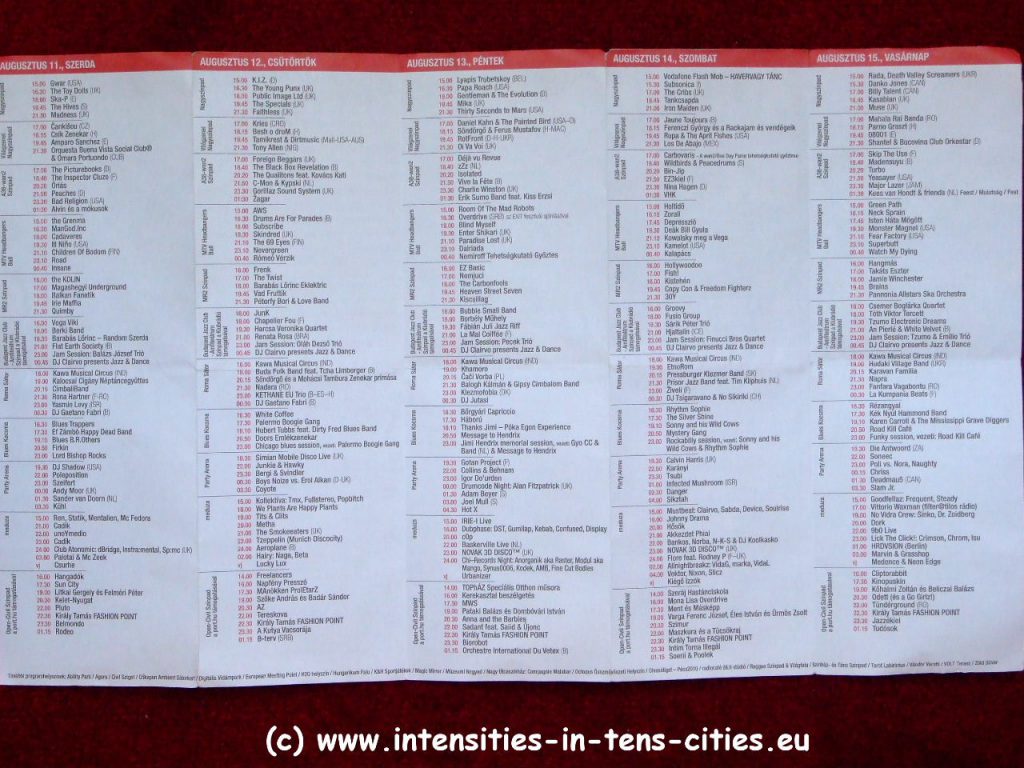 Sans parler des diverses et impressionnante party areas qui parsèment le site pour faire durer la fête jour et nuit. Tout ce joyeux mic-mac draine un public bigarré au possible, varié, multiculturel et de tous ages, venant en groupe ou en famille des quatre coins du continent et même de plus loin: c'est que le concept SZIGET comprend également des trains et des avions spécialement affrétés depuis certains pays européens ! Car une caractéristique supplémentaire du SZIGET, ce sont ses prix plus que démocratiques: une volonté chère aux organisateurs d'en garantir l'accès au plus grand nombre possible de Hongrois, et faisant dès lors le bonheur des autres nationalités européennes au niveau de vie plus élevé. L'entrée quotidienne à 45 € et le prix du 1/2 litre de bière à seulement… 2€ donnent le ton – sans parler de toute le reste à l'avenant.
Le SZIGET, c'est donc un genre de Woodstock des temps modernes. Ou mieux encore, à écouter FAITHLESS, "une version encore améliorée d'un Glastonbury", abrité sur une île arborée et boisée qui regorge de coins et de recoins, où les tentes des campeurs se disputent joyeusement la place aux scènes de manière absolument surréaliste, où les party areas côtoient les stands en tous genres, et où tout ce mixte de fausse désorganisation et de vraie spontanéité cohabite dans une promiscuité savamment organisée et sous couvert d'un nonchalant mais faux laisser-aller totalement inconcevable dans le cadre d'un quelconque autre festival européen. L'étendue de cette vaste île joliment plantée de bosquets ne laisse par ailleurs pas supposer que des dizaines de milliers de festivaliers arpentent ses chemins tortueux et ombragés. Le SZIGET n'est donc pas uniquement un festival, c'est une ville dans la ville, c'est une ville des arts en tous genres dédiée à la fête et à l'expression la plus libre qui soit de la spontanéité du genre humain, mais articulée avant tout dans et autour d'un festival résolument rock…
Invité par les organisateurs à témoigner de cette réalité, c'est sous la houlette de l'actuelle Présidence Belge de l'Union Européenne (soutenant ce festival) et par l'intermédiaire de la Chancellerie de notre Premier Ministre que j'arrive sur place vendredi midi: l'accueil réservé par les organisateurs – une formule all inclusive – est plus que parfait. M'attendent en outre les différents pass nécessaires pour accéder aux diverses zones du site réservées aux happy few. Ralliant le site en compagnie de l'équipe RTBF présente sur place, je préférerai par la suite les 40 minutes d'une agréable croisière sur le Danube pour effectuer les aller/retours entre mon hôtel et l'ile du Sziget Festival ("sziget" signifiant "île" en hongrois). Par le passé, c'est en Hongrie que j'ai connu mes étés européens les plus torrides: 2010 n'échappe pas à la règle, et la température suffocante dépassant les 30° conditionne également une affluence massive à l'occasion de cette 18ème édition. La météo n'est pas tout: attirer de grosses pointures en tête d'affiche est et reste une préoccupation majeure pour les organisateurs, expliquant drainer par-là les jeunes de toute l'Europe et plus particulièrement les très jeunes – leur business target actuelle, assurance-vie pour l'avenir et garantie de pérennité pour le festival.
IRON MAIDEN, MIKA, MUSE, THIRTY SECONDS TO MARS, MADNESS, FAITHLESS, PIL, KASABIAN, DANKO JONES, The SPECIALS et bien d'autres encore honorent ainsi de leur nom la tête d'affiche 2010, sans parler des dizaines d'autres parmi les centaines de noms proposés: NINA HAGEN, PAPA ROACH, CHARLIE WINSTON, PARADISE LOST, BAD RELIGION, MONSTER MAGNET et bien plus encore, dans les registres les plus divers qui soient et qui ne me sont pas particulièrement familiers.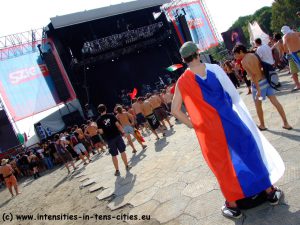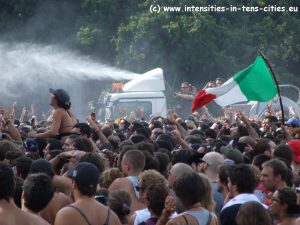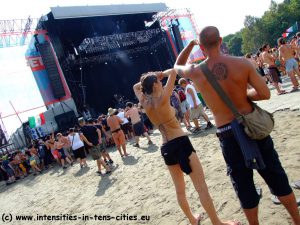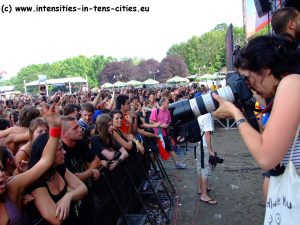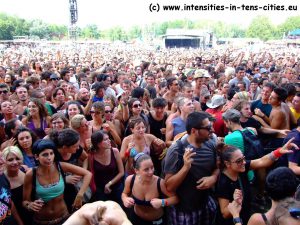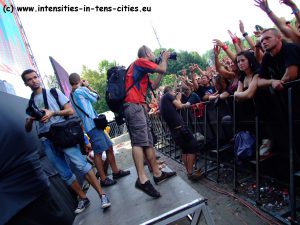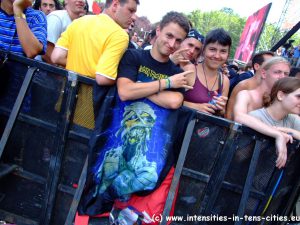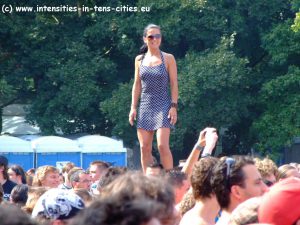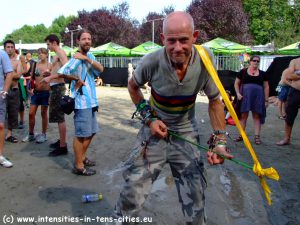 Ma première journée se partage entre l'espace VIP full confort & rafraichissant (air conditionné & catering…) en bordure de la main stage, et les diverses zones réservées aux photographes accrédités au pied des multiples scènes. PAPA ROACH laisse une forte impression rock'n'roll en fin d'après-midi sur la grande scène devant un public métal tout acquis à la cause des Ricains. Une sono puissante, un soleil de plomb et une touffeur écrasante assomment les organismes qui n'ont peut-être pas tous été préparés à la chose…
Le coup de coeur de ma journée sera le set de Charlie WINSTON qui me surprend très agréablement. A la fois soul et pop, sa prestation me séduit au point d'y assister jusqu'à la dernière note alors que mon timing prévisionnel me destinait à arpenter d'autres scènes durant ce même temps. Un orage d'une extrême violence, aussi bref que dévastateur, se déclare vers minuit, annoncé par l'étouffante et insupportable chaleur de la journée. Les éléments seront à ce point déchainés que le concert de Winston est un moment interrompu, le toit du chapiteau géant prenant l'eau à un endroit précis exposant dangereusement la table de mixage. Présent sur place, je suis un court instant réquisitionné pour prêter main forte aux roadies en nombre insuffisant à ce moment précis pour reculer dans la précipitation la dite table de quelques mètres. Il en faut plus pour déstabiliser Winston qui remonte ensuite sur scène et clôture peu après son set par un petit stage diving tout en beauté dans le public. Un court extrait vidéo ? http://www.youtube.com/watch?v=8XgQrwwgjTM
Cependant, ce sont les Flamands (… et encore Belges) de VIVE LA FETE qui m'assènent préalablement la claque de la journée: une toute, toute grande prestation qui met le feu dans un public dense et compact où quelques drapeaux belges ont cette fois la part belle. Chantant en français (?!), ils démontrent un style bien particulier à mi chemin entre Human League et… Black Label Society (si, si !), appréciation toute personnelle de ce band pour le moins aussi efficace que visuel (avec sa pour le moins pulpeuse chanteuse). Et les bons moments passés ensemble backstage avec Charlie Winston (dont la loge jouxte celle des Flamands) qui s'invite dans la rigolade n'est pas non plus le moins bon de mes souvenirs: comme il m'apprend qu'il joue à Bruxelles demain, on est quasi entre Belges…
Ces moments compensent le set de MIKA qui me laisse comme pressenti tout à fait indifférent, au même titre que celui de THIRTY SECONDS TO MARS. A l'affiche pour attirer les festivaliers les plus jeunes – business target – ces prestations peu r'n'r sont bien mièvres et surtout trop proprettes et gentillettes à mes oreilles, celles-ci préférant la lourdeur de ENTER SHAKIRI ou encore de PARADISE LOST qui partagent d'autres scènes pour n'en citer que quelques uns…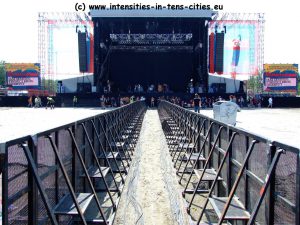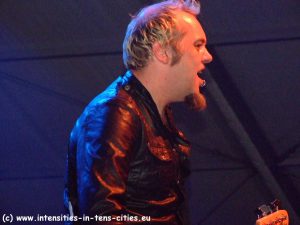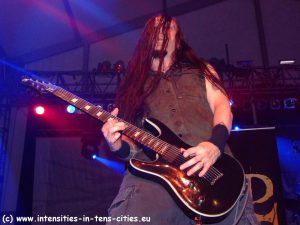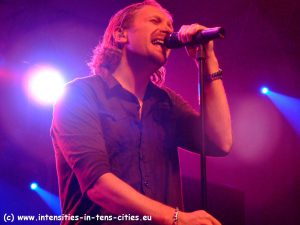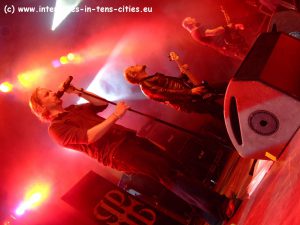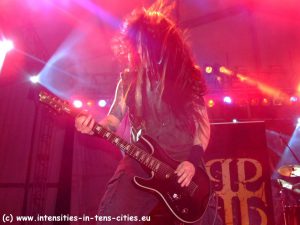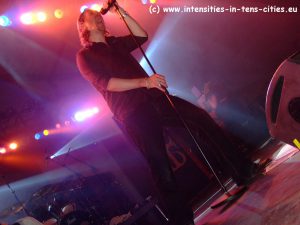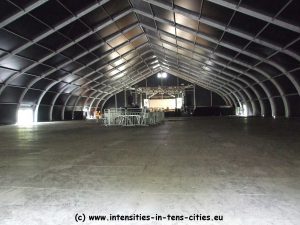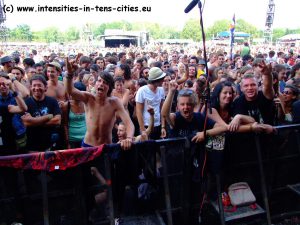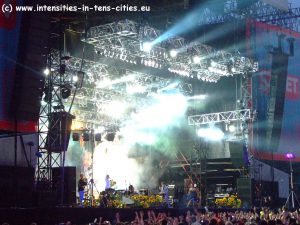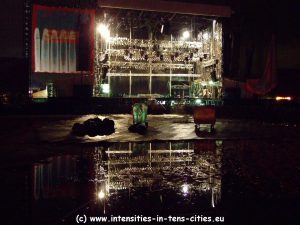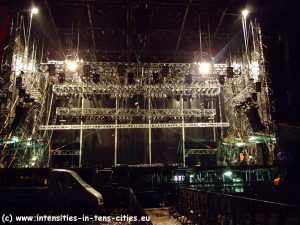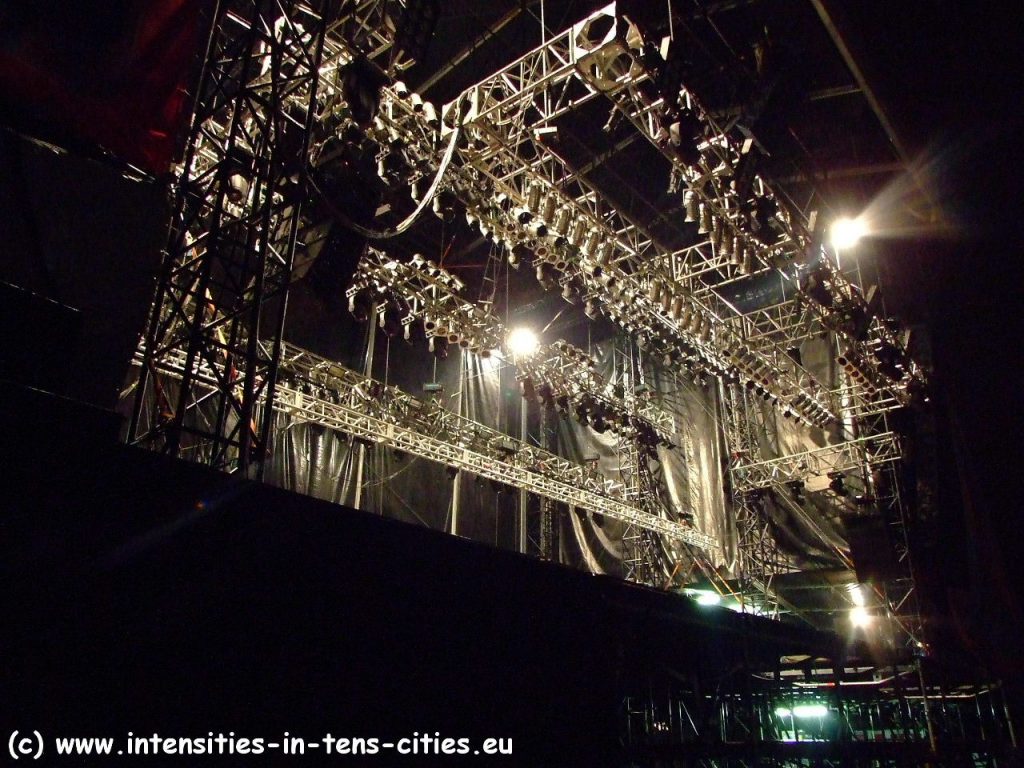 Le samedi s'annonce chaud, et de fait: sur la grande plaine et sous un soleil de plomb, s'organise en début d'après-midi la répétition générale pour le flash mob géant annoncé au programme. Du haut de la main stage où je me poste, le spectacle et l'ambiance sont en effet des plus impressionnants. Se succéderont ensuite sur cette scène principale les Italiens de SUBSONICA puis notamment l'ersatz hongrois d'Iron Maiden, en l'occurrence le band actuel n°1 en Hongrie: TANKCSAPDA.
Petit tour préalablement par ZORALL qui explose la MTV Headbangers Stage…
Attablé backstage avec les organisateurs dans le (mal) insonorisé étoilé Michelin en contre-bas de la grande scène alors que TANKCSAPDA y met le feu, je ne profiterai que partiellement de la prestation de Tankcsapda bien que retransmise sur les différents écrans installés dans le restaurant, les salons, espaces jeux, bars à oxygène et autres espaces-massages bordant la main stage. Je quitterai ce (néanmoins bruyant) cocon au moment où arrivent THE headliners de la journée, croisant au passage Steve Harris et deux de ses comparses que je n'avais pas vu arriver et qui s'engouffrent dans une des loges de Maiden. Une des loges car entre celle du dressing room, celle de la production, celle pour leur échauffement, et d'autres encore, la Maiden Area est en effet un alignement de quelques portes flanquées de deux vigiles aussi impressionnants que superflus dans cette enceinte sécurisée et à l'accès pourtant des plus contrôlés. Pas l'occasion donc de tailler une bavette avec eux, et pas opportun non plus d'attendre qu'ils montent sur scène: ce ne sera certainement pas le moment de les aborder. Direction donc CALVIN HARRIS pour ma première expérience d'un vrai show électro dans la Party Stage Arena (tout un programme…) avant un bain métal avec KAMELOTT sur une autre scène encore (la MTV Headbangers Stage). C'est que le rideau vient de tomber sur la scène principale à l'issue de la performance d' IRON MAIDEN. Le concert a débuté avec un son des plus mauvais et des retours défectueux: bonjour le savon qu'ont dû recevoir certains lorsque par deux fois c'est un Bruce Dickinson furax de chez furax qui est sorti de scène pour en faire part à qui de droit… La set list réservant la part belle à leurs dernières et récentes productions a par conséquent laissé peu de place pour leurs grands classiques: si c'est pour le plus grand plaisir de leurs fans sans aucun doute, c'est nettement moins le cas pour moi qui ne relève pas de cette première catégorie.
La croisière du retour sera agréable sur un Danube aussi large que calme, quittant cette "ile de tous les plaisirs" pour rejoindre mon hôtel dans le centre ville. La chaleur moite de cette fin de nuit procure encore bien du plaisir aux fêtards et autres touristes arpentant massivement les rues étrangement bondées à une heure où les honnêtes gens sont pourtant sensés être dans les bras de Morphée, et les moins honnêtes sur cette "Ile de tous les plaisirs". L'ambiance de Budapest est bien celle qu'on dit. Celle du SZIGET quant à elle reste à vivre et n'est définitivement pas à raconter…