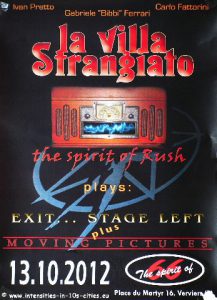 Ils sont fous, ces Romains : un aller/retour Rome-Verviers pour 2h30 (quand même !) de Tribute to RUSH au Spirit, faut être motivé ! Ou tout simplement aimer ce qu'on fait, et aimer le partager avec ceux qui aiment et apprécient à sa juste valeur. La dernière venue de RUSH en Belgique date du sold out de Forest National en mai 1983 – il y a plus de 29 ans ce soir. Raison de plus pour se remémorer cette affiche vintage qui reste un collector pour ceux qui la considèrent comme tel !
Les tribute bands de RUSH doivent se compter sur les doigts d'une main, sur le Vieux Continent du moins, tant s'attaquer à la complexité architecturale et technique des Canadiens relève du défi kamikaze. Ces Italiens de La Villa Strangiato en ont cependant la trempe et les c…, étant les seuls à tourner épisodiquement à travers l'Europe. Pour leur seconde venue au Spirit (voir – Chap.1 – pour leur premier show à Verviers), ils nous offrent un florilège d'Exit Stage Left en première partie, ensuite rien de moins que l'intégrale de Moving Pictures en second set, s'il vous plait. Le troisième set (trois rappels !) fait la part belle au solde de cette période 1974 – 1981.
Rien à redire : ces trois véritables virtuoses nous offrent une démonstration de force tout en finesse, faisant preuve d'une maestria à la hauteur de celle de leurs maîtres, quasi. Impressionnants de décontraction et de naturel, jonglant simultanément des pieds et des doigts avec pédales et manches, le rendu est tout simplement bluffant et sidérant. La Stratocaster crache ses arpèges à la sauce Alex, la Rickenbacker ronronne grassement en laissant des trace de cambouis sur les planches et le xylophone scintille de mille feux dans la pénombre. Pour peu qu'on ferme les yeux, on s'y croirait véritablement. Et en les ouvrant, on réalise plus encore l'exploit – le leur, mais aussi celui des originaux. Tout simplement bluffant…
Il reste que l'audience de RUSH reste marginale en Belgique alors même que leurs tournées européennes – évitant notre Royaume depuis 1983 – sont sold out dans les plus grandes arenas que compte le continent. Et un Spirit of 66 quasi vide ce soir comme il y a deux ans en est la triste illustration, rappelant que la Belgique fait exception – sans même parler des quelques Hollandais et Allemands venant renforcer un public pour le moins maigrichon. Mais il en faut plus pour désarçonner le trio : ils n'en ont que faire, heureux qu'ils sont de leur prestation face à ce qui est le plus important pour eux : des facies rayonnant et appréciant la prestation à sa juste valeur. Confiant d'ailleurs au bar après coup qu'il évitent en Italie de jouer les soirs de match de foot afin de ne pas se retrouver face à une telle désaffection. Votre déplacement et votre prestation n'en sont que plus appréciables, les gars : Hold Your Fire !