TeamRock Radio est à la radio ce que Shelby est à l'automobile, punt aan de lijn.
Et quand on sait que derrière la station est à l'œuvre l'éditeur de Classic Rock Magazine, de Blues Magazine, de Metal Hammer et de Prog Mag, tout est dit.
Et quand on aura enfin ajouté que TeamRock Radio est instigatrice et organisatrice de ce tout premier Festival of Classic Rock, Prog, Country & Blues, la boucle est idylliquement bouclée. On applaudit, on s'incline et on tire sa révérence. Punt aan de lijn.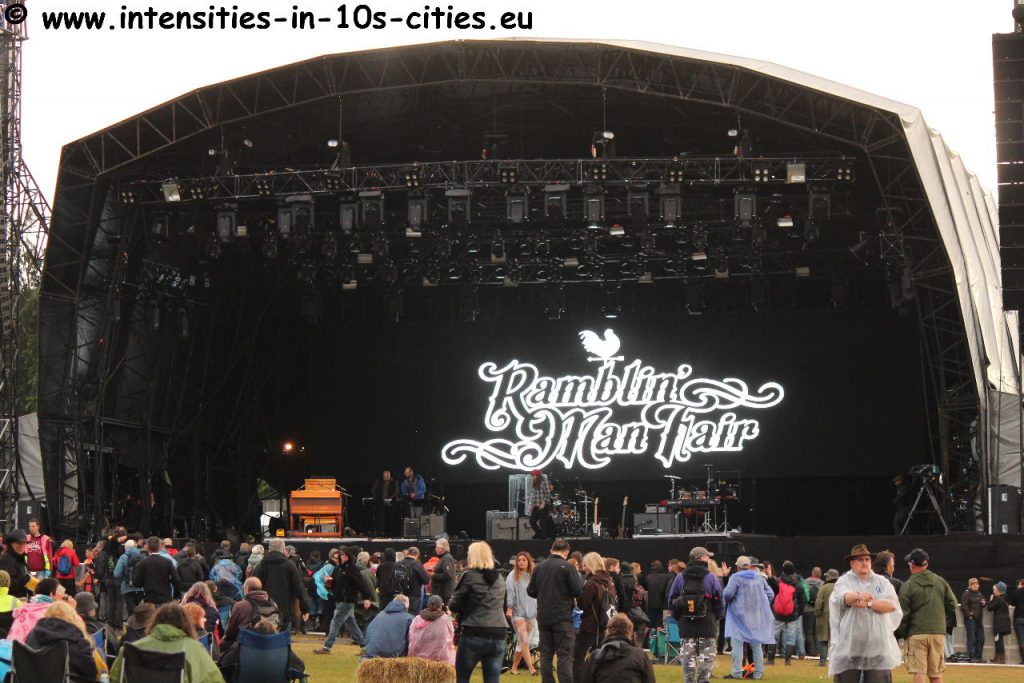 Plantons le décor : quoi de plus british qu'un immense parc urbain pour accueillir, en plein centre-ville de Maidstone, un événement de l'ampleur et de la facture du Ramblin' Man Fair ?! Un gazon anglais bien, bien plus vaste et plus vert encore qu'un 18 trous sépare les trois scènes judicieusement installées. Parmi celles-ci, un marquee cependant trop exigu que pour y accueillir toute la foule vu les pointures qui s'y produisent – péché de jeunesse d'un méga festival naissant. Outre ce quasi seul bémol organisationnel s'il fallait en imputer un aux divins promoteurs, notons une affiche peut-être trop (oui, trop !) ambitieuse en regard du timing. Trois jours de festival auraient été nécessaires afin d'éviter l'extrêêêême frustration engendrée par le chevauchement de bien des prestations : lorsque deux – voire même trois – têtes d'affiche sont simultanément au charbon sur leur scène respective, ne fusse qu'en léger décalage de timing, choisir c'est plus que jamais renoncer… Aaaaargh.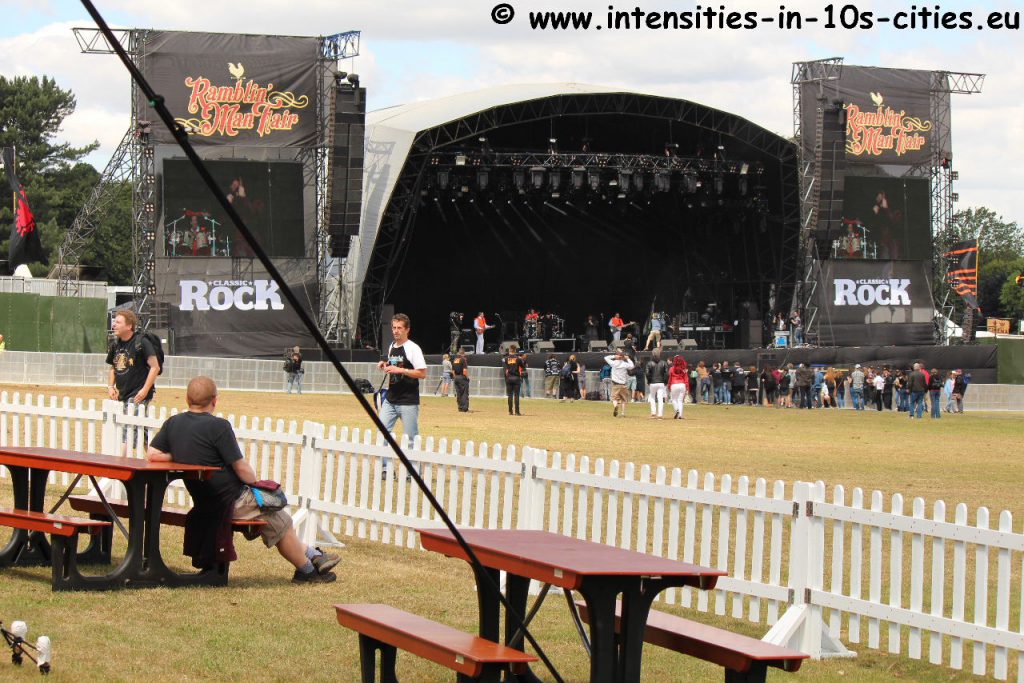 La première journée ensoleillée du Ramblin' pourrait très partiellement (et très subjectivement) se résumer à ce qu'en écrit a posteriori un illustre anonyme sur le Facebook du festival à propos de la main stage (Classic Rock Stage) : "Fantastic day, SAXON and BLUE OYSTER CULT were the highlights, SCORPIONS were pretty average and DREAM THEATER just boring ".
Et de fait, SAXON fait le buzz à l'applaudimètre de ce 1er jour de Ramblin'. Frustrés par un timing aussi chiche que celui octroyé à la plupart des bands (45′), notre grand Biff galvanisé par un public qui lui est tout acquis, déchire sa set-list et fait mine de la manger, éructant qu'ils sont ici chez eux et qu'il font ce qu'ils veulent (sic). Du tout, tout grand SAXON ce samedi sur la Classic Rock Stage, qui ne peut faire mieux qu'offrir un florilège de leur best of dans l'étroitesse du créneau horaire qui leur est dévolu: juste le temps d'un vinyl, et pas un double live…
Jouissant du privilège d'être le maître des lieux qui a vu naître la BWOHM et de jouer sur son terrain quasi, SAXON est le vainqueur logique à l'applaudimètre de ce samedi. Mais à ce même applausemeter, les Anglais sont néanmoins tenaillés par BLUE OYSTER CULT…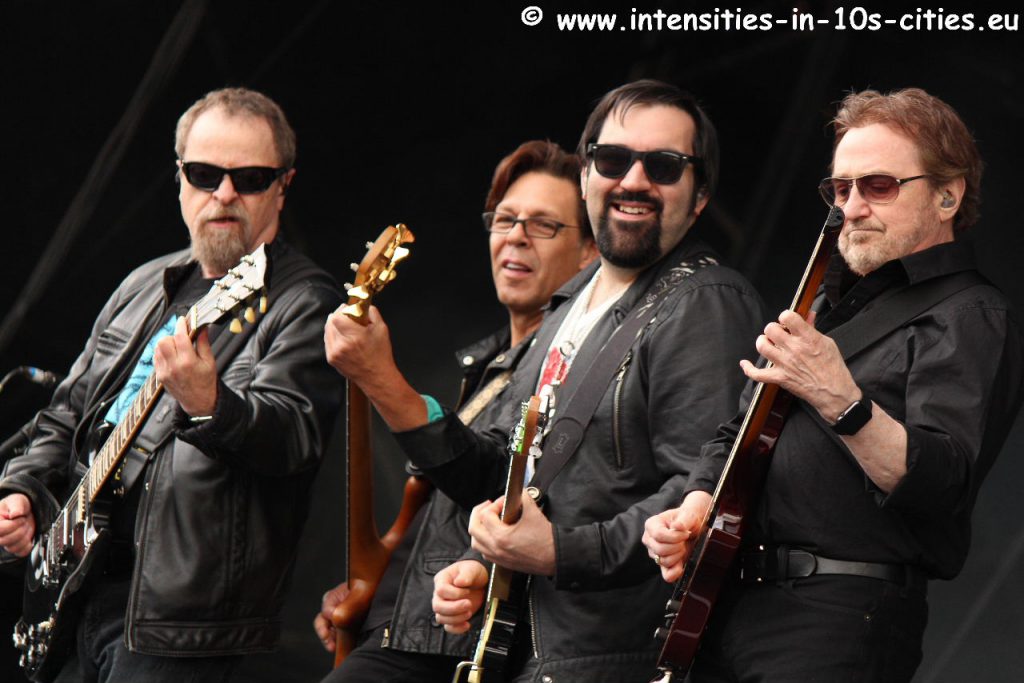 La première fois compte toujours. Et c'est notre premier BLUE OYSTER CULT – depuis le temps ! Des décennies qu'on les attend, les Américains. Un mythe ! Et ils sont en forme, les seniors, avec un set propret, bien carré, sans frime ni fioriture. Une sono parfaite tout au long du weekend (oui, parfaite) amplifie l'effet Godzilla et donne tout juste l'envie de nous replonger dans la si riche discographie du B.O.C.. Prestation millimétrée tout en faisant semblant de rien, manche contre manche, épaules contre épaules, le BLUE OYSTER CULT respire la classe, transpire l'expérience et rayonne de la distinction de ceux qui ont réussi, qui ont traversé les décennies, qui savent qu'ils n'ont plus rien à prouver mais qui ont l'élégance de ne pas en faire étalage. Notre coup de cœur de la journée – car la première fois compte toujours (double)…
DREAM THEATER. Pareil à lui-même. Le seul concert 2015 des "virtuoses" de service au Royaume Uni ("UK exclusive") ne réussit à nouveau pas à nous séduire. Toute cette technique, cette technicité, cette dextérité musicale nous laisse de marbre. Ces "prouesses" sont sans âme ni cœur. Froide et distante, cette performance frigide nous laisse derechef indifférent. Les compositions de DREAM THEATER, alambiquées mais tristement creuses au final, cette bouillie cérébrale et ces compositions tarabiscotées ne charment probablement que les amateurs de performance, pas les amoureux de sensations… En un mot: boring.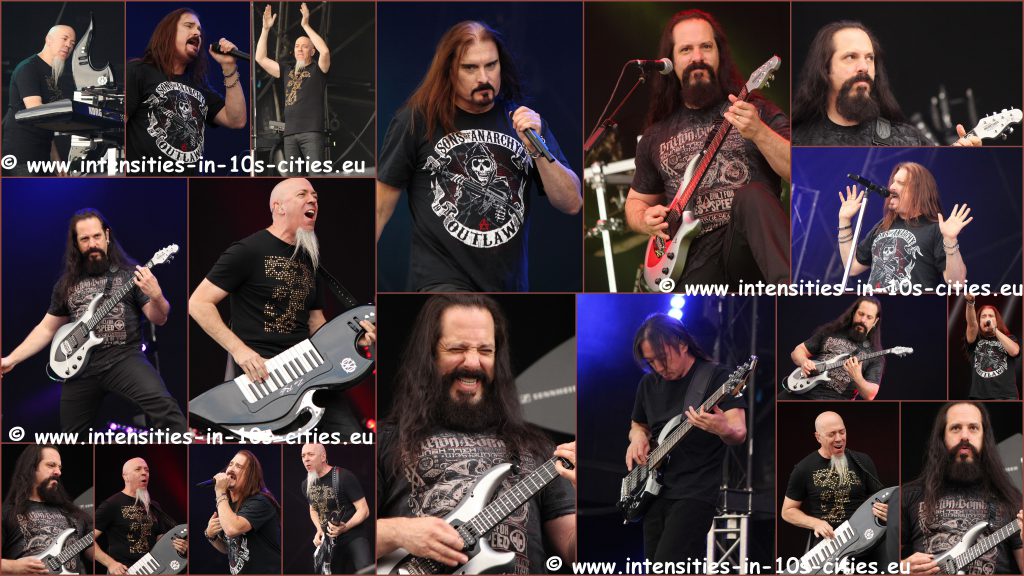 Quand on est gamin de presque 14 ans et qu'on se prend "Tokyo Tapes" dans la g…, ça ne peut que marquer un ado branché real r'n'r. Ceci pour celles et ceux qui ignorent que The SCORPIONS, avant de faire dans la guimauve mainstream à l'instar d'Aerosmith, ont eu une vraie vie avant l'actuelle.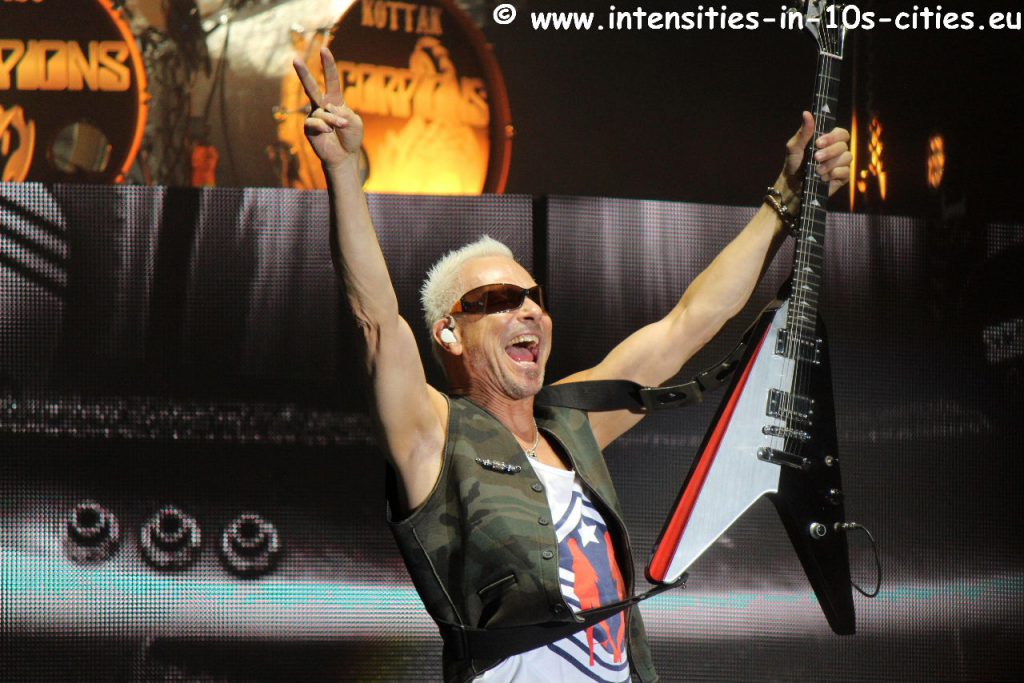 La blitzkrieg germanique débute à balles de guerre, manière de marquer les esprits pour la seule date anglaise des Teutons : et c'est donc quasiment "Tokyo Tapes" qu'ils nous balancent d'entrée de jeu avec son cortège de perles et raretés tout droit sorties des seventies ! Le plaisir est relativement bref mais bien réel avec un enchainement de Speedy's Coming, Top of the Bill, Steamrock Fever et autres moments de grâce vintage. De quoi rendre d'autant plus mièvre et insipide la production actuelle des Allemands qu'ils nous bassinent, non sans un jouissif crochet préalable par les eighties et tout début 90's.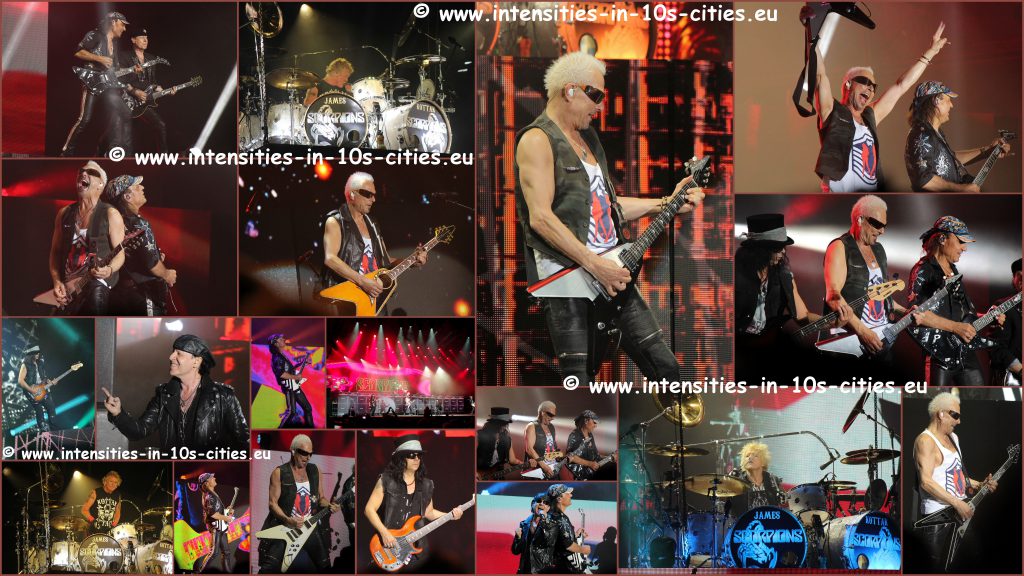 Passons évidemment sous silence la "prestation" solo de plus en plus dispensable au fil des années de la tantouse de service aux drums, ce serait trop d'honneur que de la mentionner. En définitive, un set de SCORPIONS dans la droite lignée des précédentes prestations : beaucoup de (très) bon, peu à jeter, avec un Schenker qui demeure sur la scène internationale un showman manifestement au-dessus de la mêlée et un Meine qui semble pour sa part quelque peu usé depuis la tournée d'adieu (?!) du groupe.
La demi-heure de retard avec laquelle débute le set (seule entorse au timing millimétré de tout ce weekend) nous prive de la prestation de CAMEL sur la Prog Stage, set qui se chevauche parfaitement mais tristement celui des chevaliers teutoniques. Mais choisir, c'est renoncer…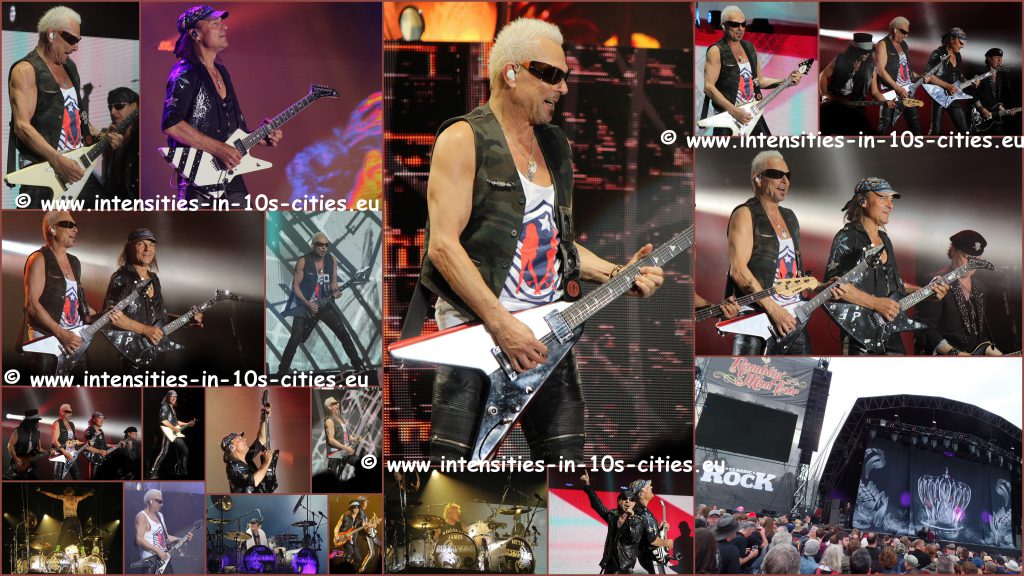 Précédemment toutefois, sur cette même Prog Stage, moments de grâce et de plénitude avec ANATHEMA. Une heure de bonheur atmosphérique avec la fratrie Cavanagh, ça transporte, ça envole, ça décolle – comme entrer en lévitation ou franchir l'espace-temps de la 4ème dimension. ANATHEMA nous entraîne à nouveau dans un autre monde, se jouant subtilement de nos sensations en alternant tout en finesse douceurs aériennes, vol plané et atterrissages forcés au rythme de leurs ambiances et de leurs décibels toujours aussi Wilsoniens. Un régal à chaque fois, et plus encore aujourd'hui…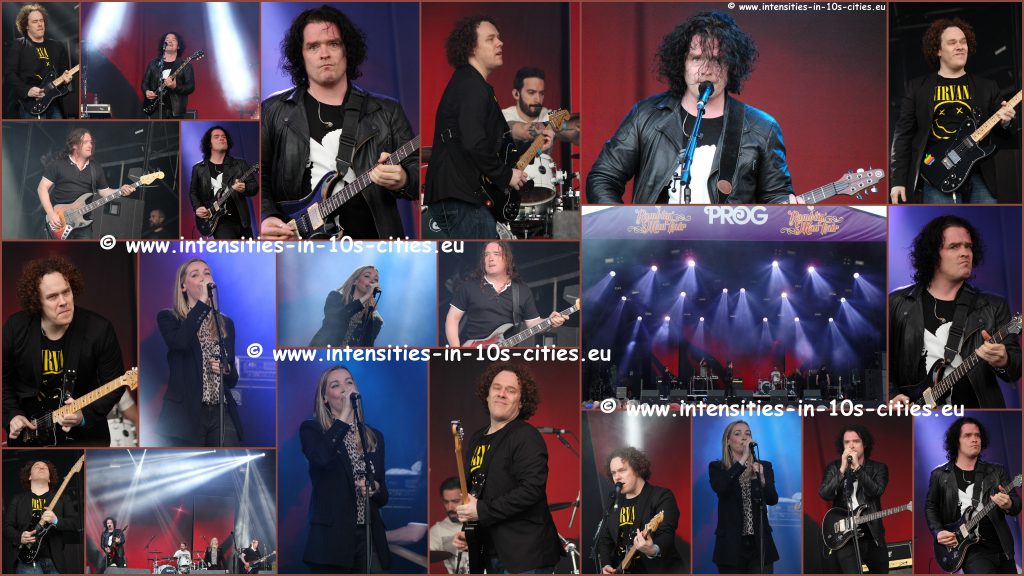 TOSELAND : la surprise et la découverte du jour dirons-nous, avec une énergie débordante de la part d'un band donc les compositions ont absolument tout du Slash, de la construction des morceaux à leur déroulé live. James TOSELAND aux vocals a de surcroit dû faire ses gammes et ses vocalises avec Myles Kennedy, c'est pas possible autrement. Pour leur première mainstage en festival, annoncent-ils, on peut les assurer que ce n'est pas leur dernière ! Sans doute tout le monde ne peut-il pas se prévaloir d'un double champion du monde de Superbike comme leader & front-man…
En 40 minutes de FM, nous voilà soudainement replongés dans cette vague US des années '80, rock aux senteurs californiennes et West Coast qui inondait la bien nommée fréquence radio du même nom. On adore – car ça nous rappelle de bons moments – mais on se dit qu'il y des courants musicaux qui vieillissent quand même moins bien que d'autres: flash-back ou Flash Dance ?
JESS & the Bandits, UNTO US et TOUCHSTONE terminent le tour d'horizon de ce 1er jour de ce 1er Ramblin' Man Fair, sans commentaire particulier vu qu'il n'y a rien de particulier à en dire: leur tirer le portrait suffit. Vivement donc demain !