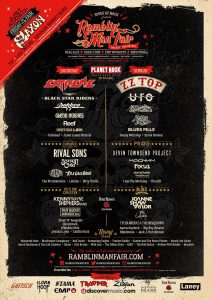 Portraits croisés de vieilles gloires toujours au taquet, de petits jeunes à l'avenir prometteur, et de vieux débris tantôt sur le retour tantôt sur le déclin. Chronique visuelle de valeurs sures et d'étoiles montantes. Ephéméride d'un rassemblement de jeunes sages et de vieux fous, où vieux sages et jeunes fous se côtoient dans une même communion grand-guignolesque ou de tragédie grecque (c'est selon), où chacun joue son rôle et tient sa place.
Il y avait du monde dans le photomaton de ce second et dernier jour de Ramblin' Man Fair 2017…!
ZZ TOP clôture haut la main une 3ème édition qui a tenu toutes les promesses de son affiche. Les Texans barbus se permettent même une surprenante reprise de Foxy Lady avant d'enchaîner sur du Jeff BECK. Nous aurions quant à nous préféré qu'ils se "contentent" de leur répertoire, suffisamment vaste et plus que suffisant, durant un set (trop) propre et réglé comme du papier à musique.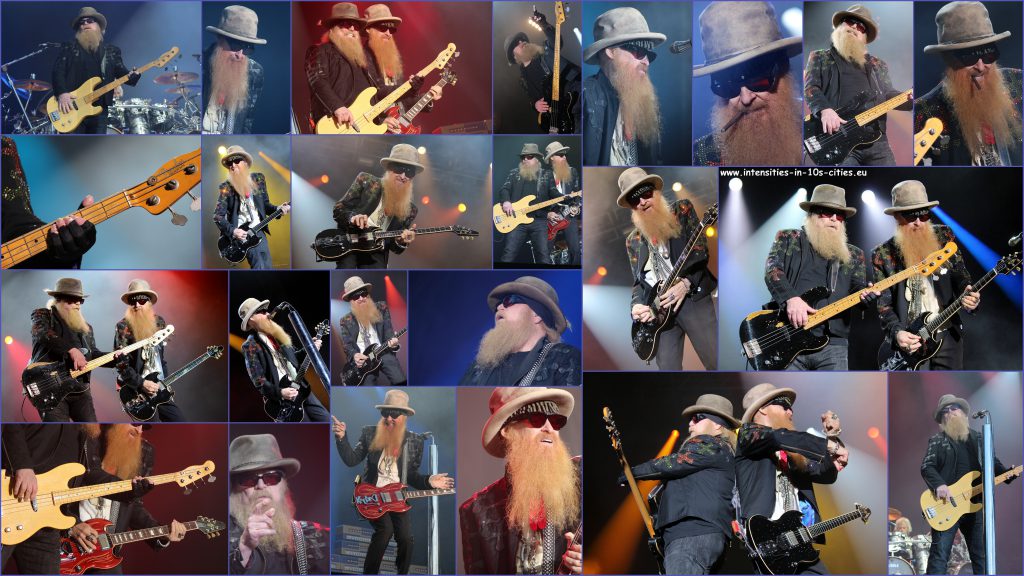 Gérant leur image de bout en bout, le trio accorde aux photographes l'accès au pit non seulement durant les 2 premiers morceaux de leur set, mais également – fait suffisamment exceptionnel et rare que pour être souligné – durant les deux premiers de leur rappel. Bien vu, les barbus, on en redemande !
Pour notre 3ème participation en 3 éditions seulement, notre constat est similaire au deux précédents: hormis la météo pourave du samedi et vis-à-vis de laquelle les organisateurs déclinent toute responsabilité (on est quand même en Angleterre…), il n'y a rien – strictement rien – à redire à la parfaite organisation maintenant huilée de ce festival qui a désormais trouvé sa vitesse de croisière.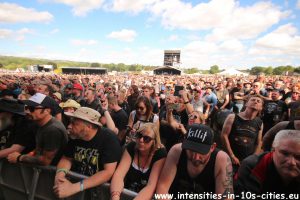 Qui a trouvé sa vitesse de croisière et son public: on vient au Ramblin' comme on irait prendre l'air au parc, ce qui est d'ailleurs précisément le cas. Et le soleil de ce dimanche n'est pas non plus étranger aux humeurs guillerettes tant sur les 4 scènes que sur les transats qui pullulent sur ce gazon tout ce qu'il y a de plus anglais.
Sur la scène principale, STONE BROKEN déverse un pur english pub-rock pour ouvrir les hostilités dominicales. A voir la file qui s'allonge pour leur séance de dédicace qui s'en suit, on dirait bien que le public les a plébiscités pour incarner l'avenir du rock anglais. Sur la scène "Prog" (qui était hier la scène "Grooverider"), la programmation de ce début de journée est indigeste comme un english breakfast qui succéderait à une gastro-entérite nocturne: The GIFT puis I am the Morning réussissent le triste exploit de concentrer en un insipide melting pot tout ce que le prog – dans sa pire acception – a pu produire ces dernières décennies en termes de sonorités ringardes et passéistes, et de mélodies soporifiques.
Danny WORSNOP (ex- Asking Alexandria) relève un tantinet le niveau sur la mainstage, nous laissant penser qu'il a dû partager avec FOREIGNER ou JOURNEY les mêmes petits pots et les mêmes bricolages de fin d'année à la maternelle. Et avec sa Prozac Session, on n'est effectivement pas très loin de ses addictions et autres assuétudes.
Passons sur le jeune Aaron KEYLOCK pour mieux fondre sur BLUES PILLS: le band explose littéralement la mainstage. Découverte ici-même il y a tout juste deux ans, notre Ramblin' Woman et Devil Woman préférée ne nous déçoit à nouveau pas, toujours aussi survitaminée, effroyablement efficace et re-dou-ta-ble-ment entourée. Quand donc cette étoile explosera-t-elle en supernova ?!
Martin TURNER nous réserve ce qu'il fait de mieux et ce que tout le monde attend de lui: du WHISBONE ASH pur jus. Prestation bien plus consistante que celle que nous délivrent les deux compères de SUPERSONIC BLUES MACHINE et leur southern rock teinté Atlanta. Sans cuivre mais avec un excellent clavier et deux choristes efficaces, l'alchimie et la formule ne sont cependant pas suffisantes pour que prenne la sauce. Tout bénéfice pour MAGNUM qui tire les marrons du feu sur l'autre scène, avec des restes qu'on peut qualifier de meilleurs que bons!
Dont fuck with the Truck ! MONSTER TRUCK prend le relais de BLUES PILLS à l'applaudimètre à l'issue d'une prestation parfaite sur la grande scène. Leur set acoustique backstage devant les caméras du festival en était d'ailleurs le jouissif présage (voir la séquence retransmise en direct sur notre Facebook live).
FOCUS doit avoir vieilli autant que sa musique, ce qui ne laisse pas indifférents celles et ceux qui ont suivi la même voie et qui sont en nombre devant la scène. Comparaison n'étant pas raison, le constat est valable (mais sans commune mesure) pour UFO sur la mainstage. De "Lights Out" en intro à "Doctor Doctor" en clôture, il n'y a rien à jeter.

La bande à Phil MOGG, plus élégant et plus distingué que jamais, so British – nous réserve un florilège de 40 années de pépites qu'il dédicace d'ailleurs à la mémoire de John Marshall en ce jour anniversaire de son décès. De ces deux jours de festival, UFO sera le seul groupe à se voir gratifié de "We want more! We want more…!" scandés par la foule. Mais en vain.
Avec The Devin TOWNSEND PROJECT, le Ramblin' a osé – oui: osé ! – du métal ! L'oeil complètement allumé, passant du zombie au possédé et du démoniaque à l'aliéné, TOWNSEND est aussi humoristique que philosophe (oui, oui !), aussi déjanté qu'adepte de l'autodérision. Redevenant bon père de famille lors de ses intermèdes, il rassure le public que tout ça n'est qu'entertainment. A l'issue d'un redoutable et efficace double-jeu, Devin TOWNSEND séduit littéralement toute l'assistance du Ramblin' (et nous en premier lieu): pari ô combien osé mais surtout réussi d'un festival qui n'a en soit rien de métal !
Le champ est désormais libre pour ZZ Top qui peut clôturer en beauté cette édition 2017…