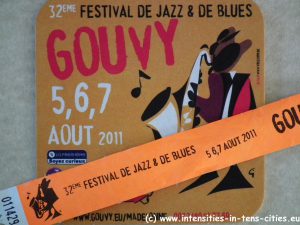 Tiens, pour la première fois – sauf erreur de ma part – la mention « rock » figure aux côtés de l'intitulé « blues » au programme de la journée du dimanche qui lui est traditionnellement dévolue. Si l'affiche mentionne immuablement « Festival Jazz et Blues de Gouvy« , le programme semble donc quant à lui sacrément coller au tsunami électrique qui déferle sur la Ferme Madelonne et dans son parc. Gouvy, c'est une découverte à chaque édition qui s'apprécie comme elle se vit. La Madelonne, c'est comme si c'était chaque année la première fois: jouissif au possible, avec le plaisir nouveau concomitant au dépucelage.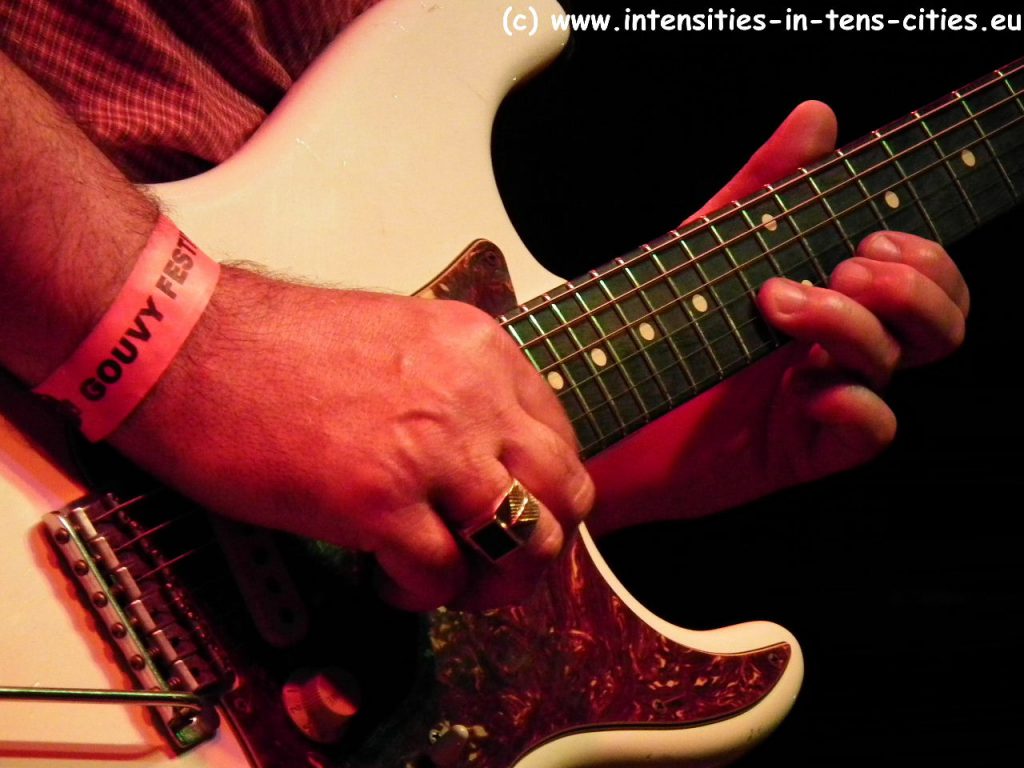 Du blues puissant avec des noms confirmés et des groupes géants offerts à la découverte : cette édition 2011 est encore une fois un des meilleurs plats de résistance pour oreilles besogneuses, comme le dit le Claudy. Et où l'ordre de passage des groupes n'est pas fonction de leur notoriété mais bien de l'heure d'arrivée de leur avion ! Après avoir raté le premier show de l'après-midi, focus sur le reste. Et en l'occurrence un bien chaleureux CHICO & THE MOJO BLUES BAND qui se démène dans un club déjà bien chaud-boulette.
Mais ce Chico est finalement bien soft quand on voit (et entend) ce qui suit dans le chapiteau. La comparaison est en effet difficile à soutenir avec ce qui se produit sur la grande scène : BLUES CARAVAN (« 3 girls with guitar »). Trois sales gamines US qui en mettent plein la vue et plein les oreilles, et si la sono était un tantinet plus virile, le show en serait plus couillu encore. Trois superbes voix agrémentées de gambettes tout aussi minouches que le reste, nous déversant un blues davantage pub-rock de derrière les fagots. Didjap, elles savent y faire, outre-Atlantique, les gonzesses !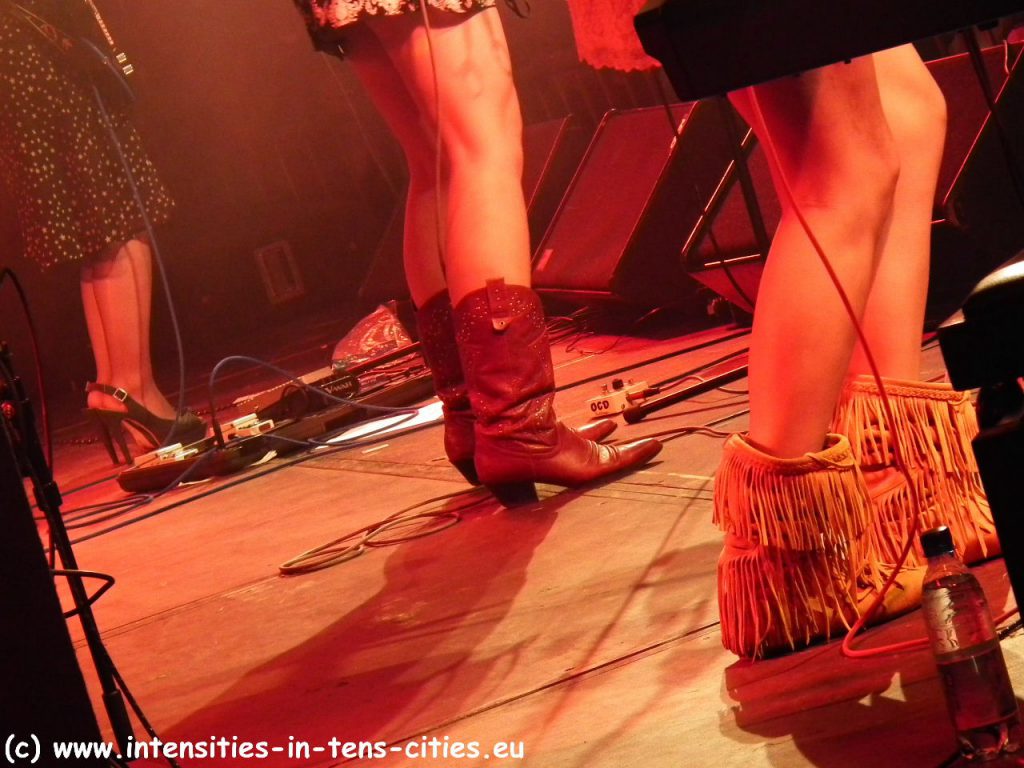 Un morceau dédicacé aux femmes de l'assemblée qui se tapent un connard, un autre dédié aux mecs qui en ont, et ainsi de suite: ces chiennes de ma chienne ont du chien, et elles savent aboyer, les petites garces ! Ca joue comme des mecs, ça se prend pour des mecs – avec le physique en plus – mais avec un jeu de gratte plus propret et un peu trop léché parfois. Bref, elles ne sont pas assez sales, ces Ricaines, et c'est le seul bémol – qu'elles compensent largement, tigresses qu'elles sont, avec des attributs qu'elles ont ailleurs que dans le froc..
Un grand moment, ce Blues Caravan, un grand moment et une bien belle découverte 2011. On en oublierait même l'Arnold Schwarzy qui est à la batterie ! Marre de toutes ces photos de mecs ? Marre de tous ces clichés mâles ? Allez, zoom sur les gambettes, focus sur ces Claudettes et olé les minettes !
SHERMAN ROBERTSON BLUS QUARTET: sympa, l'Amerloche, mais qui a le rôle ingrat de succéder à la tornade déclenchée par les trois nymphettes et de précéder l'ouragan qu'y va s'abattre en fin de soirée avec le fils de l'autre sur cette même scène. Pas facile de soutenir la comparaison ou plutôt le rythme, mais il s'y attèle le Sherman – volontaire comme le char du même nom.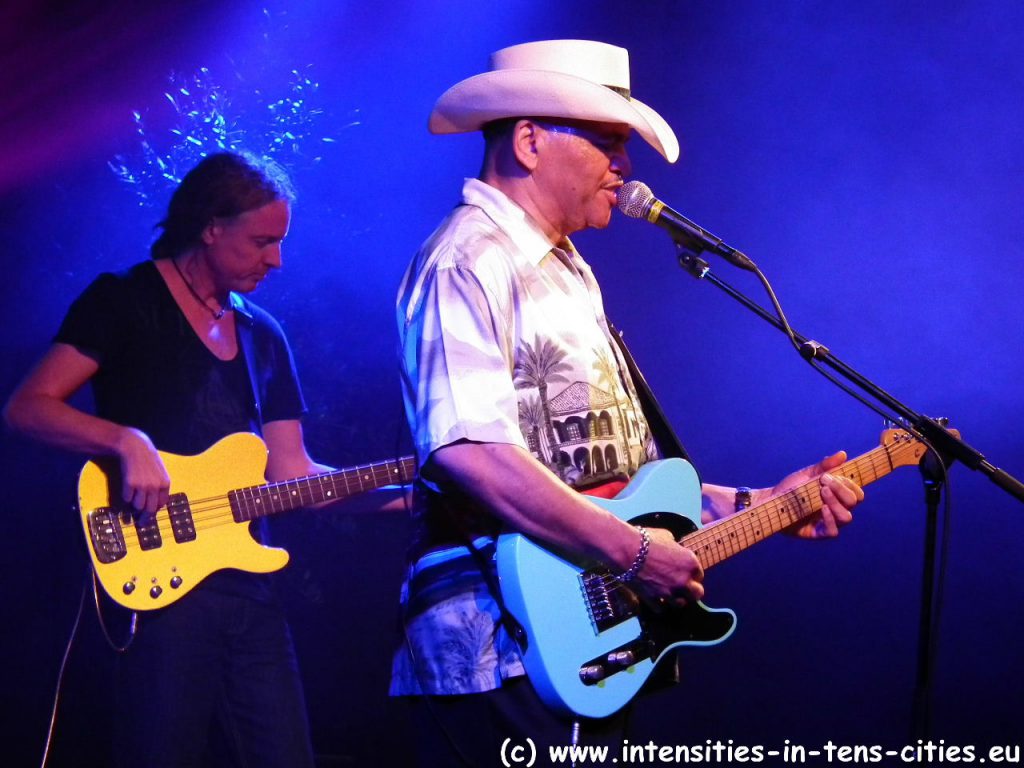 Auparavant, le club résonne encore de CHRISTOPHE MARQUILLY BLUES TRIO (trop slide, too soft… malgré ses références graisseuses) avant que LIGHTNIN' GUY & THE MIGHTY GATORS n'enflamme la grange.
Sympas, ses messages belgicains et unionistes, ses L'union Fait la Force et autres appels à la raison lancés aux politiques, mais comme dirait l'autre: S'il jouait un peu plus et causait moins, ce serait encore plus cool.

Mais la claque de la journée, ou plutôt de la soirée, est sans conteste BERNARD ALLISON BLUES SEXTET. Avec un nom pareil, on s'attendrait à un soporifique jazz band tout droit issu de la Nouvelle Orléans, mais non: c'est plutôt le diable en personne qui déboule sur scène pour un violent exorcisme. Le fils de son père n'a pas plus de prénom à se faire que de nom: Allison senior peut reposer en paix.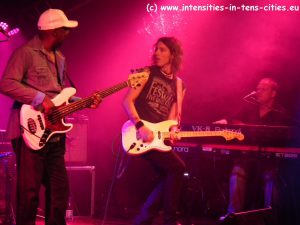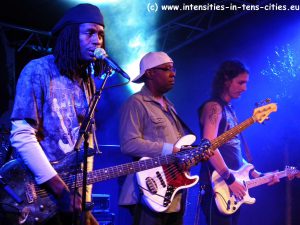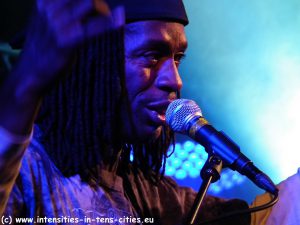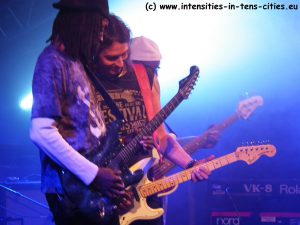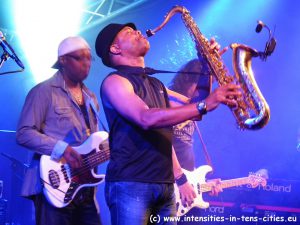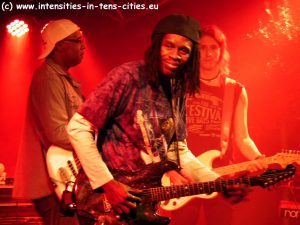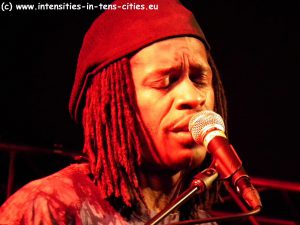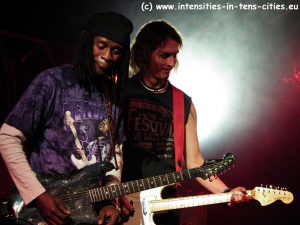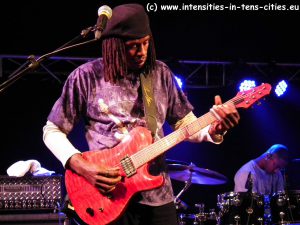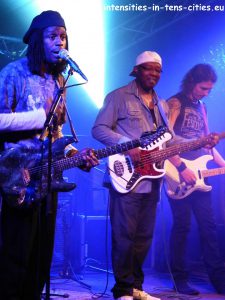 L'époustouflant hommage qu'il rend d'ailleurs à feu son père est THE grand moment de cette soirée: puissant comme du Johnny Winter, décoiffant comme du Stevie Ray Vaughan et décapant comme du hip-hop ou du funky qui teinte son blues-rock de là-bas. Combien de temps a-t-il joué? Des heures, dirons-nous, et il fait durer son plaisir rien que pour le nôtre…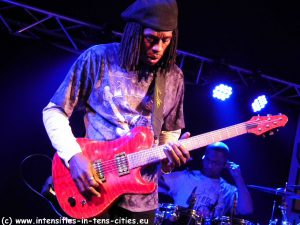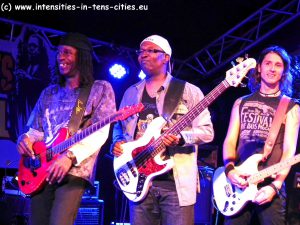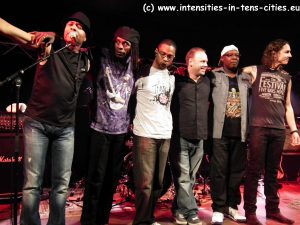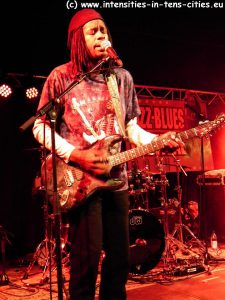 Si chaque guitariste s'en part se balader dans le public avec sa gratte, c'est que ça fait dorénavant partie du Madelonne touch. Mais tout cela serait encore plus touchy si tes concerts, Claudy, ne se chevauchaient pas: pas facile d'être au four et au moulin quand il y a du bon pain à gauche et du bon grain à droite, mildju ! N'empêche, vous en connaissez beaucoup, vous, de ces festivals de blues où ça résonne AC-DC, Black Sabbath et Deep Purple…? A Gouvy, oui !