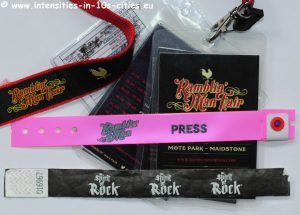 RAMBLIN' MAN FAIR, deuxième du nom ! Jour 1.
Que dire de ces sacrés briscards de vieux routards, les baroudeurs de The DEAD DAISIES à qui on ne la fait plus sur la Classic Rock Mainstage ?! Plus ébouriffants que jamais les vieux bougres, et c'est bien, bien peu dire. Depuis décembre dernier à Bruxelles, nous attendions confirmation de la première excellente impression qu'ils nous avaient laissée, et c'est bien plus encore que nous avons reçu dans les gencives.
Sir Doug Aldrich a récemment rejoint ces vieux brigands des DEAD DAISIES début 2016: son pedigree, c'est la surprise du chef qui confère au band sur la mainstage l'éclat et le brio qui lui manquaient peut-être, diront les pisse-vinaigre. Le petit coup de génie fait maintenant coup double avec le grain de folie qui caractérisait déjà la bande à Marco Mendoza et sa clique de routards. Du pur bonheur à l'état brut, et ces deux transfuges du Serpent Blanc n'y sont pas pour rien (tiens, tiens…).
L'aigre-doux suranné du (hard-) rock FM des eighties passe très, très difficilement le cap des décennies : presqu'en avant-goût de Whitesnake (mais on ne le sait pas encore), les ex-beaux gosses d'EUROPE n'ont plus vraiment de beaux restes et le montrent bien :
Les blondinets ne sont plus – du moins pour certains – que le pâle reflet de leur splendeur (physique) passée. Musique et look ont mal vieilli et il n'y en a pas un pour compenser l'autre. On pouvait penser que le (hard-) rock FM, les synthés et les longues crinières blondes des eighties étaient résolument voués aux oubliettes du r'n'r, mais il n'en est semble-t-il rien pour une frange (féminine) non-négligeable qui doit continuer à alimenter le tiroir-caisse de ces boys bands dont le pathétique n'a d'égal que leur vacuité musicale. Quand s'agira-t-il vraiment du final countdown…?? Allez, médaille du mérite quand même.
Un émouvant et remarquable THIN LIZZY opte pour une configuration all star band en l'honneur du 30ème anniversaire de la disparition du grand Phil Lynott – en ce compris Midge Ure en guest pour quelques morceaux. Séquence émotions: the boys are back in town pour 6 dates "anniversary show" seulement, dont le Ramblin '.
2016 est également le 40ème anniversaire de l'album Jailbreak: THIN LIZZY l'a bien compris avec cette (re)formation exceptionnelle. Tom Hamilton emporte donc sa basse d'Aerosmith pour rejoindre Scott Travis arrivé avec ses fûts de Judas Priest sous le bras. Flanqués d'un Midge Ure tout binamé, ils entourent Scott Gorham et toute la clique des BLACK STAR RIDERS qui prolongent depuis des années l'héritage de THIN LIZZY en ayant la décence de ne pas galvauder ni usurper son nom. A l'oreille, BLACK STAR RIDERS est le digne héritier de THIN LIZZY mais ce soir, en fermant les yeux, un frisson nous parcourt l'échine: ce best of de THIN LIZZY, c'est comme si le grand Phil était de retour…
Est-il politiquement correct d'affirmer que la tête d'affiche de ce 1er jour nous a franchement déçu ? Non pas David Coverdale himself, mais bien WHITESNAKE dans son (dés)ensemble. Le Snake, vidé de sa substance et triste parodie de lui-même, n'est plus que l'ombre de sa splendeur passée. Les compositions historiques du band demeurent d'une incroyable puissance et d'une efficacité effroyable, mais que tout l'enrobage de ces seconds couteaux est creux, artificiel et factice. Soporifique et gonflant, surtout…
Pas moins de quatre soli (oui quatre: guitare, basse, batterie et seconde lead guitar !) seront nécessaires au beau David afin de garantir la préservation de son – certes superbe – organe jusqu'en fin de set: mais où va-t-on, que fait la police ?! Hormis Tommy Aldridge aux drums, ses autres faire-valoir ne font que de la simple figuration, sans plus-value aucune. Mais où est donc passée l'âme du Serpent Blanc…? Rendez-nous notre véritable WHITESNAKE, plize.
PURSON et sa croquante & craquante leader éclaboussent littéralement la Prog Stage d'un psychédélisme comme qui dirait… extraordinairement revisité. Wouaw, on en redemande des comme ça !
Le néo-psychédélisme de PURSON éclabousse donc la Prog Stage, comme si ces Londoniens revisitaient ou ré-écrivaient l'histoire en injectant dans leur psyché des consonances de prog ou de stoner. Proches par moment de HAWKWIND dont ils partagent la même scène à un jour d'intervalle, la filiation n'en saute que plus aux yeux et aux oreilles malgré deux générations d'écart. PURSON: la claque qui fait du bien tellement elle fait mal…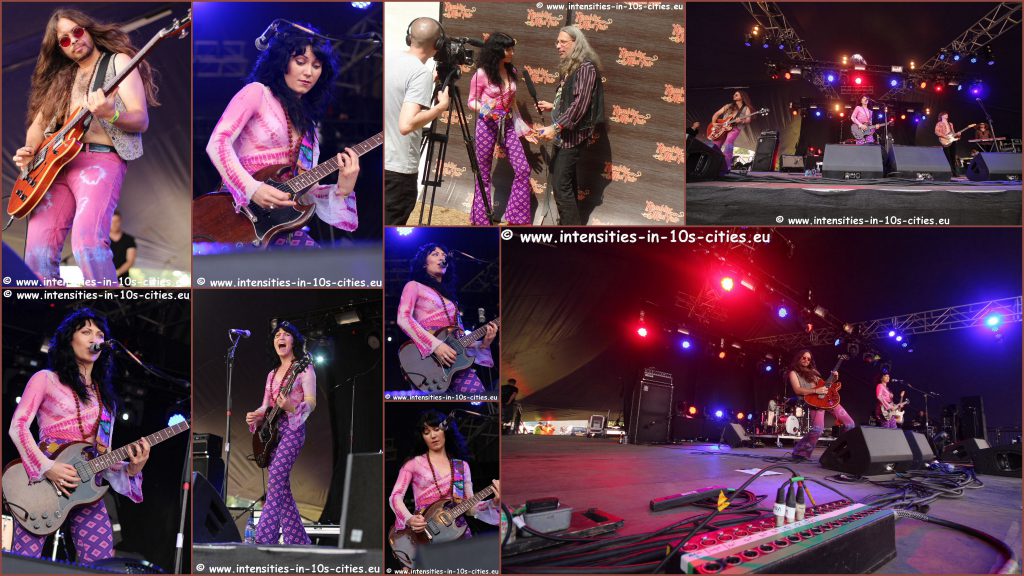 Les vétérans d'URIAH HEEP, aussi sympas sur le gazon backstage lors de l'échauffement qu'ils peuvent être explosifs live on stage. C'est presqu'à se demander ce qui les pousse encore à se surpasser de la sorte alors qu'ils pourraient simplement enclencher la roue libre. Si ça ce ce n'est pas avoir le feu sacré depuis 50 ans, alors on ne l'a pas encore inventé.
Reformé il y a quelques années, TERRORVISION explose la mainstage, comme transporté et galvanisé par un public semblant s'être expressément déplacé pour ces gaillards (… était-ce pourtant bien le cas?) :
TERRORVISION, c'est la surprise du chef en ce 1er jour de festival. Leur set est d'une énergie brute insensée, sans l'ombre d'une pause pour reprendre son souffle. Comme épicée de relents d'Henry Rollins, cette prestation demeure un grand moment et une bien belle découverte. Ces gars de TERRORVISION, c'est un peu de la sauce anglaise dans laquelle on aurait laissé tomber un bocal de méchants piments…
Mais le Ramblin' Man Fair 2016, c'est aussi une prestation en demi-teinte de GINGER sur la mainstage, à l'instar de celle de The FIERCE and the DEAD le lendemain sur la Prog Stage. A moins que ce ne soit une programmation précoce dans l'après-midi qui en occasionne l'inconsciente et subjective impression…?
… to be continued – day 2. A suivre, jour 2 avec BLACK STONE CHERRY, THUNDER, AIRBOURNE, The CADILLAC THREE, The ANSWER, PROCOL HARUM, HAWKWIND, WALTER TROUT, WARREN HAYNES & many more !