The Nuge : 3 de 4. Nouveau sms en provenance de Toby Nugent durant le concert de Thin Lizzy nous fixant un endroit de rendez-vous afin de nous permettre de passer backstage et de découvrir l'envers du décor de ce festival pas piqué des hannetons. C'est l'occasion de croiser les membres de Thin Lizzy juste à leur descente de scène, et de côtoyer Tommy Aldridge (photo 1) que je retrouve 8 ans après les derniers pots que nous avons pris ensemble à Toronto et à Buffalo alors qu'il tournait avec le Nuge. Scott Gorham, dernière figure emblématique de Thin Lizzy est également de la partie : cool (photo 2). Outre le beau peuple rock'n'rollesque qui déambule backstage (Apocalyptica, Danko Jones, Europe, Subway to Sally,…), c'est essentiellement Billy Gibbons et Dusty Hill de ZZ Top (photos 3 et 4) qui attirent les regards… jusqu'à l'arrivée de Ted Nugent sur le coup de 17h30.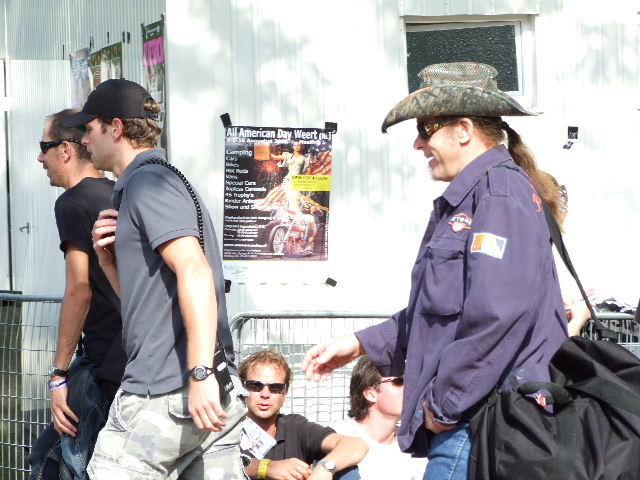 Photos (c) – Use only with mention of www.intensities-in-tens-cities.eu
1.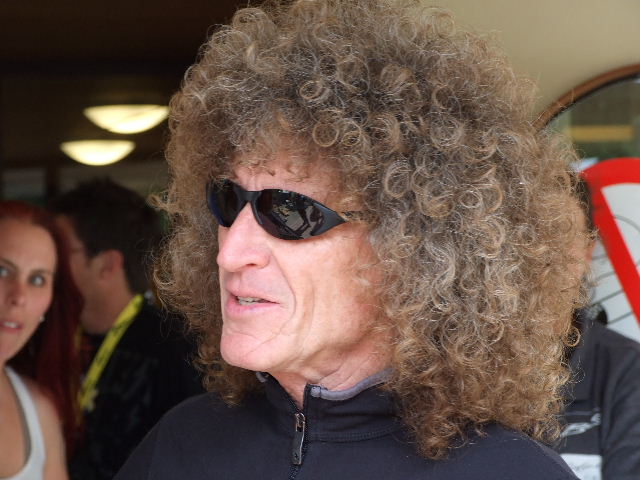 2.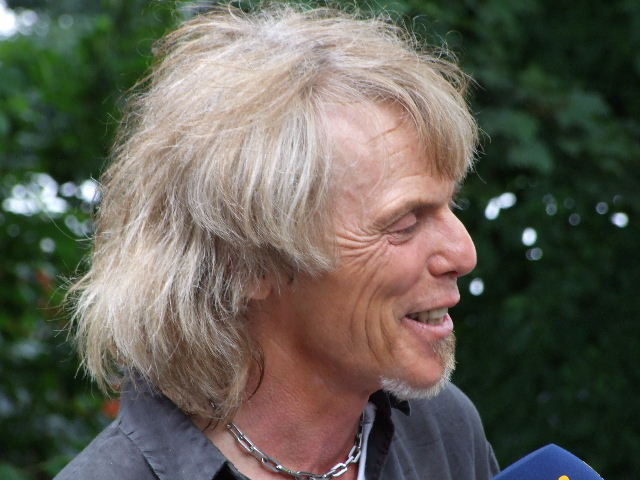 3.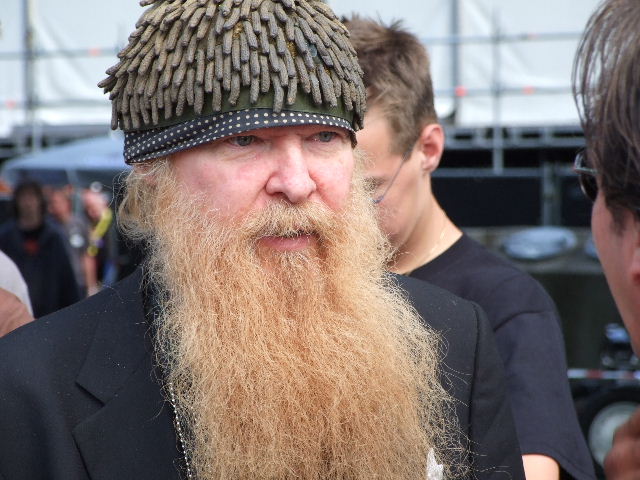 4.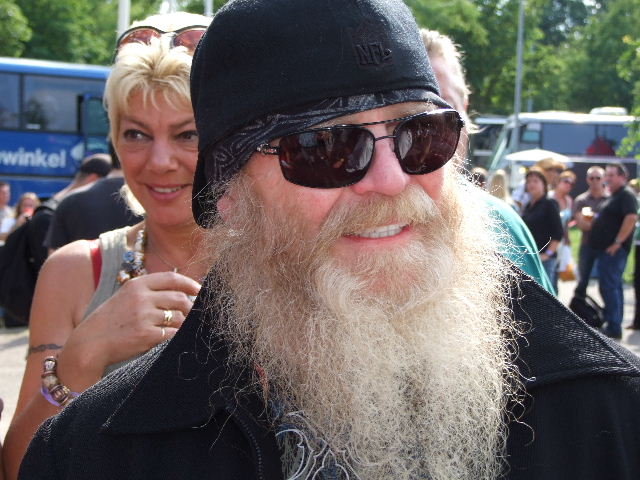 Rapides salutations, avant que le Nuge ne s'engouffre dans le bâtiment où chaque band dispose de ses appartements. Nous faisons la navette entre la plaine du festival et le backstage, restant finalement plus souvent installés au bar situé à l'arrière de la scène principale qu'ailleurs, profitant du soleil, du calme et de la vision de ce petit monde de vedettes, de roadies, de managers, de producteurs et de VIP sans doute, mais dont les visages ne me sont tous pas familiers… Quelques minutes seulement avant de monter sur scène, précédé par Toby qui ouvre le chemin, Ted quitte le bâtiment suivi comme son ombre par ses deux musiciens et son tour manager pour effectuer la centaine de mètres qui les sépare de la main stage. Tout en marchant d'un pas très rapide en direction de la scène, il s'étire et s'échauffe à la manière d'un athlète prêt à monter sur la piste, et c'est d'une foulée olympique que la distance est franchie. Il avale les escaliers de la scène trois à trois (!), enfilant illico sa Byrdland que lui tend Toby, et de laquelle il extirpe illico quelques violents feedbacks assourdissants alors même qu'il est toujours en coulisses : un classique qui annonce l'arrivée imminente de la Bête sur scène… Et le voilà parti pour une bonne heure et demi de délire. Je repasse frontstage pour tirer quelques photos – et Ted de mettre le feu à la plaine.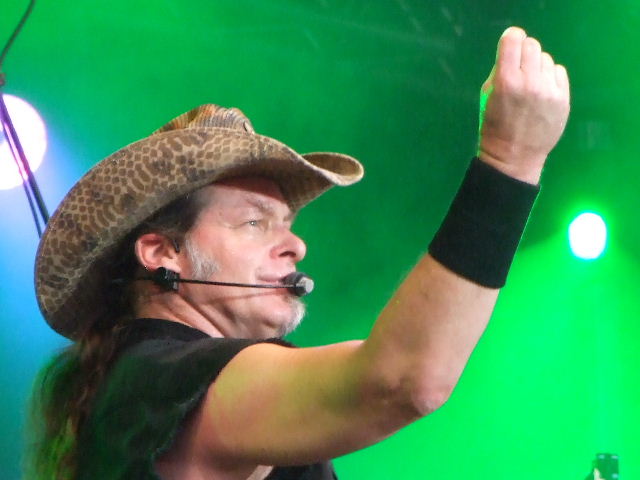 Photos (c) – Use only with mention of www.intensities-in-tens-cities.eu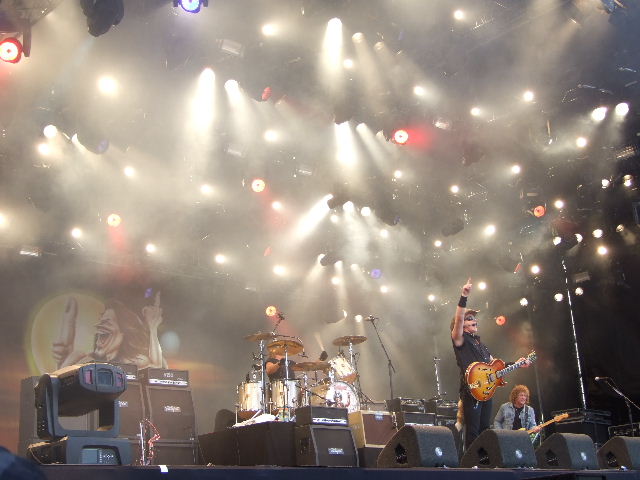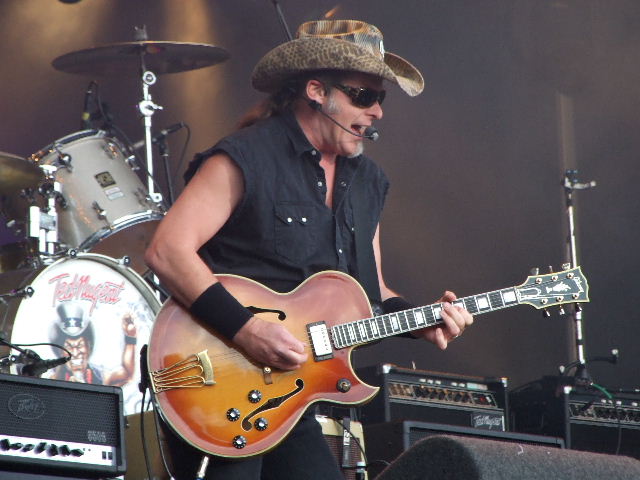 Photos (c) – Use only with mention of www.intensities-in-tens-cities.eu


Non, décidément non, je ne connais aucun show man de sa trempe, aucun musicien de sa stature. Et je pèse mes mots. Il vit sa musique, il EST sa musique.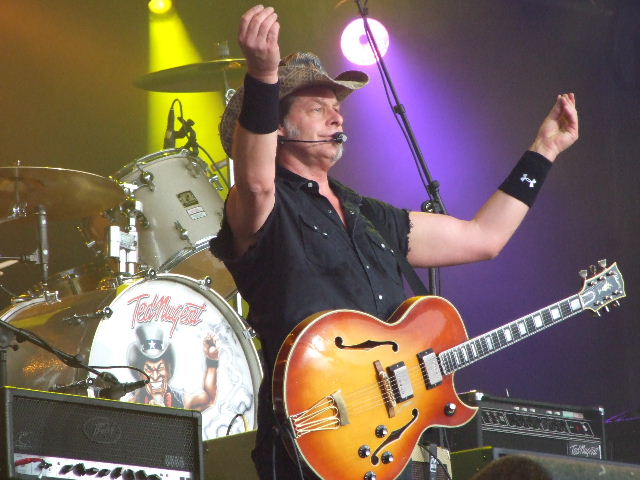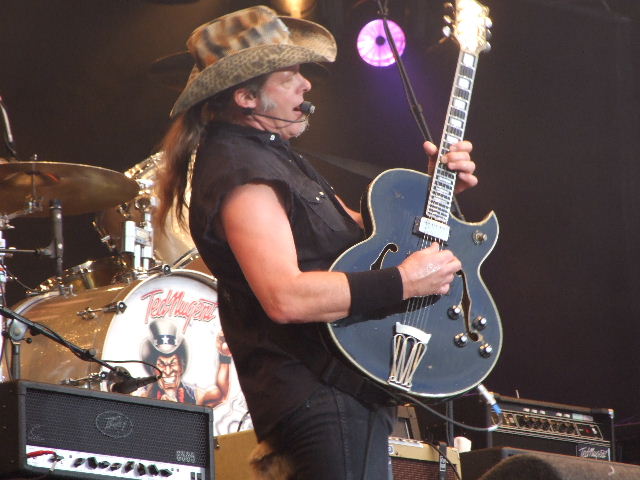 Photos (c) – Use only with mention of www.intensities-in-tens-cities.eu


Je cueille Ted à sa sortie de scène pour franchir à pas de géant en sa compagnie, comme à l'aller, le chemin le ramenant à ses appartements. Un attroupement de curieux s'agglomère le long du court trajet, formant comme une haie d'honneur que je franchis en sa compagnie. Il me gratifie d'une virile tape dans le dos en me demandant mon opinion quant à sa prestation: tout satisfait qu'il semble de toutes façons être de lui-même, c'est là un classique pour l'égomaniaque et mégalo qu'il est et reste !
Photos (c) – Use only with mention of www.intensities-in-tens-cities.eu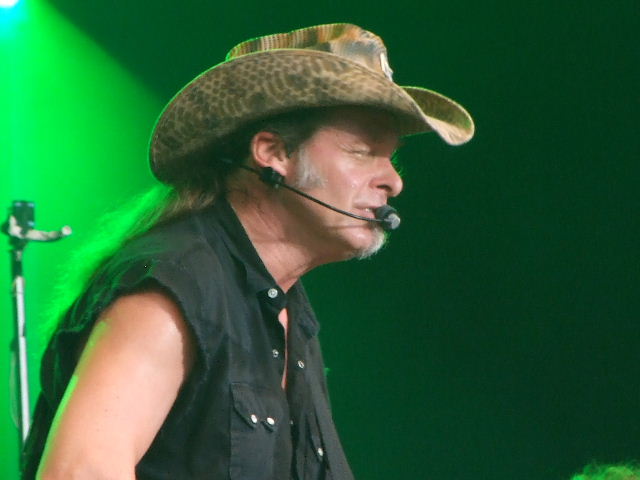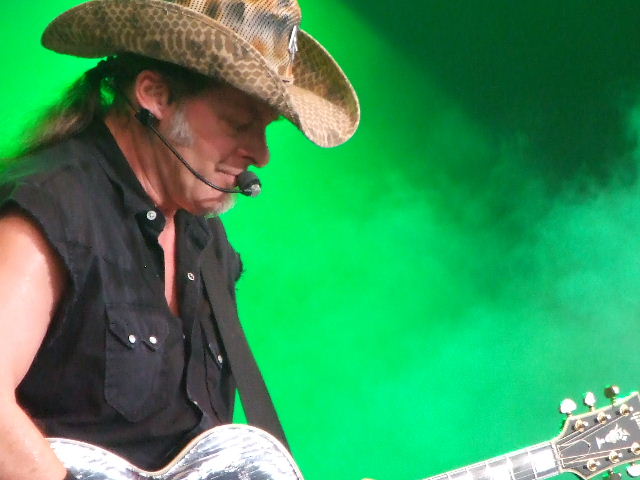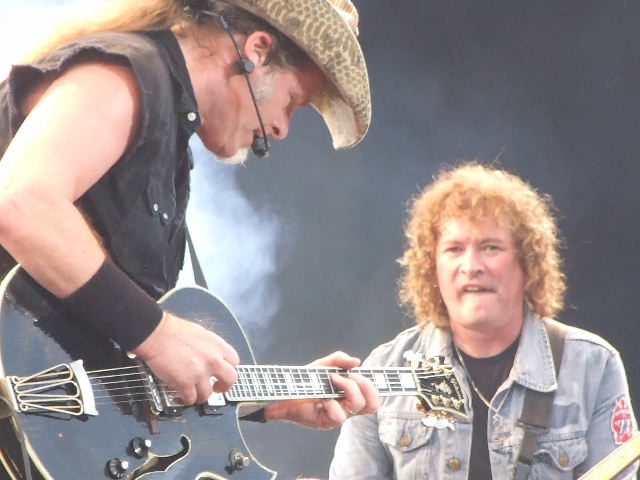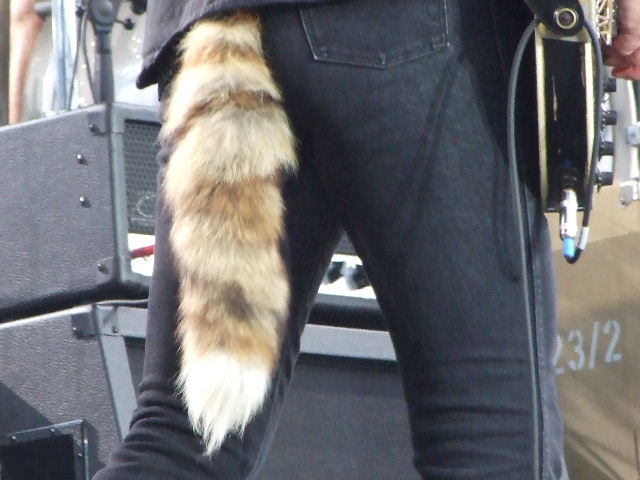 Pourtant, les quelques injures et autre "Motherfuckers !" adressés aux techniciens en début de prestation alors qu'ils n'exécutaient pas ses injonctions et ne répondaient pas à ces nombreux signes me laissaient craindre le pire. C'est qu'une Byrdland ne se manie pas comme une Ibanez ou comme une vulgaire japonaise… (il paraît !). Quelle soirée – ZZ Top peut monter sur scène, les Texans peuvent être bons, excellents ou exécrables, peu importe : le Nuge est passé… Vivement demain à Londres !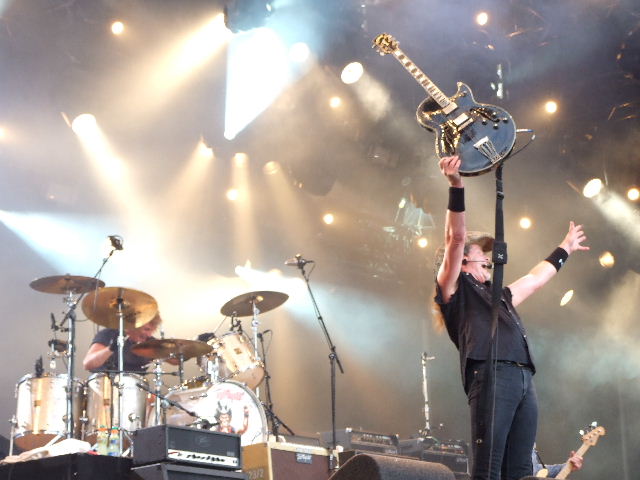 Photos (c) – Use only with mention of www.intensities-in-tens-cities.eu