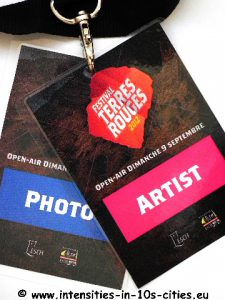 Andy Cairns imaginait-il, en lançant par trois fois un virulent "Luxemburg is a small country but surrounded by bastards ", qu'il y avait probably davantage de bastards dans le public que de Luxembourgeois ?! "Sorry, my french is not good but my r'n'r is perfect", et de fait THERAPY? est en toute grande forme ce soir pour terminer en beauté et surtout en force ce remarquable 12ème Terres Rouges Festival. Avec un sympathique petit clin d'oeil à… Intensities in 10s Cities !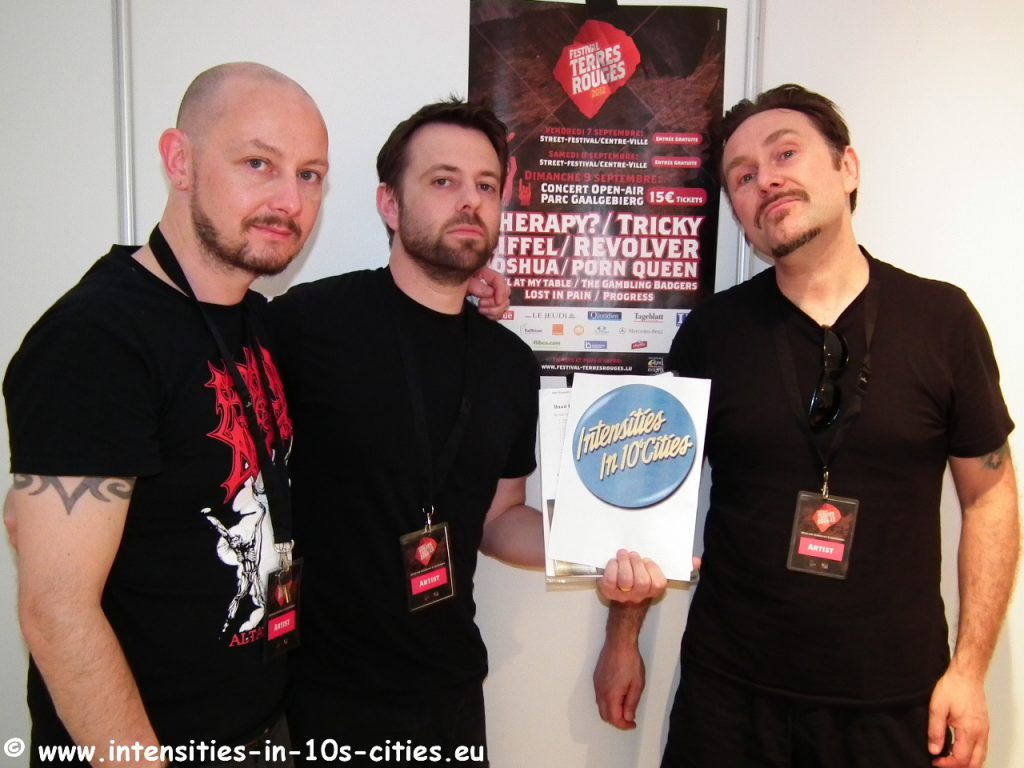 22h15: quittant leurs salons une chope à la main pour se diriger vers la scène et en gravir les escaliers, l'ambiance du trio est au beau fixe, cool et décontractée, peu entachée à la vue d'un public qui n'a manifestement et étrangement pas répondu en nombre à cette pourtant superbe organisation de la ville de Esch. Costard et cravate bien ajustés au moment de débouler sur les planches, leurs habits de scène sont tout autres que la tenue décontractée qu'ils portaient quelques heures auparavant alors que nous passions ensemble un bon et agréable moment dans leurs appartements backstage.
Une rencontre avec THERAPY? que me propose leur tour manager il y a quelques jours, ça ne se refuse pas ! 18h15 : en provenance directe de leur hôtel, le trio débarque sur le site fleurant bon la fraîcheur et le parfum d'une toilette toute récente (le trio, pas le site). 18h30 : toc-toc à la porte, fait le manager, manière de s'annoncer. Alors que le concert de JOSHUA qui commence nous fournit une musique de fond somme toute peu adéquate, surprise de rencontrer non pas un des trois Irlandais comme je le pensais, mais bien le trio au complet.

Salutations réciproques en se serrant respectivement la pince, les gaillards se présentant à tour de rôle comme s'ils étaient d'illustres inconnus pour leur interlocuteur que je suis ! Des rafraîchissements galamment servis par leur manager qui s'éclipse ensuite pour nous laisser seuls, la discussion peut commencer. Non, le trio ne redeviendra jamais un quatuor, les interpelant sur la présence habituelle d'une rythm guitar sur scène tenue par un de leurs roadies. Oui, l'alchimie fonctionne toujours aussi parfaitement entre eux trois lorsqu'il s'agit de plonger dans l'écriture de nouveaux morceaux – tantôt à partir de lyrics jetées sur une feuille, tantôt à partir d'un bref accord qui leur reste dans l'oreille.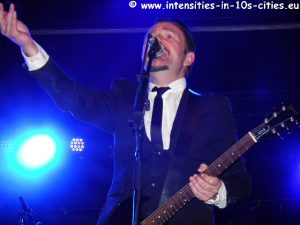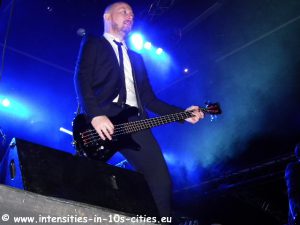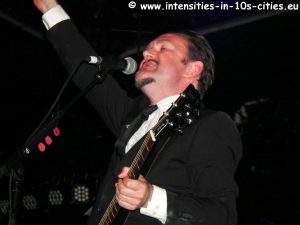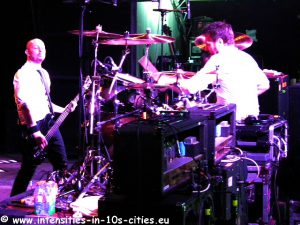 Non, jouer à Belfast n'est pas jouer à Dublin, cette dernière étant traditionnellement plus calme. Oui, la machine est tellement bien huilée entre eux qu'aucun morceau ne nécessite une concentration particulière live on stage. Non, un single ne s'écrit pas en tant que tel mais émerge naturellement au fur et à mesure de la production d'un album. Oui, "Troublegum" reste une pièce maîtresse de leur parcours, incontournable sur scène quand bien même ils ne le voudraient pas. Non, ils ne se voient pas arrêter dans 10 ou 15 ans mais bien continuer au finish tant que leur santé le leur permettra. Oui, une set-list se négocie et se concerte, a fortiori lorsque le set est relativement court, comme ce soir. Non, Neil ne se sent pas en phase avec le jeu de son homonyme Peart (de RUSH) dont il admire par-dessus tout l'art et la maestria. Non, ils n'ont pas été intimes de Rory Gallagher ni de Phil Lynott mais croisent à l'occasion Gary Moore. Oui, ils se souviennent parfaitement tous les trois de leur venue au Ward'in Rock, un modeste festival pourtant perdu parmi des centaines et des centaines d'autres dates à leur actif sur les cinq continents.
Les difficultés d'embourbement rencontrées semble-t-il à Wardin par leur camion pour arriver sur place et, surtout, la météo polaire de cette édition 2009 du Wardinne n'est pas étrangère au fait que cette prestation reste gravée dans leur mémoire collective, Andy rappelant même à ses deux comparses qu'il portait un bonnet sur scène tant le froid était piquant (voir le chap. 1 @ ). Sacré Andy, va, une mémoire d'éléphant backstage, et un tempérament de fauve on stage. Le contraste est de fait (d)étonnant entre leur attitude à tous trois calme et posée de gentlemen, et l'explosion d'énergie qu'ils déploient sur scène trois heures plus tard : ce sont trois Dr. Jekyll & Mister Hyde unis comme les doigts de la main et parlant comme un seul homme.
Thanx, Mates, for your warm welcome. Reste que leur prestation d'une heure, montre en main, est un carcan bien trop étroit pour contenir la rage boulimique de toute leur énergie – mais il en est ainsi, telle est la décision des organisateurs et la teneur de leur contrat, comme ils me le rappellent d'ailleurs. Leur "We are Therapy?, from Nothern Ireland" clôture le concert comme ils l'ont commencé. This is the end…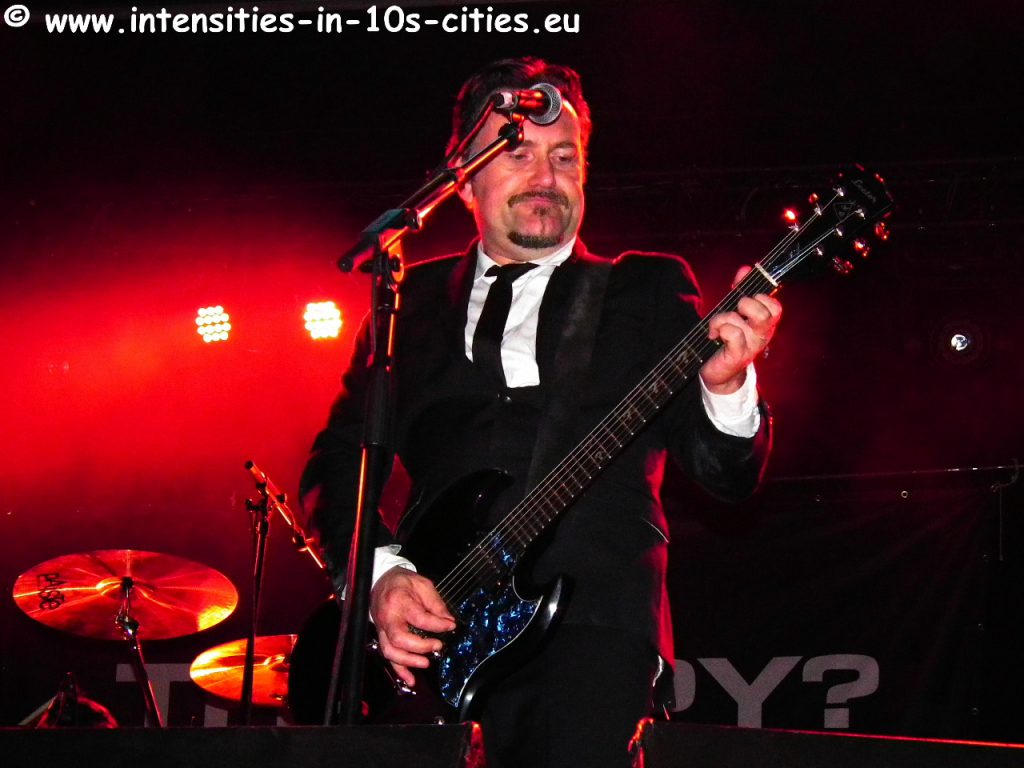 TRICKY partage la tête d'affiche avec THERAPY?: des Irlandais du Nord et du Sud qui ne se tapent pas sur la g… sinon à coups de décibels. Encadré par ses deux amazones aux guitares, TRICKY nous balance une monumentale reprise de "Ace of Spade" à la sauce trip-hop ô combien salacement assaisonnée, invitant pour l'occasion le public à envahir en masse la scène pour un joyeux moment de délire collectif. L'évacuer à l'issue du morceau sera quelque peu plus laborieux pour la Sécurité. Massive Attack n'est qu'un lointain souvenir, et on n'a rien perdu au change avec son ex-leader évoluant maintenant accompagné de ce nouveau band. Aurait-il été inspiré par mon t-shirt arborant le fameux as de pic de l'ami Lemmy, après que nous soyons restés un long moment attablés face-à-face en dévorant notre satcho respectif de frites pour souper…?!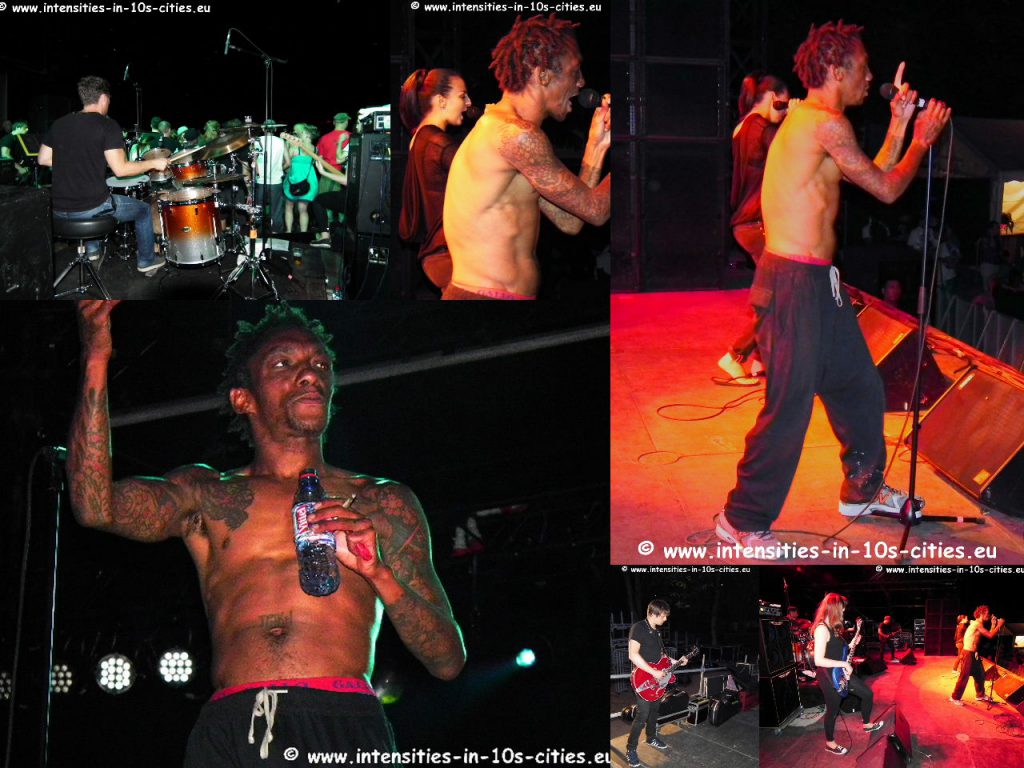 "Bruxelles, ma belle" – telle est l'inscription du t-shirt que porte Romain Humeau, déambulant de-ci de-là backstage : dommage qu'il change de tenue pour monter sur scène, parce que ça le faisait ! On a trop écrit que EIFFEL est le nouveau Noir Désir et Humeau le digne héritier sinon le fils spirituel (le jumeau?) de Bertrand Cantat : il est maintenant temps de le hurler, car Noir Désir est mort, vive Noir Désir. Si comparaison n'est pas raison, il fallait néanmoins bien qu'un étendard d'envergure reprenne dignement le flambeau abandonné, et l'on n'aurait pas pu choisir mieux que EIFFEL.

Les Bordelais sont tout simplement parfaits ce soir – quel autre terme pourrait-il mieux convenir ?! Deux des trois THERAPY?, Andy se pointant à ma gauche & Michael à ma droite, n'en pensent pas moins : venus découvrir les Français durant leur set, ils tombent sous le charme de ceux qu'ils pensent être Revolver (à l'affiche, mais plus tôt dans l'après-midi) avant de m'en demander confirmation et de prendre bonne note du rectificatif. Pendant ce temps, Neil assure les derniers réglages de son drum kit derrière la tenture, et le lead guitar de Tricky s'échauffe les phalanges en grattouillant le manche de sa 6 cordes unplugged : du bon monde backstage pour apprécier EIFFEL…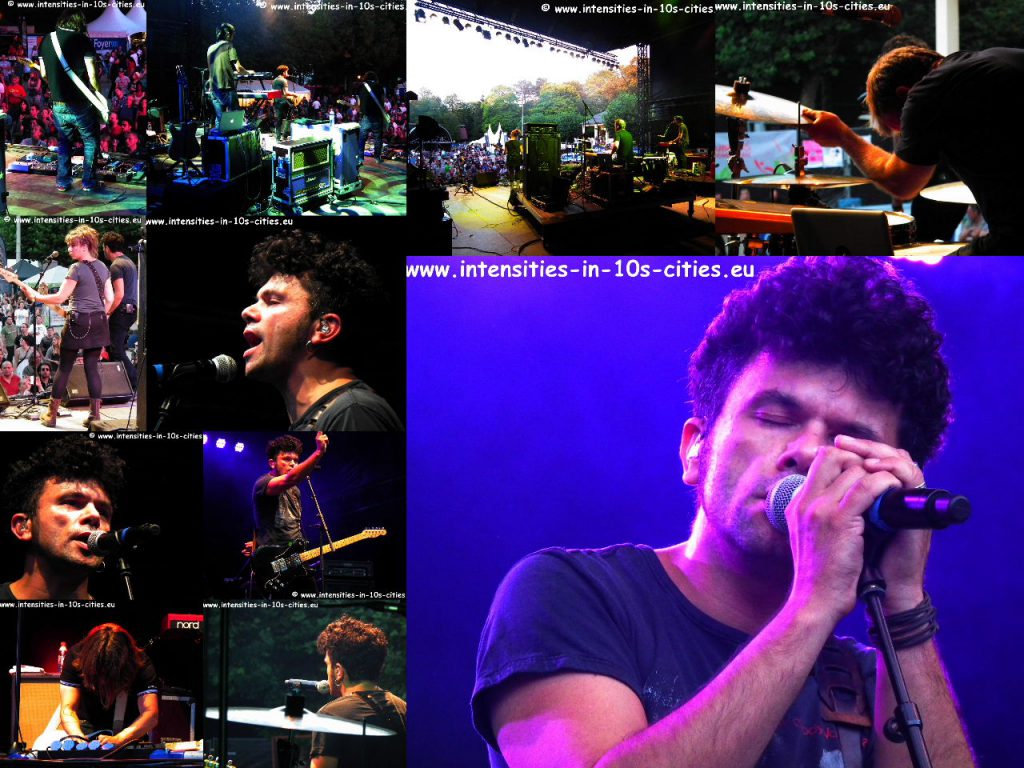 Avant JOSHUA et précisément REVOLVER en fin d'après-midi, les locaux de PORN QUEEN avaient déjà pris possession des lieux et surtout de la sono. S'il est bien une valeur sûre et montante parmi les sujets du Grand-Duc, c'est bien la Reine du Porno. Non seulement contents d'avoir été pris sous l'aile protectrice de Slash et avoir déjà ouvert plusieurs fois pour lui, les Grands-Ducaux vont le suivre pour quelques concerts supplémentaires au Brésil fin d'année. Une belle carte de visite pour un rock comme on l'aime en cet après-midi pour le moins chaud et estival : bien costaud, bien construit, bien couillu, bien carré, bien joué. Bien, bien… très bien même, les gars.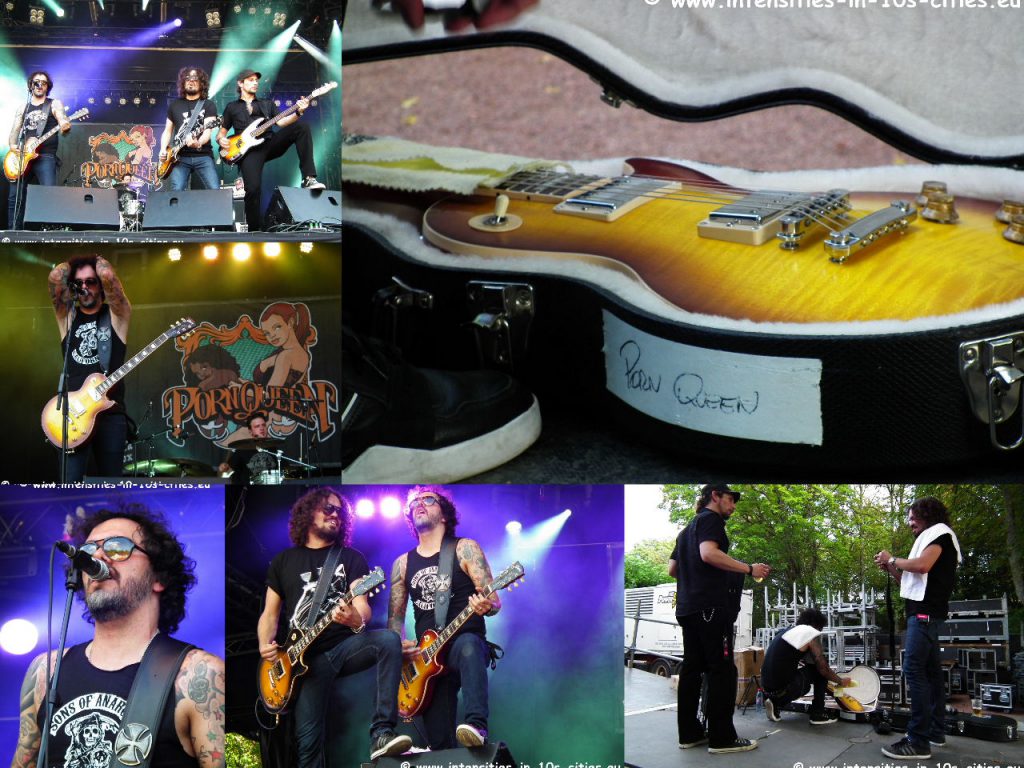 Reste aux bastards transfrontaliers et aux Lulus locaux de réaliser qu'ils ont, pour le prix du parking à Werchter, une journée complète de festival tip-top-nickel-chrome dont est attendue avec impatience la 13ème édition l'année prochaine. Ou quand les deniers publics et le partenariat public-privé débouchent sur une toute belle machinerie excellemment huilée, chapeau Messieurs-Dames les Organisateurs Publics de Esch-sur-Alzette.