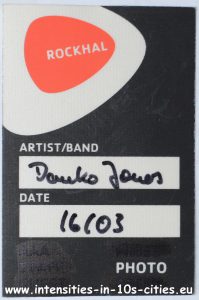 This is the spirit of real rock'n'roll, not fucking jazz ! – D'emblée, le ton est donné même si l'on savait bien que DANKO JONES n'allait pas faire dans la dentelle de Bruges. On aime encore bien, nous, ce bouillonnant vivier de canadian rock qui jaillit de la frétillante banlieue de Toronto comme si déferlait du r'n'r depuis les chutes du Niagara. Non, non, on ne pense pas qu'à l'inégalable RUSH ou qu'à l'explosif et imprévisible Gordie Johnson alias BIG SUGAR, mais aussi à tous ces p'tits gars de la trempe de DANKO JONES. Toronto, c'est un peu le Detroit canadien, la Motor City à la sauce caribou, et si les deux métropoles ne sont distantes que de quelques encâblures de grands lacs, ce n'est sans doute pas non plus qu'une heureuse coïncidence.
De tous les hommages rendus pas DANKO JONES de Bon Scott à Ronnie James Dio et de Joe Strummer à Amy Winehouse en passant par David Bowie, c'est assurément celui rendu en fin de lithanie à Sir 49% Motherfucker & 51% Son of a Bitch qui déclenche la plus prenante ovation. On a beau faire, on en revient toujours aux fondamentaux, aux icônes sans compromission et aux symboles les plus absolus.
DANKO JONES nous avait littéralement scotché il y a une dizaine d'années alors que nous découvrions le trio en opening act de MOTORHEAD à l'Ancienne Belgique. Tandis que leur sono jouait les troubles-fêtes en décidant tout à coup de s'interrompre brutalement, et dans l'impossibilité totale de relancer la machinerie dans les délais impartis, le trio avait tout simplement terminé son set en pur acoustique.
Et l'on veut dire par-là en total unplugged. On aurait entendu une mouche voler dans une Ancienne Belgique sold out, personne n'osant piper mot ni broncher ni même déglutir sa chope de peur que l'a cappella de Danko et le bruit feutré des mediators grattant les cordes sèches ne parviennent jusqu'au plus profond de la salle. Un moment unique d'une rare intensité et difficilement réitérable, tant les circonstances étaient exceptionnelles dans leurs causes et extraordinaires dans leurs conséquences…
DANKO JONES nous avait également pas mal tapé dans l'oreille en Hollande au Bospop Festival 2008 et remet incontestablement le couvert ce soir avec une totale absolue à la Rockhal. Déplorons néanmoins que 1h25′ de live (… rappel compris) est un peu chiche au compteur de nos préférences, mais ne boudons pas notre plaisir quand la qualité l'emporte sur la quantité.
Mais la surprise du chef s'appelle ce soir AUDREY HORNE qui officiait en première partie, 3/4 heure durant. Il n'y a pas loin de penser que cette surprise du chef soit fin décembre 2017 notre surprise de l'année. Un peu tôt sans doute pour l'annoncer alors que nous sommes encore en hiver, mais c'est dire… !
AUDREY HORNE, c'est un sacré coup de fraicheur assorti d'une dose de bonne humeur sans pareille: quand on réussit ce tout de force sans par ailleurs réinventer la roue, ça témoigne d'un talent qui ne saurait mentir…