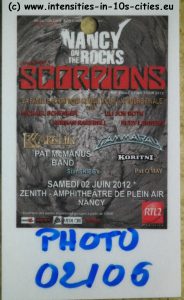 Le cadre de ce premier mini-festival Nancy on the Rocks vaut à lui seul le déplacement : un vaste amphithéâtre de plein-air (une large fosse et de tout aussi amples gradins pour 20.000 spectateurs), une scène aux dimensions impressionnantes et un plein soleil pour couronner le tout. Bref : le décor et le public idéaux pour accueillir SCORPIONS et les guests qui étoffent l'affiche de cet estival festival. Et à propos de guest-stars, il faut de fait attendre l'arrivée sur scène d'Uli Jon ROTH ce soir, le temps d'un seul morceau ("We'll burn the sky"), pour que SCORPIONS retrouve un court instant sa véritable dimension.

Celle qui l'a fait exploser à la face du monde entier fin des seventies, à l'époque de "Tokyo Tapes" qui voyait alors les Teutons faire encore du vrai et du bon rock'n'roll pour encore quelques albums de génie, avant de virer malheureusement dans ce qui est largement advenu de la guimauve commerciale depuis la moitié des années '80. Ce n'est pas un jugement de valeur, c'est un simple constat tout ce qu'il y a de plus objectif et impartial – tout comme Annie Cordy ne fait pas plus de rock'n'roll que Nashville Pussy ne fait dans la variété française… "We'll burn the sky" : magie d'un seul morceau, magie qui nous ramène 35 ans en arrière. Combien dans l'assistance étaient-ils déjà seulement nés…?!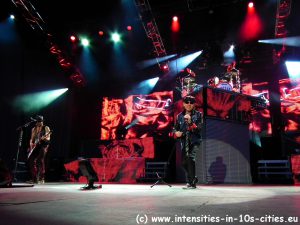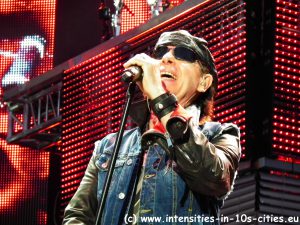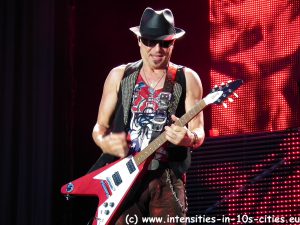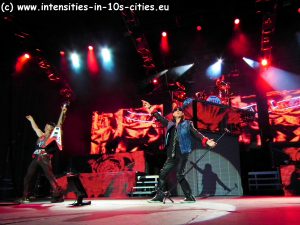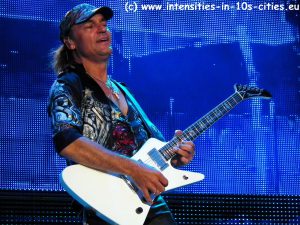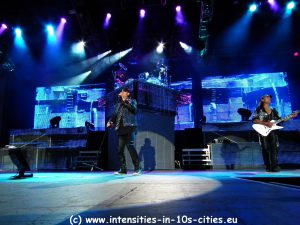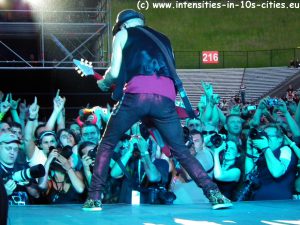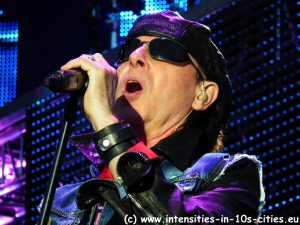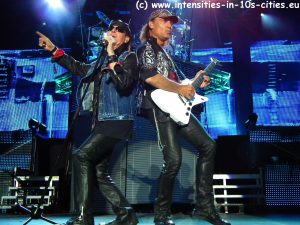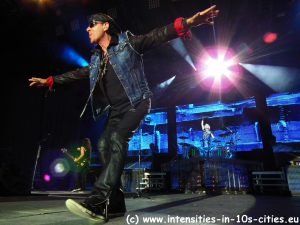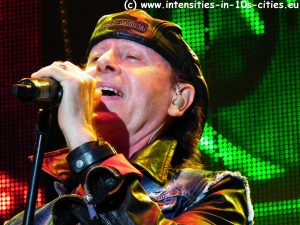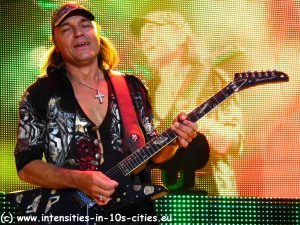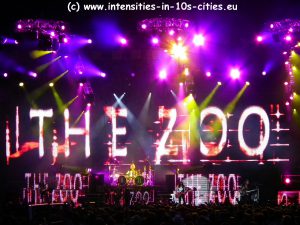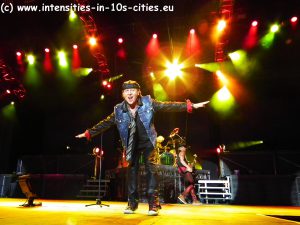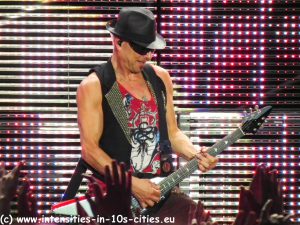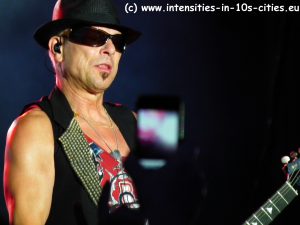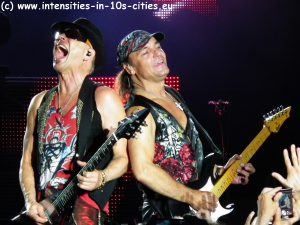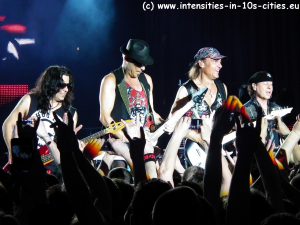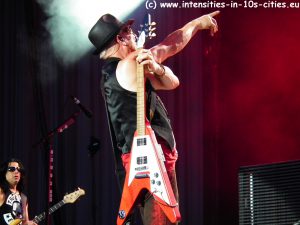 SCORPIONS a commencé sa tournée planétaire d'adieu il y a 2 ans déjà (!), et le show de ce soir dans ces superbes installations en plein air est de la même veine que la set-list du concert de 2010 à Mons en début de tournée (voir – All the World is a Stage, Chap. 1 "The vintage Years 1978-2011"). Le groupe nous réserve un best of de tout ce qui a fait son succès, ne nous épargnant pas une seule de ses sirupeuses ballades. A cet égard, nous avons quasi droit à la totale, ce qui n'enlève rien à la suave sensualité de l'une ou l'autre de ces remarquables compositions faut-il l'avouer.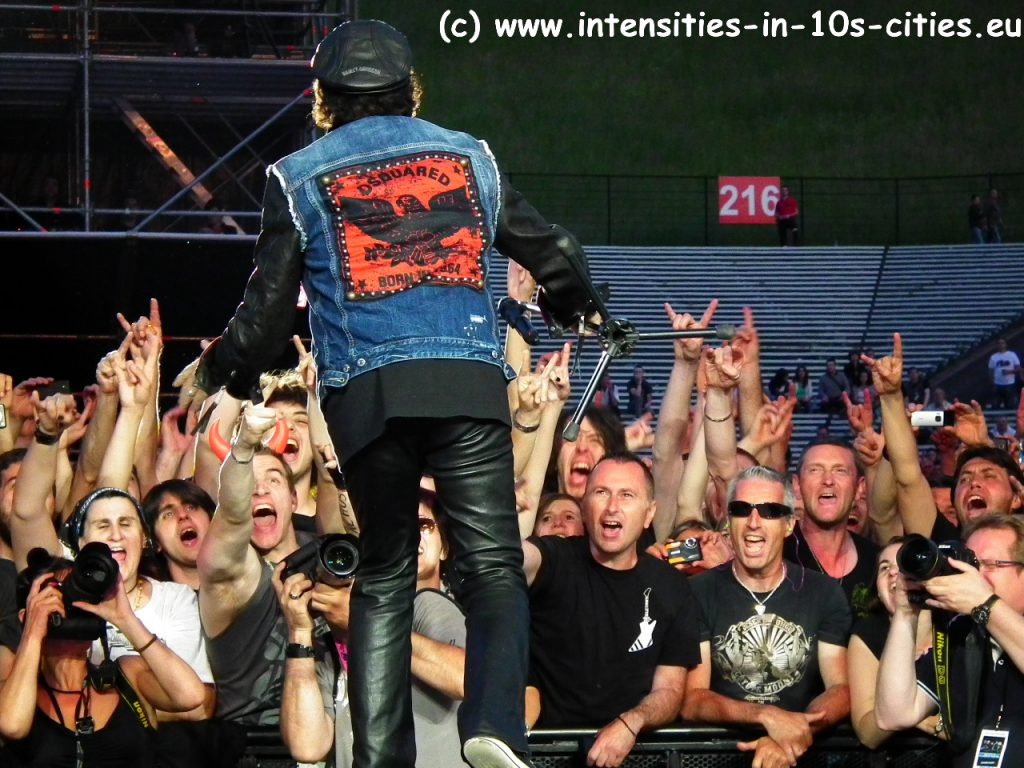 Mais l'excès nuit en tout : entrecoupant ces langueurs de titres plus couillus quand même (pour rester dans le sensuel…), SCORPIONS ne puise cependant pas dans son véritable patrimoine musical historique. Dommage – mais il faut concéder que si SCORPIONS attire encore les foules aujourd'hui, c'est parce que son public vient dans sa toute grande majorité pour écouter ce qu'il connait. Et un fond de commerce, ça s'entretient, que diable ! Et puis, on ne donne pas des perles aux cochons.
Nos bouffeurs de choucroute n'en demeurent pas moins une sacrée belle machinerie sur scène (faut dire aussi qu'ils ont de la bouteille). Rudolph SCHENKER, flamboyant, est plus showman que jamais en arpentant de long en large l'immense scène et son avancée au pas de course tout le concert durant. Matthias JABS, un ton un fifrelin en-deça, n'en crève pas moins l'écran, semblant se jouer tous deux – même physiquement – des décennies qui se sont écoulées. A quelle substance (de top-qualité supérieure, cela va sans dire) carburent-ils donc ?! A ce titre, SCHENKER est le champion toute catégorie qui relèguerait le pourtant fringant et alerte Klaus MEINE au rang de brontosaure antédiluvien. Passons sur un batteur qui ne mérite même pas d'être mentionné – le maquillage et la coiffure d'une vieille p… sur une espèce de corps blanchâtre grassouillet, le tout assorti à un jeu du même tonneau (normal pour un batteur) – et concluons sur une note passablement positive et plutôt favorable. Car si la piqûre finale du scorpion n'est pas mortelle, elle reste ma foi des plus agréables aux tympans et à la rétine. Reste à voir si cette interminable tournée d'adieu est belle et bien le véritable assaut final des panzers teutons : "The best is yet to come", clament-ils. Quand on vous dit qu'un fond de commerce ça s'entretient…
Femmes et enfants – et Français moyens – quittent en masse les lieux après cette prestation. Ne reste dès lors plus dans cet amphithéâtre qu'une majorité de rockeux profitant d'une pleine lune complice de ce qui va suivre. Last but not least (et comment donc !), l'ultime set de la journée laisse le champ libre à Uli Jon ROTH qui monte sur les planches pour prolonger la magie de sa (trop courte) prestation avec SCORPIONS une heure auparavant. Il nous replonge avec extase dans la jouissance des plus vrais morceaux qu'il a pu (co-)écrire pour et avec le groupe du temps où il en était encore membre. L'extraordinaire "In transe", et quantité d'autres perles qui semblent avoir bonifié avec les décennies, font passer cette petite heure comme un suppositoire : diantre, il est déjà consommé qu'on y a rien vu ! Avec son look tout droit sorti de Woodstock et sa dégaine d'un autre monde, Uli Jon ROTH reste un ovni capable du meilleur comme du pire (voir Chap. 1 de www.intensities-in-tens-cities.eu The Vintage Years 1978-2011) : ce soir, c'est du meilleur dont il nous gratifie.
L'affiche annonçait "La famille originale de Scorpions réunie pour la piqûre finale", et de fait : Herman "Ze German" RAREBELL rejoint sur scène pour un morceau son vieux comparse d'antan ainsi que, peu après, notre Rudy national : "Please welcome Rudy LENNERS, from Lièèèège" (pour ceux dont les neurones auraient zappé qu'il fut batteur de Scorpions mi-seventies).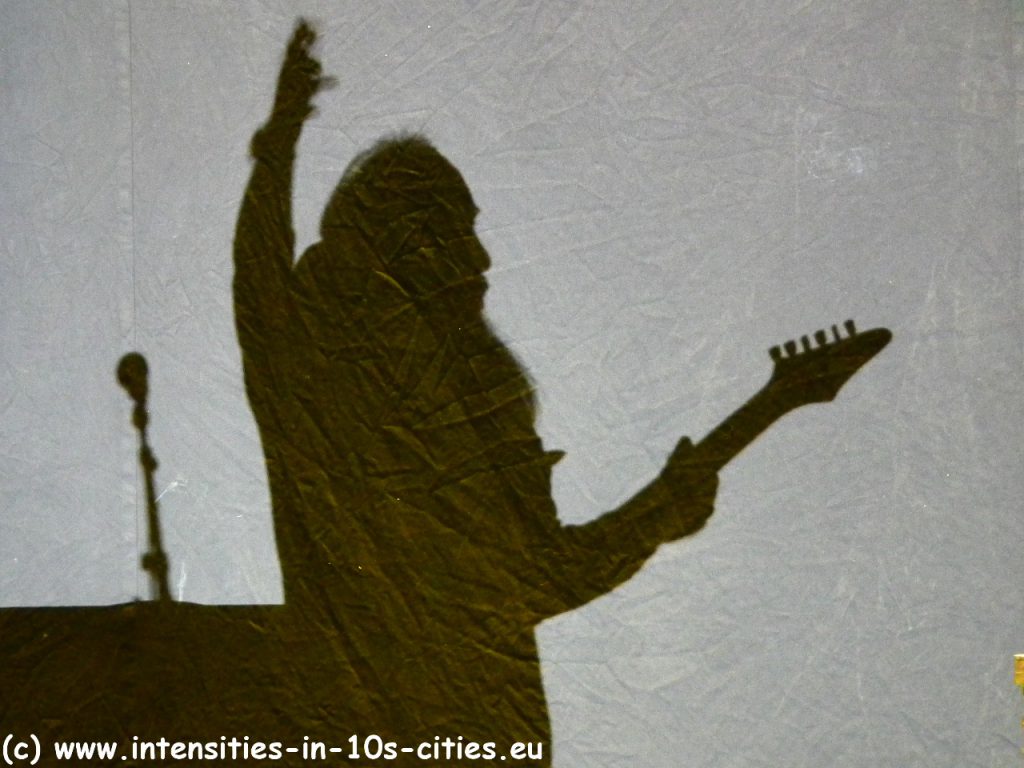 Une heure s'est écoulée : Uli Jon ROTH annonce qu'il continuerait bien au-delà du temps réglementaire mais, presque confus, s'excuse timidement mais à regrets de devoir mettre un terme à ce bonheur en arguant du fait que… les hommes de la sécurité doivent rentrer chez eux (sic !). Toujours est-il que les 60 minutes imparties sont écoulées : le temps passe-t-il toujours aussi vite en d'aussi jouissives circonstances ?!

A noter qu'un absent-surprise de taille a légèrement terni la fête, et pas la moindre des guest-stars annoncées : Michael SCHENKER. Evidemment, s'il devait en manquer un, c'est bien le frère au Rudolph ! Il aurait été la cerise sur le gâteau ; un gâteau bien, bien consistant servi dès 18h déjà sous un soleil encore bien haut et chaud et qui annonçait une soirée tout aussi copieuse…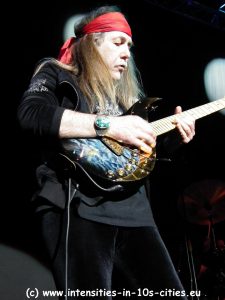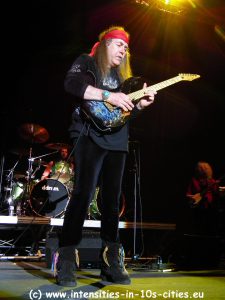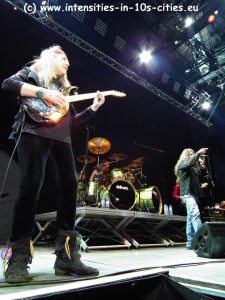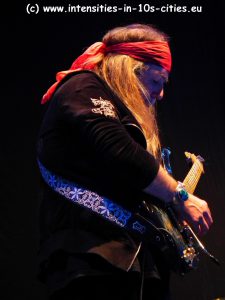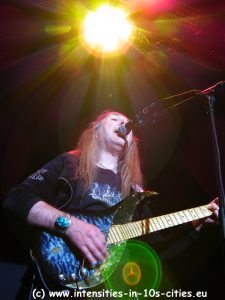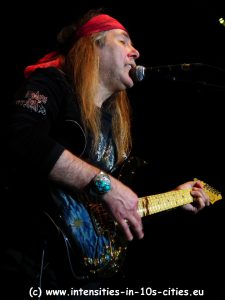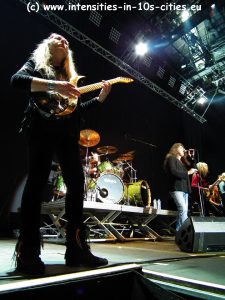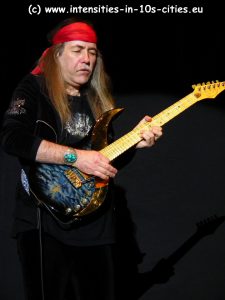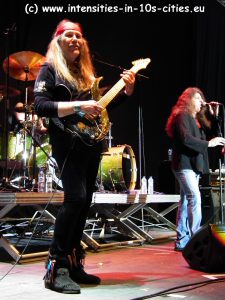 Plus tôt dans la journée donc, Pat McMANUS déboule sur scène fin d'après-midi devant un public encore relativement clairsemé. Cet Irlandais qui nous avoue être né entre Rory GALAGHER et Gary MOORE nous sert un excellent mix qui se situe bien entre ces deux compatriotes, bien que pas de la trempe quand même du premier nommé. Pat McMANUS trio est la bonne et chaleureuse surprise du jour, même s'il est vrai que c'est sans doute la prestation la plus légère – la moins lourde, dirons-nous – de l'affiche. Aérien et mélodique avec quelques sonorités à la Thin Lizzy, l'Irlandais a séduit, même s'il manque assurément une bonne dose de Guinness pour compléter ce bien agréable tableau !
KARELIA enchaîne un show fort particulier, ou qui du moins laisse perplexe. Un style propre, assez difficilement définissable, qui semble toutefois avoir ses inconditionnels dans un public qui commence à arriver en masse et à remplir ce superbe amphithéâtre.
GAMMARAY a la tâche de préparer l'audience avant l'arrivée de leurs compatriotes, SCORPIONS. Ils réussissent ma foi pas mal leur coup avec un heavy metal tout ce qu'il y a de plus conventionnel et basique. Efficace, sans fioriture mais avec une touche de je-ne-sais-quoi, leur set-list réserve quelques surprises pour le néophyte qui se surprend à fredonner l'un ou l'autre refrain facile. Rien de tel, sans doute, pour préparer l'arrivée d'autres fredaines tout aussi faciles en tête d'affiche…
En définitive, une bien belle soirée de festival open-air, sans aucune commune mesure avec l'expérience du weekend dernier à Werchter Boutique (voir ci-dessous). Ah si, quand même : les Frenchies sont plus doués que les Flamoutches pour se faire du blé sur les boissons. 4 € la chope. La quoi ? Pardon : la bière (sic). Est-ce qu'on vend un gros rouge qui tache à ce prix-là, nous ?!