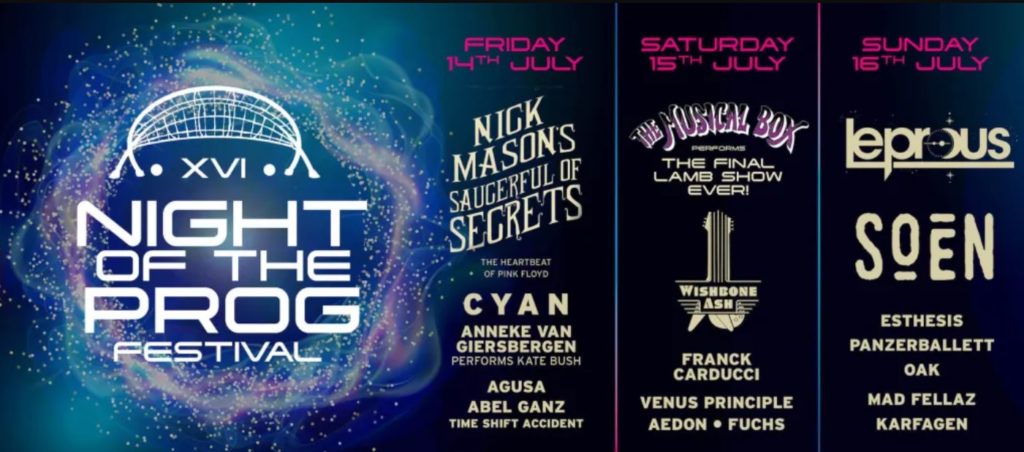 Un cadre unique. Un décor splendide. Une infrastructure remarquable. Un site idyllique. Et une qualité sonore et acoustique sans nulle pareille: une perle rare et précieuse, un modèle du genre absolu, un exemple bluffant pour tout ingé-son amateur ou professionnel (… et celui d'Iron Maiden en premier lieu vu la catastrophe sans nom d'hier soir à Anvers). Nick MASON clôture cette première des trois journées du Loreley's Night Of The Prog Festival en nous réservant un Tribute to Syd Barrett de toute beauté. Une merveille. Un véritable bijou offert dans un écrin à l'image de l'amphithéâtre du site de la Loreley, en surplomb d'un Rhin encore plus romantique sous un soleil couchant, rougeoyant à l'horizon et irradiant cet amphi open air…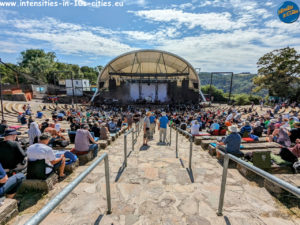 Le show de MASON débute à 23h00 pétantes en larguant une première bombe nucléaire: One Of These Days éclate à la figure de l'assistance comme un missile à sous-munitions largué au-dessus du site. Un son d'une puissance inouïe qui n'est égalé que par la seule pureté et limpidité d'une sonorisation tout bonnement remarquable. Non: exceptionnelle. Les caissons de basse font trembler l'atmosphère d'une onde parfaite qui se propage sans doute jusque Coblence, tandis que la communion des autres fréquences à l'unisson doit atteindre un seuil de perfection proche du nirvana.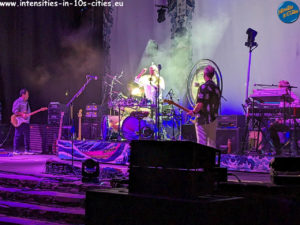 Puis… Ping. Ping. Ping… Echoes – pour ne citer qu'un autre titre de la set list – confère aux lieux comme un sentiment de déjà vu, de déjà entendu en magnifiant le site sous la voûte étoilée, même si Loreley n'est pas Pompéi (mais on n'en est pas loin). Nick MASON – admirablement épaulé par un Guy Pratt qui semble donner le tempo – a choisi l'amphithéâtre de Loreley pour étrenner la première date de son Saucerful of Secrets Tour 2023 : s'il s'agit de notre première rencontre avec le légendaire et sémillant septuagénaire, reste maintenant à solliciter les astres que ce ne soit pas la dernière.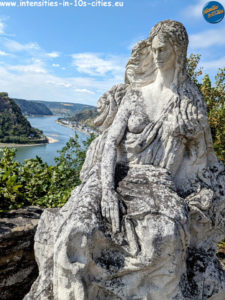 Le grand absent de cette première journée du 16ème Night Of The Prog Festival n'est ni plus ni moins ce cher Alex-Henry FOSTER. Notre Québecois préféré a de fait déclaré forfait en début d'année pour d'impérieuses raisons médicales qui le tiennent éloigné des scènes toute cette année. Cette regrettable et regrettée absence nous prive d'un second moment d'intense bonheur en ce vendredi 24 juillet 2023, pâlement compensé par une affiche fort inégale, trop éclectique et trop progressive à notre goût. ABEL GANZ enchaîne à TIME SHIFT ACCIDENT, avant que ne s'ensuivent un AGUSA ma foi pas trop mal léché avant une Anneke Van GIERSBERGEN à la voix cristalline puisant largement dans le répertoire de Kate Bush. Avant la prestation du maître de cérémonie MASON, les ex-Camel et ex-Magenta de CYAN clôturent les festivités avec un prog plat, soporifique et sans éclat ni relief dans la plus pure veine des pires Genesis – c'est dire (pauvre Loreley…).