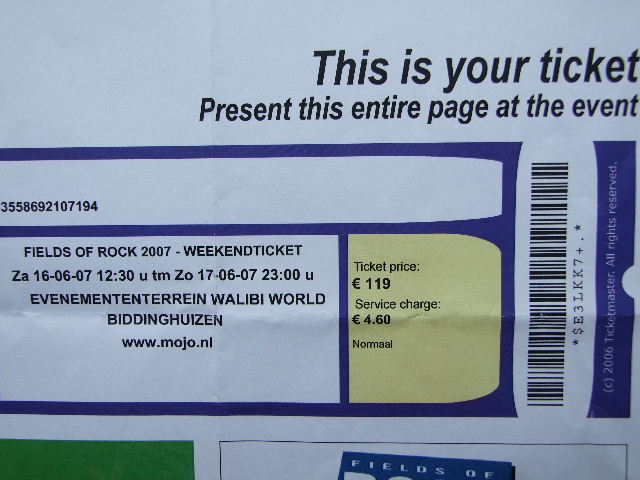 La voiture bien remplie – surtout le coffre – nous partons pour un weekend bien rock'n'rollesque chez nos amis les Kaas, à l'occasion d'un festival à l'affiche de toute beauté. Enfin, façon de parler s'il est question d'esthétique au sens propre du terme, mais voyez plutôt:
Arrivés samedi tout début d'aprèm pour la prestation de PAPA ROACH, nous enchaînons avec FASTWAY (le band de Fast Eddie Clarck, guitariste originel de Motorhead – photos plus bas) puis DUBLIN DEATH PATROL. Le site est grand, vaste et aéré. On se surprend même à reconnaître l'une ou l'autre tête croisée lors de l'édition d'il y a 2 ans – en l'occurrence un monstre de passé deux mètres de haut et autant de large, qui nous avait déjà impressionnés à l'époque : quand on dit que le monde est petit – façon de parler toujours, et a fortiori chez les Nolus.


Le premier gros morceau de la journée s'annonce sur la main stage : HEAVEN & HELL, ou Black Sabbath sans Ozzy, époque Ronnie James Dio, avec donc notre lutin préféré aux vocals qui revisite avec ces compères les trois albums durant lesquels il fut membre à part entière du Sabbath. Grand moment, grand concert, prestation de toute beauté – le couple Tonny / Ronnie jouant la paire à merveille : quelle intensité, quelle classe, quelle complicité, quelle rythmique. Et quelle voix ! Vinny Appice aux drums se remémore-t-il comme moi le duel d'anthologie avec son frère Carmine au Spirit of 66 il y a quelques temps…?
SLAYER nous en met ensuite plein la vue – ou plutôt plein les oreilles : impressionnant certes, même si pas vraiment ma tasse de thé. Les deux autres scènes continuent de produire pas mal de décibels également, et c'est avec IRON MAIDEN sur la main stage que se clôture cette première journée. Je n'ai jamais vu le Maiden sur scène ni jamais vraiment réellement apprécié leur production, même du temps de leur grandeur et de leur splendeur. Il n'empêche que les voir enchaîner live leurs classiques ne me laisse pas indifférent. A une nuance près : leur accoutrement, leurs fringues, leurs mimiques, leur attitude, leur jeu de scène n'a pas évolué d'un iota depuis les années '80 me semble-t-il ! Quelque peu folklorique dès lors, voire plutôt pathétique ou même triste dans une certaine mesure. Back to the future, les gars, back to the future !

Nous rejoignons notre hôtel distant d'une vingtaine de kilomètres pour y passer une nuit réparatrice après y avoir fermé le bar en prévision d'une seconde journée haute en couleurs. Ma première claque de la journée s'appelle BLACK LABEL SOCIETY que je découvre avec un Zakk Wilde qui me laisse tout bonnement sur mon cul : superbe surprise pour cette mise en jambe à l'heure de l'apéro, superbe ! (photo 1 plus bas). MEGADETH me laisse tout à fait indifférent ou presque, le temps d'aller jeter un œil sur les autres scènes à l'affiche tout aussi insipide pour moi à cette heure de la journée (photo 2). Heureusement que MOTORHEAD amène par la suite sur la main stage ce souffle salvateur, cette rage et cette fraîcheur propres à Lemmy et comparable à nul autre: aaaaargh… (photos 3 à 8).
KORN m'impressionne ensuite, même si le concert me semble longuet et répétitif après un certain temps (v. photos 1 et 2 plus bas). L'occasion d'aller voir SUICIDAL TENDENCIES sur la petite scène qui me surprend agréablement, particulièrement lorsque le public envahit la scène sur la fin du concert, n'empêchant en rien nos lascars de continuer leur prestation entouré de dizaines et de dizaines de fans. Un tout grand moment encore ! (v. photo 3 plus bas) DREAM THEATER me laisse – comme d'habitude et comme prévu – sur ma faim (fin ?), ne trouvant là aucune âme, aucune passion, aucun feeling dans un jeu avant tout technique et dépourvu pour moi de toute sensibilité : de la technique pure et froide, de superbes techniciens certes, mais sans une once d'attitude. C'est vide, c'est creux, c'est triste, c'est mort. On se replie dès lors sur HATEBREED qui est un grand, grand, tout grand moment : à vivre live et exclusivement live car, vraiment, il faut le voir et l'entendre pour le croire, et il faut en être pour comprendre…! Cela nous change manifestement de l'insipide, inodore et incolore VELVET REVOLVER qui occupait la main stage auparavant tandis que tout le monde se taillait aux buvettes, aux aubettes ou à la toilette – et pas uniquement pour la rime (photo 4).
OZZY nous réserve une clôture de festival digne de ce nom, avec la deuxième prestation de la journée pour Zakk Wilde. Après Black Sabbath sans Ozzy mais avec Ronnie James, voici Ozzy sans Tonny mais avec Zakk : la boucle est bouclée. Ce n'est pas ce soir la prestation la plus mémorable d'Ozzy, même s'il reste une incontestable bête de scène.

Le weekend se termine en beauté : les bouchons (ear plugs) nous ont bien servis. Les tickets boissons également…