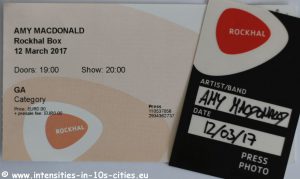 Notre Ecossaise préférée est de sortie ce soir: semelles hautes, juchée sur des talons d'une bonne quinzaine de centimètres au moins, elle doit friser avec tout ça le mètre septante-huit sur la scène de la Rockhal dont il n'a pas fallu rehausser le plafond. Pas mal pour ce petit bout de femme tout ce qu'il y a de plus scottish (à commencer par son accent et ses tattoos), petite par la taille, à peine moins par son tour du même nom mais ô combien grande et impressionnante par une voix qui sans doute ne nous lassera pas de sitôt.
C'est d'ailleurs la principale raison qui nous amène ce soir à ses pieds, à ses semelles et à ses talons, davantage que ses compos dont le manque de renouvellement pourrait à la longue (nous) lasser quelque peu. En attendant, la formule Amy McDONALD fait recette depuis maintenant une décennie et sans qu'on ne frise encore l'indigestion style Big Mac(Donald)….
Mais pas folle la mouche Amy McDONALD, qui a l'intelligence de revisiter certains de ses morceaux dans des versions tantôt plus acoustiques, tantôt plus énergiques, face à une audience dont la torpeur et la mollesse interpelleront et même inquiéteront la belle Ecossaise dans un premier temps. Classique ici, même s'il est vrai qu'avec une première partie d'une vacuité aussi insipide que soporifique (aka Newton Faulkner), l'anesthésie était totale sur le coup de 21h00 alors que notre belle échassière montait sur les planches.
Le réveil sonne définitivement avec un remarquable Listen to the Music des Doobie Brothers que McDONALD réussit littéralement à transcender, de quoi même lui pardonner ses trop nombreuses anecdotes et autres interminables blablas introduisant ou ponctuant quasi chacun de ses morceaux. Mais au final, on ne peut que se réjouir de ces 105 minutes d'un petit bonheur sans prétention et surtout plein de fraicheur qui amène de surcroit une touche de douceur dans un univers ici traditionnellement bien plus viril et rock'n'roll, f**k… !