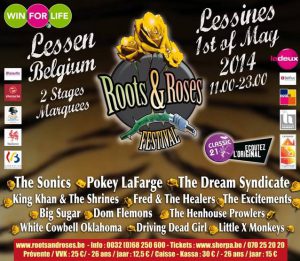 Ceux qui ont reçu la claque BIG SUGAR il y a – jour pour jour – 16 ans lors de l'édition 1998 du Boogie Town (l'ancêtre du Roots & Roses) s'en souviennent encore ! Ne cachons d'ailleurs pas le fait que nous sommes de ceux qui ont expressément fait ce jour le déplacement pour honorer le retour sur nos terres du rasta Canadien. Tout comme ce barman de 27 ans qui nous sert nos pintes du cru en arborant le tee-shirt aux motifs jamaïquains de BIG SUGAR : lui aussi se souvient de la raclée qu'il a reçue tout gamin de son père de retour du Boogie Town, lorsqu'il lui fit découvrir à l'époque la bande-son signée Gordie JOHNSON. Mais que le temps a fait son oeuvre depuis, le bourreau !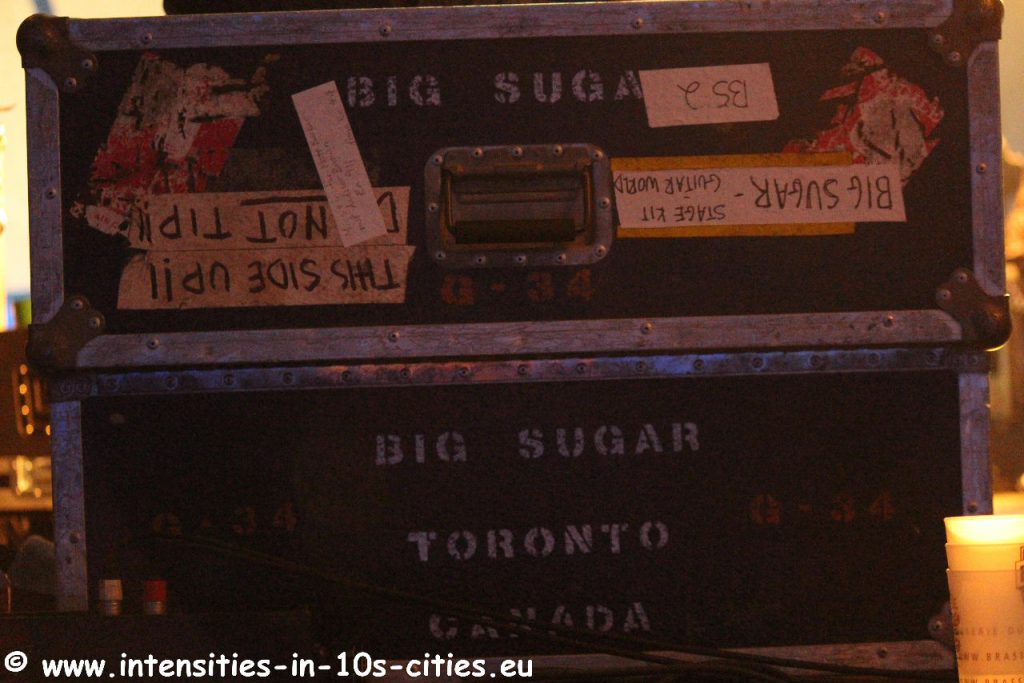 Avec vingt kilos de plus (comme nous), une barbe de prophète (comme nous, mais avant) et des cheveux tressés 50 cm plus longs que la coupe proprette qu'il arborait (comme nous mais il y a alors très, très longtemps…), le Gordie JOHNSON de 2014 n'a strictement plus rien à voir avec l'égérie masculine de la ligne Hugo Boss qui l'avait pris sous son aile en 1998 !! Sacré Gordie, va : quelle spectaculaire métamorphose après avoir été le dandy de la scène blues-rock-roots de Toronto ! Son come-back européen fait suite à une absence de plus de 12 ans sur le Vieux Continent, nous apprend-il en souriant devant la pochette arborant son faciès de l'époque qu'il nous dédicace appuyé sur la vitre de son va. Et il est aux anges, le gaillard, de fouler à nouveau le sol européen pour deux dates seulement, excusez du peu. Avec un line-up quasi identique, la symbiose demeure parfaite sur scène et rien ne laisse deviner que le band a splitté plus de 10 ans avant d'être récemment reformé par son leader plus charismatique que jamais.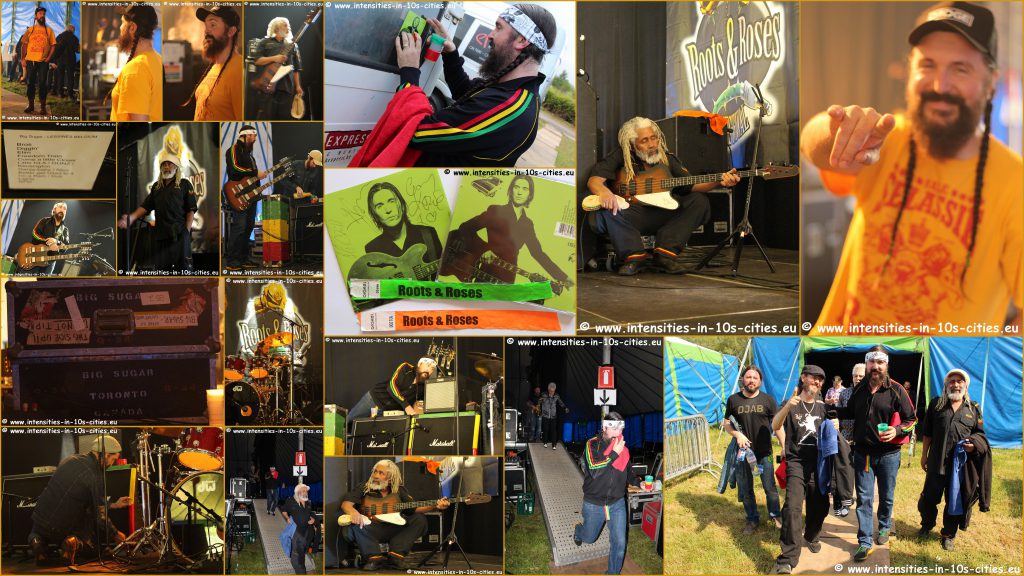 Métamorphosé physiquement, rien n'a cependant changé sous la carapace du désormais plus Jamaïquain de tous les Canadziens : appliqué durant le warm-up a décorer son Marshall aux couleurs rouge-vert-jaune ainsi que son gobelet qu'il recouvre de bande isolante tricolore, c'est de toutes les couleurs de la Jamaïque que notre Rasta Rocket du roots inonde la scène une heure durant. Et les senteurs de là-bas semblent également avoir fait leurs effets bien après sa prestation, lorsque nous recroisons Gordie et son comparse bassiste dans le backstage de l'autre scène durant la prestation de Fred & The Healers. Un batteur punk, un bassiste jamaïquain, un guitariste de hard-rock et un cuivre jazzy : la fusion des quatre styles demeure parfaite dans ce roots hors normes estampillé BIG SUGAR. Plus reggae que jamais, les racines et riffs r'n'r ne sont cependant jamais très loin et reprennent parfois le dessus, mâtinés au surplus maintenant d'un rap qui sort résolument des sentiers battus et des concepts roots éculés. Merci Monsieur Johnson pour votre prestation explosive, pour votre savoureux come-back et pour votre gentillesse toute attentionnée : vous étiez parfait et grand à l'époque, vous êtes maintenant devenu énorme.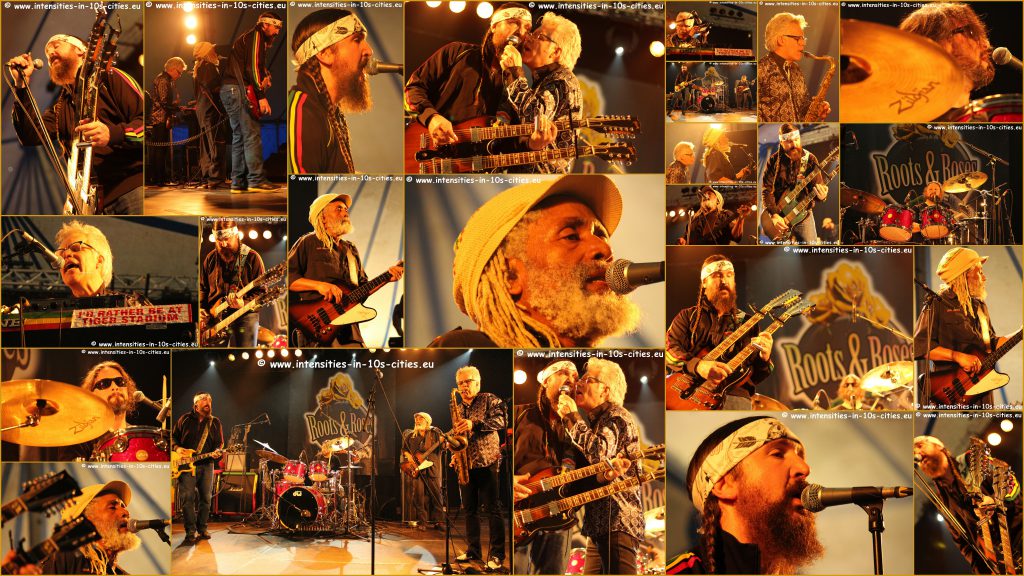 Le hors-normes est d'ailleurs la marque de fabrique de ce 5ème Roots & Roses Festival au vu de quelques pointures complètement déjantées à l'affiche. Qui de de KING KHAN & The SHRINES ou de WHITE COWBELL OKLAHOMA remporte la palme du too much ? KING KHAN emmené par son gourou canadien – une espèce de croisement entre un pharaon et une drag-queen déglinguée – enflamme cette édition du Roots & Roses avec un show (au sens propre du terme) dans la plus pure lignée entertainment. Qualifier la prestation toute en démesure et en puissance de KING KHAN relève de l'impossible : préférons le paraphraser pour n'omettre aucune dimension de la troupe: more than a psychedelic soul band with a spectacle of a stage show ; cult musical phenomenon psychedelic-soul big band, sweat-drenched, ass shaking, groovy psyched out number, complete with rip roaring horn lines, southern fried guitar riffs and lysergic melodies. Tout est dit, tout simplement !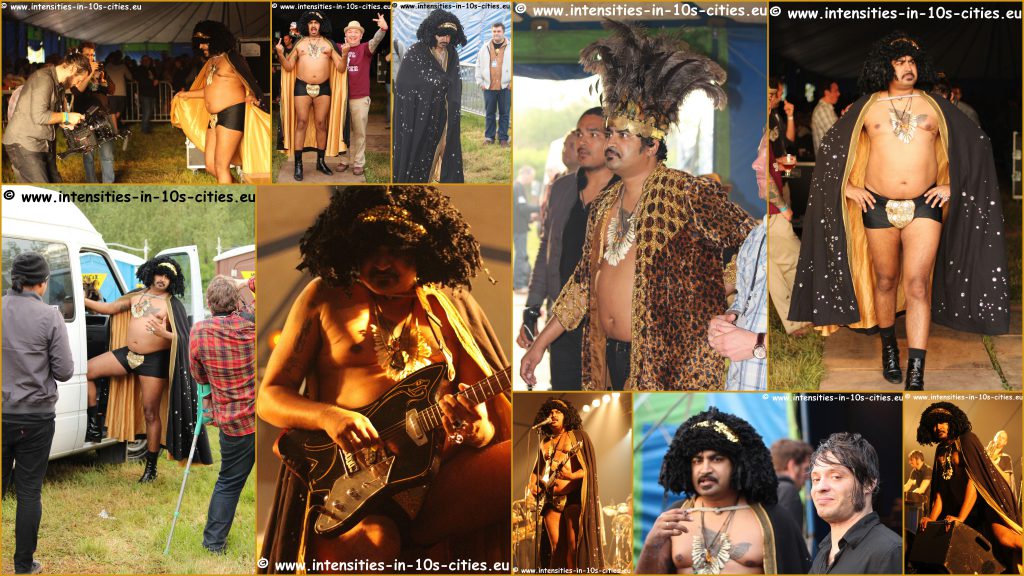 Le band est tout bonnement explosif et surréaliste, et délivre un show survitaminé et déjanté dopé par une section cuivre omniprésente et un clavier des plus destroy qui nous plongent dans un univers oscillant entre soul et garage-rock. Ce clavier, quand il ne brandit pas son instrument haut au-dessus de sa tête, c'est pour mieux escalader les montagnes de baffles ! Les voir sur scène pour le croire n'est pas suffisant lorsque le délire continue backstage… voire même on stage durant la prestation des SONICS dont le pharaon investit la scène après avoir bondi du frontstage avec sa coiffe de trappeur ! A enfermer, ces SHRINES et cette drag-queen. Ou plutôt non : à décorer…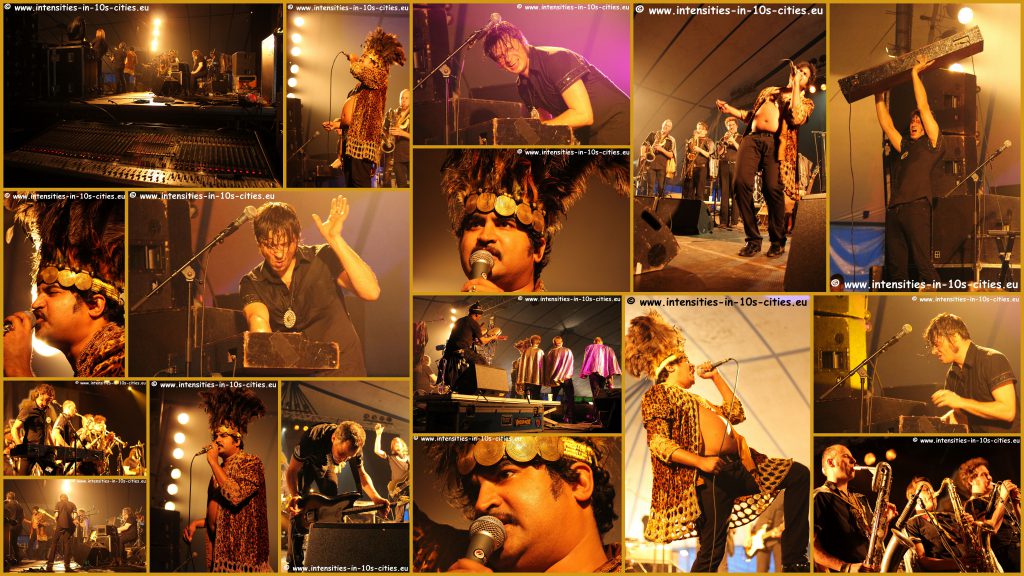 L'autre bande de doux-dingues (ou plutôt de très, très dangereux allumés fous-furieux) qui enflamme le chapiteau en début d'après-midi vient également d'Ontario malgré leur nom pour le moins américanophile de WHITE COWBELL OKLAHOMA. Les Canadiens sont décidément à l'honneur avec pas moins de trois bands à l'affiche cet après-midi. Et pour l'heure des cowboys, on est servis : avec une triple ration de show et de décibels, ce n'est plus du blues ni du roots, ce n'est même plus du r'n'r non plus qu'ils nous servent, c'est un T-bone mâtiné de hard-blues avec une louche de fayot méthode harissa-punk et un whisky frelaté goût garage-rock retrouvé dans l'arrière-boutique des vestiges d'un saloon sinistré. Show devant – tronçonneuse, meuleuse et distorsion on stage avec un joyeux mais virulent second degré. Si ça aussi c'est du roots pur jus, je me recycle en testeur de bande hygiénique.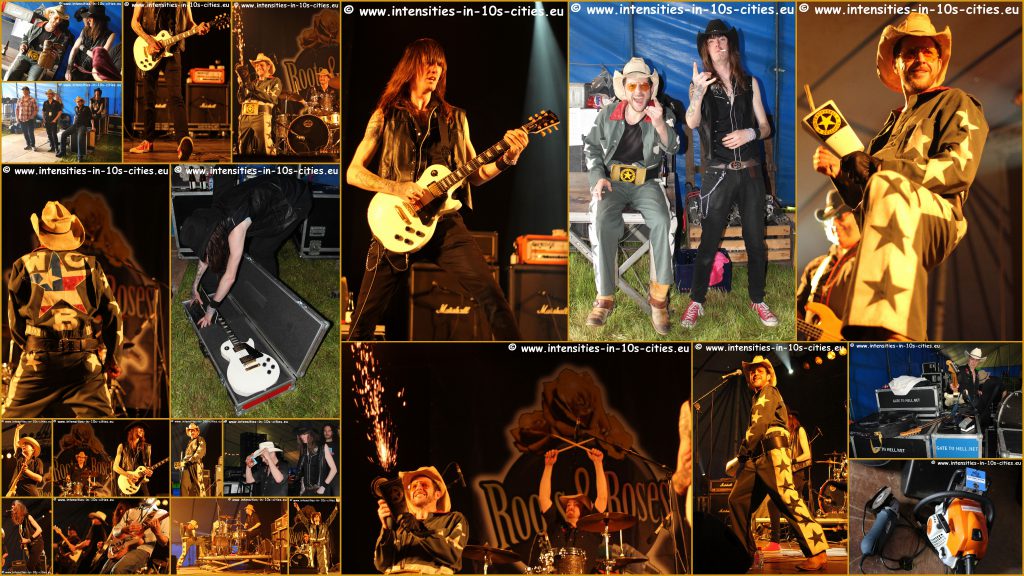 Nettement plus conventionnel, Fred réussit à me réconcilier avec ses Healers. Sans doute parce que plus brutal, plus musclé et plus rapide que jamais, FRED & The HEALERS est devenu un vrai groupe live qui en a et qui a cette fois décidé de bien s'en servir. Très bien, même. Loin de son blues soporifique et aseptisé d'il y a quelques années, trop propre et trop formaté car toiletté à l'excès, Fred LANNY réussit maintenant à bouter le feu aux planches et à se servir – enfin ! – d'une guitare autrement que comme un trop précieux Stradivarius. Hommage au festival, il signe sur son dernier CD un superbe « Roots & Roses » qui n'en prend que plus de dimensions ce soir sur les planches du même nom…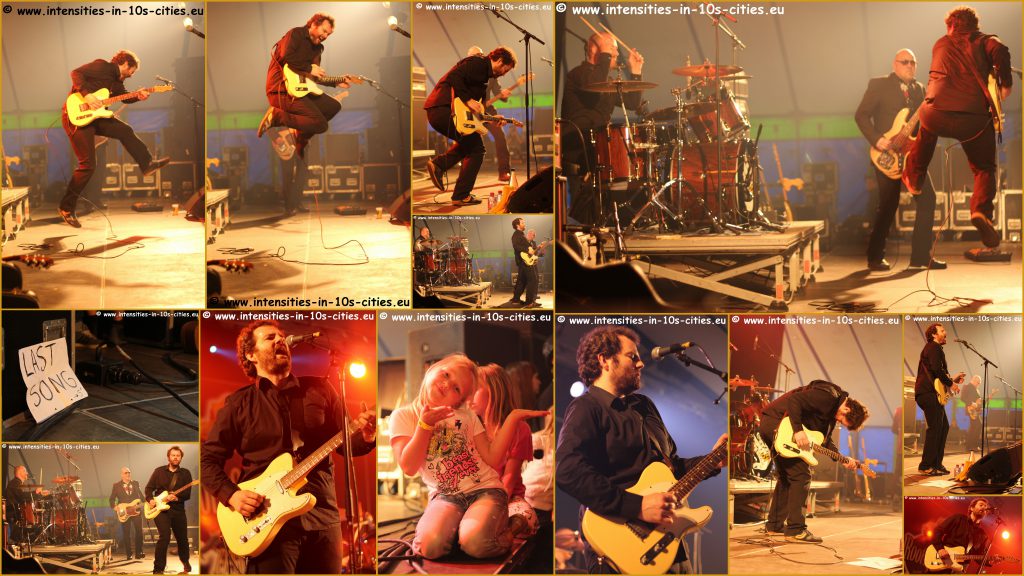 RUSTY ROOTS , par quelques belles envolées guitaristiques de derrière les fagots (ou plutôt de derrière les ballots), tente de jouer les grand garçons du southern rock. Ils restent cependant englués dans le sable de la Mer du Nord. Non pas qu'ils déméritent – que du contraire – mais leur southern bien que parfois très efficace demeure comme artificiel. Un peu comme si John Wayne jouait du Johnny Cash : avoir le chapeau et bien le porter n'est pas vraiment suffisant. Nécessaire, mais pas suffisant.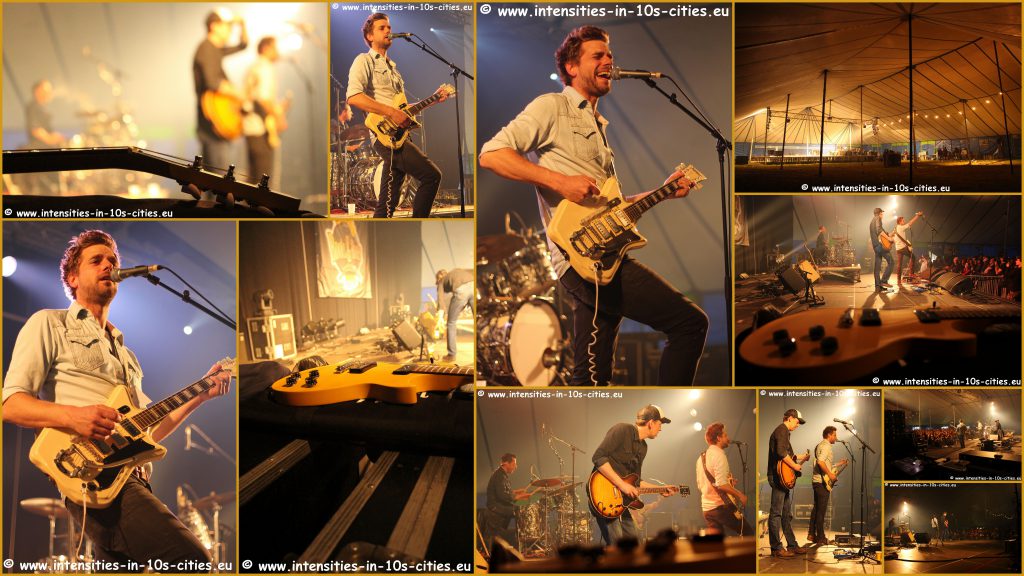 POKEY LAFARGE, tout droit sorti de l'Illinois des années 30, allie le look au son vintage de ces années-là en ramenant un peu de calme sur scène : ragtime, bluegrass, hillbily et savoureuse whasboard au menu. Efficaces et redoutables dans leur style (mais pas vraiment le nôtre…), les champions du genre outre-Atlantique suscitent quelques belles figures de square-danse bien balancées dans un chapiteau désormais plus saloon que jamais pour les moins adeptes de l'exercice.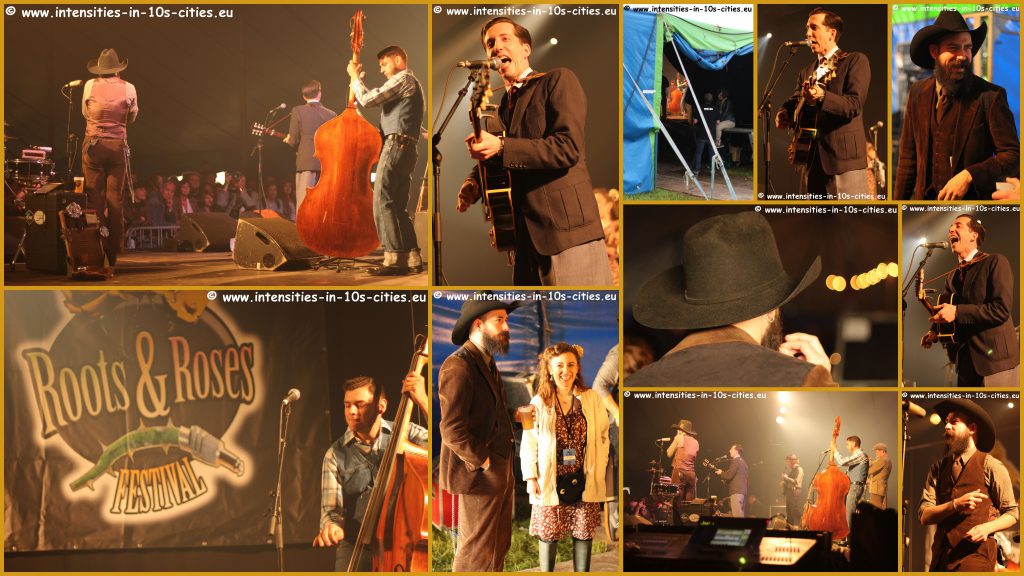 Les fondateurs du garage-rock, les septuagénaires de The SONICS clôturent la journée en balançant du gros et du lourd. A plus de 70 berges, ils en ont vues des vertes et des pas mûres, les papys. Au point que la subite intrusion sur scène de KING KHAN en salopette et coiffé maintenant d'un gigantesque cône de papier les laisserait même de glace. Le poil-à-gratter canadien vient sautiller derrière le band avant d'être gentiment évacué et poussé vers la sortie par la sécurité : assurément, le roi de cette édition porte bien son nom !
Les roses prennent assurément bien racines au Roots & Roses Festival : à bon terreau, bonne cuvée !