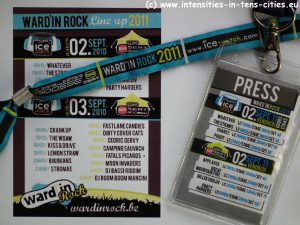 Pour ses 15 ans, le Ward'in Rock s'offre 2 jours et 2 nuits sold out. Aux entrées, tickets-boissons et bars, c'est un vendredi soir un peu Capharnaüm – et sans doute Sodome & Gomorrhe au camping tout aussi sold out. Neuf mille personnes sur l'autoproclamé festival le plus haut de Belgique : belle récompense pour les organisateurs, couronnée par une météo quasi caniculaire. Le Ward'in, c'est avant tout une grande famille de plus de 400 bénévoles – et qui sont devenus par la force des choses des potes qu'on croise chaque année aux mêmes postes. Le Ward'in, c'est une simplicité bon enfant comme à la campagne, c'est une convivialité sans chichi sans manière comme chez les ruraux que nous sommes. Le Ward'in, c'est definitively the place to be sur le Plateau où tout le monde connaît tout le monde, où tout le monde vient pour voir tout le monde. Et, comme dans tout festival qui se respecte, pour marier tous les plaisirs émulsifiants – notamment ceux des substances psycho-actives pouvant amener des exagérations du comportement…
.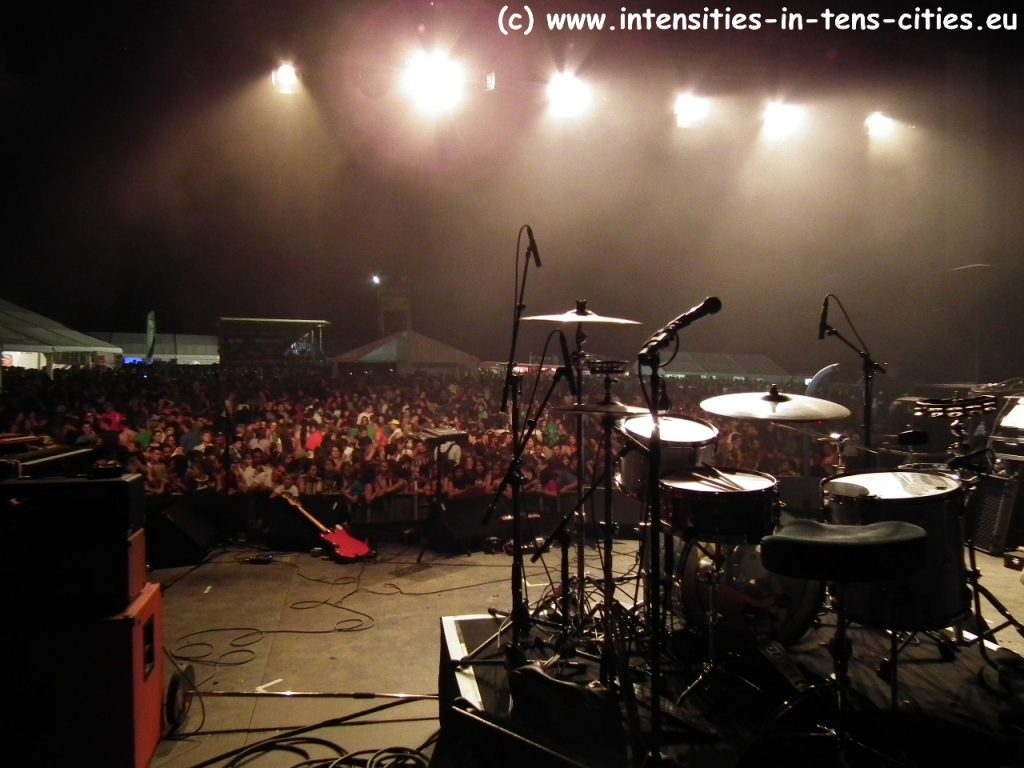 L'affiche 2011 propose pas moins de 23 noms et est le résultat radiophonique de l'air du temps en jouant la carte de groupes belges à succès tels que notamment SUAREZ, KISS & DRIVE, LEMON STRAW, GREAT MOUNTAIN FIRE et CAMPING SAUVACH (qui n'en ont tous que le nom…).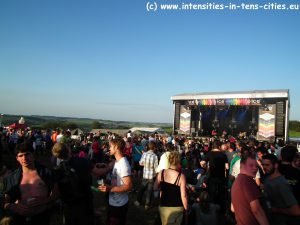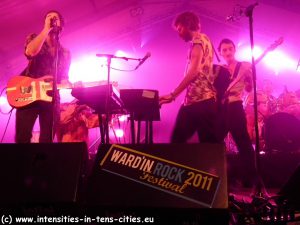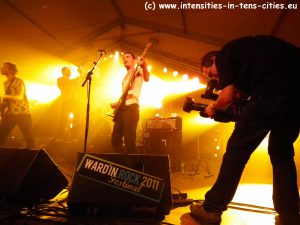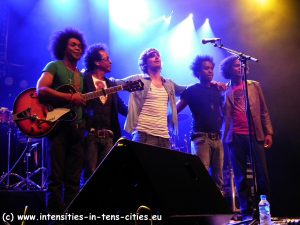 Les pompiers jouent les pyromanes en allumant le feu samedi après-midi au plus chaud de la journée, arrosant la foule au moyen de leurs lances à incendie. Il fait chaud partout, et les organismes souffrent tant sur scène que dans le public. La poussière pénètre tous les pores, et les appareils photos souffrent de tous leurs pixels également. Les musicos dégoulinent, les instruments suintent et le public macère entre scènes, bars, chapiteaux et camping.
Rock'n'rollement parlant, la palme revient indéniablement aux trublions BIKINIANS qui mettent (enfin) le feu à la plaine en milieu de soirée sur la grande scène, et aux Français déjantés de RADICALS PICARDS qui font préalablement de même sous le chapiteau : assurément les deux plus belles surprises-découvertes de cette édition 2011. Aussi rock'n'roll aux bars backstage que défoliants sur scène, ils remportent également mon prix de la sympathie et de la déconne : bien rigolé, les gars, merci (blurps).
Dans un tout autre registre, Cédric GERVY. En one-man-show de derrière les fagots, il parvient à chambrer tout un chapiteau et à faire hurler et onduler une foule aussi déjantée et surchauffée que ses textes et musiques : chapeau, l'artiste ! La veille vendredi, ma surprise du soir est la prestation de PUGGY : le trio (qui est aussi belge que moi sénégalais) parvient à délivrer un set quasi rock'n'roll et en tous cas sans commune mesure avec la soupe de ses tubes radiophoniques et autres succès populaires – ces derniers déclenchant l'hystérie dans les 50 premiers rangs 100% féminins dont je tairai l'âge moyen ainsi que le niveau des décibels émis. S'il y a un dentiste dans l'assistance, gros plan sur la dentition :
La palme inverse est décernée le lendemain samedi à la tête d'affiche : STROMAE. Certes, nous n'avons aucun point commun ni aucune affinité musicale lui et moi – il en faut pour tous les goûts, et surtout pour ceux qui en ont. Mais le fait que ce grand échalas joue sa star m'horripile particulièrement : pas de photos backstage de Monsieur, uniquement des clichés frontstage de l'Artiste et durant les trois premiers morceaux seulement, etc. Non merci, pas ici Manneke, t'es à Wardin, fieu, pas Place des Palais ni chez Nagui. Les forces de l'ordre déployées en nombre front et backstage ne sont sans doute pas non plus sans rapport avec des menaces qui lui auraient été proférées…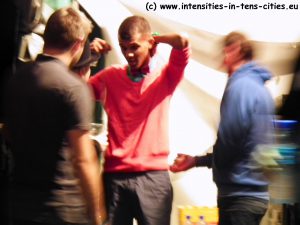 Il n'en demeure pas moins que l'hystérie collective qu'il déclenche semble amplement méritée – pour les organisateurs qui ont tiré ici le gros lot. Le succès du Bruxellois lui monte sans doute à la tête, et ce n'est pas le public chaud-boulette de ce soir qui va le faire changer d'avis. Qu'il en profite surtout, tant que que son heure de gloire lui sourit. Car, forcément, ce n'est pas avec sa production et sa prestation qu'il restera dans mes an(n)ales personnellement r'n'r – ceci pour clôturer scatologiquement ce billet comme il a commencé au camping. Quelle sera la programmation 2012 ? Un peu plus sale et moins policée ne serait pas pour me déplaire, mais ne boudons pas le plaisir d'une superbe réussite 2011 que revoici en un dernier petit tour d'horizon en photos :