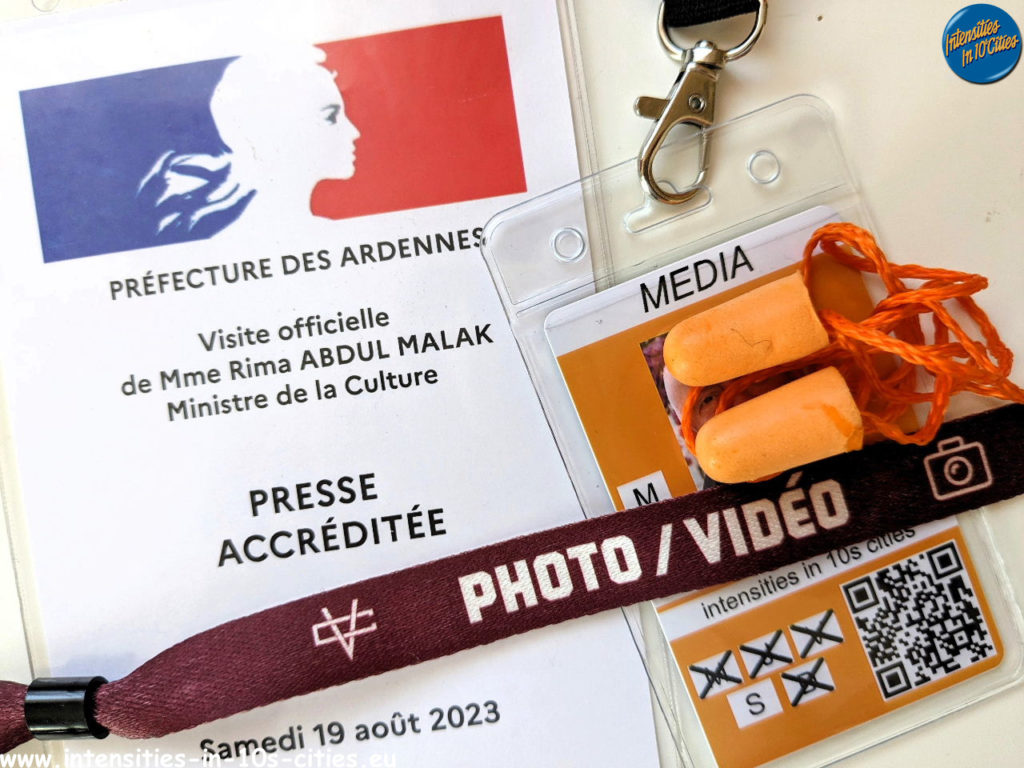 Faut-il continuer de faire la fête sur une planète en feu ? Un festival de musique où on limite la viande, on privilégie les produits locaux et où on trie et revalorise les déchets tout en luttant contre le gaspillage alimentaire : ça semble un peu irréel. Pourtant, c'est ça le Cabaret Vert, festival durable depuis sa création en 2005. De la restauration à la programmation, tout y est pensé pour abimer le moins possible la planète tout en prenant son pied. C'est pour ça que les festivaliers reviennent invariablement chaque année. Et c'est aussi pour ça que le Cabaret Vert conserve sa place de choix dans notre carré d'as des festivals à vivre.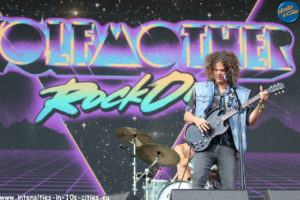 Parce que son ADN, aussi unique qu'authentique, réserve la part la plus belle qui soit au développement – qu'il soit territorial, social, écologique, humain, environnemental, durable, culturel, associatif… voire gastronomique et zythologique pour les amateurs de bonnes choses à offrir au palais.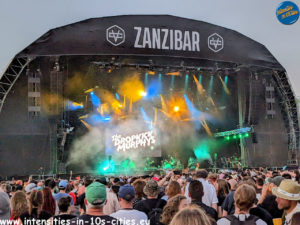 On ne vient pas au Cabaret Vert pour consommer du musical et du festif, on s'y rend pour en faire intrinsèquement partie, comme si une part de chacun des festivaliers y retrouvait à chaque édition ses composantes manquantes le temps d'une ou de plusieurs journées. Et une fois encore, l'association FLAP à la manoeuvre a mis les petits plats dans les grands en re-designant et en agrandissant le site lors de la précédente édition.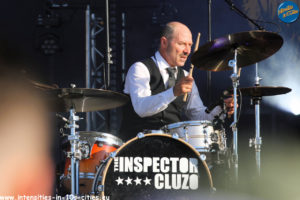 De larges barges enjambent désormais la Meuse pour permettre aux festivaliers de rejoindre le bois attenant qui accueille en son sein la Green Floor Stage (qui n'a jamais aussi bien porté son nom), manière de prolonger les festivités sur l'autre rive, sous une canopée bienvenue par ces fortes chaleurs. La scène Razorback, elle aussi déplacée, est fidèle à elle-même dans son décorum apocalyptique et de fin du monde à la Mad Max. Quant aux deux mainstages (Illuminations et Zanzibar), elles se partagent la part du lion drainant et répartissant judicieusement le public aux deux extrémités du site. Et en son beau mitan, indétrônable, est installé en dur un « Espace « Partenaires – Médias » » toujours aussi confortable, aussi cosi et agréable. Sa carte est fidèle à elle-même, offrant à chaque édition le meilleur qui soit en mets délicats, produits du terroirs et autres trappistes (… belges) et bières (semi) artisanales tant noires-jaunes-rouges que rouges-blancs-bleues.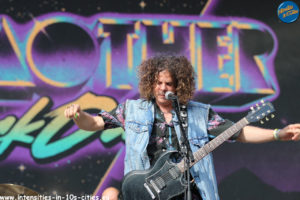 Quant à la programmation, le côté éclectique de l'affiche musicale (car il y a bien d'autres affiches au Cabaret Vert) ne se dément pas, laissant une part belle aux diverses variantes du rap, du hip-hop et de la musique urbaine, avec une journée de samedi qui concentre pour sa part l'essentiel du real rock'n'roll sous ses divers formes et tendances. Musicalement parlant, notre coup de cœur est signé bien WOLFMOTHER, les Australiens mettant ici-même fin à la première partie de leur longue tournée mondiale qui va reprendre à la rentrée outre-Atlantique.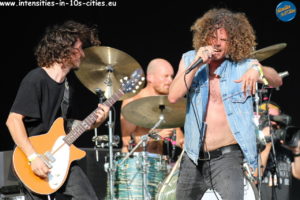 Première surprise du jour : Andrew Stockdale se pointe en fin d'aprèm sur l'immense scène Zanzibar en configuration quatuor et non pas/plus power-trio. Ce line-up lui permet plus d'une fois de tenir son véritable rôle de front-man lead-singer sans s'encombrer de sa/ses six-cordes pour jouer les divas à l'avant-scène. Tout comme nous, il a (un peu) vieilli notre Andrew, et perdu son faciès juvénile maintenant garni d'une moustache du plus moche effet. Aurait-il également pris un (tout petit) peu de brioche ? Bien, bien moins que nous manifestement…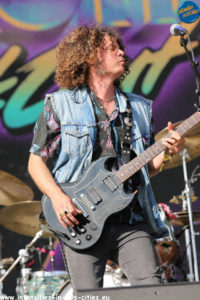 Pour le reste, rien n'a changé depuis notre dernier (qui fut aussi notre premier) face-à-face avec WOLFMOTHER. Coïncidemment, il remonte à l'édition 2016 du Cabaret Vert, même scène et (quasi) même heure, avec un même soleil bas et une même lumière rougeoyante de fin d'après-midi. Et les mêmes collègues dans le pit-photo. La force brute et l'énergie intacte que dégage le band remanié n'a cependant pas faibli d'un iota, que du contraire même, conférant au moment présent une singulière impression de retour dans le passé. Comme si nous avions été propulsé dans nos souvenirs le temps d'un set, revivant une seconde fois ce beau jour d'août 2016.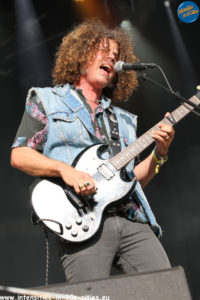 La reformation bouillonnante de ENHANCER reste quant à elle un autre moment fort de ce samedi de festival – à tout le moins pour ses nombreux afficionados, et plus encore sans doute pour le service de sécurité, un tantinet voire tout à fait dépassé par les événements lorsque le collectif invite le public à envahir la scène pour ajouter au délire.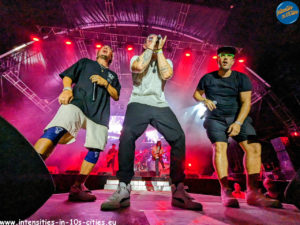 Avant que cette vague humaine n'atteigne la scène par le sol ou par les airs, la cohue se concentre dans le pit-photo envahi par une foule qui tente on ne sait trop ou d'atteindre la scène ou de sauver littéralement sa peau en tâchant de s'extraire de la pression intenable que subissent les premiers rangs pressés contre les barrières.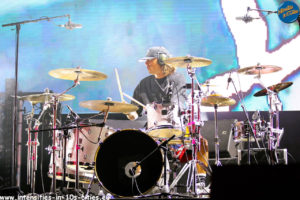 Ou quand des photographes assistent la sécurité pour en extraire voire sauver des vies – oui, peut-être. Faire évacuer ensuite cette scène joyeusement bordélique et surpeuplée sera une autre paire de manche pour les renforts de la sécurité entre-temps arrivés à la rescousse.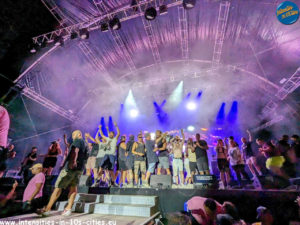 En définitive et hormis ces quelques instants particulièrement irréels, il en résulte un set d'une énergie dingue-folle où les Français renouent avec un public acquis à leur cause et manifestement en manque, même si ce métal-rapcore de la plus pure veine new-yorkaise ne nous convainc pas franchement, musicalement s'entend. En termes d'efficacité et d'énergie, de présence scénique, oui et sans nul doute oui. Tout ce barnum se révèle toutefois bien fade et sans âme aucune une fois sur une platine de salon.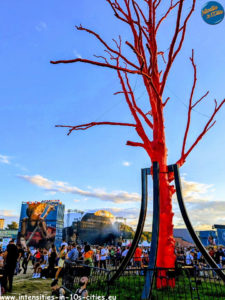 The INSPECTOR CLUZO, ah! ces deux inspecteurs rock-farmers que chérissent notre coeur et nos oreilles ! The INSPECTOR CLUZO, duo guitare/batterie d'agriculteurs bio rock-blues s'auto-produisant depuis 15 ans, sont bien le reflet même de l'ADN du Cabaret Vert. Vous en connaissez beaucoup, vous, qui ont arpenté les scènes de Madagascar, du Chili, du Brésil, d'Afrique du Sud, de Corée (du sud !) ou de Chine, du Pérou et d'Inde après avoir fait le Lollapalooza ou encore le Fujirock au Japon?!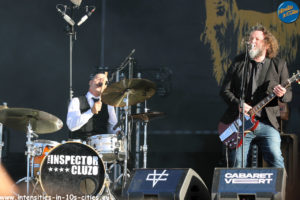 Deux cultos bio-rock-blues, quoi de mieux pour enflammer le Cabaret Vert avec leur philosophie et leur démarche en totale symbiose avec celle du festival ?! Et pour le côté musical, The INSPECTOR CLUZO demeure une sulfateuse de premier choix pour l'amateur de rafales et de pruneaux (bio ou pas, les pruneaux), du moins avant que les lascars ne dézinguent la batterie et balancent tout le matos dans le public !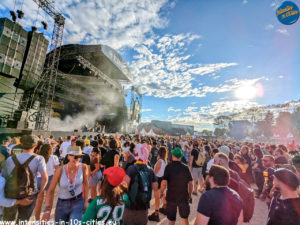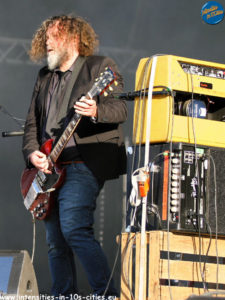 Aux antipodes du rap de DINOS, à l'autre extrême du spectre de ce que la France peut – et le Cabaret Vert veut – offrir en matière de production et de programmation. C'est ça aussi, le Cabaret: ça ratisse large et tu mets dans ton caddy uniquement ce qui te plait. A l'instar du gangsta-rap de CYPRESS HILL qu'on laissera également en rayon, notre caddy étant suffisamment chargé.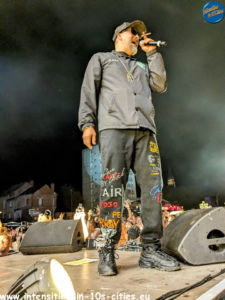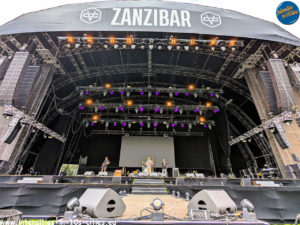 L'ambiance que déverse DROPKICK MURPHYS sur scène est contagieuse sur la plaine de la Macérienne: c'est la Saint-Patrick en plein mois d'août (même si on préfère la Guinness à la bande son…). Avec leur sens de la fête et leurs fredaines entrainantes, il n'y a pas à dire mais ces Amerloches s'y connaissent pour foutre le brin et faire jumper tout le public comme un seul homme.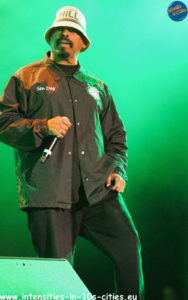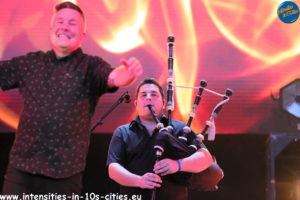 Le métal de SLEEPTOKEN nous emmène quant à lui dans une tout autre dimension: même si leur identité demeure toujours parait-il inconnue derrière leurs masques à la Slipknot, on n'a pas besoin de cet inutile artifice ni de ces déguisements pour apprécier le set de la révélation britannique de l'année 2021 (nous glisse-t-on dans l'oreillette). Le bright métal (kesako?) du quintet fransquillon de RISE OF THE NORTHSTAR nous entraîne pour sa part dans cette étrange fusion entre métal moderne, musique urbaine et culture pop japonaise. Etrange mais réussie, la fusion, avec comme de temps en temps un petit arrière-goût pas déplaisant de Gojira qui voit le groupe pousser tous les curseurs toujours un peu plus loin. Mais le garage-rock-psyché avec une touche de fuzz que déploie The DRAMA KINGS confirme le fait qu'il n'y a quand même rien de tels que les power trios.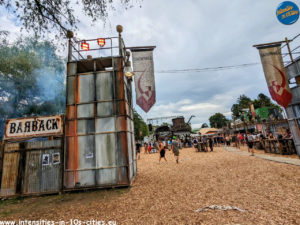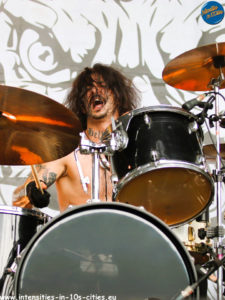 En définitive, ça se passe comme ça, au Cabaret Vert. Après ce succès populaire, le festival se projette vers l'avenir avec détermination et l'envie de continuer à explorer de nouvelles idées et tester de nouveaux projets. Vivement les 15, 16, 17 et 18 août 2024 ! Au loin, festivalier, tu vois cette douce lumière dans le vide sidéral entre les atomes et la matière, elle brille. comme toi. Tu ères dans le noir absolu à la poursuite de ce phare intergalactique. II n'existe plus rien à part ton esprit vagabond à la poursuite d'un mirage s'éloignant peu à peu. Chaque seconde parait aussi longue qu'une existence terrestre, le temps n'existe plus. Puis, un flash, un grand boum, c'est le Big Bang. L'Univers est un cycle : détruire et reconstruire inlassablement. Ce n'est pas la fin, relativisons, juste le début d'un nouveau périple…