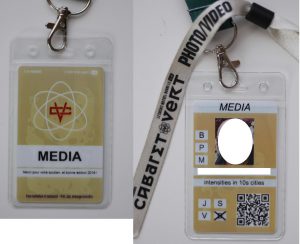 Chaque décennie, quelques albums emblématiques traduisent l'état de la société, marquent les esprits par leur empreinte ou sont le reflet d'une civilisation, d'une époque, d'un mouvement ou d'un courant. L'album éponyme de RAGE AGAINST THE MACHINE fait partie de ces quelques rares albums (et pochettes) qui ont imprimé leur marque indélébile sur toute une génération, sur toute une frange de la population, sur tout un pan de la société. RAGE AGAINST THE MACHINE, c'est un emblème, un symbole, une icône. Un état d'esprit.
RATM, c'est le Che Guevara du metal-fusion-rap-funk. Et toute la rage destructrice de PROPHETS of RAGE est contenue dans son cri primal, dans ses riffs, dans ses lignes de basse qui dénoncent l'injustice sociale et sociétale, l'exploitation du faible, l'oppression des minorités, les injustices du capitalisme. Dans les années '90 et 2000, la lutte anti-impérialiste de Los Angeles à l'Afrique du Sud a(vait) un nom et un visage: RAGE AGAINST THE MACHINE…
En réaction à la campagne présidentielle de Donald TRUMP, se (re)reforme en 2016 à Los Angeles PROHETS OF RAGE. Mené par Chuck D. de Public Enemy et B-Real de Cypress Hill, le groupe est complété par DJ Lord de Public Enemy également et surtout (surtout !) trois des quatre membres de RAGE AGAINST THE MACHINE : Tom Morello, Tim Commerford et Brad Wilk. Est-il possible de faire mieux dans le genre super-combo? C'est la grande classe internationale, qui ce soir nous balance ses titres les plus mythiques avant de nous asséner le coup de grâce avec son Killing in the Name. En live, l'effet est encore plus dévastateur que sur la galette qui l'a enfanté et qui avait en son temps retourné la planète.
RAGE a plein de chose à nous dire sur l'état de l'Amérique et du monde, et ils ne sont pas contents. Pas contents du tout. Ils ont la rage et nous la déversent avec violence sur la scène du Cabaret, prenant d'ailleurs fait et cause pour le combat des Gilets Jaunes. L'album RAGE AGAINST THE MACHINE nous avait à l'époque retourné, au tout début des nineties, tant le combat porté et mené par RATM n'avait laissé personne indifférent. Aujourd'hui sur scène, leur musique n'a pas pris une ride. Pire: la violence de leurs dénonciations et leur combat pour une plus grande justice sociale n'ont jamais été d'une si tragique actualité: racisme, capitalisme et mondialisation connaissent leur public enemy: PROPHETS OF RAGE.
Tous les bands ne peuvent pas se targuer d'avoir comme leader un guitariste diplômé en sciences politiques de Harvard qui déboule sur scène le poing serré, brandi haut en l'air: le ton est donné avant même le premier riff. Aaaaah, Morello et ses légendaires interludes de scratching, ses solos tour à tour funkys et frénétiques quand pas carrément speed metal. Le phrasé rap incisif originel de de la Rocha est fidèlement rendu par les deux transfuges de Public Ennemy et de Cypress Hill. Quant au funk-jazz-fusion de la basse de Commerford, il se (con)fond avec la rythmique funk et puissante partagée avec Wilk à la batterie. Géant, et non sans nous rappeler le souvenir d'un concert unique d'AUDIOSLAVE avec ces mêmes gaillards encadrant à l'époque feu Cris Cornell. Un monument. Des légendes. Clap final.
Sur la scène Razorback, KNUCKLE HEAD nous plonge dans les grandes plaines de l'Ouest, nous immerge dans les marécages du Deep South, Les grosses mécaniques, le cambouis, le soleil qui tape dur sur le crâne en pleine sieste sur une chaise à bascule grinçante. Pas de doute, c'est l'Amérique. Les Etats-Unis d'Alsace, même, avec ces deux compères tombés dans la marmite d'un blues rock déjanté, et d'ailleurs plus électrique, plus méchant, plus graisseux et plus sexy que bluesy. On adore. Tout l'antithèse de TWENTY ONE PILOTS…
TWENTY ONE PILOTS précisément – ou un pop-rock ultra-léger tout ce qu'il y a de plus mainstream. On ne connaissait pas vraiment, mais en pénétrant dans le pit-photo, on a de suite compris à la seule vue de toutes ces jeunes filles se pressant contre les barrières du front-stage. A leurs cris stridents coïncidant avec l'entrée en scène du duo from Ohio, le petit doute (ou plutôt le petit espoir) qui subsistait en nous s'envole bien vite, loin, très très loin…
Mais c'est ça aussi, l'adorable et le légendaire éclectisme qu'offre année après année l'affiche du CABARET VERT…