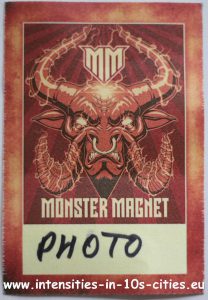 Notre prescription annuelle de MONSTER MAGNET arrive bien précocement, cette année. Et ce n'est que pur bonheur de commencer 2019 du bon pied: celui qui te fait dire que ces 80′ de stoner et de space rock vont te perforer le poix-chiche à tous les étages – comme dirait l'autre. De quoi s'assurer que Dave Windorf conserve la forme et, mieux encore, bonifie avec les décennies. Trois en l'occurrence, sous la bannière de l'aimant monstrueux.
Une demi-heure de retard sur fond musical de Black Sabbath: on aime, mais point trop n'en faut quand on est là pour autre chose. Puis vient l'heure H, le moment M et la seconde S, où les lumières s'éteignent pour faire place aux ténèbres et à une sono qui monte en puissance aussi méchamment que brusquement. On est là pour ça, et on bascule bien vite corps et âme (et tympans) du côté obscur du powertrip…
La set-list privilégie ce soir le côté heavy et space de MONSTER MAGNET, reléguant au second plan son volet plus obscur et psychédélique qui nous hypnotise et séduit tant: on est plus Black Sabbath, Stooges, MC5, et Grand Funk Railroad ce soir à Esch, que Velvet Underground, Hawkwind ou Neurosis.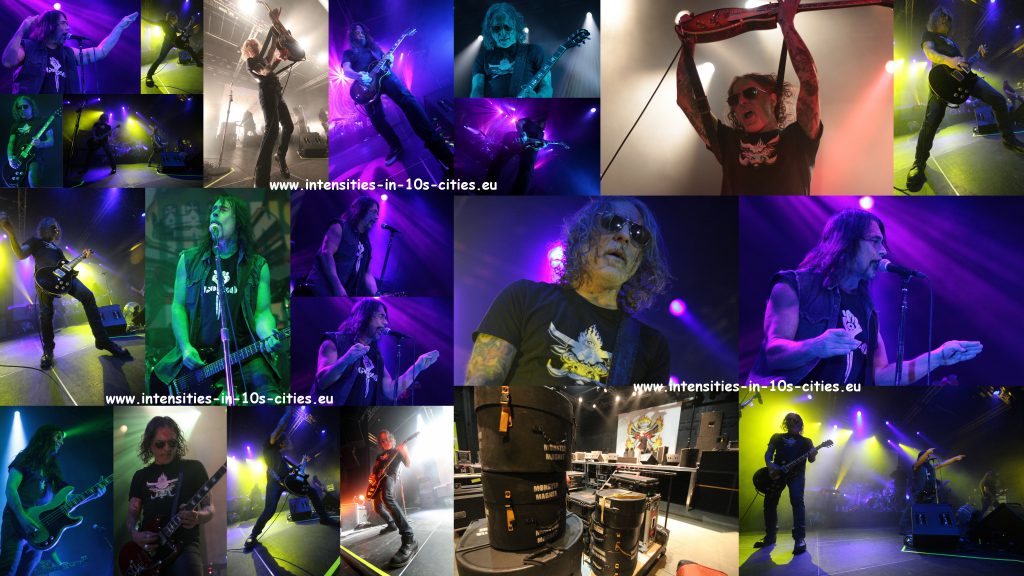 Spacelord Wyndorf reste le moteur d'une formation au line-up maintenant stabilisé depuis quelques années et tournées, et c'est tout bénéfice pour l'efficacité live du band: sa force de frappe en est d'autant plus convaincante que la machinerie est huilée à la perfection et que les gars savent quoi attendre des autres.
On retrouve la marque de fabrique MONSTER MAGNET au cours d'un set mené tambour battant une heure durant, sans reprendre son souffle entre les morceaux qui s'enchainent sans temps mort aucun. Quelques minutes de salutaire répit annoncent sur la fin un rappel d'une vingtaine de minutes mené lui aussi à un train d'enfer, reléguant highway to hell à un vulgaire stairway to heaven.
MONSTER MAGNET demeure une valeur sûre et notre chouchou, disons-le tout net. Son côté "étendard du stoner rock" rend le band toutefois trop mainstream pour certains adeptes du genre qui ont tendance à snober ses pères-fondateurs pour porter leurs héritiers au pinacle. Mais c'est comme pour tout: la jeunesse pense inventer le monde et ce qui va avec, avant de prendre de la bouteille et réaliser que celui-ci existait bien avant leur enfantement. Et même avant leur conception, ajoutera-t-on pour les plus virulents…