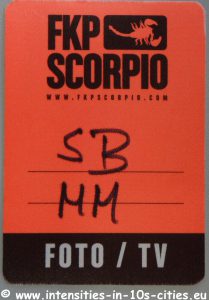 Photo-pass avec les mentions "SB" pour Saarbrücken, et "MM" pour MONSTER MAGNET: comme ça, on ne vous cache rien… MONSTER MAGNET évolue, change, mute tout en restant fondamentalement identique. La dernière fois que nous avons pu passer un peu de temps avec son leader, c'était l'été dernier au Sweden Rock Festival. Et, pour notre 3ème concert du MAGNET en 12 mois, on observe qu'en fond de scène Dave WYNDORF passe effectivement de plus en plus de temps dos au public à manipuler sa table magique, son set de distorsion psyché d'une main, jouant de la guitare de l'autre.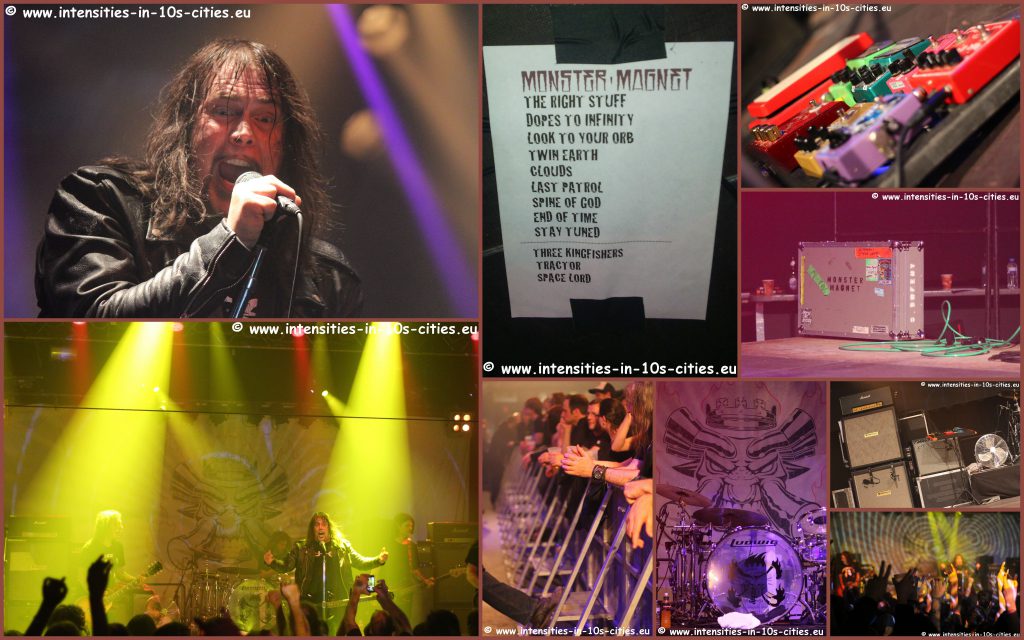 Pendant que ces sons venus d'ailleurs font office de background et de toile de fond – ou plutôt de lourde chape de plomb – le band bucheronne et martèle frontstage. La tournure des concerts de MONSTER MAGNET s'apparente de plus en plus à une bande son venue d'ailleurs – space rock, vous avez dit? Stooner, non peut-être?! Si pas hallucinogènes, en tout cas hypnotiques: en loops, le rythme et les décibels font leur oeuvre neurologique au fur et à mesure que le concert avance, et le Garage de Saarbrücken ne fait pas exception ce soir. Etat de conscience modifiée, état de conscience altérée – volupté de fin gourmet.
L'album "Milking The Stars" a convaincu l'année dernière Dave WYNDORF et ses alcooliques de continuer à travailler des sonorités de plus en plus expérimentales. Pour ce remake de leur "Last Patrol" de 2013, plutôt que de remixer les bandes originales, le band a retravaillé tout l'enregistrement pour lui donner un "real psychedelic weird 60's vibe". Ce qui faisait récemment dire à WYNDORF que l'idée à la base de ce projet est bien de continuer et continuer à mettre de la distance entre MONSTER MAGNET et l'étiquette métal qui lui colle aux basques depuis des lustres. Et il en sera de même à l'avenir dans la mesure où le MAGNET n'a jamais été un groupe de métal, dixit WYNDORF. Il continuera néanmoins a chanter et à jouer loud même si cela peut semer la confusion. Trèèèèès, très loud, peut-on confirmer ce soir…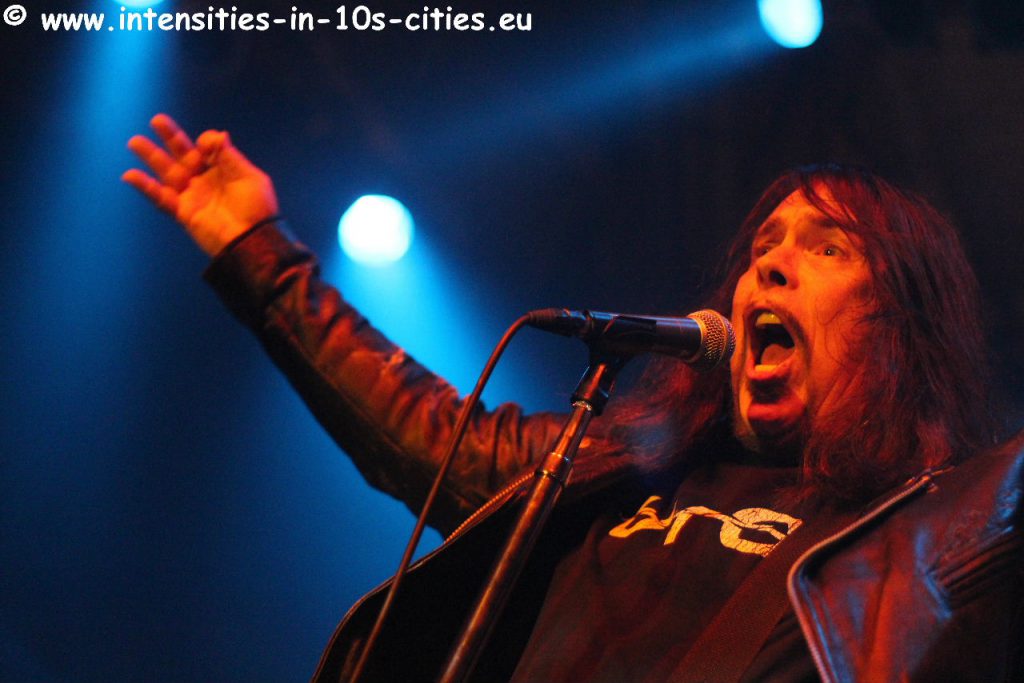 Ces sons expérimentaux, WYNDORF et le groupe continuent donc à les travailler dans le cadre d'une version alternative de l'album "Mastermind". Ils en tritouillent expérimentalement les morceaux, en réimaginant fondamentalement l'abum. Ainsi que le confiait récemment le leader, "I haven't mastered it yet but it's all mixed. And it's very strange: weird acoustic versions of songs that used to be super heavy, turning things inside out. Not just like an unplugged situation, but truly odd. I seem to be searching for odd as we go on – odd is interesting".
Décidément, MONSTER MAGNET demeurera toujours à part dans le r'n'r circus – et David WYNDORF un alien, un extra-terrestre au sens propre du terme et dans toute sa splendeur et sa démesure. MONSTER MAGNET est un OVNI du rock'n'roll mais quoi de plus normal quand on fait du space-rock, que son leader est un véritable mutant et qu'il porte de surcroit un t-shirt à l'effigie de UFO ?! La boucle est bouclée – rien d'anormal quand on joue en loops.