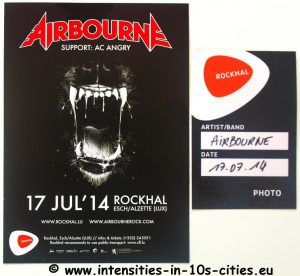 Il y a toujours une première fois pour tout. En ce qui nous concerne, ce concert d'AIRBOURNE est notre première – bien des fois envisagée mais toujours reportée. Et quelle première, Madre de Dios! Nous savions que le rock'n'roll existait encore, frais et spontané, enjoué et dégoulinant, basique et sans compromission, mais nous ne savions pas à quel point cette fraicheur était effectivement puissante. Puis-san-te !
AIRBOURNE, c'est back to the roots. C'est le retour aux fondamentaux, le retour aux sources, brutes et bestiales mais raffinées. Spontanées mais pas brouillonnes ni bâclées. AIRBOURNE, c'est le Jardin d'Eden: tout y est pur et sans fard, tout y est innocence et bon enfant, tout y est vierge et naïf. Tout y est à la fois intemporel et éphémère, violent mais pas méchant, doux mais piquant.

AIRBOURNE, c'est le Moïse sauvé des eaux: l'avenir d'un peuple, qui en est ses racines mais également son futur. AIRBOURNE nous a séduit, faut-il le cacher?! Non, la candeur, la bonne humeur, la spontanéité et la fraicheur d'AIRBOURNE que nous connaissions sur CD nous ont littéralement subjugué sur scène.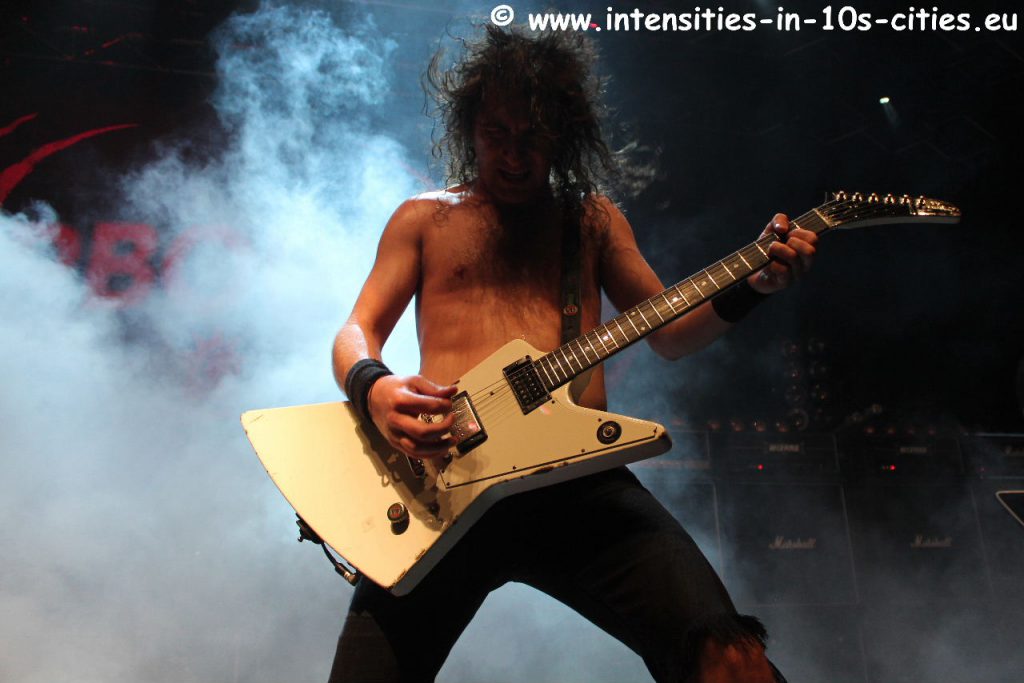 Comment est-il possible, après 60 ans de rock'n'roll, de ne pas être en fait retourné plus tôt à ses fondamentaux, à ses accords basiques, à son tempo binaire et à son cri primal…? La sueur est toujours bonne conseillère, et avec AIRBOURNE c'est en m³ qu'il faut en compter les litres. Tout comme c'est au bulldozer qu'il faut dénombrer les décibels oscillant entre 100 et 110, avec comme étalon le Marshall: 24 + 12 = 36. Back to the roots, qu'on vous dit. Hein? Quoi? Comment…?.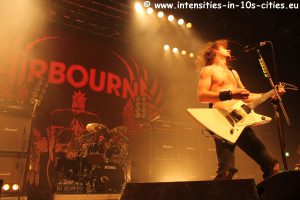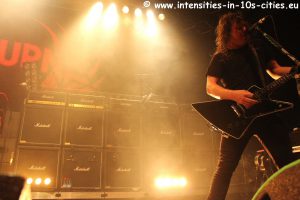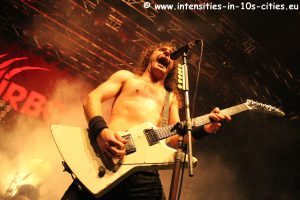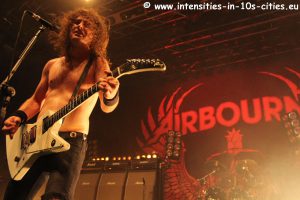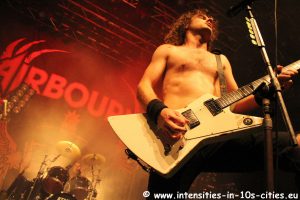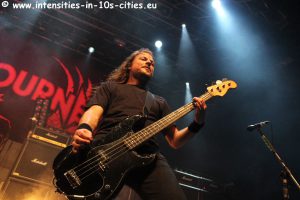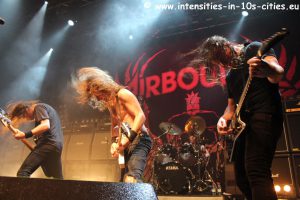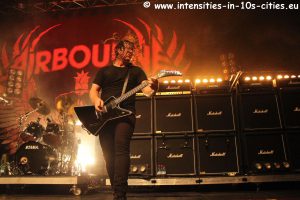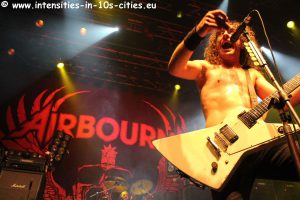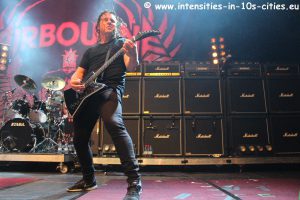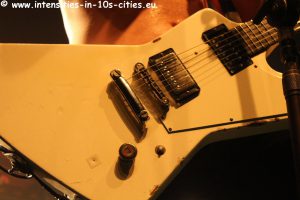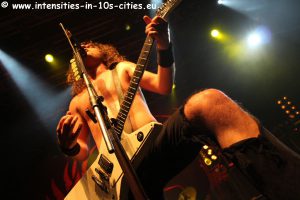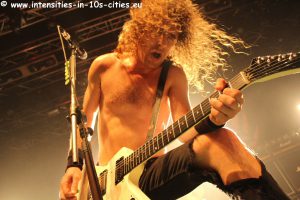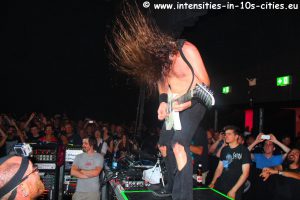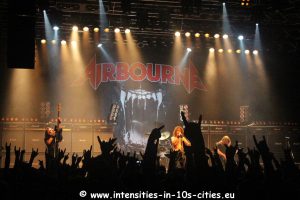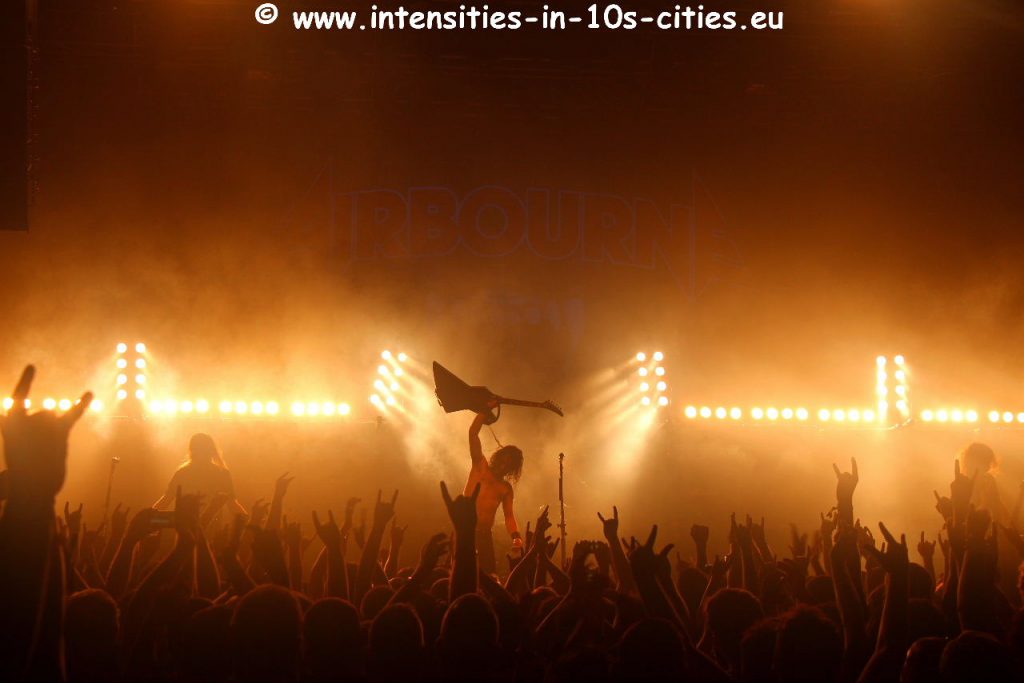 On en oublierait presque AC ANGRY qui officiait en première partie. A force de les voir endosser ce rôle ici-même, c'est qu'on s'y habituerait presque. On s'y habitue, mais on ne s'y fait pas encore tout à fait, dirons nous…