Deux des quatre têtes d'affiche tiennent toutes leurs promesses – pour peu qu'ils en aient faites : SKIP THE USE (vendredi) et BLACK BOX REVELATION (samedi), quelque peu perdus au milieu d'une gentillette affiche bien électrop-pop qui passe en comparaison pour de la roupille de sansonnet. Car c'est un puissant capharnaüm bien bordélique que déclenche SKIP THE USE pour leur seconde venue au Ward'in. Tout auréolés de leur triomphe aux Victoires de la Musique en France et justifiant pleinement leur titre de "Groupe – Révélation Scène", ils incendient un chapiteau en érection qui n'attend d'ailleurs que ça, comme une Durex prête à exploser. A quand donc les Lillois sur la mainstage qu'on semble leur refuser pour la seconde fois ? Sans doute manière de ne pas faire d'ombre aux autres têtes d'affiche du festival, for sure…
Même s'il ne reste que peu de leur pourtant récente punkitude, ce sont de beaux restes. SKIP THE USE hypnotise un public chaud-boulette qui lui obéit aux doigts et aux yeux, telle la bête Motörhead arborée sur un t-shirt du meilleur effet pour déclencher l'hystérie à coup de vumètres et l'entretenir à coup de disto. Telles les injonctions d'un grand-prêtre satanique, le public obéit, se soumet puis se prosterne devant le quintet en s'asseyant comme un seul homme (même s'ils sont des centaines, que dis-je? des milliers) sur l'herbe maculée avant d'exploser de plus belle. Le public est une bombe ce soir, et SKIP THE USE en est le détonateur.
Même endroit, même heure le lendemain samedi : mission 100% accomplie pour BLACK BOX REVELATION (RevOLUtion, même !) et plutôt deux fois qu'une avec une formule toujours aussi basique de chez basique mais ô combien efficace et tueuse, diantre. Ou comment décoiffer à la manière d'un trio quand on n'est que deux.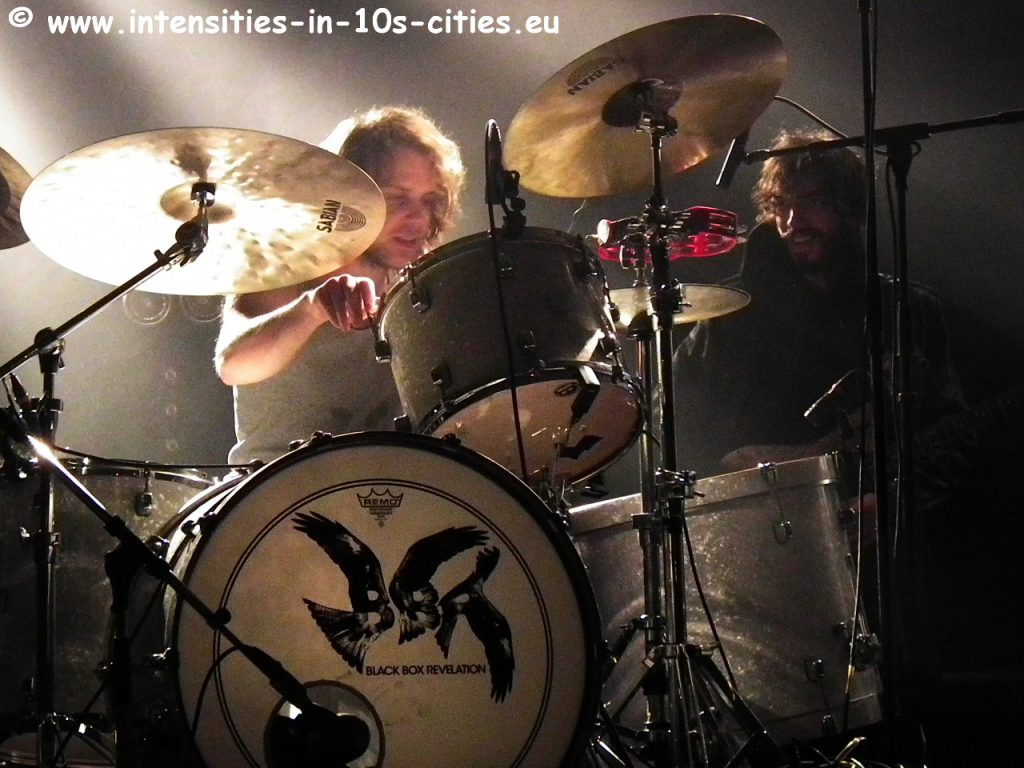 D'ailleurs, la question de l'utilité d'une basse dans un trio ne se pose-t-elle pas face à ce cas de figure qui illustre le fait qu'on peut faire à deux autant de ravage qu'à trois ? Le flamish power, la solution finale à la sauce flamoutch ! Leur reste néanmoins à apprendre peut-être à communiquer un tantinet avec leur public, tant qu'à faire ça ne mange pas de pain pour ces bouffeurs de patates. Pour votre troisième venue au Ward'in, c'est la mainstage que vous méritez, les gars, y a pas à ch… mais pour autant que vous puissiez une fois nous dire un mot entre deux détonations. A look @
"Bonsoir Wardinne ! " : telle est la manière d'entrer ou de quitter la scène, même en plein après-midi, à Wardinne. Pardon : à Wardin (ou au Ward'in Rock, c'est kif-kif, comme dirait le bourriquot). Parmi ce florilège subjectif et partisan d'une vingtaine de concerts commencés dans la froidure d'un vendredi bien ardennais, les (presque) locaux de AN ORANGE CAR CRASHED débutent fort en dédiant un morceau aux "Pussy Riot", scandant un virulent "Poutine, dégage!' repris en choeur par un public encore clairsemé. La pluie a rendu la plaine boueuse, mais ce n'est que pour mieux glisser, mon enfant, sur cette belle et chaude prestation d'AOCC. Leurs inconditionnels sont aux premiers rangs pour faire monter la pression, et il ne s'agit pas que des BBBofferding c'est sûr. Bien les gars, bien… Allez, on prend la pause en baissant la tête pour les photos maintenant.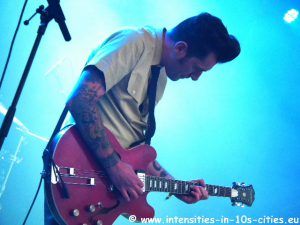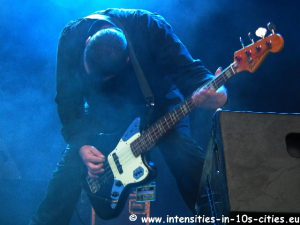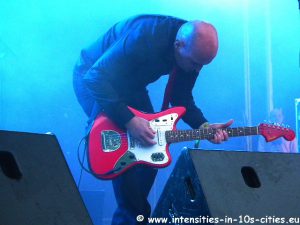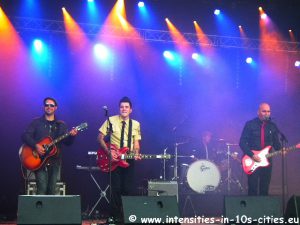 L'électro de SEXTEEN CHAPEL (qui se donne des airs de Human League) puis celle de NAIVE NEW BEATERS prend la relève à coups de synthé sortis tantôt tout droit des eighties, tantôt d'un espace-temps ou d'une quatrième dimension bien up-to-date qui atteindra son paroxysme avec The SUBS parmis d'autres douceurs plus suaves, sirupeuses et/ou plus pop. Comme pour mieux contredire les quatre lettres r-o-c-k qui sont au coeur du "Ward'in Rock Festival"…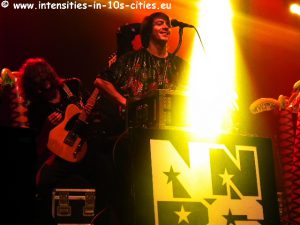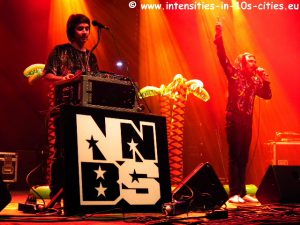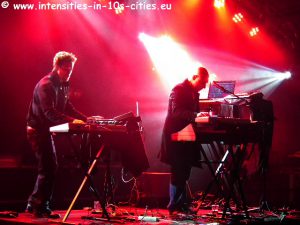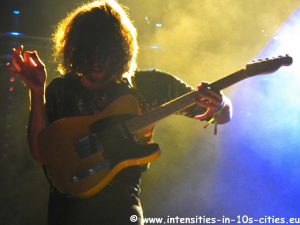 L'extra-terreste Cédric GERVY débarque, et sur la mainstage s'il vous plait cette année ! Toujours aussi décalé, déjanté et fouteur d'ambiance, mais comment fait-il donc pour coller toujours d'aussi près à l'actualité qu'il revisite d'une plume acerbe et caustique, toujours aussi impertinente et hilarante ? Dommage, Gamin, que tu gâches tout avec ta prise de position à la noix contre les clarisses de Malonne, fruit d'une démagogie déplacée et inutile et d'un poujadisme de bas étage qui n'a pas sa place ici. Là, tu ne l'as pas jouée très fine, fieu.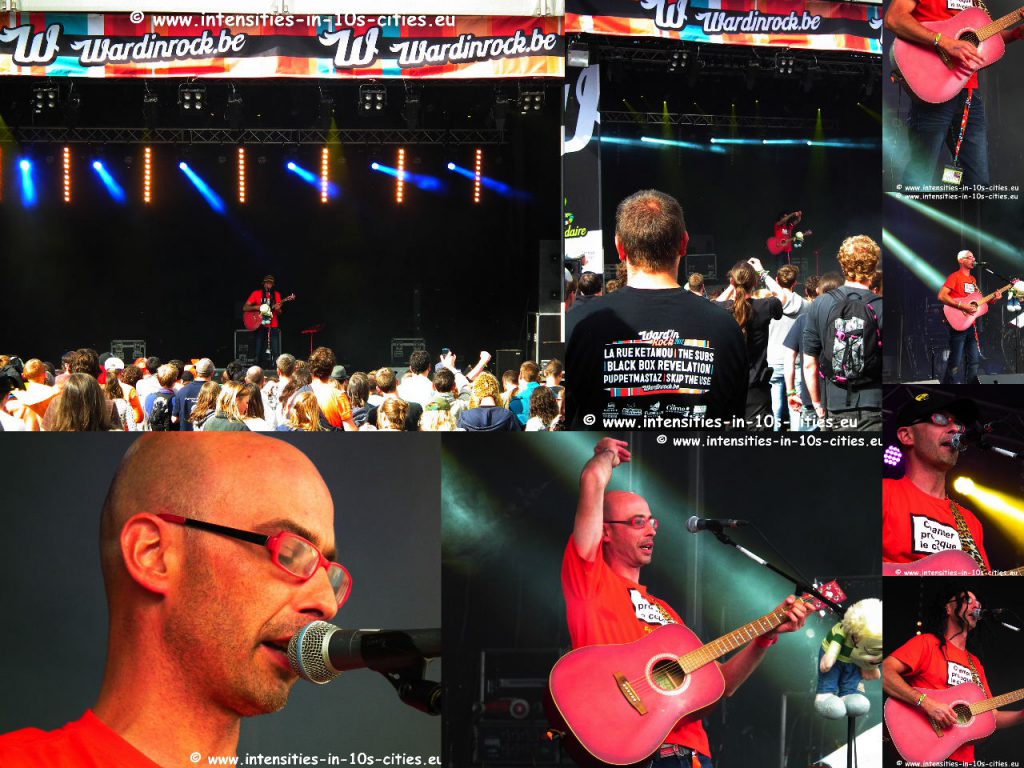 INIMIKALL, pure fucking metal (sic), prend le relais dans le marquee pour faire trembler le sismographe d'Uccle à défaut d'en disposer d'un sur place. Brut de décoffrage, leur heavy a l'avantage de frapper aussi fort qu'un soleil complice qui commence à échauffer les esprit, mais ô combien surtout les corps : du moshing à Wardinne, n'est-ce pas une première avec ce viril "wall of death" ?!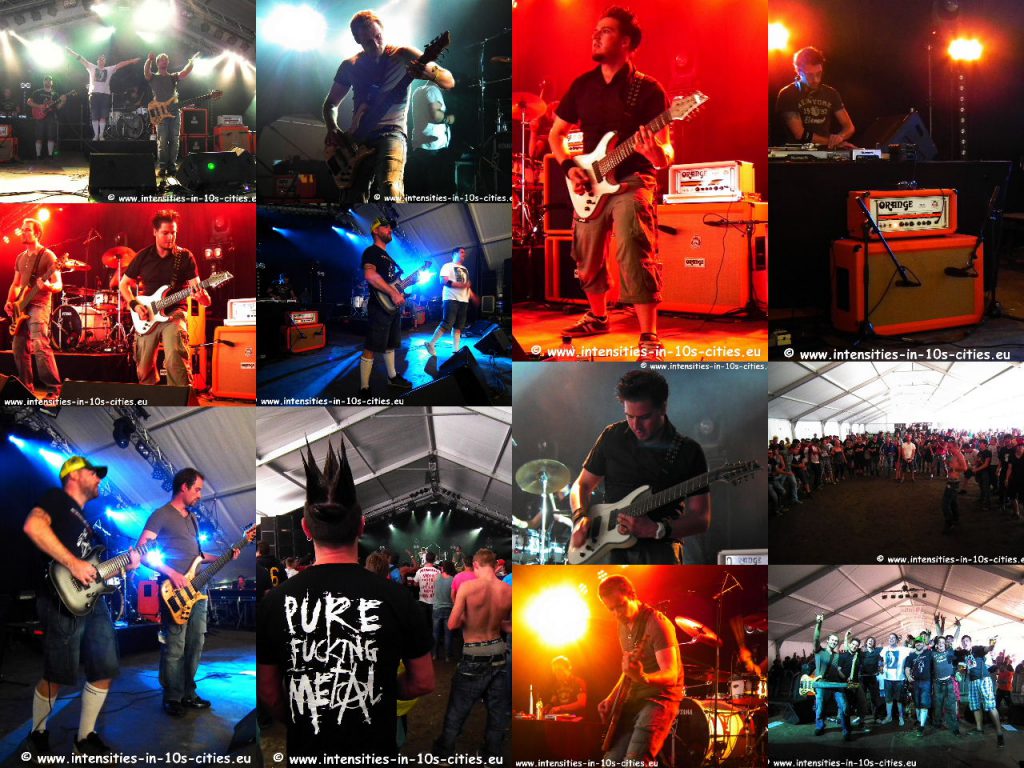 The EXPERIMENTAL TROPIC BLUES BAND poursuit cette montée en ébullition du marquee. Pour le moins turbulent, le trio sème ses guitares sur la scène comme d'autres y jettent un bon mollard bien gutural. Autant cependant éviter d'y mettre le pied sous peine de mauvaise surprise.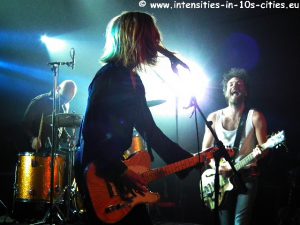 La découverte de ce 16ème Wardinne n'a de blues et de tropical que le nom, semblant plutôt jouer à eux trois leur Révolution Black Box sauce liégeoise. L'effet irradiant est le même sur les midinettes locales qui, invitées, finissent par envahir en pagaille la scène pour un final à la Iggy Pop dans un joyeux melting pot assaisonné de larsens et autres déchirures acoustiques…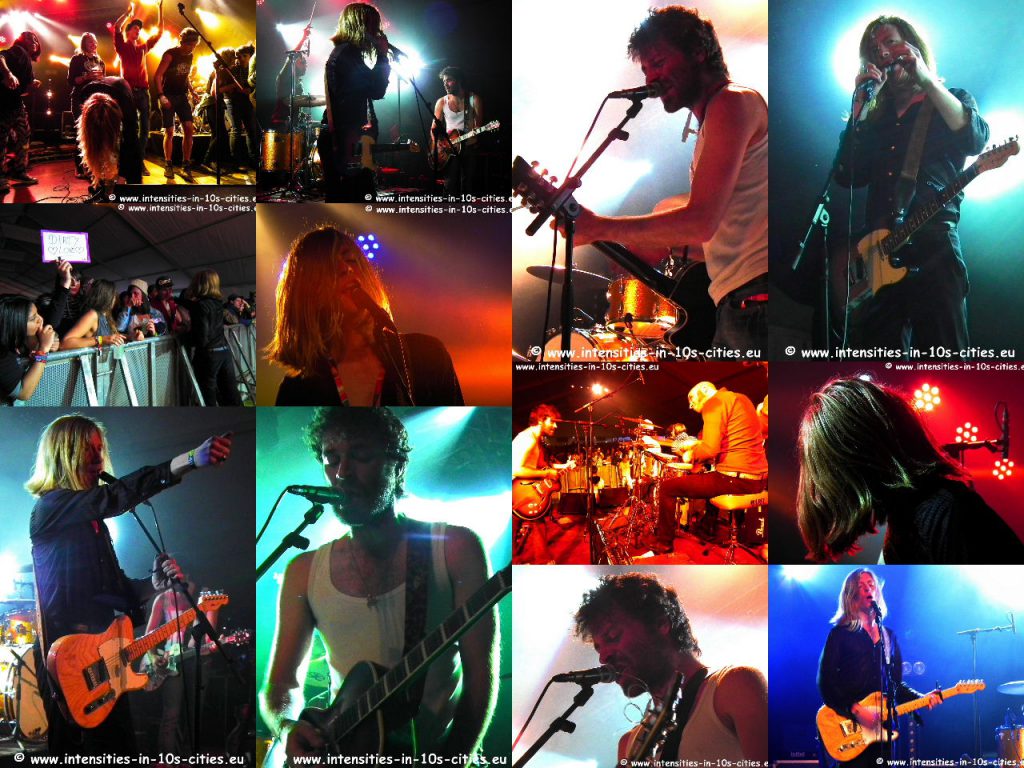 ORFEO, PERCUBABA,… ainsi que 300 bénévoles et un staff de Dieu le Père ont fait de ce Ward'in 2012 ce que les suivants seront, à l'image de ce que les précédents ont été : le plus high de Belgique. De quoi retomber donc bien bas l'effet Wardinne terminé. Les groupes électrogènes vont souffler jusque l'année prochaine – et quand il y a de l'électrogène, y a pas de plaisir. Non peut-être ?!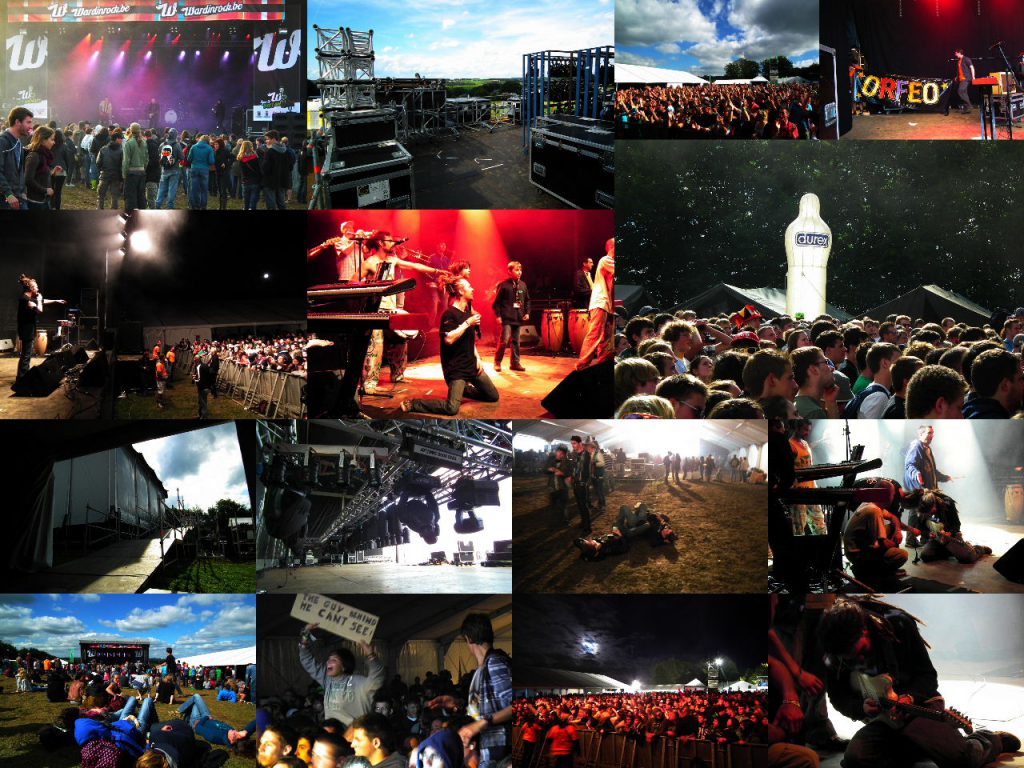 (Autres photos & reviews de précédents Ward'in Rock au chapitre 1 de Intensities in Tens Cities – All the World is a Stage, The Vintages Years 1978-2011 @ )