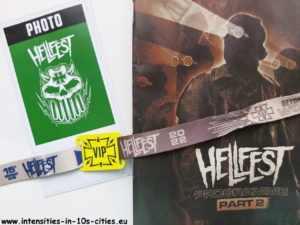 Question programmation, choisir c'est renoncer. La succession voire la simultanéité infernale des shows d'une scène à l'autre, et la foule à fendre d'un pit à l'autre pour s'y rendre, s'apparente au défi du tonneau des Danaïdes. Choisir c'est renoncer, même si ne pas tenter est abandonner. Que retenir de ces dizaines de bornes parcourues en arpentant cet Heaven on Earth ? Que certains paraissent prématurément vieux (façon de parler), comme AIRBOURNE. Mais que d'autres le sont définitivement devenus, plus logiquement sans doute mais de manière tout aussi regrettable : GUNS & ROSES.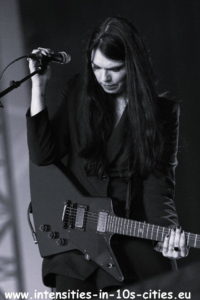 L'un comme l'autre fait littéralement traîner son show en longueur avec une succession de temps morts et de remplissages aussi inutiles que superflus. D'autres, quasi intemporels, demeurent au contraire des valeurs sûres qui traversent les décennies comme si le temps n'avait prise ni sur leurs organismes ni sur leur empreinte ni sur leur legacy: qu'il s'agisse d'ALICE COOPER toujours aussi bien entouré, de SCORPIONS littéralement impériaux ou d'un WHITESNAKE à la set-list certes téléphonée, la délectation proustienne compense aisément une absence parfois totale de surprise.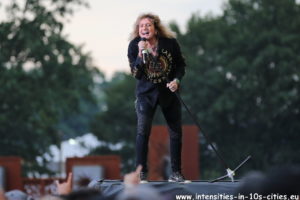 Quelques claques bien assénées nous laissent une marque qui n'est pas prête de disparaître : KILLING JOKE n'a strictement rien perdu de sa superbe et de son efficacité tandis que STONER, KADAVAR ou NEW MODEL ARMY pour n'en citer que quelques uns nous prennent à contre-pied. Et quoi de tel qu'un croque-en-jambes pour se remettre les idées en place et balayer toutes ses certitudes ?!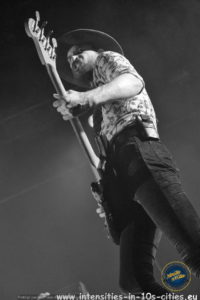 MINISTRY et les GUNS soutiennent ouvertement l'Ukraine en en affichant un jaune et un bleu de circonstances, à l'instar d'un SLASH dont une des grattes est intégralement repeinte aux couleurs du drapeau. The SCORPIONS dédicaceront pour leur par le – oui – soporifique Wind of Change au peuple ukrainien, tandis que quantité d'autres bands honorent quant à eux sur scène la mémoire de LEMMY, que ce soit AIRBOURNE, Phil CAMPBELL ou encore Danko JONES.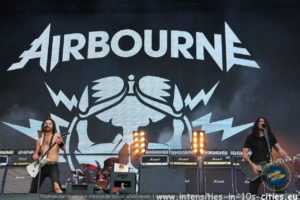 L'impressionnante et nouvelle statue de Ian Fraiser KILMISTER, franchement réussie, surplombe donc de ses 15 mètres de hauteur la War Zone. Elle y accueille quelques cendres de feu LEMMY à l'occasion d'une courte cérémonie organisée à son pied en milieu de nuit, rehaussée par la présence de ses deux derniers comparses présents séparément ce jour sur les mainstages en ce jeudi 23 juin 2022 : Mikkey DEE qui vient de terminer son set derrière les fûts de SCORPIONS et Phil CAMPBELL entouré de ses Bastards Sons plus tôt dans la journée, mais qui vient de rejoindre en toute fin de set The SCORPIONS pour quelques mémorables passes d'armes en prélude à cette cérémonie nocturne.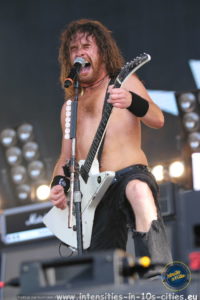 Si donc GUNS & ROSES bande (vraiment) mou, AIBOURNE est désormais éjaculateur précoce. Les Australiens pourtant toujours aussi denses, puissants et rapides quand ils sont à l'ouvrage nécessitent cependant bien des temps de récupération pour reprendre vigueur entre deux assauts. Leurs langueurs et longueurs cassent un rythme pourtant ô combien soutenu quand ils moulinent, et même leur légendaire mur de Marshall a été amputé de quelques unités: on peut franchement s'interroger sur leur capacité à tenir la distance – ce que nous constations déjà lors de leur dernier concert pré-pandémie au Cabaret Vert. Rapides et bougrement efficaces, oui, mais dont l'endurance est à entretenir voire même à retrouver !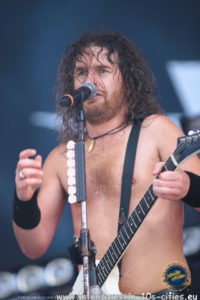 En matière de temps morts aussi horripilants que regrettables, GUNS & ROSES décroche sans doute la timbale du Hellfest 2022. Fort Roses et très peu Guns : les ROSES sont fanées, et les GUNS sont désormais des pétards mouillés. G&R bande mou, un point c'est tout : le set de pourtant 2h30 à la montre est mièvre et mou du gland : ponctué de trop nombreux blancs dans un noir aussi absolu que le silence ambiant, Axl ROSE n'est décidément plus que l'ombre de lui-même. Sa voix en mode (fort) mineur à l'instar d'une présence peu irradiante sur scène sont à l'image d'un changement de garde-robe à un rythme dont on se passerait allègrement. Le ressort d'Axl est bien mou et détendu ; même la Duracell du band, aka SLASH-le-Magnifique, semble à plat et ne suffit pas à récupérer une sauce qui ne prend décidément pas trop même si ce n'est pas force d'avoir essayé.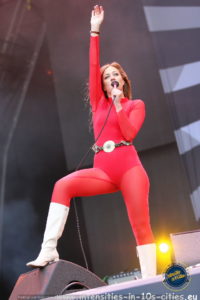 Duff McKAGAN serait presque l'élément moteur du combo loin pourtant de sa splendeur passée : si son faciès s'affiche régulièrement sur les écrans géants, c'est à l'inverse de la tronche d'un Axl ROSE que les caméras n'afficheront jamais qu'en plans sur pieds – ce qui n'empêche pas de remarquer sa trèèèèès grande concentration avant de s'aventurer à descendre les quelques escaliers de la plate-forme surplombant les drums flanquée de deux drapeaux ukrainiens.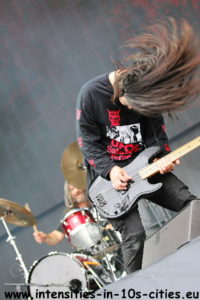 La set-list par ailleurs bof-bof des Californiens se clôture néanmoins par un magistral, explosif et flamboyant Paradise City, comme pour nous laisser sur une dernière note franchement positive du grand et vrai GUNS qu'on a pourtant attendu mais en vain deux heures et demi durant…