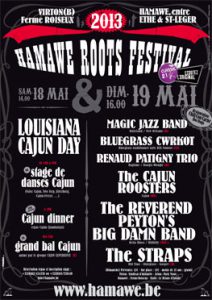 Les STRAPS en tête d'affiche pour clôturer le festival, comme chaque année : pas la meilleure idée peut-être, en tous cas pas dans la durée – à moins de renommer le Hamawe Roots Festival en Straps Festival ? C'est plus que leur ombre qui plane sur le festival, c'est quasi une main mise, le public désertant d'ailleurs les lieux en cours de prestation (hasard ou coïncidence ?) avant même le boeuf final en présence de toutes les formations sur les planches. Dommage… Pourquoi donc ne pas les programmer en fin d'après-midi pour en faire profiter amis, femmes et enfants, avant de laisser la place en soirée à de nouvelles découvertes venues de nouveaux horizons…?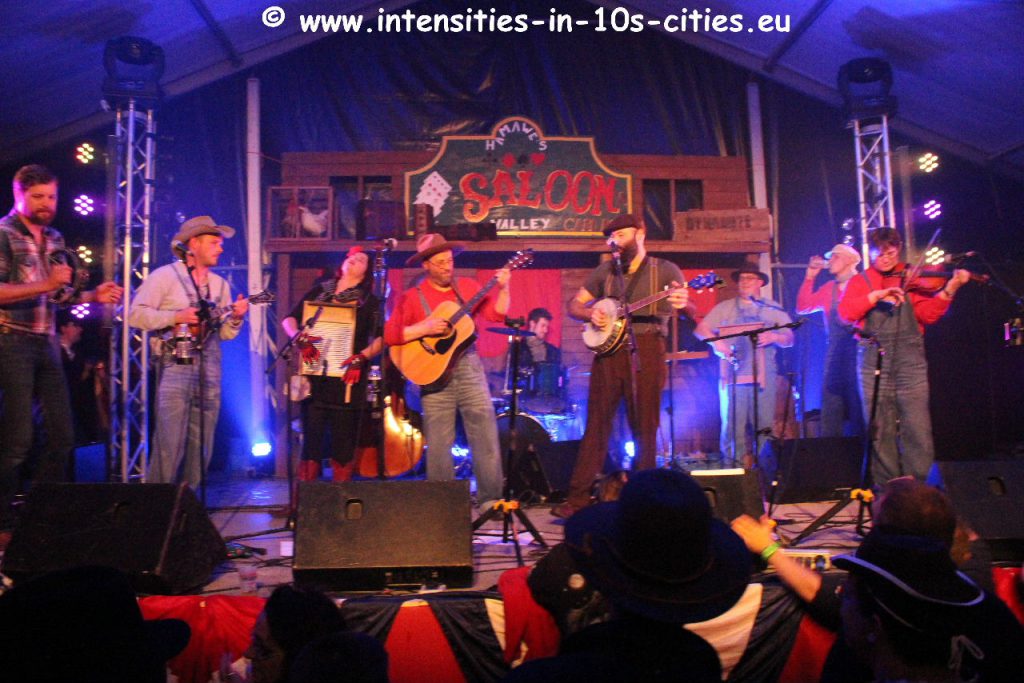 Les STRAPS, c'est chouette, mais la variété c'est mieux. Coup de projecteur dès lors sur les autres formations qui marquent de leur empreinte cette nouvelle édition, et plus particulièrement – palme d'or – sur les Américains un peu déjantés de The REVEREND PEYTON's BIG DAMN BAND.
Terminant ici à Hamawé leur mini-tournée européenne, ils démontrent que pour être Big Damn, ils sont effectivement sacrément damned en boutant le feu au chapiteau (mais vu le déluge dehors, no stress). Programmés en fin de soirée – et donc en tête d'affiche – sûr qu'ils nous auraient troué la nuit en explosant le bastringue : il n'aurait manqué qu'un fifrelin de distorsion pour que ce soit chose faite ! Il est à penser qu'ils se sont bien plu (comme la météo), à en croire leur Facebook le lendemain de leur méfait/forfait gaumais : "What a way to close out this Euro-Tour. US soldiers stationed in Germany got party started in front of stage & Belgians went nuts! So fun !" (même si notre Américaine de choc n'a pas explosé sa washboard en mille morceaux sur scène). On confirme donc vos dire: so f*****g fun & crazy . C'est que nous aussi on vient avec notre attirail de cowboy à l'Hamawé: pas uniquement chapeaux et bottes, mais nos flingues itou…!
En fin d'aprèm, les Tchèques de BLUEGRASS CWRKOT (à prononcer en l'état) avaient ouvert le bal, suivis du Renaud PATIGNY trio, magistral au piano et puissamment accompagné d'une diva black toute en puissance également. Et quand il se laisse aller à booggier wooggier bien secondé par son autre black aux percussions, c'est carrément back to the rooooooots…
Début de soirée, les CAJUN ROOSTERS prenaient la relève en préparant soigneusement le terrain pour le Révérend Peyton à la barbe mise en pli et son Big Damn Band. Sûr qu'il a marqué les esprits ce Kentucky Colonel, et qu'il a fait de cette édition 2013 une véritable from the vault en devenir. On en reparlera dans les chaumières, du Révérend Peyton et de ses grattes vintage dont sa (véritable) boite à cigares tunée de six cordes !