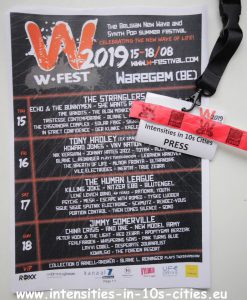 Il y a des groupes qui vieillissent avec élégance, classe et distinction. Ce qui rend parfois leur musique plus aboutie, plus achevée et plus consistante qu'à l'époque où ils l'ont composée. A l'inverse, il y a des bands qui évoluent en prenant une voie toute contraire, à l'instar d'individus qui, une fois dans leur résidence-senior, se laissent aller et ne font plus l'effort d'être et de paraître ce qu'elles ont été. Etre et avoir été, l'éternel combat, l'éternel dilemme…
KILLING JOKE est malheureusement de ceux-là, avec leur tronche de SDF, leur dégaine de paumés et leur attitude qui oscille entre laisser-aller et je-m'en-foutisme… pour rester fidèle à une image pourtant tout ce qui est de plus pathétique et passéiste. Leur set a été laborieux à démarrer et ce n'est au final qu'au bout d'une bonne demi-heure qu'ils ont atteint leur vitesse de croisière. Certains sportifs ont l'élégance de mettre un terme à leur carrière alors qu'ils sont à leur sommet; des groupes comme KILLING JOKE devraient en prendre de la graine. Tout l'inverse de The HUMAN LEAGUE.
Les hits de The HUMAN LEAGUE résonnent dans notre tête depuis plus de 40 ans, et nous ramènent inlassablement au début des eighties, et à ces sonorités si particulières qui sont le fond de commerce de ce W-Festival. Le quinqua ou le sexagénaire qui a l'impression d'être passé à côté d'une époque, à côté de quelque chose, est le bienvenu au W-Festival pour se rattraper quatre jours durant. Waregem offre un échantillon du meilleur de la synt music, de la new-wave et de toutes leurs variantes, et dont The HUMAN LEAGUE n'est pas le moindre de ses étendards.
A l'inverse de KILLING JOKE, la ligue humaine joue les dandys du meilleur effet – fidèle à leur image d'antan – en alignant leurs tubes de manière imparable. The HUMAN LEAGUE est aux eighties ce que l'Atomium est au fifties: un monument classé. Et qui n'a même pas besoin d'entretien ni de restauration même si ça sent un peu la naphtaline. Intemporel. Ca doit être ça, la classe.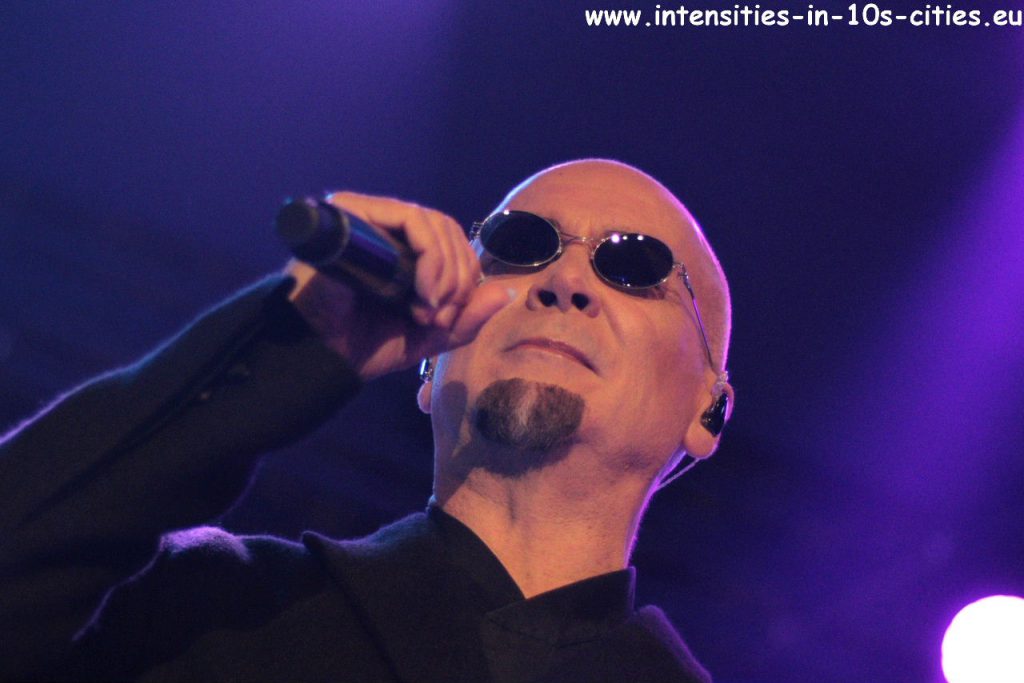 Les Allemands de BLUTENGEL sont pour leur part le contre-exemple parfait et l'antithèse par excellence d'un live band. Si leurs compositions peuvent encore à la limite tenir la rampe et se prévaloir de figurer à l'affiche de W-Festival, leur prestation est totalement insipide et même parfaitement… inutile. Aucune présence, aucune interaction avec le public, aucun charisme si ce n'est celui d'un poulpe en phase terminale. KILLING JOKE ne tient plus particulièrement la rampe mais il y a pire: BLUTENGEL qui n'a jamais poigné dedans.
LENE LOVITCH joue avec une certaine réussite sa Nina Hagen, mais entre la copie et l'original notre préférence va manifestement à l'Allemande. Mention spéciale toutefois à sa bassiste d'une redoutable efficacité, faisant violemment ronronner sa Fender Precision Bass à la manière d'un J.J. Burnel (par ailleurs à l'affiche du jeudi ici-même).
MESCH offre une prestation conforme à ce qui est attendu d'un public bigarré et typé au possible qui, lui aussi, semble être resté coincé dans le tunnel de l'espace-temps des eighties. Ne pas vouloir vieillir signifie-t-il forcément rester en l'état 35 ans plus tard ? That's the question…