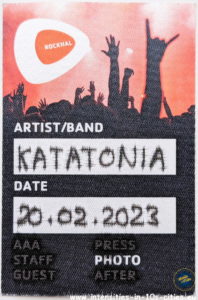 Une Rickenbacker est toujours annonciatrice d'un moment exceptionnel, d'un show qui va dépoter grave. Ce constat, le plus empirique mais aussi le plus subjectif qui soit, va se voir une fois encore confirmé par celle de SÓLSTAFIR qui ne fait pas exception à notre règle. Et ce n'en est que plus vrai encore quand cette Rickenbacker est confiée au délicat traitement de celui qui a(urai)t été par cinq fois élu « The Sexiest Man of Iceland » (sic), le bien nommé Svavar « Svabbi » Austmann. Ses longues tresses rousses déboulant de dessous son chapeau n'y sont sans doute pas pour rien. Ou pas – allez appréhender les critères esthétiques de ces gens de tout-là-bas-au-nord-au-fond-à-droite.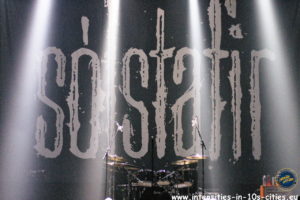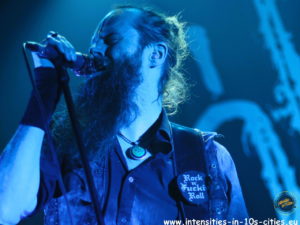 SÓLSTAFIR n'a en tous cas pas son pareil dans le style qui est le sien, à l'improbable jonction peut-être de Motorpsycho et d'un Motörhead mais ascendant Hawkwind quand il est question de tisser des ambiances lourdes et oppressantes, ou langoureuses et lancinantes tout autant que psychédéliques et obsessionnelles. Les morceaux peuvent s'étirer à n'en plus finir, au point de parfois peiner à en distinguer le début de la fin dans un éternel recommencement ou dans une continuelle redite. SÓLSTAFIR, ou comme une impression d'infini, comme une aurore boréale qui s'étire à n'en plus finir, aussi vaporeuse qu'intangible.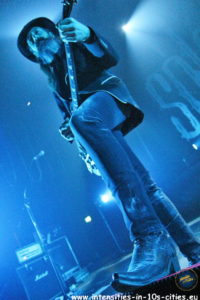 Jusqu'au moment où l'ambiance vaporeuse se dissipe brutalement, très brutalement même, dans une déferlante et un blizzard de décibels qui ramène violemment l'assistance aux contingences existentielles liées au prix de la chope au bar et des énergies fossiles qui ont rendu couteux le déplacement jusqu'à la Rockhal.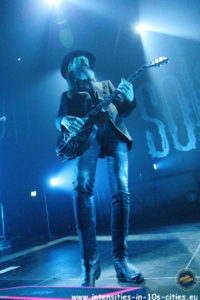 Cette ambiance hyperbolique pour le moins particulière, parfois religieuse et hypnotique, parfois tribale et hystérique, est amplifiée par les silences impressionnants qu'impose à l'assistance – d'un seul geste – Aðalbjörn « Addi » Tryggvason, comme pour donner plus de profondeur et plus de puissance encore aux rares passages en sourdine. Assurément Guitry se référait-il à SÓLSTAFIR lorsqu'il lançait son célèbre « Lorsqu'on vient d'entendre un morceau de Mozart, le silence qui lui succède est encore de lui« . Si ce n'est qu'avec nos Islandais préférés, ces silences sont assourdissants.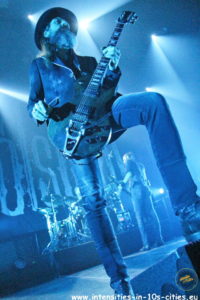 Faut-il préciser que les bien nommés SÓLSTAFIR n'officiaient « que » en tant qu'opening act d'un dispensable KATATONIA, non sans délivrer un set de pas moins d'une heure quart quand même, excusez du peu. KATATONIA pouvait ensuite venir faire de la figuration, et uniquement de la figuration: il n'y avait que des restes à se mettre sous la dent, et à la dernière note des Islandais la messe était dite. KATATONIA, nimbé dans la quasi pénombre ou au contraire camouflé à contre-jour par de violents et redoutables flashes stroboscopiques, tout est mise en scène pour dirait-on faire ch… les photographes attitrés durant les 3 titres réglementaires. A quoi bon accréditer si c'est pour officier dans de telles conditions…?