Il est des vendredis 13 qui portent moins chance que d'autres… En l'occurrence ce 13 mai 2016, qui verra Junior prendre la relève de Senior (contraint à un immobilisme forcé) pour ce déplacement à Marseille à l'occasion de la seule date française du Rock or Bust World Tour de la société AC-DC Enterprise emmenée par son CEO Angus Young (voir nos commentaires préalables et pas vraiment engageants à ce sujet ici).


Mais laissons la parole à Jr, notre "envoyé spécial" à la manoeuvre également pour les clichés…
Aujourd'hui, une fois n'est pas coutume, le billet ne sera pas rédigé par Sr mais bien par son fils, Jr. Le premier nommé n'ayant pu assister au concert d'AC-DC à Marseille ce vendredi 13 mai, son fils prend donc la plume… Je ne prétends pas avoir l'éloquence et les justes mots as Daddy, mais je vais essayer de faire de mon mieux pour retransmettre l'ambiance du Nouveau Vélodrôme de Marseille ce jour-là.
La première partie, assurée par Tyler Brant and the Shakedown n'avait rien de bien impressionnant. Bon, pour être honnête, perché sur mes gradins avec place assise, j'ai réussi à m'endormir pendant leur prestation. L'heure de décollage a eu raison de moi. Ma foi entre 2 ronflements, j'ai tout de même eu le temps de constater la performance du batteur nettement plus entertaining que le reste de son groupe. Pour le reste, le style reste bien dans la lignée du papa. Je ne saurai malheureusement pas faire de critique plus complète que ça étant donné ma distance de la scène et le fait que les écrans géants sont restés noirs tout le long de leur représentation.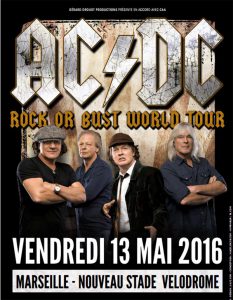 BAAAAAAAAH ! 120 décibels dans la tronche pour l'intro. On a compris, AC-DC rentre sur scène ! Ici, je vais compléter et corriger ce que mon père a écrit à l'annonce du changement de vocaliste. Axl Rose, croisement entre un Crocodile Dundee et un Ozzy Osbourne un peu plus en forme, le tout avec le bling-bling de 50 cent (oui, les références changent de d'habitude) assure le show. Pour ce qui est de la qualité vocale du chanteur de Guns n' Roses, rien à redire ! Ça colle à la perfection au style AC-DC.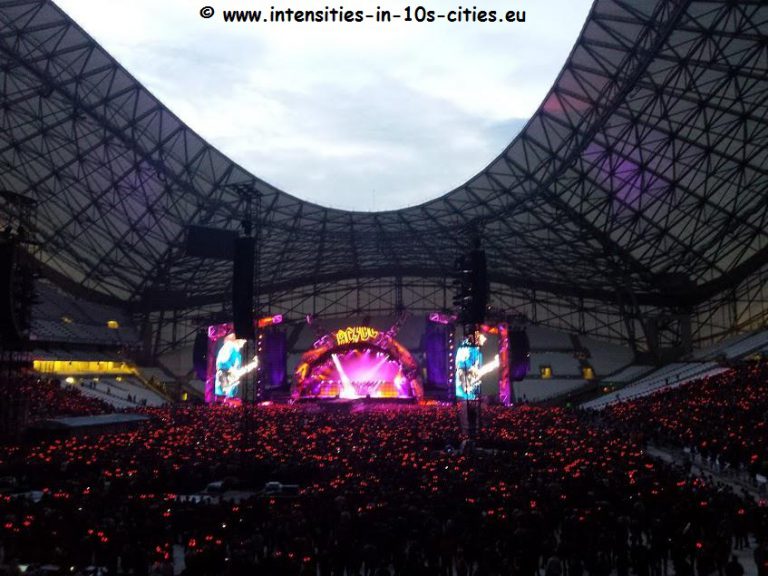 Les fans de la première heure, mon père y compris, pourront critiquer le choix mais les yeux fermés, je les mets au défis de critiquer la performance vocale d'Axl Rose. Certes, certains timbres trahissait le style G'N'R mais cela s'intègre quasi parfaitement dans AC. Maintenant niveau show, bah… l'animal avait la patte cassée. Non, ce n'est pas une métaphore, il est monté sur scène un pied dans le plâtre. Il n'a donc pas bougé de son trône de tout le concert. Ça aurait pu être décevant si Angus Young n'avait pas assuré le show comme jamais. (Je dis ça mais c'est le premier concert d'AC-DC que je vois). A 61 ans, tchû ti ! Le mec a littéralement couru pendant 2h à travers la scène, le tout avec un jeu de jambes digne d'un Mohamed Ali sous cocaïne ! Ce n'est pas le meilleur musicien que j'ai vu mais niveau dynamisme, on ne peut faire mieux. Les autres membres du groupe, par contre, étaient pratiquement invisibles et aussi énergiques qu'une tortue asthmatique sous analgésiques.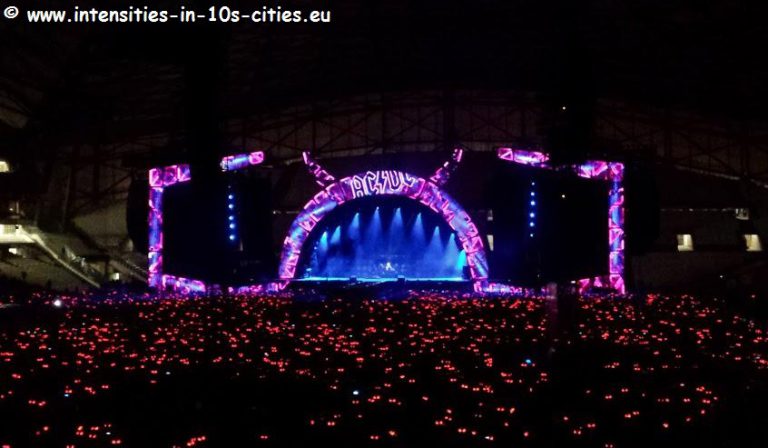 Au vu du nombre de fans à cornes dans le stade (60 000), je dirais que AC-DC n'a pas encore fini de rameuter la bande hétéroclite qui lui sert de public ! Je ne pense pas être le meilleur critique, de part mon expérience très limitée, mais Rock or Bust is not already busted !