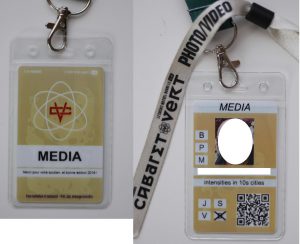 La Planète se réchauffe. L'Amazonie brûle. Et People Have The Power…
Le Cabaret Vert va sans doute ériger une statue à notre égérie de toujours, Patti SMITH. Tandis que le G7 se tient à l'autre bout de l'Hexagone avec le préoccupant sujet de la sauvegarde de l'Amazonie au centre des débats, Patti SMITH balance la sauce et se fait l'étendard du combat mondialiste et durable que mène le Cabaret Vert depuis 14 ans. En reprenant Beds Are Burning (de Midnight Oil), ce n'est pas seulement un flèche de plus qu'elle décoche aux Grands de ce monde, mais à nous tous qui demeurons les bras croisés alors que nos lits sont en proie à un fatal incendie.
Mais pas une seule revendication de Patti SMITH, pas la moindre allusion, la garce: elle se la joue mine de rien, sachant que l'audience n'est pas dupe. Et pour l'ignare dans l'assistance qui n'aurait pas (encore) compris, d'enchaîner avec un splendide et poignant Mother Earth repris à son pote Neil YOUNG. Nous écrivions à son sujet il y a deux mois seulement, à l'issue de sa mémorable prestation d'Anvers, qu'il était probablement le dernier monstre sacré à parcourir encore les scènes de ce bas-monde monde. Neil YOUNG a son pendant féminin en la légendaire personne de Patti SMITH, dernière survivante d'une époque à jamais révolue, ultime témoignage vivant d'une ère qui a tout créé, qui a tout dit, qui a tout pensé, qui a tout initié, qui a tout engendré, qui a tout enfanté…
Après la violence des revendications de PROPHETS OF RAGE avant-hier sur la même scène face à de plus violentes injustices encore, le Cabaret Vert 2019 fait fort, très fort en amplifiant encore celle-ci avec la vindicte de Patti SMITH. Quel show, quel concert, quelle Dame: le concert assurément le plus poignant et le plus émotionnel de cette cuvée 2019. Le genre de show qui te prend aux tripes parce que tu sais que tu es face à un monument, face une légende, et que ce monstre sacré en impose encore rien que par sa présence à quelques mètres de toi, rien que par son charisme et son rayonnement qui irradient, qui te donnent la chaire de poule…
Patti SMITH nous confie que la première fois qu'elle est venue ici se recueillir sur la tombe d'Arthur Rimbaud, c'était en 1973. Avant de finalement investir – au propre comme au figuré – les murs de sa demeure où elle revient régulièrement. Depuis, jamais elle n'avait imaginé jouer en ce lieu qu'elle affectionne particulièrement et où elle vient se recueillir années après années entre poésie, peinture et musique, avec toujours sa même dégaine de chaman punk, ou d'androgyne. The legend is still alive, and well.
Lors de notre dernier face-à-face avec Patti SMITH à la Rockhal en 2016, nous avions tenté plusieurs fois de capter l'instant furtif où notre grand-mère préférée expédie de sa langue de maîtresse un de ses impressionnants mollards tout aussi légendaires sur les planches. Mais ce fut à nouveau peine perdue ce soir au Cabaret Vert, la traîtresse nous prenant chaque fois de vitesse. Anodin et décalé? Peut-être, mais tellement révélateur du puritanisme et du caractère aseptisé dans lequel nous confinons nos aînés, oubliant qu'ils ont tout fait bien avant nous, et qu'ils ne changent finalement pas plus que ceux qui restent dans le move, et qui ne sont pas devenus vieux avant même d'avoir été jeunes…
AIRBOURNE rend le soleil couchant plus rouge et plus chaud encore que la fournaise. Pour leur seconde venue au Cabaret (et pour notre nième AIRBOURNE en ce qui nous concerne), les Australiens ne seraient-ils pas en train de s'essouffler à force de nous balancer leurs shows à 200 à l'heure depuis tant d'années…? L'énergie brute est toujours bien là, explosive et imprévisible – au point que le bassiste s'étale royalement de tout son long sur la scène à force de l'arpenter au pas de course et se prenant les pieds dans le micro.
Mais les temps morts et autres moments de diversion dont le band semble (ab)user pour souffler quelques instants cassent le rythme d'une prestation qu'on a déjà connue beaucoup plus dense et soutenue. Les nouvelles compos passent bien la rampe, mais ne sont pas du tout servies par une sono à la hauteur, brouillonne et tout à fait indigne de l'énergie d'AIRBOURNE. En définitive, un AIRBOURNE simplement et passablement bon, mais sans doute à oublier.
A l'issue donc d'un one-woman show sans comparaison et tout bonnement mémorable et exceptionnel de la légende Patti SMITH, les English de FOALS peuvent débarquer – et même être mauvais (ce qu'ils sont): tout a été dit. Ite missa est. Non, soyons indulgent, correct et surtout honnête: FOALS n'est pas mauvais du tout, mais est simplement inconsistant et sonne creux. A fortiori après la prestation étincelante de Patti SMITH. Il y a de ces groupes et de ces prestations qui n'ont tout simplement pas la consistance nécessaire, qui n'ont pas assez de gras autour de l'os pour marquer les esprits ou remplir l'estomac. FOALS fait partie de ceux-là. Ce n'est pas de leur faute, chacun a ses limites, et même la plus belle femme ne peut donner que ce qu'elle a…
Mention toute spéciale à REDEMPTION, power-trio dans la plus droite lignée de ses maîtres à penser (regardez du côté des Ramones et de Motörhead). Fin d'après-midi, papa et ses deux fistons (Mat, 17 ans à la gratte et au chant, et Rod du haut de ses 11 ans à la batterie !) montent sur scène, et ils ont tout des grands. Tout ! Certainement le début d'une histoire très, très prometteuse quand on voit l'efficacité et surtout la maturité des deux gosses. Avec une voix qui impose et une rythmique hallucinante qui cogne, le padre peut être fier de ses rejetons qui n'ont pas dû être bercés avec des comptines. Longue vie à REDEMPTION !
Terminer la soirée en compagnie de COCAINE PISS sur la Razorback Stage est une manière comme une autre de joindre l'utile à l'agréable. Quoique l'utilité reste discutable, et que le côté agréable ne soit pas le terme le plus adéquat non plus. Le calibre attribué à COCAINE PISS nous semble à nouveau surestimé, et leur manifeste succès continue de nous interpeller – mais soit.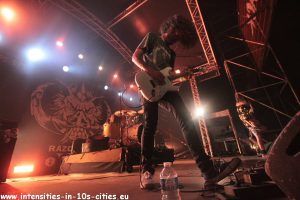 COCAINE PISS illustre la Belgian Connection qui a pris ses quartier au Cabaret Vert, en compagnie de quelques combos et formations en provenance de Liège et de Charleroi: le Cabaret reste fidèle aux produits belges, et ses brasseries (semi-) artisanales ne sont pas les moins représentatives sur la carte des aubettes du festival…