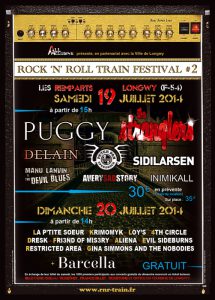 "Je vais vous faire vomir. Littéralement vomir ! " lâche un Jean-Jacques BURNEL en arrachant de sa quatre-cordes les pires coups de basse qu'il nous été donné d'entendre ces dernières années. Cette intro de Heroes boucle de la sorte un monstrueux set durant lequel la bande à Burnel semble vouloir rejouer les méchants Men in Black de la glorieuse époque durant laquelle The STRANGLERS, redoutés comme la peste, écumaient les scènes et saccageaient les salles. Rien de tout cela cependant ici, dans l'idyllique cadre © UNESCO de ce second Rock'n'Roll Train Festival lové au sein même des remparts de Longwy.
Ce punk franco-british de Burnel doit être l'homme qui nous a fait aduler cette 4 cordes tellement dispensable au sein de bien d'autres formations. Ce sont The STRANGLERS. C'était à la fin des seventies. Nous avions alors 15 ans à peine et pas encore toutes nos dents. Simultanément, il y eu Lemmy, Phil, Geddy, ensuite bien d'autres bass-men, souvent aux lead vocals d'ailleurs. Puis nous voilà tout à coup par un beau soir d'été 2014 à ses côtés en backstage à Longwy. Total respect, Mr. Jean-Jaques Burnel : it's a real great honor to deserve you, Sir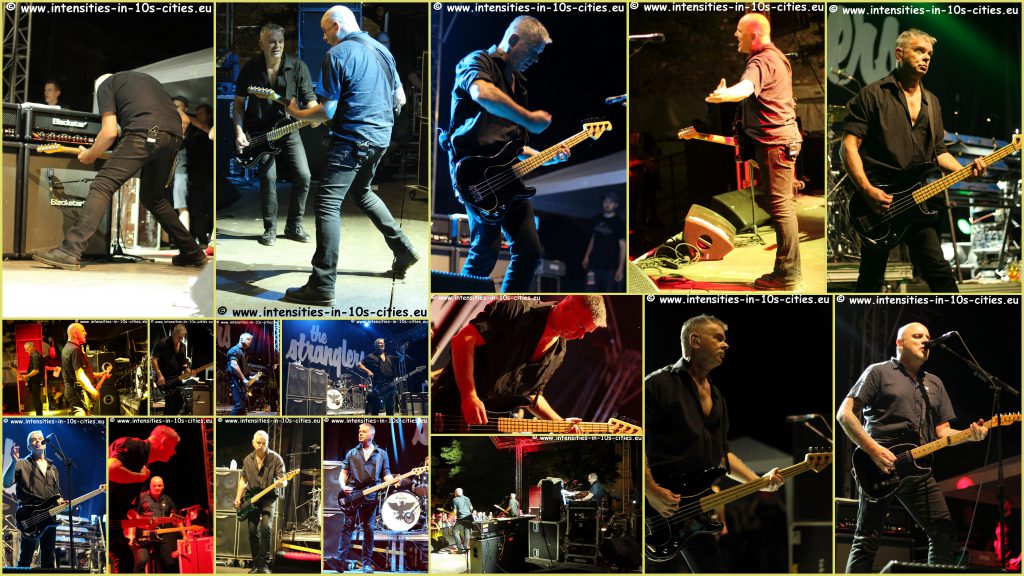 "C'est une soirée très intime, très familiale…" lâche-t-il encore dans son excellent français, comme désappointé pour l'organisateur face à un public plus que clairsemé (et c'est peu dire). Burnel ne manquera d'ailleurs pas de faire applaudir plus d'une fois l'assistance afin de le remercier ainsi que les dizaines de bénévoles. Sans doute manière de lui faire avaler plus facilement l'amère pilule d'un regrettable bouillon? Quel dommage (quelle honte?) que le public n'ait pas répondu plus massivement à une organisation, à un site et à une affiche dès plus alléchants.
La set-list des STRANGLERS fait la part très (très) belle à l'époque fin seventies / tout début eighties, lorsque le band était à l'apogée de son (post-)(néo-) punk rageur, avant de sombrer ensuite dans une pop anglaise (trop) gentillette et (trop) insipide à nos oreilles. Par bonheur donc, l'essentiel de la set-list revisite les albums cultes de la grande et glorieuse époque où The STRANGLERS étaient encore synonyme de méchants garçons. Auréolés aujourd'hui de la sagesse et de la maturité de quinquagénaires à l'extérieur propret, ils conservent néanmoins un intérieur bien sale.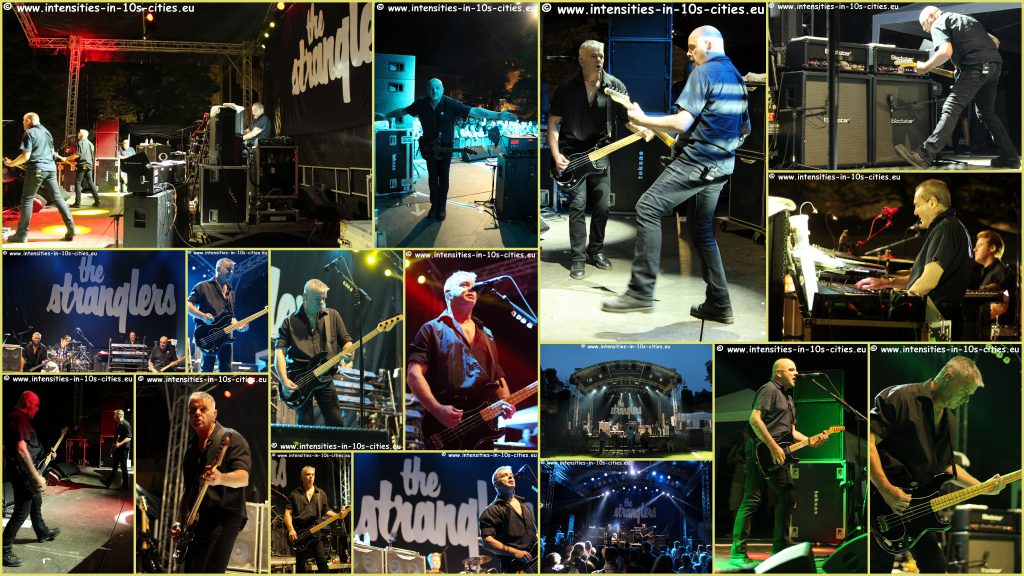 Le 3ème des 4 membres historiques de la formation des seventies n'est cependant pas au rendez-vous derrière sa batterie ce soir. Sur le ton ironique qu'on lui connait, et avec un sourire en coin qui en dit long, JJ BURNEL présente en effet le remplaçant de Jet BLACK , celui-ci étant souffrant et absent donc pour cause de maladie, ayant par le passé un peu trop investi dans l'économie colombienne (sic ;-). Le show commencé sur l'air de Men In Black le temps que les 4 lascars rejoignent les planches se termine donc sur Heroes et non pas sur Buddy pourtant mentionné sur la set-list.
Si le synthé a depuis longtemps remplacé l'Hammond sur scène, le côté vintage et la fidélité du son n'en sont en rien altérés. La puissance non plus d'ailleurs, ainsi que le fait remarquer Burnel à la fin de Nice'n'Sleazy: se gaussant d'une madame (sic) au 1er rang se bouchant les oreilles durant tout le morceau (alors même qu'il avoue qu'il allait demander d'augmenter le volume…), il lui adresse au micro la parole du Sage: "Si vos oreilles ne saignent pas à la fin de la soirée, c'est que vous n'avez pas vécu! It's rock'n'roll…!!". Appreciate :

Autre registre, autre speed : celui de PETER PAN SPEEDROCK. Sur l'affiche et dans les faits, la meilleure entrée en matière qui soit avant The Stranglers. Les Hollandais électrisent une foule – toutes proportions gardées – qui sera à point chaud-boulette lorsque les Men in Black monteront sur les planches en fin de soirée.
Les trois gars d'Eindhoven savent comment mettre une scène à feu et à sang, avec un speedrock tout ce qu'il y a de plus honnête et de plus basique. Ce qui n'enlève rien à l'intensité et à la densité de la prestation de PETER PAN SPEEDROCK. Ca cogne, ça rigole et ça marche, dans la joie et l'allégresse. Alleluia.
Sûr que ces Hollandais-là ne sont pas de la trempe de ceux qui trainent leur caravane en bouchonnant sur les nationales. Et s'ils en tractent une, c'est à bord d'un dragster qui doit cracher le feu – et sans kaas entre les dents. Une Heineken au pire, voire deux, et une tulipe dans chaque narine pour camoufler les relents d'herbe.
Bedankt PETER PAN SPEEDROCK pour cette salutaire cure d'énergie, de décibels et de speed. Après vous avoir moultes fois ratés dans la région ces dernières années, la rencontre de ce soir n'en a que plus de saveur et de piment. L'éclectisme (à outrance ?) de l'affiche étant ce qu'il est, les Hollandais volants succèdent ainsi à PUGGY en laissant SIDILARSEN clôturer cette douce nuit estivale.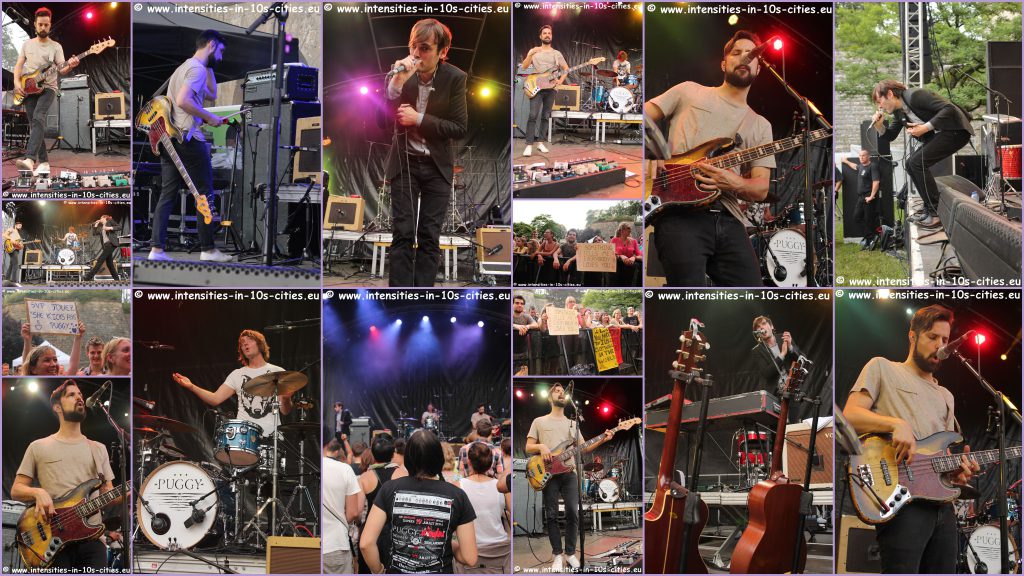 Que dire des mignons PUGGY qui n'aurait pas encore été dit ni écrit – ici notamment ? Laissons dès lors la parole à une de leurs fans plus inspirée que nous:
PUGGY, avec l'album "To Win the World" …. Un album electro-pop-rock, très loin des « sons » que l'on entend tout l'après midi. Il est clair que ce festival est pour un public averti (les fans de metal, hard, heavy, de rock pur et dur). Mais PUGGY joue là ou on ne l'attend pas, cela fait partie de sa marque de fabrique. Car ce sont eux qui le disent « On joue partout ou l'on veut de nous » et le Rock'n roll Train Festival les voulait … Quand on sait qu'ils ont repris « Vesoul » de Jacques Brel lorsqu'ils ont fait la première partie des Smashing Pumpkings à Bercy en 2008, on ne s étonne pas de cette soirée à Longwy. Le public les a écoutés, certains étaient là pour eux, d'autres ont regardé par curiosité. Ils ont assuré comme les pros que l'on connait, se sont amusés, et donné tout ce qu'ils pouvaient pour convaincre les nouveaux, et satisfaire les inconditionnels de leurs concerts.
Effectivement, les gars restent simples, sympas et naturels sans se prendre la tête – que souhaiter de plus de leur part, à défaut d'un graisseux rock'n'roll qui ferait quand même transpirer – style électro-métal et stagedivings à la SIDILARSEN ?