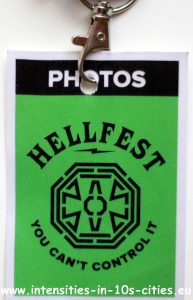 Aaaaaaah, le HELLFEST…! Avec l'historique Download, le mythique Wacken et notre Graspop national, nous voici face au quatrième mousquetaire – et non des moindres. En ce solstice d'été 2019, le vignoble nantais accueille la 14ème édition de cette grand-messe devenue incontournable au même titre que les trois premières nommées. Sold out depuis près d'un an en moins de deux petites heures, les 180.000 tickets pour ces 3 jours et ces 3 nuits d'Enfer sont à l'image de l'événement: dantesque, hallucinant, colossal, titanesque mais surtout magique…
Le site semi-permanent offre un décorum digne du meilleur Mad-Max, quand ce n'est pas plutôt Games of Throne ou Alien. Aucun festival – par définition éphémère – n'est en mesure de rivaliser avec des infrastructures ici permanentes. A moins que peut-être Tomorrowland dans un tout autre registre, mais sans les deux immenses mainstages dont peut se prévaloir le Hellfest, flanquées de pas moins de 5 écrans LED aussi démesurés et gigantesques que les scènes elles-mêmes.
Un premier écran à gauche de la scène gauche, un second à droite de la mainstage right, un troisième entre les deux scènes, et enfin deux écrans identiquement démesurés en toile de fond de chacune des deux scènes revenant latéralement sur leurs flancs. Un dispositif visuel qualitatif et quantitatif tout bonnement exceptionnel et unique pour ne manquer aucun rictus caché, aucun poil de barbe rebelle ou aucun ongle mal coupé. Redoutablement efficace, ou effroyablement intrusif c'est selon…
Trois immenses chapiteaux semi-ouverts hébergent 3 scènes supplémentaires tandis qu'un 6ème et dernier lieu de débauche sonore, en total open-air quant à lui, est lové dans l'amphitéâtre de la War-Zone au décor (permanent) apocalyptique, entre Mad-Max et… Auschwitz. 160 groupes et autant de concerts vont transformer le parc de Clisson en un enfer pavé de bonnes intentions 3 jours et 3 nuits durant, sous un soleil de plomb aussi implacable et redoutable qu'une sonorisation tout bonnement ex-cep-tion-nel-le et jamais – ô grand jamais – auparavant nulle part rencontrée.
3 jours et 3 nuits de peace & love, d'amour et d'amitié, de fête et de débauche sonore, de gastronomie et de divertissements, de déguisements et de wall of death, de pit-circle et de bières. Le Hellfest est devenu le plus gros vendeur de bières français avec 800.000 litres vendus en trois jours (pour 180.000 personnes, frêles femmes et jeunes enfants compris) sur 350 mètres de linéaires, alimentés par 15 citernes de 250 hectolitres, 40 tanks de 1.000 litres, huit semi-remorques et 4 km de tuyaux qui courent enterrés sous les pieds des festivaliers.
Mais notre HELLFET, c'est aussi près de 65 km parcourus en trois jours, entre parkings et site du festival, entre mainstages et espace-presse, entre scènes diverses et VIP area, entre bars, fronstage et conférences de presse. Ce sont 3 jours passés a faire inlassablement le pied-de-grue de midi à minuit dans l'accès des différents pits photos, sous un soleil de plomb, entre les hurlements de la foule dans le dos et le véritable mur de la scène qui se dresse devant nous – mainstage #2 à ce point haute que sont totalement éclipsés de nos objectifs le batteur ou les musicos se tenant quelque peu en retrait…
« Notre » HELLFEST, ce sont aussi 3 jours de stress et de tension, de peur de perdre une seule des 200 ou 250 précieuses secondes dont les photographes accrédités sont gratifiés pour tirer le meilleur cliché du set sur lequel ils ont jeté leur dévolu, sacrifiant par là d'autres prestations simultanées ou quasi. Notre HELLFEST dans le photo-pit est en définitive tout sauf une sinécure, et s'apparente davantage à un des douze travaux d'Hercule qu'à une promenade de santé ou à un moment festif de pur délire. Et dire qu'il y en a qui croient qu'on s'amuse…
Notre HELLFEST, ce sont donc aussi et surtout des moments puissants et uniques, magiques et épiques, entre belles surprises et grosses claques, entre émotions et passion(s), mais aussi entre frustrations et quelques rares déceptions. Si le HELLFEST a hébergé les adieux définitifs à la France de SLAYER, de KISS et de LYNYRD SKYNYRD – excusez du peu – c'est bel et bien la prestation de TOOL qui était très attendue de beaucoup. Le fondateur du HELLFEST, Ben Barbaud, avoue depuis longtemps que la venue des Américains faisait partie de ses objectifs prioritaires depuis des années…
Ainsi, il est minuit et demi en ce dimanche, troisième et dernier soir, quand TOOL déboule sobrement, discrètement, sur scène en toute fin de festival et déstabilise une bonne partie du public. Comme à l'accoutumée, les Californiens restent dissimulés dans une semi-pénombre, laissant toute la place à leur musique. Se retranchant derrière leur musique. Tout pour leur musique. Même les écrans géants ne les montrent pas un seul instant, affichant au contraire les mêmes images expérimentales et anxiogènes que nous avions pu découvrir la semaine dernière à Amsterdam où nous avons eu la chance de les découvrir.
Pas un mot non plus, pas un bonsoir, pas un merci, mais une musique allant crescendo, déversée sur Clisson par le biais d'une sonorisation d'une perfection aussi apocalyptique et hallucinante que tout simplement… parfaite. N'en demeure pas moins que face à un parterre de 60.000 personnes, l'absence de tout visuel du band sur les immenses écrans LED est pour certain du foutage de gueule. D'autres y voient au contraire l'expression ultime que TOOL n'en a que pour sa musique et rien que pour sa musique, ses structures alambiquées secouées de déflagrations. Et quelles déflagrations…
Au préalable, ANTHRAX prépare sur la mainstage #2 l'arrivée de SLAYER avec un Tom Araya qui semble particulièrement ému de faire ses adieux au public français. Vétérans en tournée d'adieu, SLAYER ne faillit pas à sa réputation avec quasiment que des tempos rapides du début à la fin. On aime ou – comme nous – on n'aime pas vraiment. Toujours est-il qu'Araya n'a manifestement pas envie de partir, et restera longtemps à saluer un public en délire sous les flashs d'un gigantesque feu d'artifice qui salue ainsi les adieux français de SLAYER (… ou qui annonce l'arrivée de TOOL sur la mainstage #1 ?).
Autres adieux réussis la veille, et le mot est faible: ceux de LYNYRD SKYNYRD avec ce véritable moment chaire-de-poule et cet intense et émouvant set. Au soleil couchant qui baigne d'une chaude lumière horizontale la mainstage #1, le rappel (tout à fait imprévu?) qu'entament les Sudistes avec leur magistral FreeBird à l'heure même de quitter la scène fait partie de ces rares et précieux moments qui comptent dans une vie. Ce morceau de bravoure sera par ailleurs la seule – la seule – entorse à un planning rigoureusement tenu à la seconde près sur les 6 scènes du HELLFEST les 3 jours durant. Remarquable, émouvant et poignant pied-de-nez de LYNYRD SKYNYRD au système en guise d'ultime révérence après 50 ans de bons, loyaux et fidèles services. Masterclass.
Distingué et tout en élégance, cet ultime Freebird – et nous réalisons alors que plus jamais il ne nous sera donné de l'apprécier en live. Feu Ronnie Van Zant prendra même les commandes des lead vocals via une séquence filmée en noir et blanc: après nous avoir réservé sur Simple Man photos et vieux films de famille projetés sur les écrans, LYNYRD est tout simplement magique pour ses adieux. Tout simplement magique. Séquence émotions, avec un public qui le lui rend à l'unisson…
Richie KOTZEN, bien loin de Poison et de Mr Big, nous déverse à l'heure de l'apéro son excellent blues-rock-hard-soul à la Rory Gallagher. Tout l'opposé d'une double cuvée germanique également présente à l'affiche: à EISBRECHER, totalement dans la lignée de Rammstein, nous préférons leurs excellentissimes compatriotes et vétérans de BÖHSE ONKELZ
Que du beau monde à mentionner dans le lineup de DEADLAND RITUAL, à commencer bien évidemment – à tout seigneur tout honneur – par son fondateur Geezer Butler en manque manifeste de Black Sabbath, rejoint par Steve Stevens (Billy Idol), Matt Sorum (Guns N' Roses) et Franky Perez (Apocalyptica). Un set composé en grande partie de reprises de Sabbath, de Heaven & Hell, de Velvet Revolver et de Billy Idol: que du bonheur pour un supergroupe / tribute band (biffer la mention inutile).
Un EAGLES of DEATH METAL malgré tout surprenant annonce l'arrivée d'un tout grand WHITESNAKE. Même si Coverdale n'a plus vraiment sa légendaire voix, le band est là pour assurer malgré de dispendieux et inutiles soli de guitares et de drums (quoique Aldridge demeure un batteur hors-pair). Ces démonstrations surannées n'ont définitivement pas (plus) leur place en festival dans le cadre d'un set d'une petite heure – si ce n'est en la présente circonstance pour permettre au beau David d'aller reposer ses cordes vocales. Et vu ce qu'il en fait encore, on ne peut que lui pardonner.
A bien vite oublier, malgré l'avoir évité depuis des décennies: DEF LEPPARD – l'erreur de casting, ou plutôt l'erreur tout court qui perdure et se maintient en haut des affiches de manière incompréhensible depuis des lustres, entre tubes US insipides et ballades sirupeuses d'une totale vacuité. Tout l'inverse d'un ZZ TOP qui fête en grandes pompes ses 50 ans de carrière, démontrant une forme olympique avec un set sans grande surprise si ce n'est une présence scénique et un enthousiasme communicatif qu'on ne leur connaît guère.
Pour ses adieux à la scène, KISS présente une mise en scène pharaonique, mais la démesure ne compense pas une prestation sans beaucoup d'âme malgré une set list plongeant loin dans le passé – et rappelant aux ignares que KISS a indéniablement fait partie des grands du rock'n'roll… avant de devenir une vulgaire arme de distraction massive. En 2019, KISS tire la langue – et pas que Gene Simmons – à l'occasion donc de ce qui est également leur dernier concert en France au terme de 45 années de carrière.
Les gars livrent une performance souvent poussive et trop rarement exaltante, malgré une setlist pourtant emplie de tubes et une débauche d'effets visuels et pyrotechniques. Mais le concept ou plutôt le produit-marketing s'essouffle, et sans doute n'est-il pas inopportun de ranger définitivement la clé sous le paillasson avant la prochaine tournée de trop. Quoique nous avions déjà assisté en 2000 – il y a 19 ans ! – à trois shows US de leur Farewell Tour 2000 !! Bon sang ne saurait mentir, dit-on.
Les Sudistes de BLACKBERRY SMOKE nous réservent la surprise d'un savoureux « Come Together » en clôture de set, avant de laisser la place à un CLUTCH qui a davantage sa place dans de plus modestes salles que sur la mainstage #1 du HELLFEST. Après avoir déjà supporté la daube de Def Leppard, le grunge sans âme de STONE TEMPLE PILOTS nous assène le coup de grâce à travers une prestation commerciale expédiée sans relief aucun, jusqu'à ce qu'ANTHRAX réveille la plaine de Clisson avec e.a. leur inévitable mais très réussi et inévitable «Antisocial».
Pour qui apprécie le mariage entre Heroic Fantasy et Power Metal, les 5 guerriers de GLORYHAMMER partent à la guerre. On ne sait trop si la reine sera sauvée à la fin, mais on s'en tape royalement. Notre premier GODSMACK sur la mainstage #1 consiste en une bien appréciable surprise de métal alternatif US bien gentillet, à l'inverse de leurs compatriotes encapuchonnés de UADA qui nous plongent dans les ténèbres d'un black metal atmosphérique aux mélodies spectrales: sobre, brutal mais diablement somptueux.
La scène française du 1er jour déverse sur la plein de Clisson un peu de tout, à boire et à manger. Les prestations musclées de LOFOFORA, de NO ONE IS INNOCENT et de DAGOBA sur la mainstage #2 précèdent celle passablement dispensable d'ULTRA VOMIT. Avant que le charme et le magnétisme de MASS HYSTERIA nous réserve le thrill que ne parvient cependant pas à nous fourguer un prévisible et GOJIRA froidement technique.
Le doom de nos chouchous d'UNCLE ACID & THE DEAD BEATS ravage la Valley Stage en ajoutant un brin de heavy et un soupçon de stoner à leur horrifique pseudo-psychedelisme. Les hypnotiques MY SLEEPING KARMA leur avaient solidement préparé le terrain un peu plus tôt sur la même scène, dénotant d'un KVERLERTAK éjaculant un concentré enthousiasmant de métal suintant le death, le rock, le punk et le black sur la Altar Stage. Tout l'anti-thèse de la rigidité d'un DREAM THEATER fidèle à lui-même qui ne nous exalte pas plus que la semaine dernière à la Rockhal de Luxembourg, mais sans non plus la verve d'un DROPKICK MURPHYS qui n'a pourtant guère sa place sur la mainstage #1 en prélude aux guerriers de SABATON. Les Suédois remplacent au pied-levé MANOWAR suite à un sombre et obscur forfait déclaré plus tôt dans la journée, et qui terminera sans doute devant les tribunaux.
SABATON réserve une place de choix à quelques extraits de leur dernière galette qu'ils nous avaient présentée en exclusivité il y a quelques semaines à Verdun, et sa dimension scénique achève de nous convaincre…
TESLA roule à l'électricité (ah ah ah) et sait faire parler les watts (hi hi hi), mais pas vraiment la poudre (boum !). Et à propos de poudre, notre vénéré et vénérable SLASH nous laisse sur notre faim – une fois n'est pas coutume. Non pas qu'il n'avait pas la gnac, le SLASH, mais corseté dans un format festival qui ne convient pas à son tempérament de feu, ce type de prestation chronométrée n'est manifestement guère compatible avec son explosivité naturelle et peu contrôlable. Et dire que son concert de début d'année au Cirque Royal à Bruxelles demeure – mais alors là sans discussion aucune – dans notre top 5 historique…
TRIVIUM ainsi que LAMB of GOD ne transcendent pas la mainstage #2, tout le contraire d'un excellentissime CANDLEMASS qui demeure une de nos plus belles claques prises de plein fouet au même titre que WOLFHEART. Un cran en-dessous, YOB ainsi que UADA demeurent au rang des belles découvertes, de même que les guignolesques ME FIRST AND THE GIMME GIMMES qui ont irradié toute la War Zone, cette fameuse zone déjantée un tantinet excentrée et comme hors de tout référentiel sur le festival…
Clisson 2019 est mort. Vive le HELLFEST 2020 !