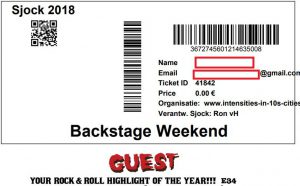 It only takes five seconds…
Il y a de ces moments uniques qu'on vit d'autant plus intensément qu'on a pleinement conscience qu'ils ne se reproduiront plus jamais. Comme lorsque surgit tout à coup à nos côtés Wayne KRAMER qui nous rejoint backstage pour se délecter de la prestation de The BRONX sur la mainstage du Sjock Festival. Ouch ! OMG ! En voulant serrer la main que nous lui tendons en guise de simple et cordiale salutation, il sort la sienne de sa poche en faisant tomber un onglet. Se baisse pour le ramasser fissa, et nous le fourgue dans la paume de la main en nous tapant dans le dos, sans mot dire mais avec un sourire malicieux qui en dit bien plus long.
Priceless…
Ou quand ce même KRAMER se joint aux quelques Belges que nous sommes, agglutinés autour d'une tablette posée sur un Marshall au repos, tentant de suivre à la fois d'un oeil la prestation de The BRONX qui terminent leur set et de l'autre la fin du quart de finale de cette Coupe du Monde où les Diables Rouges finiront pas sortir les Brésiliens par un magistral 2-1.
Surréaliste…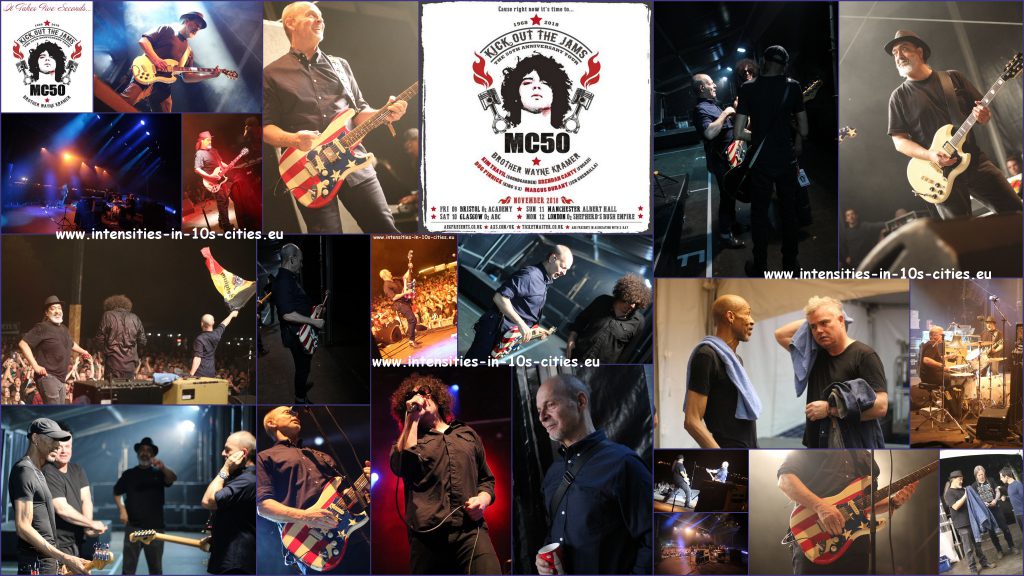 Des mythiques 5 gars de MC5 – Motor City – il ne reste plus aujourd'hui que Wayne KRAMER. Mais s'il ne fallait en rester qu'un… C'est donc sous l'appellation MC50 (en l'honneur des 50 ans de l'inégalable et fondateur "Kick Out The Jams" sorti en 1968) que KRAMER nous balance ce soir toute la sauce pour l'intégrale de cet album, entouré pour la circonstance de Kim Thayil (Soundgarden) et Dug Pinnick (King's X).
Avec l'allure d'un gentleman, la distinction d'un lord et la prestance d'un seigneur, papy KRAMER du haut de ses 70 balais nous envoie du lourd sans faire mine d'y toucher. Du bout de ses doigts qui courent sur le manche, il est effarant de constater que Kick Out The Jams n'a pas pris une seule ride en un demi-siècle. Et Zen Guerrilla aux vocals, depuis la voix jusqu'à l'apparence, a tout pour parfaire l'illusion. Nous ne serions pas né en 1964 qu'on se croirait retourné en 1968 – aidé en soi par le décor sauce sixties de ce Sjock Festival.
MC5 et The Amboy Dukes rivalisaient de surenchère sonore pour faire de Detroit, à la fin des années '60, la Motor City qui a accouché ensuite de monstres sacrés nourris aux décibels: d'Iggy Pop à Wayne Kramer, de Ted Nugent à Alice Cooper, de Kiss à Bob Segers en passant par Grand Funk Railroad, c'est toute une génération qui a enfanté la puissance du son garage de Detroit, qui a permis cette démesure sonore sans nulle pareille. Nous en avons des images qui se bousculent plein la tête, et les tympans en érection. Priceless. Total respect, Brother Kramer…
'Cause right now it' time to…
Right now it's time to...
It's time to...
Kick Out The Jams, Motherfuckers.