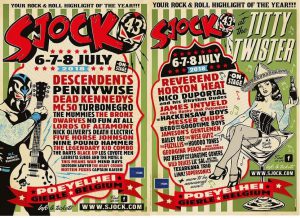 Toujours aussi rebelles comme des ados attardés qu'ils ne sont pourtant plus, DEAD KENNEDYS crachent sur tout, critiquent tout, remettent tout en question et jettent tous les bébés avec l'eau de leur bain. Manière de rappeler sans doute leur pedigree profondément punk de la première heure ? Soit, même si à un certain âge, ce discours anticonformiste primaire fait plus sourire qu'autre chose, et qu'on préfère quand ils jouent plutôt que quand ils la ramènent.
A l'instar de The DARTS , de The LORDS of ALTAMONT et de NINE POUND HAMMER qui partagent plus tôt dans la journée la mainstage du SJOCK Festival, DEAD KENNEDYS terminent ici à Gierle leur tournée européenne: de quoi nous offrir un bouquet final digne de leur statut de tête d'affiche du samedi.
L'image la plus rebel punk que DEAD KENNEDYS nous laissent en définitive est celle de la toute fin de leur set. Alors que ses comparses saluent une dernière fois l'audience avant de tourner casaque, le vétran Klaus FLOURID se débarrasse nonchalamment de sa basse en la laissant choir violemment et dédaigneusement sur les planches, de la manière la plus désinvolte et la plus détachée qui soit.
Retournant backstage sans demander son reste ni adresser le moindre salut au public, avec sa dégaine de papy rangé, nous sommes les seuls à profiter du large et malicieux sourire d'(auto)satisfaction qu'il arbore jusqu'aux oreilles, comme un sale gosse qui vient d'en faire une bien vicieuse et qui se casse sans demander son reste. Punk.