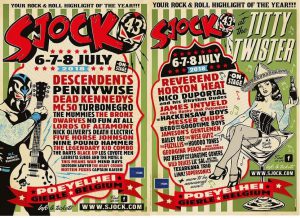 Maintenant en ligne, le plus ancien festival de Belgique toujours en activité – tel un volcan – qui fête cette année sa 43ème édition, excusez du peu: le SJOCK FESTIVAL.
Sans doute le festival le plus décontracté et le plus cool qui soit, mais aussi le plus déjanté, le plus festif et le plus décalé de toutes ces grands-messes auxquelles nous prenons part de l'intérieur.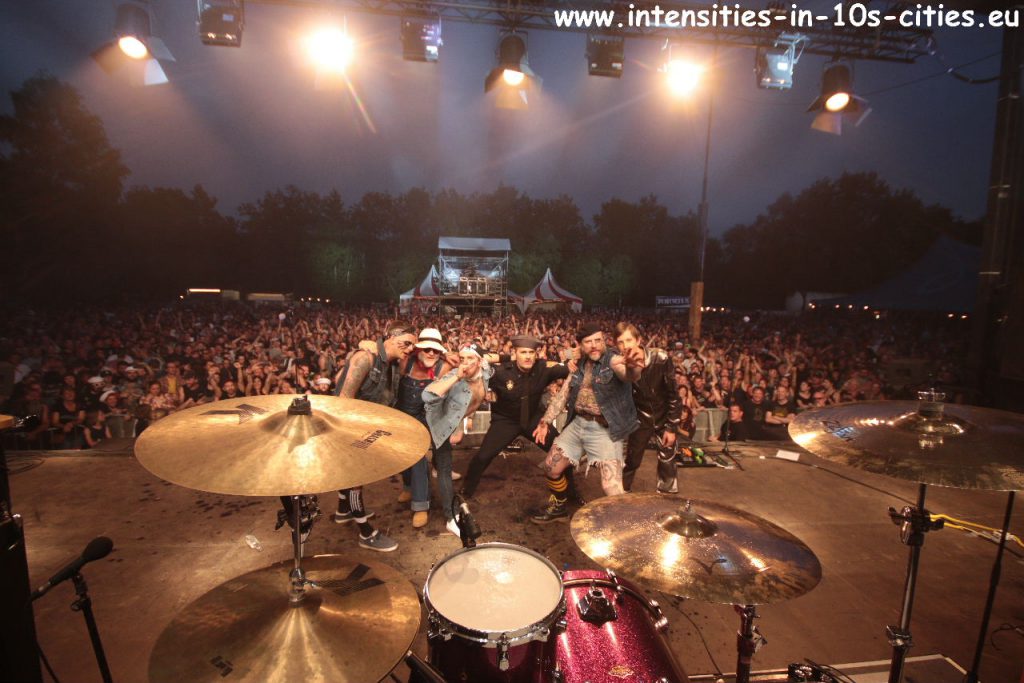 (photo: Turbonegro)
Un festival bon enfant aux relents surannés golden sixties et à taille humaine, qui n'a pas encore été phagocyté par les grands noms du circuit, et qui n'a pas encore été cannibalisé non plus par les majors du secteur. Tels les irréductibles Gaulois, le SJOCK FESTIVAL résiste encore et toujours à l'envahisseur impérialiste (LiveNation ?), capitaliste (Herman Schueremans ?) voire communiste (Kim Jung Un ?).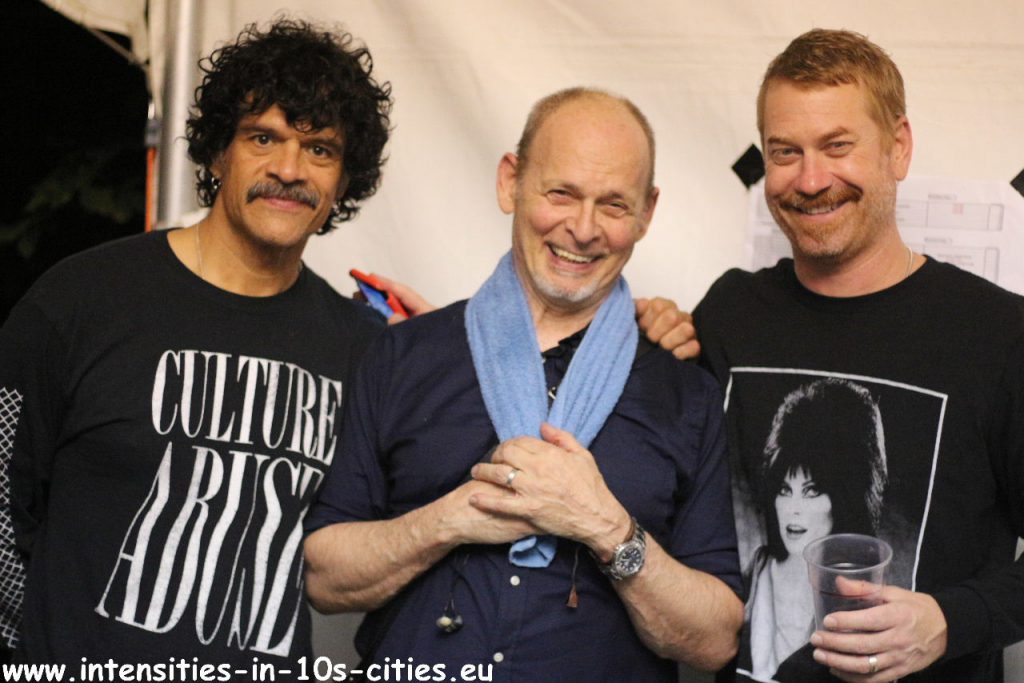 (Photo: Wayne Kramer encadré par deux membres de The Bronx)
Le SJOCK se revendique être – à raison – le festival plus secret de Belgique, Your Rock'n'Roll higlight of the year… Oh que oui ! Lointaine est déjà l'origine de ce festival de potes du club des jeunes d'un village perdu de la Campine flamande (dont certains sont toujours à la manoeuvre !), qui a grandi, grandi et grandi pour voir défiler les plus grands noms qui soient, sans tapage, sans bruit, sans vague, sans marketing ra(va)geur et sans se prendre la tête.

Le SJOCK FESTIVAL est devenu ce qu'il est aujourd'hui, accueillant encore de sacrées pointures mondiales qu'on ne verra nulle part ailleurs en Belgique cette année: des déjantés de TURBONEGRO aux revenants de DEAD KENNEDYS, des poulettes de The DARTS aux rageurs de The BRONX en passant par LORDS of ALTAMONT et The BONNEVILLES, il n'y a que du bon. Et il y a même un peu plus: je vous le mets…?
Mais s'il ne fallait mentionner qu'un seul nom parmi tant d'autres, nous choisirions sans hésiter Brother Wayne KRAMER et ce qu'il reste de son mythique MC5. Oui, vous avez bien lu: MC5(0) en Belgique, Brothers & Sisters. Pincez-nous…! Sorti en 1968, l'inégalable "Kick out the Jams ! " célèbre son demi-siècle avec Brother Wayne KRAMER qui nous le rebalanee dans les gencives – version intégrale. OMG !