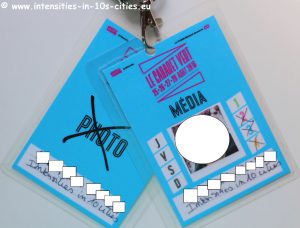 Où – ailleurs qu'au Cabaret Vert bien entendu – pourrait-on apprécier le même jour sur la même scène MASTODON qui ouvre les hostilités dès 16h15 et Louise Attaque qui les prolonge en soirée – sans parler de Nekfeu qui clôture les festivités?! Nulle part ailleurs…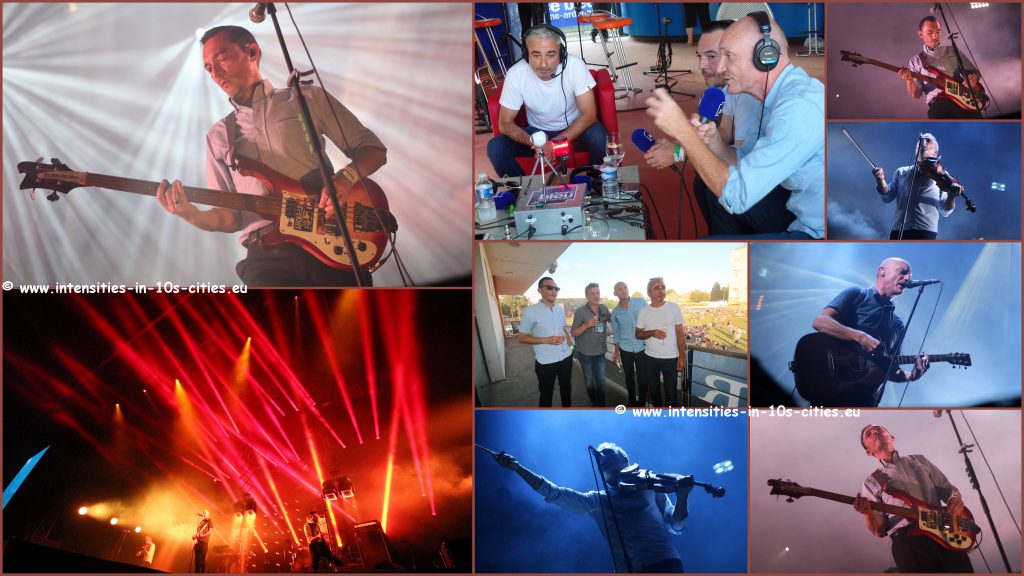 Le thermomètre affiche très exactement 35° à l'ombre lorsque nous arrivons sur les lieux – presqu'un record pour la saison, ce qui n'empêchera nullement MASTODON, en plein soleil, de rentrer dans le lard de la grande scène.
La chaleur qui écrase le Square Bayard ralentit simplement les mouvements mais en rien le tempo de leur sludge ravageur. Une heure d'efforts sous un soleil de plomb déshydrate les corps et échauffe les esprits tant sur scène que dans l'herbe: les boss nord-américains remercieront d'ailleurs chaudement un public qu'ils qualifient de best audience qu'ils n'aient jamais eue en ouverture de festival. Normal, quand on donne tout, on reçoit tout…
Si MASTODON fait parler la poudre, le quatuor donne néanmoins davantage l'impression de cohabiter et de partager la scène plutôt que de l'investir comme un seul homme. La chaleur étouffante n'est pas propice aux performances hors normes (ni aux attouchements ou accolades, si ce n'est sur l'herbe…), et sans doute faut-il trouver là une probable explication à ce constat bien vite oublié de par la phénoménale puissance de feu du band.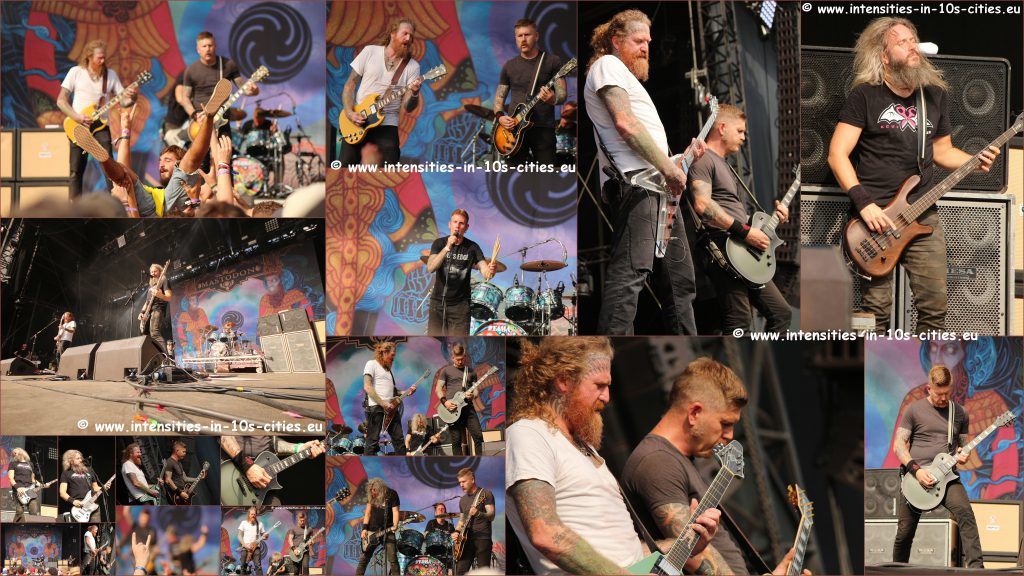 Le fer de lance du New Wave of American Heavy Metal mérite bien mieux que cette plage horaire, ingrate, de début de journée – mais à vaincre sans péril, on triomphe sans gloire. MASTODON, alors, est glorieux. Jubilatoirement glorieux – gloria in excelsis deo.
Cela faisait des plombes que nous attendions de prendre en pleine tronche la claque WOLFMOTHER, et le trio nous en a effectivement mise une solide dans les gencives. Sa puissance lourde et stoner en droite ligne des 70's, envolées psychées comprises, tient toutes ses promesses avec autant de charisme au cm² que de décibels aux cm³: ça situe…?!
Les australopithèques nous balancent un pur r'n'r show, costaud et authentique, qui nous renvoie dans les cordes d'un grand ring époque seventies. Andrew STOKCDALE et ses deux comparses semblent en effet tout droit sortis d'une machine à remonter le temps, mettant au goût et aux sonorités du jour des compos qui auraient – comme qui dirait – traversé les décennies, décongelées aujourd'hui à la sauce Hibernatus. Orgasmique, punt aan de lijn.
WOLFMOTHER, c'est danse avec les loups – mais plutôt version loups garous. Ses relents de Grand Funk Railroad nous en mettent une sérieuse dans les camouilles. Ô extase divine, c'est splendeur et splendosité comme un oiseau tissé en fil de paradis. Comme un nectar argenté coulant dans une cabine spatiale, et la pesanteur devenue une simple plaisanterie…
WOLFMOTHER a le look des seventies, WOLFMOTHER a le goût des 70's, WOLFMOTHER a la saveur des années septante, WOLFMOTHER c'est back to the future de chez les kangourous, croisement improbable de Black Box Revelation et de Marty McFly. Un régal. Une purge. Un lavement et un trépanage à la fois… Merci docteur.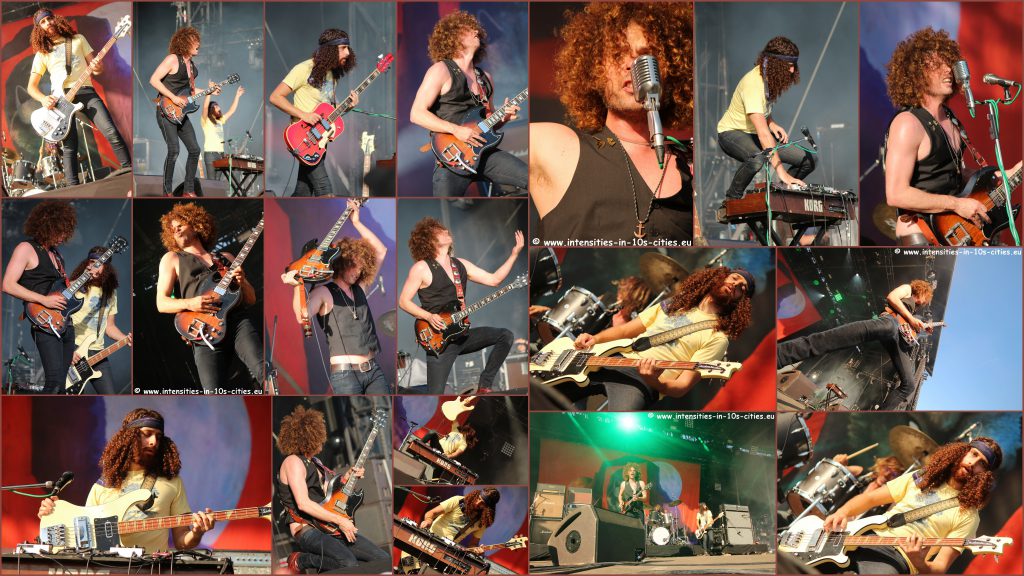 Qu'apprécie-t-on le plus au Cabaret Vert: sa carte des bières (… 21 !) et de mets liquides et solides semi-artisanaux plus délicieux les uns que les autres, ou l'affiche de ces 4 jours multi-culturels à quasi 100.000 personnes ?! A nouveau, l'éco-festival des Ardennes frappe fort et bien (et bien fort). Le Cabaret Vert, c'est surtout une belle réussite territoriale et un éco-projet multi-culturel, reflet de toute une région et de la dynamique de ses habitants-acteurs dans un grand élan sociétal de mixité sociale et de mélange des disciplines: BD, arts de rue, débats, cinéma, théâtre forain, gastronomie, éco-développement, etc.
Le Cabaret Vert a l'accent aussi associatif qu'humain et présente de solides penchants aussi festifs que gustatifs. C'est un ovni dans le paysage des festivals de l'été. Economie durable et locale côtoient rock'n'roll et techno, mais aussi solidarité(s) en tous genres et rencontres alternatives et créatives. C'est pour cela qu'on y revient au Wild Wild Fest : son esprit sauvage et indomptable continue d'écrire son histoire, sans renier ses valeurs. 94.000 festivaliers l'ont encore bien compris cette année…
L'an dernier, les riot grrrl de L7 ont fait leur grand comeback après quinze ans d'absence. Le Hellfest s'en rappelle encore et c'est maintenant au tour du Cabaret Vert d'être secoué par les riffs du quatuor. L'Angleterre a Girlschool, les Etats-Unis ont L7 ! Les grunge ladies ne sont plus de première fraîcheur, mais sont également loin d'être périmées: la date de péremption ne semble d'ailleurs même pas être pour demain non plus.
Pur produit féminin de la grunge generation, aussi dingo sur scène qu'enragées et engagées, les quatre de L7 c'est du pur rock sans compromission et sans fard. L7, c'est comme des jambonneaux dont on aurait ôté le filet pour ne garder que la couenne; c'est bien gras mais relevé à la fois, et finalement très fin même si elle ne font pas dans la dentelle. Ce serait d'ailleurs plutôt corset et cuir…
L7, c'est un peu comme si Kurt Cobain s'était réincarné en pin-up défraîchie. Ca balance ferme et ça secoue grave, avec une saveur surannée fin eighties. A l'époque, Nirvana explosait; L7 également. A la différence près que L7, c'est un peu comme le big bang: il est vieux comme le monde, mais on peut encore l'entendre.
Chapeau bas, les filles: le culot se les dispute au panache, et la cellulite à la peau de pêche. Et quelle pêche, L7 !