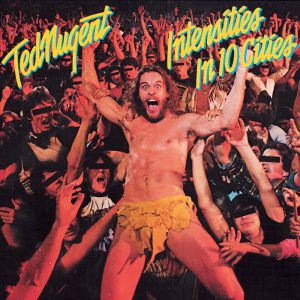 Une review signée Hervé PICART parue dans le magazine BEST n°236 en 1981:
C'est bien connu, la guitare de Ted Nugent vaut tous les bâtons de dynamite du monde. Mais si les albums studio de Guitarzan sont de bien régénérants feux d'artifice, il est certain que c'est sur scène que le hard de l'enragé de Detroit prend toute son explosive valeur. D'où ce prestige de "Gonzo" par rapport aux autres albums. "Gonzo" a aujourd'hui un petit frère digne de lui en la personne de cette boule de nitroglycérine au titre inénarrable : "INTENSITIES IN TEN CITIES". Mais ce nouvel album, qui est sans doute un des plus fameux de Ted, et un monument de hard, se singularise définitivement, car Ted y tient une gageure tout à l'image de cet inépuisable et généreux vantard. Il n'y a sur cet album live que des nouveaux morceaux. Vous vous souvenez que, lors de sa dernière interview dans Best, Nugent vous avait raconté qu'il écrivait la majorité de ses morceaux sur la route, les répétait en sound-check, et les jouait souvent le soir même de leur création. Ted aime tout ce qui va vite, c'est son mode d'exister. Chez lui, tout arrive à fond de train, il n'est pas nécessaire de fastidieuses manoeuvres préparatoires. Or, puisque ses bulldozers sonores ne prennent toute leur valeur que dans la catalyse vrombissante du live, pourquoi aurait-il été reclure l'énergie de ses nouveaux morceaux dans l'intimité besogneuse d'un studio ? Il suffisait de les saisir encore tout chauds, à peine sortis de son cerveau gargantuesque, et c'est ce qu'il a fait.
Inutile de dire que l'on a alors avec ce disque un sommet dans l'énergie, la spontanéité et la fureur de vivre. Regardez-moi ces titres qui sentent la chair fraiche et la poudre, tout y est dit. Nugent ayant l'art du slogan hard : "Spontaneous Combustion", "I am a Predator", "TNT Overture", "I Take no Prisoners". Voilà des titres qui condensent en eux cette barbarie fondamentale du rock de Nugent. Et la musique fournie est à leur image : une série de galops effrénés, une énergie en tourbillon. Nugent est ici au point culminant de son identification avec le hard dans sa perfection. Et sa personnalité est telle qu'alors que tout ici est réservé à sa pleine et seule expression (les autres n'étant que des comparses interchangeables), ce disque parait encore trop étroit pour contenir toute sa rage boulimique. Chaque morceau est ici un événement, un crête. A chaque solo, Nugent découvre d'autres facettes de son jeu de titan, aligne des performances toutes différentes. Ce démon hilare semble avoir transformé son manche en un générateur d'infini, tant il semble repousser à chaque intervention les limites de l'hystérie et du brio. A tous égards, tant par l'audace de son projet que par l'exceptionnelle densité de sa réalisation, "INTENSITIES IN TEN CITIES" est réellement un des chefs d'oeuvre du hard-rock. Plus qu'indispensable, voilà un disque franchement vital pour tous les affamés du genre.
PS: Et avez-vous remarqué quel sigle forment les initiales du Ted Nugent Tour ? Tout porte décidément la marque du cataclysme.
© Hervé PICART, magazine BEST – 1981
(Verse one)
I've got no inhibitions, so keep your keys out of your ignition.
I steal a car like I got the curse, I can't resist the old lady's purse.
(Chorus)
Jailbait, you look so good to me,
Jailbait, won't ya set me free.
Jailbait, you look fine, fine, fine. And I know I got ta have ya in a matter of time…
(Verse two)
Well, I don't care if you're just thirteen, you look too good to be true.
I just know that you're probably clean, there's one little thing I got ta do to you.
(Verse three)
So, tell your mama that I am back in town, she likes us boys when it's time to get down.
She's got this cravin' for the underage, I just might be your mama's brand new rage.
(Chorus two)
Jailbait, you look so good to me.
Jailbait, won't ya set me free.
Jailbait you look fine, fine, fine – I know I've got ta have ya in a matter of time.
(Out chorus)
Oh baby. My baby, honney, you look so nice. She's young, she's tender, won't you please surrender.
She's so fine, she's mine, all the time, I've lost my mind.
Oh, it's all right baby, it's quite all right I ask your mama.
Wait, wait, wait a minute, Officer. Wait a minute, Officer: don't put those handcuffs on me.
Put 'em on her and I'll share her with ya, hey, hey, hey.
Baby, baby, baby, Jailbait – Well I need ya Jailbait – Well I need ya, gotta have ya…"
© Ted Nugent – Magicland Music, 1981
… a apprécier en live à Paris en 1981 : "Jailbait"