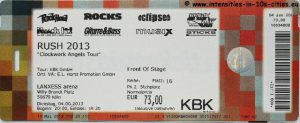 La claque que nous a assénée RUSH en pleine figure avant-hier à Amsterdam (voir ci-dessous) s'est muée ce soir en douce euphorie voluptueuse : la surprise hollandaise fait aujourd'hui place à la délectation allemande avec un RUSH encore un cran au-dessus de ce qu'il est concevable d'imaginer comme impossible. Le sourire et le sens de l'humour des trois crémières en plus…! Cerise sur le gâteau, une adaptation de la set-list (8 changements) nous préserve le privilège d'être à nouveau surpris tant durant la première partie que pendant la seconde, tout en maintenant l'architecture générale des trois heures de show.


Une première heure essentiellement eighties donc, une seconde heure enjolivée de l'ensemble à cordes (deux violoncelles et cinq violons en background sound), et une troisième heure qui balaye allègrement quatre décennies de bonheur. L'ensemble Clockwork Angels Strings reste comme avant hier discrètement posté en fond de scène, tous les sept alignés derrière Neil PEART dont l'impressionnante machinerie se trouve par conséquent exceptionnellement bien en avant-scène. Tout de noir vêtu et pas statique pour un sou – mais au contraire par conséquent bien remuant – le Clockwork Angels Strings Orchestra se la joue complice tantôt avec Geddy LEE qui vient s'y frotter, tantôt avec un Alex LIFESON venant également s'offrir quelque duel de cordes avec le 1er violon.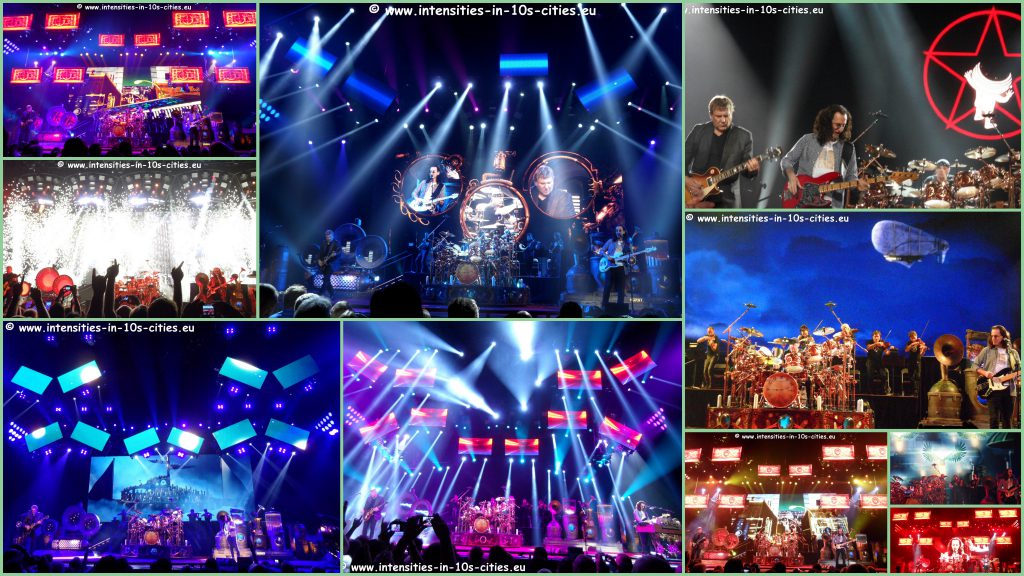 Comme avant-hier, cet ensemble à cordes saupoudre le show d'une toute fine ligne mélodique en background, qui décharge d'autant Alex mais surtout Geddy aux synthés, dès lors moins affairés à devoir jouer des pieds et des mains. La vision d'ensemble est d'une perfection absolue, offrant une scène à l'équilibre parfait tant stage left que stage right, et avec un stage center maintenant des plus étoffés. Un Evening with RUSH se déguste autant avec les yeux qu'avec les oreilles, autant avec les tripes qu'avec le coeur, avec beat et avec bonheur ! Cet Evening with RUSH a definitively fini de me réconcilier avec leur dernier album qui m'apparaissait pour le moins inégal sur galette, mais ô combien un régal sur scène. La maestria dont le trio fait preuve en restituant ce soir ce Clockwork Angels est un moment de bravoure à l'image de la perfection rarement atteinte dont RUSH nous gratifie ce soir. Dieu existe, for sure…
Neil nous offre derechef un double (voire quasi un triple) solo d'une fraicheur et d'une originalité à nouveau inattendues, non seulement par rapport à ses oeuvres passées mais surtout en regard de sa prestation hollandaise d'avant-hier. C'est un renouvellement dans la continuité à cet égard également, à l'image du décorum et du grand design de cette tournée. Alternant savamment les époques, le trio nous fait voyager dans quatre décennies en ne s'épargnant ni peine ni plaisir. Le Lanxess Arena – presque – plein n'en demande pas tant et réserve au band un accueil chaud et musclé jusqu'au final "2112" qui en sera le paroxysmique faîte.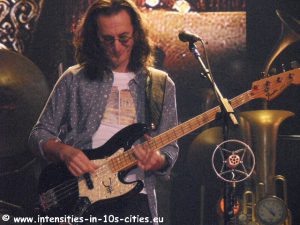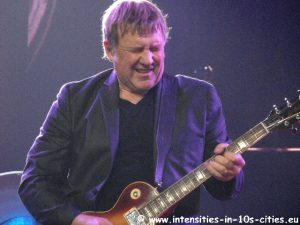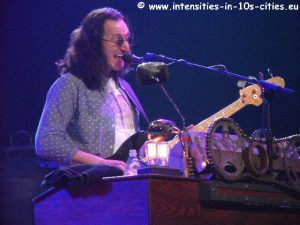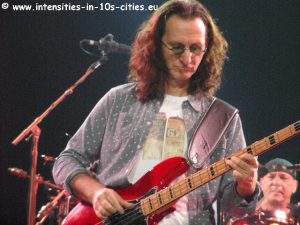 Rideaux : Neil s'encoure backstage après avoir salué debout comme de coutume deux fois l'assemblée, imité de près par un Alex au pas de course et guitare en bandoulière tandis que Geddy ferme comme de tradition la marche en remerciant à nouveau le public et lui souhaitant de se revoir sometimes in the future. Cette vision vécue pour la 32ème fois en ce qui me concerne restera probablement une des plus mémorables de par la fraîcheur et la capacité de RUSH a encore, encore et toujours surprendre, se renouveler et innover. Fort de son passé mais résolument tourné vers un futur qui prend racine dans un présent riche, RUSH – à l'instar de la Joconde – a sans doute ce soir atteint le Panthéon de l'Art Universel – qu'on apprécie ou qu'on exècre ces Canadiens, ou qu'ils laissent indifférents. Si pas plus, ni moins. Reste cette lancinante et surtout angoissante question : comment vont-ils faire encore mieux la prochaine fois…? The rise & rise of RUSH, for sure.