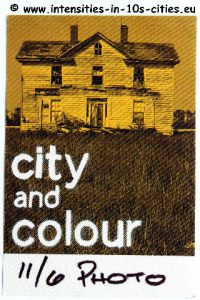 Mais qu'il a une bonne bouille, notre Dallas GREEN !! La foultitude de tatouages qu'il arbore ne sont plus que les stigmates de sa période post-hardcore révolue, du temps béni de son ex-groupe Alexisonfire. Mais de hurlements et de stage-diving, il n'en sera rien tonight. A l'instar d'un Ritchie Blackmore par exemple, il est de ces étranges mais radicales métamorphoses difficiles à concevoir, impossible à comprendre, voire ardues à encaisser et à accepter… De cette glorieuse et flamboyante époque malheureusement passée subsistent encore néanmoins ce soir quelques puissants riffs, dont certains ne parviennent pas à camoufler l'origine bien canadienne de CITY and COLOUR qui a dû choir dans la marmite ontarienne Neil YOUNG en étant petit (et pas encore tatoué).
Cette inspiration youngienne (Neil, pas Angus…) transpire tout autant lorsque, seul sur scène après en avoir viré ses petits camarades, il confère à sa guitare sèche une amplitude sans pareille – avec néanmoins la puissante complicité de quelques amplis Fender. Une voix reconnaissable entre toutes et d'une parfaite limpidité qui s'allie alors à une gratte solitaire tout aussi cristalline : rarement un espace confiné tel Den Atelier a pu se trouver fourré jusqu'au trognon par une telle magnitude – à l'instar de la théorie des gaz parfaits. Dallas (CITY…) Green (…COLOUR) occupe la scène 1h45′ durant, alternant ses deux styles : des moments songwriters parfois franchement blues, parfois (un peu trop) folks dans un Atelier plongé alors dans un silence aussi religieux que marécageux, et des instants pur r'n'r accompagné alors par ces quatre virulents comparses comme pour replonger dans un passé qui, à l'instar d'un naturel chassé, revient bien vite au jouissif galop ! A moins que porté porté par le public, peut-être ? Au point d'ailleurs pour notre Canadien d'affirmer que l'audience ce soir est d'un tout autre calibre que la veille en Suisse (c'est dire comment doivent être les Helvètes…!?).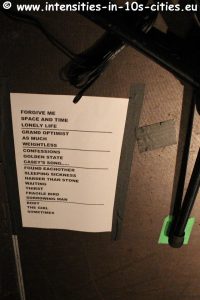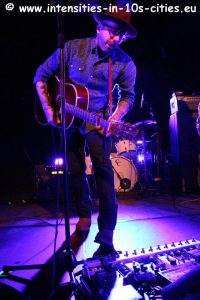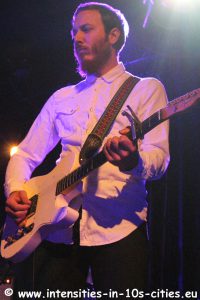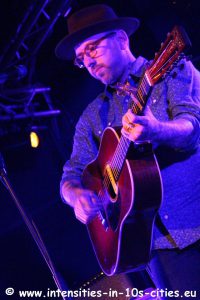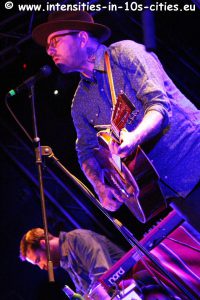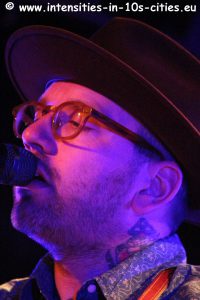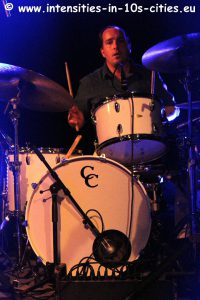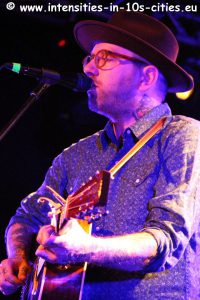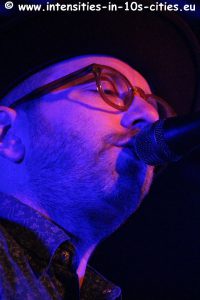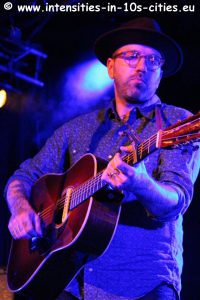 CITY and COLOUR est une des plus grosses claques dans le paysage musical canadien actuel, avec plus encore d'awards dans sa besace que de disques de platine. Sa dernière tournée canadienne a été sold out en quelques minutes et s'est suivie d'une série de concerts tout aussi complets à travers les States et l'Angleterre. Un Atelier luxembourgeois comble confirme la chose, à notre grande surprise. Ce qui ne lui ôte en rien son piquant aussi acerbe que posé lorsqu'il demande à l'assistance de rengainer le temps d'un seul morceau toutes les caméras numériques, gsm et autres iPod, iPhone ou smartphones pour profiter pleinement un court moment d'un spectacle… autrement qu'à travers un minuscule écran qui filme ! Aussi adorable que décalé, notre Dallas GREEN…
Post Scriptum : ne pas omettre d'adresser un rapide merci à CHOM 97.7 Montréal The Spirit of Rock qui relaye on air à longueur de journées cet incommensurable talent. Mais surtout toute notre gratitude à cette station classic-rock montréalaise d'avoir contribué à nous gratifier d'une bien sympathique invitation à venir tirer le portrait d'un de leurs chou-choux !. Comme quoi Montréal n'est pas si loin de Luxembourg, tabernacle…!